4 Meals That Will Help You Cut Down Your Meat Consumption (Without Giving It Up Completely)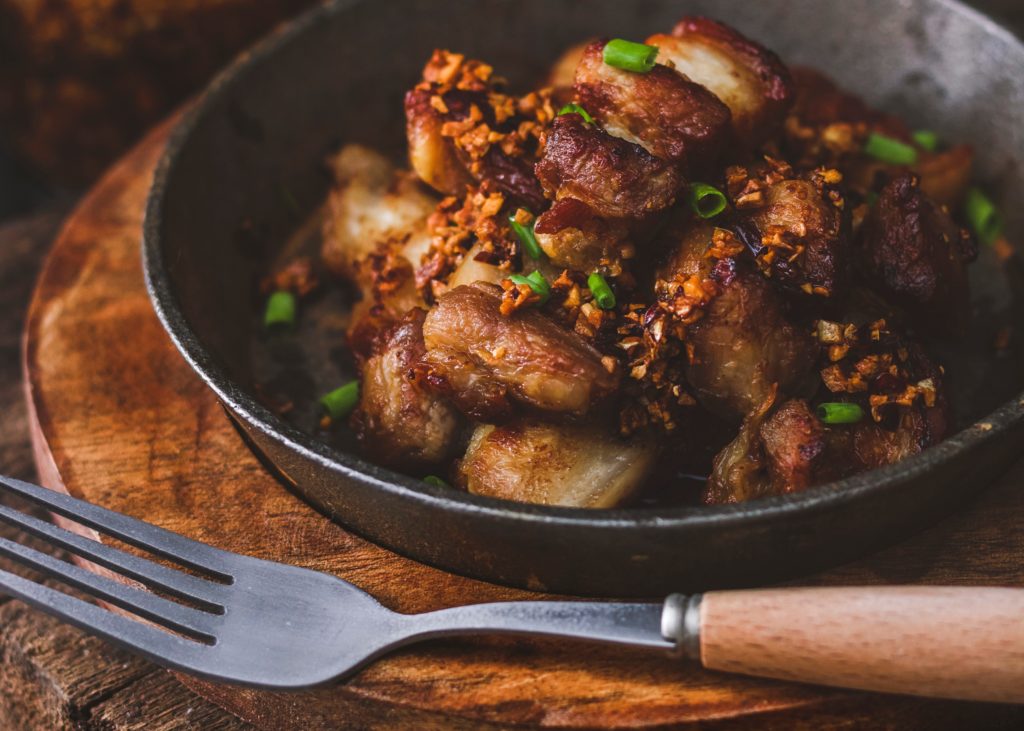 We've all heard by now that we should eat less meat — for our health, the planet, and our wallets. But going vegetarian or vegan really is a major lifestyle change, and it's not for everyone. And for folks who've given up on meat or cut back significantly, we still have loved ones in our lives that we cook for who are adamant carnivores. I can think of some family members, bless their hearts, who truly believe a dinner without meat isn't a real dinner.
So, what do we do if we still crave meat or if we want to keep the peace at family gatherings? Will we have to rely on cutting edge innovations in meat substitutes with all their downsides?
I believe a more practical and financially-friendly solution is to modify our favorite recipes and swap out a portion of the meat with a grain or legume that complements the overall flavor of the dish. For example, if you love kebab meat over rice, you could prepare half as much meat as you normally would, and then cook chickpeas (the king of legumes, as far as I'm concerned) in the same pan. You'll still feel as full from the protein and fiber as you would from the original version, and the chickpeas will absorb the umami flavor of the meat to satisfy your taste buds.
Below, I've listed four different dishes that were originally much more carnivorous, which I've successfully modified by substituting half the meat for plants. 
I wouldn't call these recipes, more like meal plans (all "tested" by me). There are lots of possibilities for substitutions based on taste preferences and what you have in your own kitchen. In terms of measurements, I suggest finding a similar recipe (e.g. a recipe for traditional Tex-Mex tacos) with the desired serving yield, cut the amount of meat in half and add that weight of the vegetarian ingredient.
I also make no claims to authenticity for these dishes drawn from world cuisines. I know that many TFD readers can come up with versions of these dishes that more deeply reflect the cultures that created them. These dishes are a representation of what I like to cook out of my own North American pantry based on exploring different kinds of food through reading, not cultural experience.
Even if you don't follow these "recipes," I hope they can serve as a template to help you adapt your own cooking to a style and routine that uses less meat. Prep a pot of grain, lentils, or beans at the beginning of the week, and see what new dishes you create!
1. Ethiopian/Eritrean Lasagna with Red Lentils
I recently learned about the Ethiopian/Eritrean take on lasagna, but was intimidated by the amount of beef a lasagna calls for. Recalling the mounds of spiced red lentils that I've had on injera at restaurants, I decided to cut the amount of meat in half and replace it with a vegetarian protein used in that cuisine. I really liked how the cooked lentils created a texture reminiscent of ricotta in a traditional Italian-American lasagna.
Simmer red lentils in salted water or stock for about 20-30 minutes (or until soft). Cook lasagna noodles according to package instructions.
Heat olive or vegetable oil in a deep skillet or broad pot. Cook onion, green onion, garlic. Then add canned tomato sauce, basil, oregano, bay leaf, ground turkey or beef, and lentils. 
Season with salt and pepper and the Ethiopian spice blend berbere. If you can't find berbere, mix together lots of chili powder and paprika, and a combination of fenugreek, coriander, cardamom, and the spices you'd find in Pumpkin Pie Spice (ginger, cinnamon, clove, nutmeg, allspice). Try to get as many of these spices as you can, but don't worry if you don't have them all.
Alternate layers of noodles, tomato sauce/lentil/meat mixture, and shredded cheese (mozzarella, cheddar, or a combination with parmesan). Bake Lasagna at 375 checking for doneness after 40 minutes or so. Let rest before cutting and serving. You can garnish with a little chopped green onion.
For 6 servings of lasagna: 
12 boxed lasagna noodles 

4 cups of filling (the seasoned combination of ground meat and lentils)

1 can tomatoes/tomato sauce

1 onion

2 bunches green onion

at least 1 TBSP minced garlic

other spices to taste
2. Tacos with Squash or Pumpkin
This dish is the inspiration for the whole article. My partner cooked this for me, and I couldn't get enough of the combination of savory, meaty turkey and sweet, creamy cooked squash. I thought it was even more satisfying than a traditional meat-based taco filling. This can be made with butternut, acorn, or any fall/winter squash that's been roasted (i.e. cut in half, seeds removed, placed skin side up on a greased baking tray, and cooked in the oven until the flesh is soft and scoopable). Or you can save time and use canned pumpkin (a great pantry staple to stock up on for soups, curries, and pasta sauces in addition to all the baked goods of the season).
Heat vegetable oil in a skillet. Cook onions, bell peppers, garlic, and jalapeño (to taste). Then add ground turkey or beef and (cooked) squash or pumpkin. You can also include refried beans or kidney beans.
Season with salt and pepper and a standard taco seasoning blend (chili powder, cumin, and coriander).
With the sweetness of the squash, I recommend you add seasoning reminiscent of mole: add some unsweetened cocoa powder or leftover coffee (brewed, not the grounds). You also want to add smokiness: canned chipotle peppers, chipotle powder, or smoked paprika works as a backup.
Place meat/squash mixture in taco shells or soft tacos. Top with taco fixings like cilantro, avocado/guacamole or sour cream, chopped fresh tomatoes/salsa, lettuce or finely sliced cabbage. 
For 6 servings of taco filling: 
1/2 pound of meat

1 can of pumpkin or 1 pound of cooked squash puree

1/2 pound of cooked beans (or more squash or more meat)

1 onion

1-2 bell peppers 

at least 1 TBSP minced garlic

1 jalapeno

other spices to taste
I like cabbage here because it's cheap and can survive in the refrigerator a long time (as opposed to those aspirational lettuces and salad kits I've let wilt and wither over the years). Speaking of cabbage:
3. Deconstructed Stuffed Cabbage with Brown Rice
I have had stuffed cabbage rolls made with love by a friend's Eastern European grandmother. They were rich, fatty, and decadent and I still dream about them. These are not those cabbage rolls. On a weeknight I have neither the time, skill, nor love to make food like that. This is my shortcut to some of those nostalgic flavors. It's super easy with leftover rice you've already cooked (other whole grains like Kasha also work). If you don't have rice on hand, cook rice with a little chicken stock or tomato juice to increase the flavor.
Heat olive or vegetable oil in a skillet. Cook onion, garlic, and canned tomatoes. You can add shredded carrot or even a little shredded beet. Then add ground turkey or pork and cooked brown rice. 
Season with salt and pepper, dill (you can't over-do the dill), paprika, and the herb savory if you can find it. 
Layer cabbage leaves (torn or cut to the desired size) alternating with the meat/rice/sauce mixture in a baking dish. Cover and cook in the oven at 375 (or even on a low burning stove if you have a Dutch oven or roasting pan). Check to make sure the casserole doesn't dry out, adding a little chicken stock or tomato juice if needed. Check for doneness after 30-40 minutes or so.
For 6 servings of "unstuffed" cabbage: 
1 large cabbage (about 4 pounds)

1/2 pound of ground meat

1 1/2 cups leftover cooked rice/grain

1 can tomatoes/sauce, 1 onion

at least 1 TBSP minced garlic

other spices and stock to taste
4. Asian Noodles with Frozen Edamame
This recipe straddles the line between buying sauces and making your own. By mixing sauces you already have in your pantry, you can make new flavor combinations that have the personalization of home-cooking even if you lack experience or are short on time.
You can cook chicken in the pan with ginger and oil, if you like, or use chicken that you've already cooked. This works well with poached chicken i.e. chicken cooked in simmering seasoned liquid like stock or wine. I like shredding the poached chicken so that you can have that meaty texture and flavor with every bite of noodles. Canned chicken could work as a back-up and with frozen veggies would make this a true pantry recipe.
Cook noodles (any kind will do, even spaghetti) according to package directions. Drain and drizzle with sesame oil. If pre-cooked, skip this step and add to the skillet at the end to heat.
Heat peanut oil in a skillet. Cook grated or minced fresh ginger root (or from a tube, jar; when you buy fresh, freeze the ginger root for later use; don't bother to thaw it before grating). Add green onions. Add the cubes of raw chicken (if using) and cook in ginger and oil. Add vegetables like cabbage, spinach, and carrot (a little radish or canned water chestnuts would also work). Cook until the desired texture. Add edamame (early if still frozen, later if thawed). If using poached (pre-cooked) chicken, add at the end to heat.
Create an Asian style "condiment" sauce for your noodles, meat, legume, and vegetables. The sauce is roughly 2:2:1 of soy sauce, Worcestershire or Thai fish sauce, and ketchup or any East Asian style bottled sauce (e.g. Teriyaki, Bulgogi) you have lurking in your fridge or pantry. Then add mirin (sweetened rice wine vinegar) or a little sugar if desired. Also add hot sauce (Asian styles like Sriracha or Gochujang, or regular North American hot sauce works too).  Mix and adjust the proportions to taste. You might add a little acid (e.g. vinegar, lime juice) as well.
Mix all components in the noodle pot or skillet until everything is warm and sauced. 
For 4-6 servings of noodles:
1/2 a pound of noodles

1/2 a pound of protein (the combination of edamame, chicken and/or tofu)

1/2 a pound of stir fry veggies of your choice

1 1/2 cups of your "condiment" sauce

at least a TBSP fresh minced ginger
Bonus: The Secret to Firm Tofu
Tofu has probably gotten a bad rap because so often it comes out really soggy. I'm not surprised that bad tofu experiences have kept people prejudiced against vegetarian cooking. If you yourself have been intimidated or deterred, the secret is to press the water out of tofu before cooking! 
Place clean dish towels or paper towels on a baking sheet. Cut extra-firm tofu into 1-inch chunks or strips. Sandwich tofu pieces between layers of dish towels or paper towels with a second baking sheet on top. Place weight on top of the second baking sheet. You know all those beautiful cookbooks you've collected but never use because you look up all your recipes online? Now is their time to shine! Cast iron skillets, canned food, or large containers of liquid also work as weights. Let drain for at least 20 minutes.
Unwrap your tofu pieces which are now ready to use. I think the easiest way to cook them is to coat them in oil (peanut oil or other oils that can take high heat work best) with a little basic seasoning like salt or soy sauce. Then place on a baking sheet (you already have one out from the pressing process) and broil with the rack as close to the heat as possible for a couple minutes per side, until crispy.
This would be a nice addition to the Asian noodles above, or to any Asian style dish as a substitute for part (or all) of the meat.
Valerie is an adjunct professor in upstate New York teaching Latin and writing electives. When she's not working or at the yoga studio you can find her on her porch binging podcasts.
Image via Unsplash
Like this story? Follow The Financial Diet on Facebook, Instagram, and Twitter for daily tips and inspiration, and sign up for our email newsletter here.