4 Thrifted Items That Cost Me $37 Total, & The Multiple Ways I Wear Them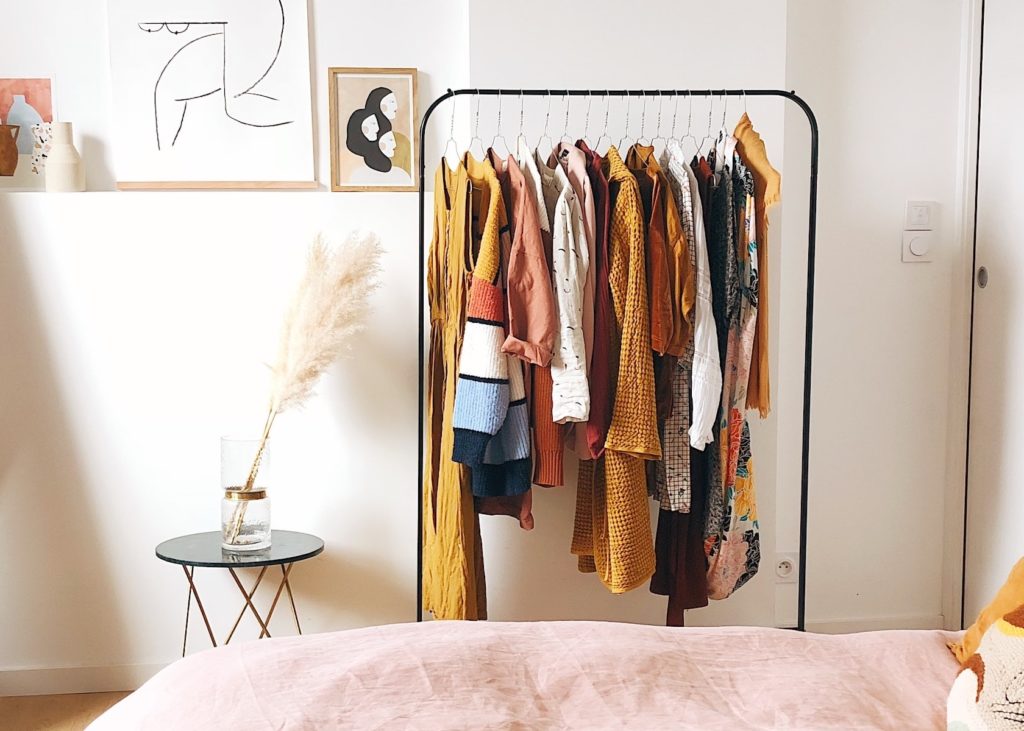 I'm currently in my last year of med school, which means I've had a salary of exactly $0.00 for too many years. Med students largely rely on loans, scholarships, and parental support (for those lucky few) to get by. But we're also mostly twentysomethings who still want to feel like normal people our age so besides paying our large tuition bills, we also like to spend money on fun things. A lot of people love investing in travel. Others love going out to restaurants. 
And as for me? Well, I love shopping. Now, please don't think that means that I walk up and down Madison Avenue on a weekly basis and buy out all the luxury stores because that is definitely not the kind of shopping that I'm talking about!! I'm an immigrant kid from Brooklyn, which means that I grew up becoming an expert on building my wardrobe without spending a fortune. 
Cue thrift shopping. 
So interestingly enough, thrift shopping is not something that I did as a kid, which may surprise you. In fact, if I even brought up the idea of going to a store to buy secondhand clothes, my parents would have fainted on the spot. We never had a lot of money, but my parents are proud people. Even now that I'm an avid thrift shopper and show them how amazing the clothes are (and how affordable!), there's a bit of hesitation. "Did you buy this just because it was cheap?" or "Does anybody even wash these clothes?" And it goes on and on. Though this is changing a bit now as they've seen how many cool pieces I've found. Maybe I'll even get my mom to wear a thrifted piece one day…!
Anyway, I digress. All this to say, I didn't start going to thrift stores until about 3-4 years ago. I had some time off from school and wanted to see what thrifting was all about so I visited a few stores over the course of a couple of months…and found absolutely nothing. I was super disappointed. But as any thrifting guru will tell you, finding great pieces takes time. You really have to go through the racks and not rush. Sometimes, you'll find nothing. And other times, you'll find these incredible show-stopping pieces that people will stop you on the street about and demand to know where they're from (which has happened to me a number of times now!!). 
Because I'm a stubborn persistent med student, I didn't let that first failed foray into thrifting stop me from trying again. In Fall 2018, I ventured into a thrift store during another break from school, and I came across a simple cream-colored cropped sweater. I held my breath as I walked into the dressing room, tried it on, freaked out that it fit, and scanned it for any rips or other funky things (because of course, I expect the universe to throw some kind of kink into my life). But it was perfect, and it cost me a glorious $13. I was ecstatic. Finally, my first thrift store find!!
That sweater ended up tipping the scale in my favor, and I've been able to find so many pieces since then. It's like the gates of thrifting heaven finally opened for me. I know. So dramatic. But it's so exhilarating to find those clothes that feel like they were just made for you after looking through racks and racks. 
I still shop at mainstream stores like TJ Maxx (which I love), but I try to do most of my shopping at thrift stores. Three reasons why I love it: (1) You can find clothes that no one else will have. (2) Thrift store finds tend to be super affordable. (3) You're giving clothes a second life and preventing them from ending up in a landfill. 
After finding these pieces, I really enjoy the process of putting outfits together so I thought I would share six outfits with you all to give you some inspiration to get out there and thrift in 2020. 
(Please note: These outfits are all centered around a particular thrifted piece. The rest of the outfit includes both thrifted and non-thrifted items.)
Cropped Sweater – $13
Of course, I have to start with my first ever thrift store find. I've been able to wear this sweater in so many different ways since I've bought it because it's one of those pieces that can work with both a dressy and casual outfit. The other cool thing about it is that both the front and back of the sweater can serve as the "front." For example, what you're seeing as the front of the sweater below is actually the back of the sweater!!
Dressed Down
The cropped top with baggy pants look is definitely something that reminds me of what people would wear in 2003/4. But considering that I was 10-years-old in 2003, my mom would have never let me leave the house showing my belly back then. So this was my chance to pay homage to that style! 
I love how this look is super comfortable but also a bit risqué. I love the contrast of the masculinity of the baggy bell-bottom jeans and heavy boots with this "shock" of belly in the middle. I also love how the earrings are a twist on the hoops that were in style back then. 
These jeans are actually from high school so they're 10+ years old, but I could never bear to throw them out! Not even when the skinny jeans took over. Now, we seem to be having a 90s high-waisted "mom jeans" phase. It's all good stuff!! The beauty of this sweater is that you can honestly wear it with any kind of jeans depending on whether you want a sleeker (with skinny jeans and heels) or more casual (like the look here) vibe.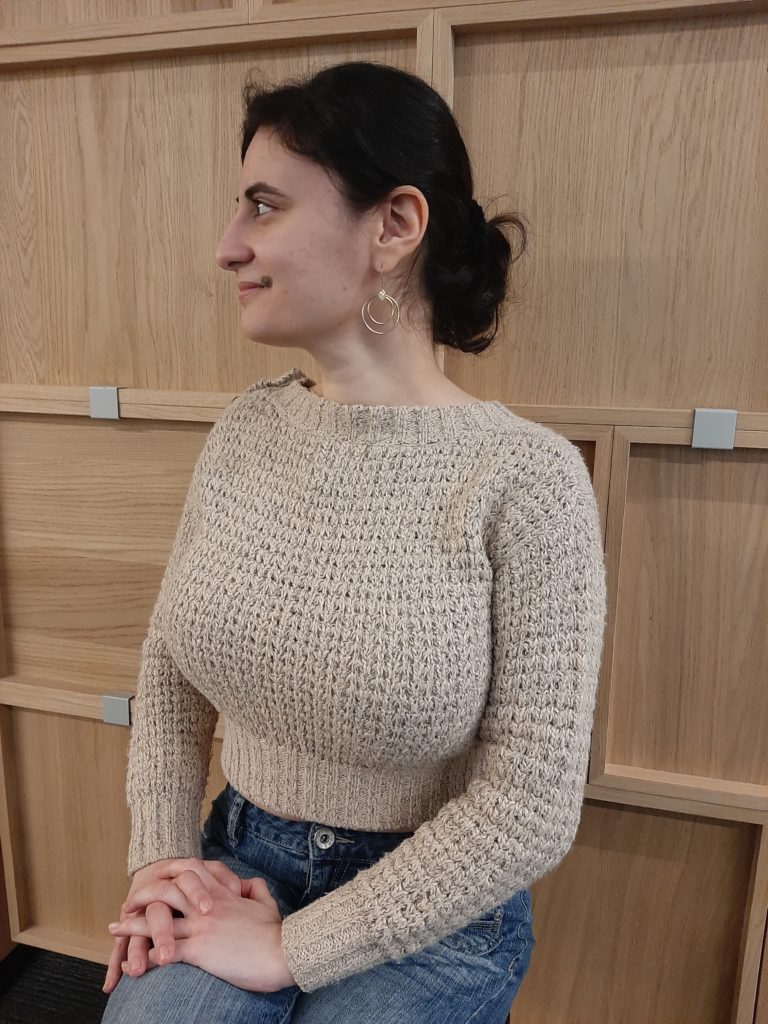 Cropped Sweater

(Thrifted, Crossroads Trading, $13)

Bell-Bottom Jeans

(Kohl's, ~$20-$25) 

Earrings

(

Etsy, ~$2

)

Beige Boots

(TJ Maxx, ~$35) 



Outfit Total: ~$75
Dressed Up
Here, I've paired this sweater with this gorgeous thrifted velvet skirt, which honestly makes every outfit look incredible. I've worn it with t-shirts, button-downs, sweaters, flats, heels, etc. Everything you can imagine, and it always looks amazing!! 
This particular look is perfect for the holidays with the deep reds of the skirt, necklace pendant, earrings, and velvet boots. The necklace pendant is actually my mom's brooch that I put onto a gold chain. The earrings are from a great store in Midtown that sells beautiful jewelry for super cheap. Those velvet boots were a lucky find on a random stop at TJ Maxx one evening. Funny story about them: I once tripped on a carpet in the hospital lobby and one of the heels partially came off so I had to hobble to the front desk and ask for tape to temporarily hold the shoe together…I thankfully was able to get them professionally repaired later on!!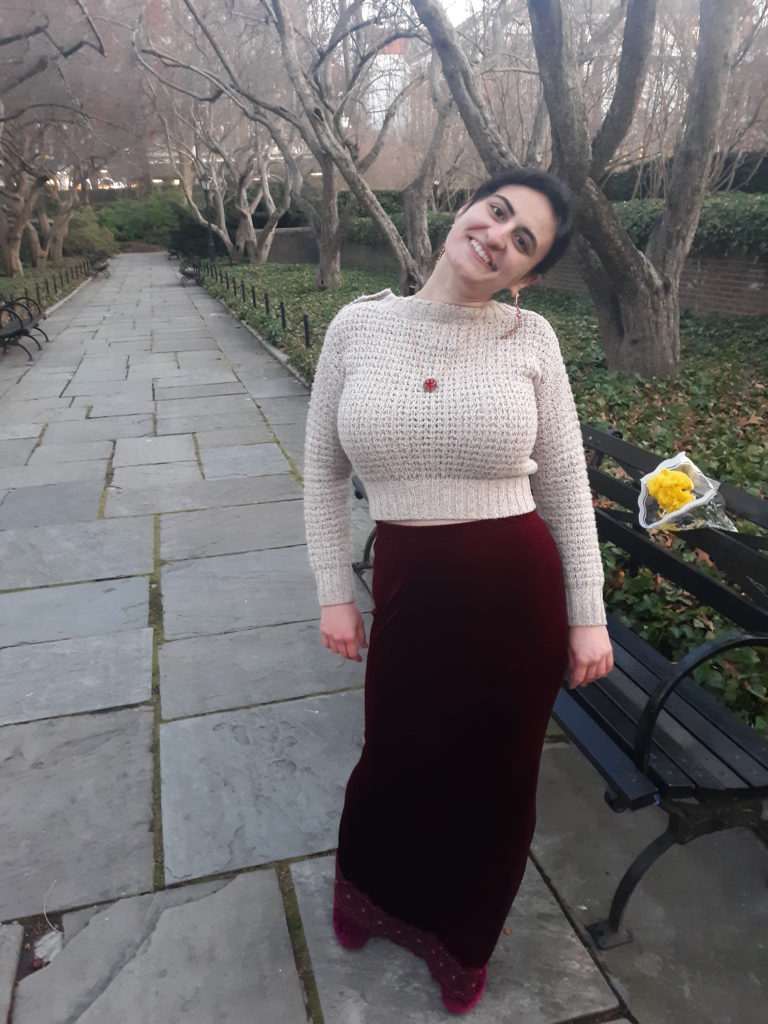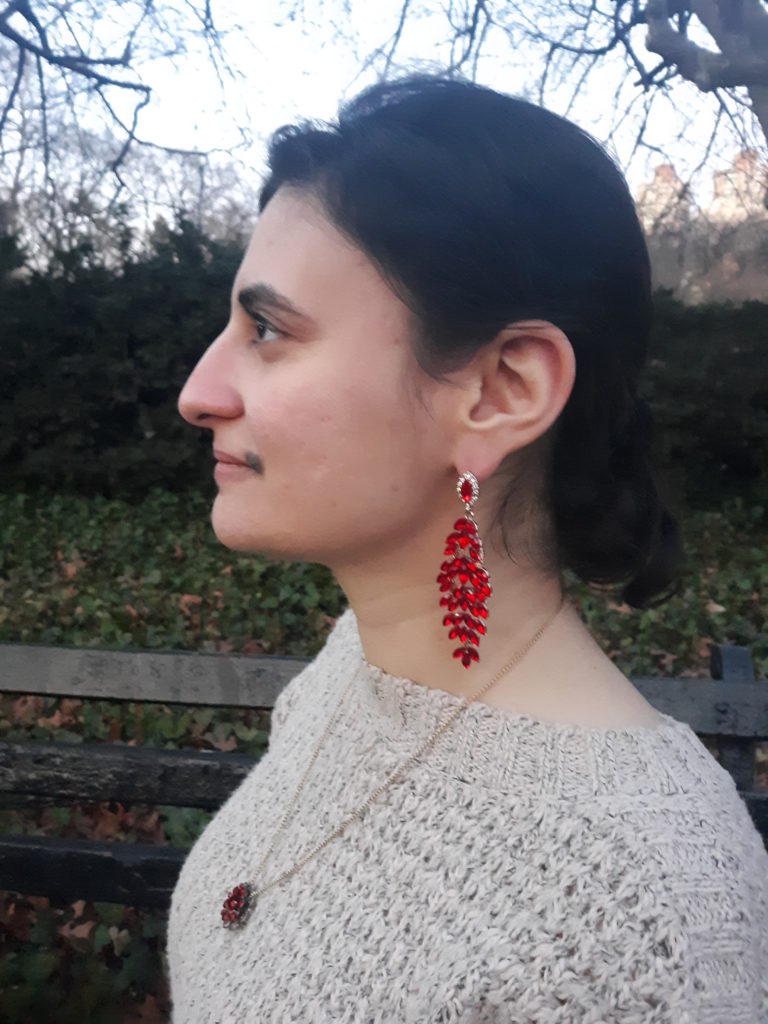 Cropped Sweater

(Thrifted, Crossroads Trading, $13)

Velvet Skirt

(

Thrifted, Beacon's Closet, $10)

 

Earrings

(

Earrings Plaza, $5

)

 

Necklace (Actually brooch)

(My mom's, unknown price)

Velvet Boots

(TJ Maxx, $25) 

Outfit Total: $53
Paisley Skirt – $6
I found this 1980s Norton McNaughton skirt after looking through multiple racks of vintage skirts. I must have taken ten of them into the dressing room, and this is the one that ended up being "the one." It was well worth the effort!! I absolutely love it. It's super classy and comfortable and the print is one that is hard to find these days. 
80s Office Chic (Midtown Girl)
This look is inspired by the powerhouse outfits of the 1980s. Think Princess Diana and Joan Collins in Dynasty. Think super tailored looks with strong shoulders, sheer tights, and kitten heels. I love the simultaneous masculinity and femininity of this look and the importance of the time for women that it represents. In 1981, Sandra Day O'Connor became the first woman to be on the Supreme Court, and in 1983, Sally Ride became the first American woman in space. 
This was also the decade when more and more women were getting a higher education and therefore getting access to better jobs. This was the time that my mom entered the workplace, and this top is actually a vintage piece from her wardrobe that I "borrowed" because it just looked way too good with this skirt!!
The black pumps that I've wearing here are the most expensive item listed in this article, but they were a really important investment. Black pumps go with everything so you will get a ton of wear out of them. It's worth paying for good ones up front and making sure they're comfortable and made of good fabric.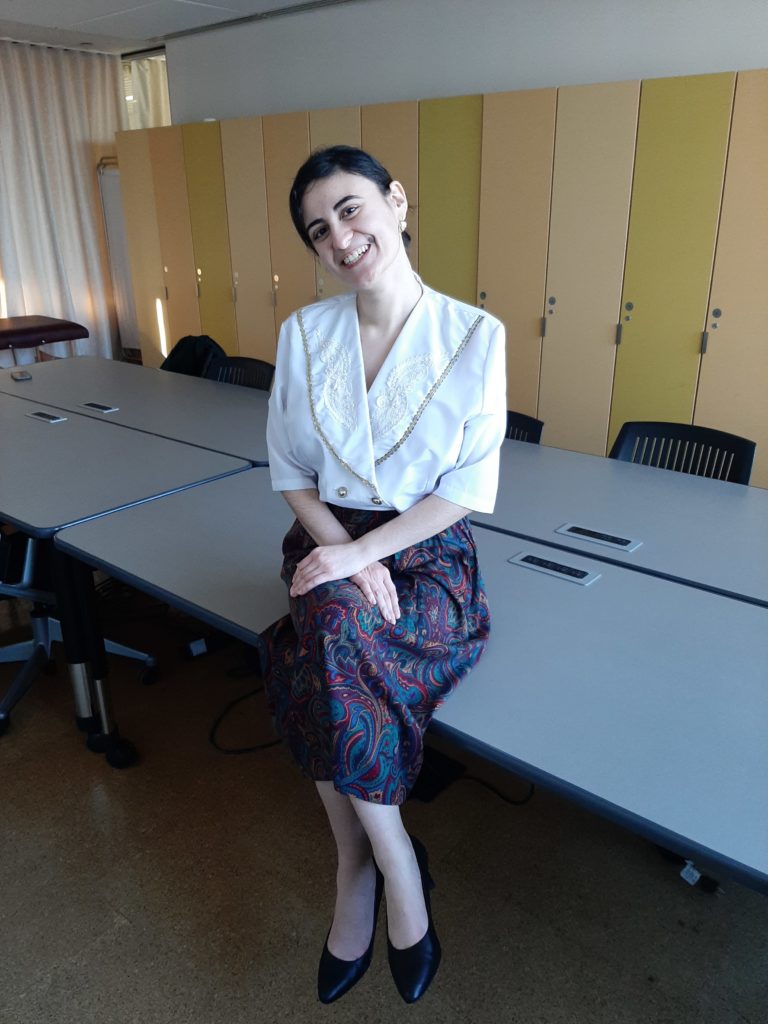 White Button-Down Shirt (My mom's, unknown price)
Paisley Skirt (Thrifted, No Relation Vintage, $6)
Earrings (Etsy, ~$2)
Black Pumps (Clarks, $90)
Outfit Total: ~$98
80s Artsy (Downtown Girl)
This is actually the last outfit that we shot, and we were originally supposed to shoot it in front of this stunning mural in East Harlem, but by the time we got around to shooting it, we were losing light and I was tired and cold so we shot this in my apartment instead. (Hence, the crappy lighting!!)
With this look, I wanted to pay homage to the artsy bold side of the 80s: big hair, lots of colors, big sweaters, bright lipstick, chunky jewelry, etc. Think Madonna and Cyndi Lauper and basically every big artist from that decade! I created a more understated version with this outfit to modernize it a bit. I love how this thrifted comfy green sweater goes so well with the deep colors of the skirt. And I love the contrast of the fun snake earrings and the sleek black boots.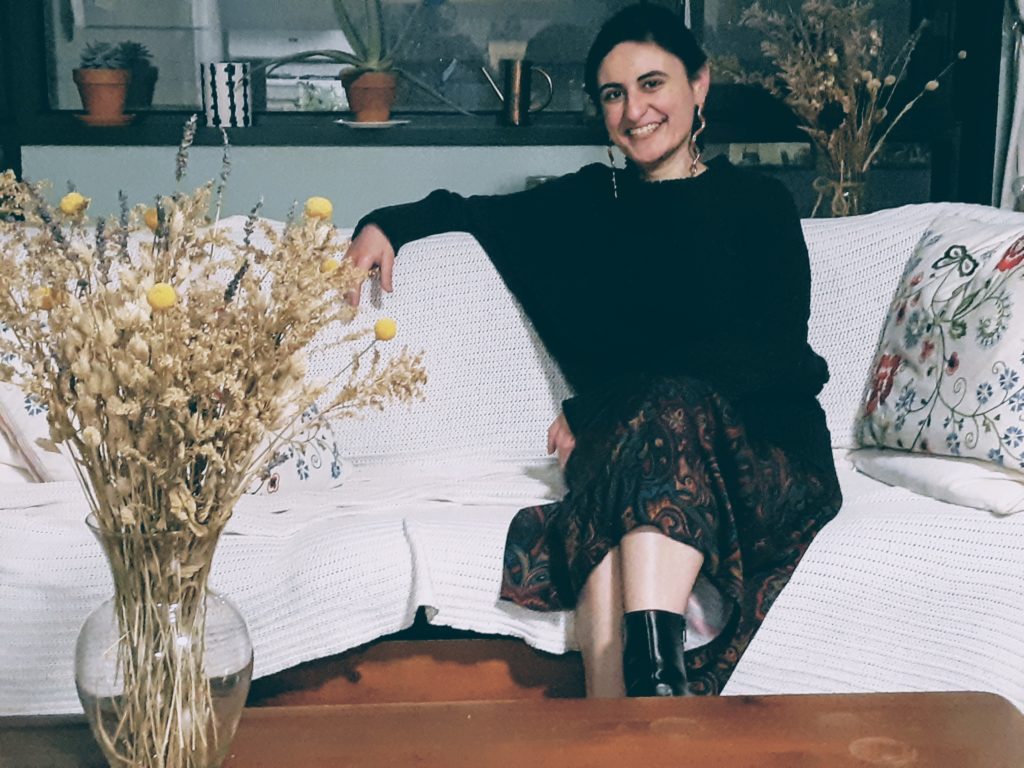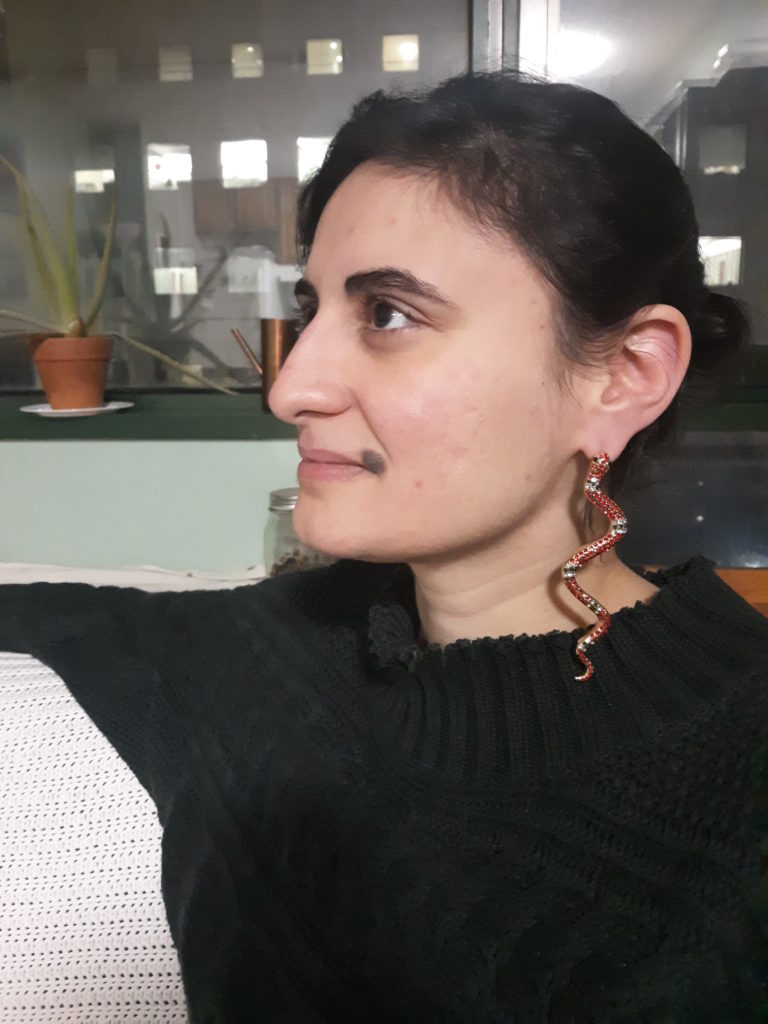 Green Sweater

(Thrifted, Unique Boutique, $8)

 

Paisley Skirt

(Thrifted, No Relation Vintage, $6)

 

Snake Earrings

(

Fashion Nova, $6

) 

Black Boots

(Thrifted, Goodwill, $15)

 

Outfit Total: $35
Dresses
Spring/Summer Dress (Day) – $10
I found this dress the week after finishing my month-long surgical rotation in June 2019. During that rotation I woke up at 4 AM every day, wore scrubs every day, and spent way too many hours in the OR. Thrift shopping the week after it was over was my little treat to myself and finding this dress was the cherry on top. I immediately fell in love with it and wore it all summer. People stopped me on the street all the time to say how beautiful it was and to ask me where it was from and were always shocked to hear that it was only $10!
When I wear it, I feel like I'm paying homage to the women in my family and the floral dresses they wore when they were my age. There's just something so effortlessly feminine about it and it can be worn for a variety of occasions. You can wear it to go grocery shopping, to the beach, or out to lunch with a friend.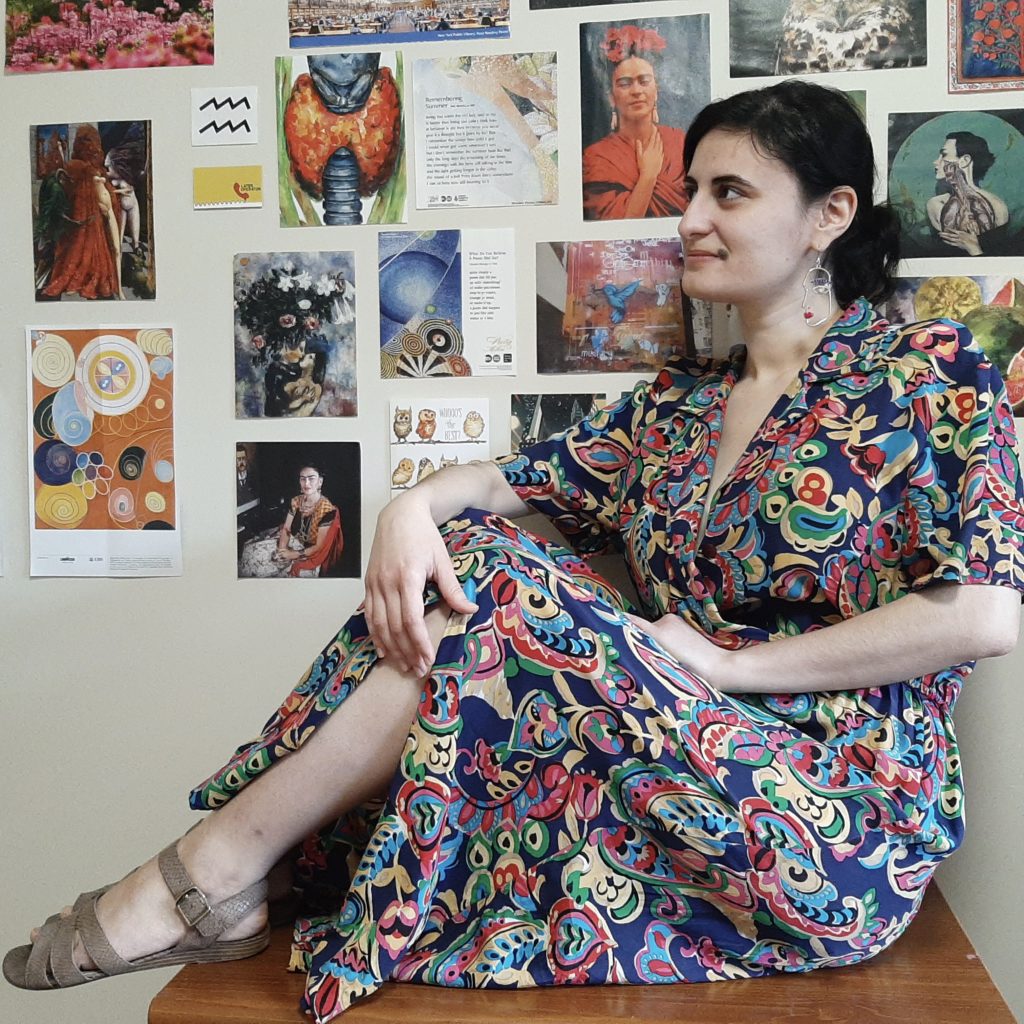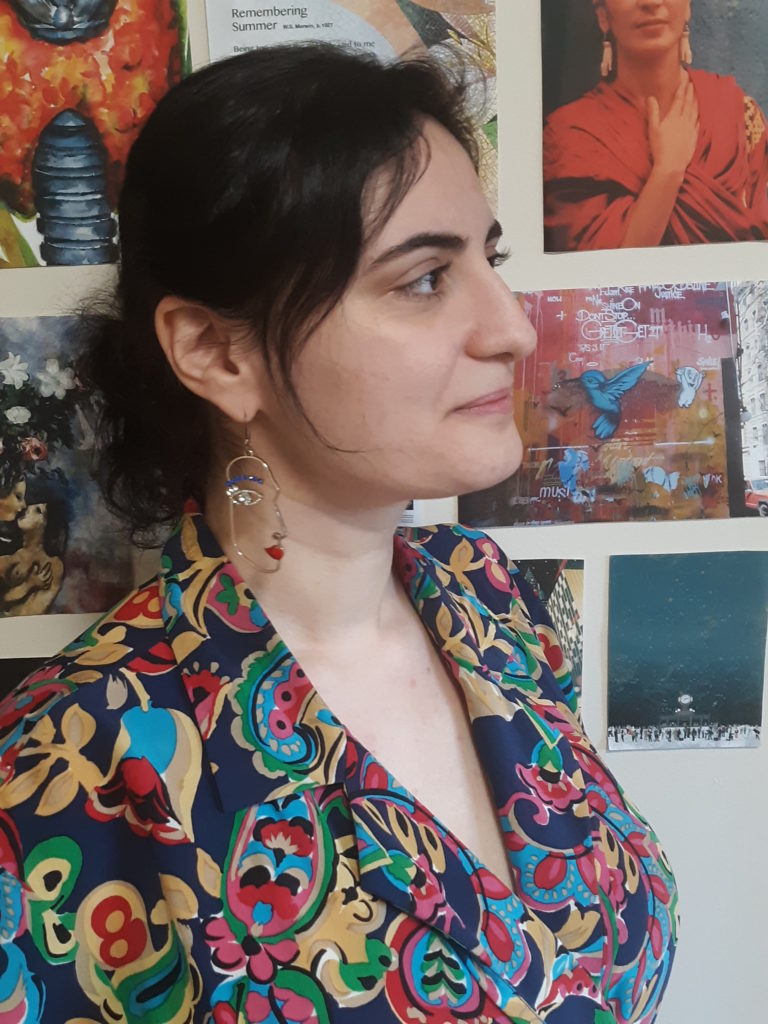 Floral Dress

(Thrifted, No Relation Vintage, $10) 

Earrings

(

H&M, $13

) 

Sandals

(TJ Maxx, ~$20)

 

Outfit Total: ~$43
Fall/Winter Dress (Evening) – $8
This is yet another dress that I immediately fell in love with and knew I just had to have!! I love the buttons, I love the color, I love the sleeves…I could go on and on!! It makes me feel like a feminine elegant glamorous goddess. It's the kind of dress that commands everyone's attention as you walk down the street, and these photos honestly don't do it justice!
Fun story about this dress: I was in an elevator in the hospital one time, and a woman said that her mom used to be a seamstress and would make dresses like this all the time and it made her really happy to see a dress like that after so many years.
There are lots of incredible dresses out there, but there is something really special about how older dresses are made. Next time you need a dress for a big event, go thrifting!! There are so many stunning pieces just waiting to be worn again.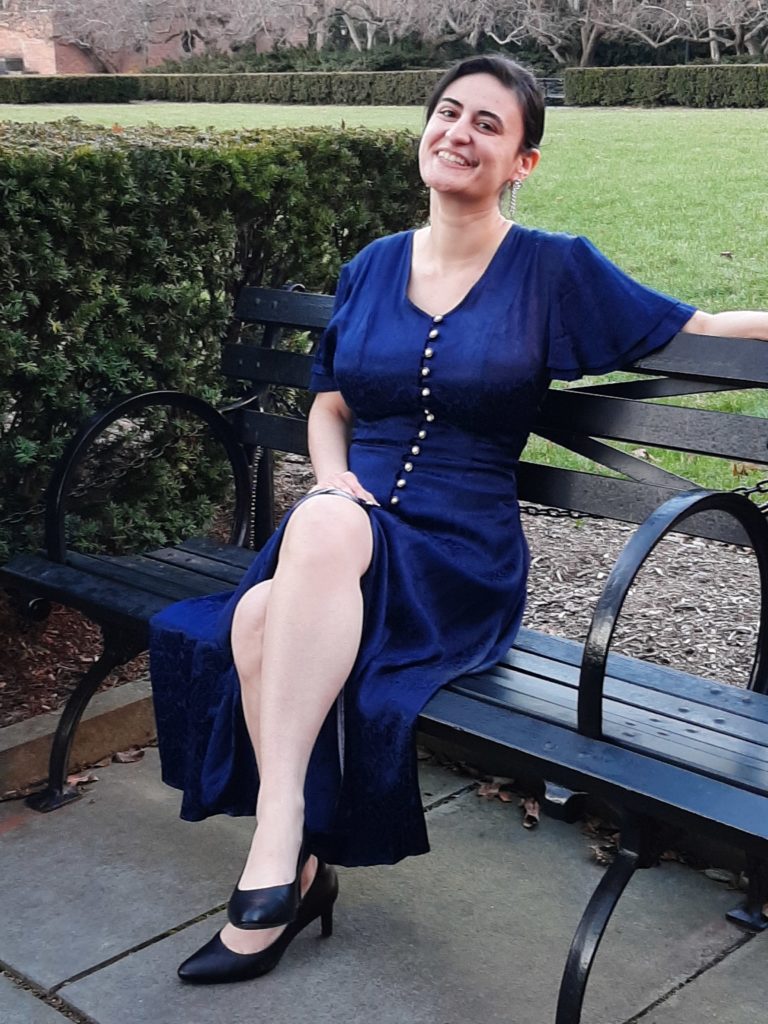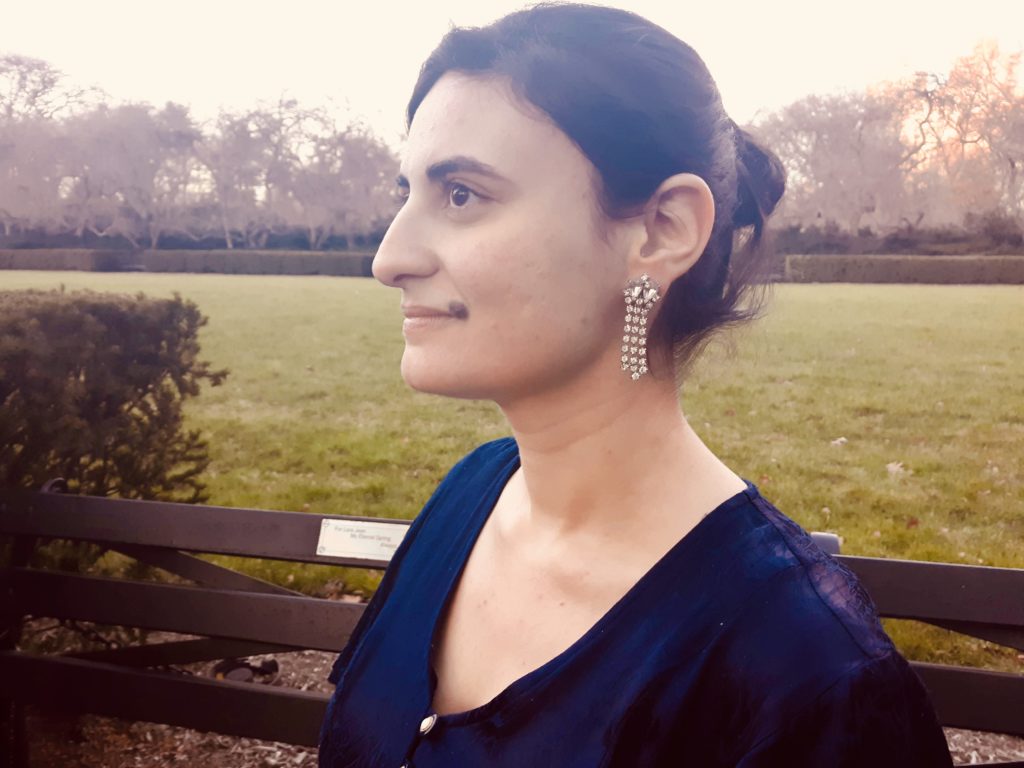 Blue Dress

(Thrifted, No Relation Vintage, $8)

 

Earrings

(My mom's clip-on earrings, unknown price)

 

Black Pumps

(Clarks, $90)

 

Outfit Total: ~$98
(A big thank you to my friend (and fellow med student), Stanley Ewala, for following me around on a cold Saturday in December to take these photos!)
Slavena Salve Nissan is in her final year of medical school in New York City. She was born in Baku, Azerbaijan and moved to Brooklyn, NY when she was six-years-old. Three more fun facts about her: (1) Her name means glorious/glory. (2) She is the daughter of an infectious disease physician, which means that she knew the word "microbe" by the time she was four. Lucky her. (3) She is a lifelong lover of all things storytelling and has been writing poetry since 2nd grade.
Featured image via Unsplash; Body images author's own
Like this story? Follow The Financial Diet on 
Facebook
, 
Instagram
, and 
Twitter
 for daily tips and inspiration, and sign up for our email newsletter 
here
.