5 Affordable, Multipurpose Items To Create More Space In Your Small-As-Hell Apartment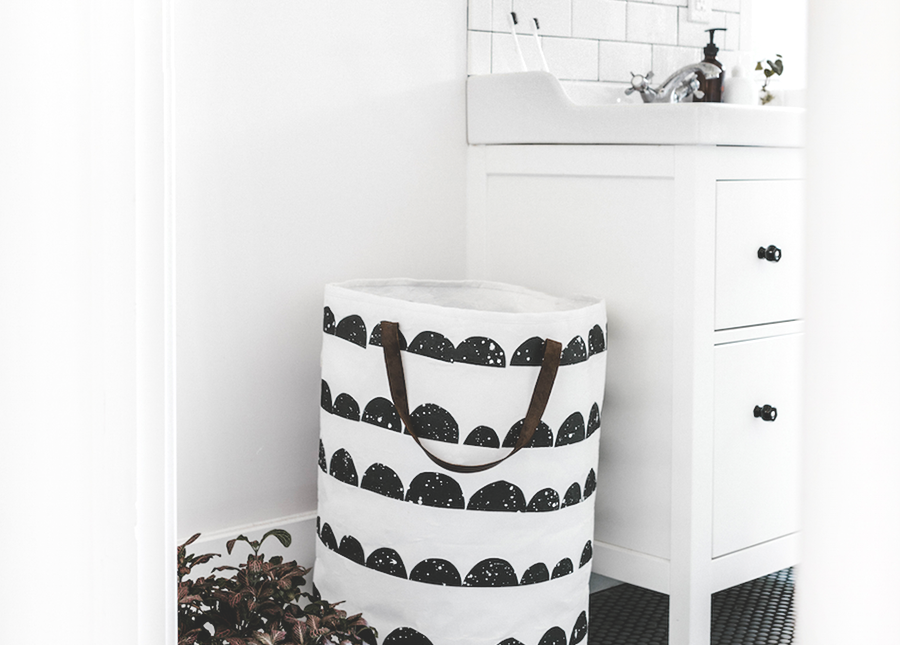 A quintessential part of the twenty-something experience is having a small-as-hell apartment. So far, I've had two — and it gets much smaller than my experience. I live in Connecticut, where our $1,100/month rent gets us a bit over 1,000 square feet of space, which is extremely lucky, considering the fact that most big-city apartments (I'm lookin' at you, New York) cost a hell of a lot more for a lot less space.
But apartments — even ones that err on the slightly bigger side — are still apartments. There's often a lot less space to live in them, (especially if you're in one of the aforementioned small-as-hell ones), so if you want your place to feel like "home," you might have to get a little crafty.
Luckily, crafty is my middle name. (JK, it's Alyssa, but whatever.) Since moving into my place, I've scoured blogs, Pinterest, decor magazines, and watched more HGTV than any self-respecting 23-year-old should — and I've done it all in the name of making my space work.
And I think I've done a pretty okay job! I'm used to what I've grown up with — spacious Connecticut homes on big lots of land with plenty of room to roam — and have of course had to adjust to a different way of life in order to make it all work. But when I look around my apartment today, it feels like home. It's smaller than I wish it was, but somehow perfect anyway — and I'm pretty sure I'll live here for many years to come.
In addition to the things I've done to make my place feel more spacious, efficient, and cozy, I decided to do a little digging and poking around the internet to see if I could find even more solutions that would work for any size apartment — from the 300-square-foot ones to the 1,000-square-foot ones — in solidarity with all twenty-somethings living in apartments that they wish were mansions all across the world. We'll get our spacious houses one day, team. For now, these five space-saving, multi-purpose items might make your life a little easier, and your home a little more lovely.
1. Convertible sofa/bed
I have no need for this sofa bed, but I kind of wish I did. I have a second bedroom that functions as a double-office/guest room for sad guests who have to sleep on the floor, so we've been looking for a cute, small-ish sofa bed to put in there. This one doesn't fit the bill — the L-shape chaise portion simply won't work in the room — but damn, it is so cool that I want it anyway. The comfy-enough-looking couch pulls out into a double bed, and to make it even more amazing, the chaise has storage. If you're in a small place and need a good option for a smaller-size couch and some extra storage, you get the added bonus of being able to convert it into a bed whenever you have overnight guests.
2. Multi-purpose dining table
Okay, yes, this is really small. And when you pictured your first grown-up dining room table, it maybe wasn't something that looked so dinky — it was probably some big, elegant mahogany contraption that would literally never fit into any place without a sizable, dedicated formal dining room. But if you have to settle for something a lot smaller and a lot different, this is a really good way to settle. This multi-purpose dining table swiftly transforms from attractive coffee table to full dining table for 4-6 people in literal seconds. Also, it comes nearly fully built with almost no assembly required, so treat yo'self to a break from building complicated Ikea furniture and buy this instead.
3. Storage-heavy bed
Full disclosure: I have this bed. So I'm biased, but I have to say that especially considering the extremely reasonable Ikea-pricing, this bed is really nice. It isn't going to last a lifetime long without getting a little beat up — Ikea beds are mostly made of compressed wood chips and the hopes and dreams of couples furnishing their first love nests together — but they do the job, and they do it well.
This particular model has storage under the bed (four spacious drawers, to be exact) and a separate headboard with storage too, so you can keep smaller items like books, or your alarm clock) in them instead of getting bedside tables.
4. Storage Ottomans
Storage ottomans — ranging from the tiny cube
ones that are common in dorm rooms, to the elegant foot-of-the-bed ones to hold spare bedding — are the perfect way to add functional seating and storage to your space. I have one small cube-style one in my dining room with a few throw pillows tossed on it to make it look like a little seat. I haven't pulled the trigger on a foot-of-bed one yet, because I'm looking for just the right one — but this one is a strong contender.
5. Decor-storage
Decorage? No, don't call it that. Just call it decor-storage. Which basically just means that you should look for decor pieces that offer a little extra space, or a function other than just visual appeal. When we wanted to find a piece of artwork to hang above our coffee cart, we ended up finding one with storage shelves and hooks to hold coffee, tea, small decorations, and mugs. When looking for a few paintings or pictures to put near our dining room table, we ended up going with shelves like this, which look like architectural art-pieces, but actually function to hold small items like candles, books, kitchen-things, and small decorative items.
Mary writes every day for TFD, and tweets every day for her own personal fulfillment. Talk to her about money and life at mary@thefinancialdiet.com!
Image via Unsplash