5 Pieces Of Clothing That Helped Me Kick My Urge To Shop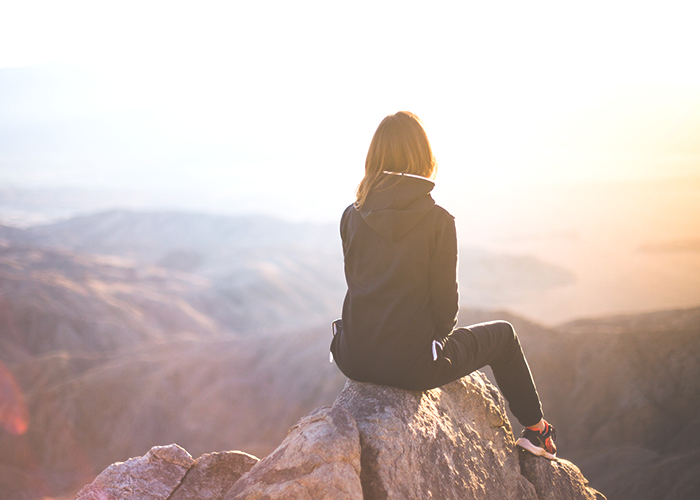 It is no secret here on TFD that I love clothes. However, loving clothes doesn't necessarily always mean buying them often. I'm not crazy when it comes to shopping, and tend to be very specific about items I'd like in my wardrobe, often searching for a solid month or more to find the piece that best suits me. However, there have definitely been times when I felt like my wardrobe had gaps that were nearly impossible to fill, prompting me to spend a ton of time and money shopping around, buying things I didn't love love, and scrambling to find the one that filled the metaphorical wardrobe-hole.
More recently, however, I feel more comfortable with my wardrobe than ever. It has been selectively pared down over the past year, in a way I was never quite able to accomplish before. At this point, I feel like I could reach in and grab anything from the closet when I wake up in the morning, and it would be exactly what I want to wear that day.
But a lot of specific purchases went into making my closet feel this way for me. There were gaps that needed to be filled before I stopped itching for more. There were everyday pieces I needed to search for (and acquire) before I was able to chill out and stop frantically shopping.
Once I did, I was left with a wardrobe that made me feel satisfied, comfortable, and like myself – a version of myself who didn't ever get that "I have n o t h i n g to wear" feeling.
Here are the five clothing items that helped me kick my urge to shop, and helped me build a wardrobe I love.
1. An actually good moto jacket.
I think moto/biker jackets are super cool, although the high-quality ones are often pretty expensive, leaving us penny-pinchers with the Forever 21 types that rip every time you wear them. It is beyond me how my trusted black faux-leather jacket got literally shredded down the back, but it did, and since I wasn't feeling like buying another high-quality one for a while, I just keep searching for cheaper replacements for it (like inexpensive military jackets or denim jackets — at some point, I probably came really close to hopping on the bomber jacket trend too, although it truly isn't my style to I ended up safely avoiding it). Eventually, I stumbled upon a mid-priced one that was being resold for an excellent deal on Poshmark. I bit the bullet and got it, and I wear it nearly every day, so it is safe to say that the purchase is not at all a regret. The best part is that I've finally stopped searching for a replacement lightweight jacket, because I have my perfect one.
2. A black blazer
An obv classic, but I never bought one because it never seemed quite "me." I ended up picking one up one day because I knew I had an important meeting coming up and needed something to make me feel a little more powerful than I have been lately (lol @ school-related stress) and now can't believe I ever lived a life without it. I cheerfully tossed a bunch of lightweight cardigans/jackets into my "donate" bag this past week because the blazer
has proven to be a much worthier replacement
3. A white-t-shirt-blouse
I love the look of crisp, white button downs, and I love the look of flowy, white, pirate-y blouses, but unfortunately, my brain refuses to let me gravitate towards any material that isn't baggy-tee-shirt soft. Enter, the t-shirt-blouse — a tee shirt cut deceivingly to make it look blouse-y, but is basically made of pajama material instead of sweat-inducing polyester or any other less-comfortable material. Just look for a tee with a peplum or babydoll cut, or some sort of flow-y, ruffle-y detail to make it look a little more updated than a simple tee. I got mine at TJMaxx, but it looks sort of like this
.
4. Black flats.
This is more of a category than a single item, but flat black shoes have probably been the most positive and useful addition to my wardrobe. I always had a few pairs of boots in my wardrobe, ranging from fur-trimmed snow boots to cute, dainty ones with heels to wear with fall dresses — that's just the nature of living in a state that is cold for the better half of each year. However, as I analyzed what I reached for most, and what I longed for on days when I felt like something about my outfit was "off," I realized that I genuinely don't love wearing boots. They are good in snowy weather, but otherwise, I hate how clunky they feel (I am only around 5' tall and have small feet, so I think I just feel sort of overwhelmed by them) and much prefer lighter, flat shoes that don't make me feel like I'm dragging my feet all day. I kept a few pairs of boots – some highly-functional winter ones, and a cute pair that is more delicate than my old clunkers – and built a shoe wardrobe of black flats in different shapes and styles. I have a pointed-toe pair, a pair with a classic rounded toe
and a little bow, a pair of loafer-style ones for more professional wear, and a pair of canvas slip-on ones for quick, casual days. I no longer feel the need to buy shoes, because I know my closet has a neutral, comfortable shoe in my preferred style for every occasion.
5. Neutral mid-size tote bag.
Fashion-wise, I'm not super into bags. I think a lot of them are pretty, but I've never exactly been a "collector", and I prefer to just have one that suits all of my needs in terms of functionality. However, I spend some of my time as a student lugging books around, some of it as a nanny carrying a bunch of kid-related stuff, and some of it as regular old me, carrying a wallet and an inhaler and not too much else. Until recently, I'd never found a bag that was quite right for all of those different scenarios – it was always either too big and luggage-like, or too small and dainty for ~going out~. Then, last year, I found myself the perfect, medium-sized nude/taupe tote bag. It is the perfect neutral color for matching with everything, and the perfect size/weight to be used during the day for class, as well as for a weekend of going out or running errands. I haven't purchased another bag since then, and I don't think I'll need to for a long time. The best part is that I actually got it at a local warehouse sale for only $12. (Mine is by Free People, but it is similar to this
.)
Mary writes every day for TFD, and tweets every day for her own personal fulfillment. Talk to her about money and life at mary@thefinancialdiet.com!
Image via Unsplash