5 Reasons I'm Kicking Off Fall With A 2-Month, No-Shopping Challenge
By Allie S.
|
Wednesday, August 30, 2017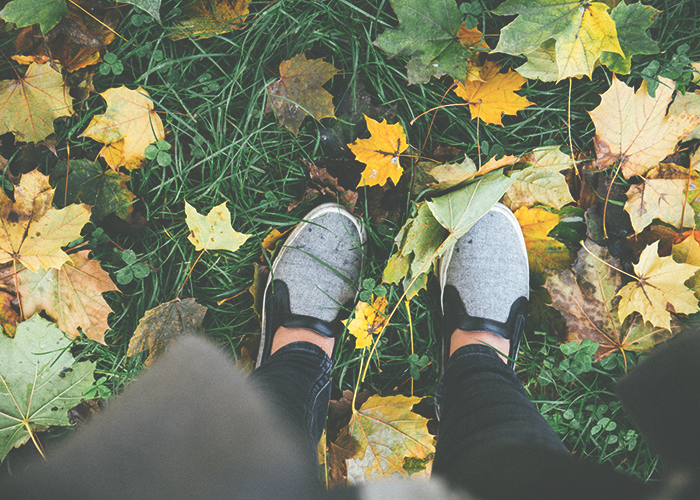 I shop a lot… too much. I probably have a borderline shopping addiction.
Let me break it down for you: when I need a break from work, I browse Amazon or Banana Republic instead of social media sites. My idea of a relaxing Saturday is grabbing an iced coffee and strolling around HomeGoods and Marshall's. And the thing is…I don't usually just browse. I buy more often than not. And it's just not really that healthy. I don't shop to the point of major credit card debt or hoarding — I'm actually quite good at giving stuff away and going through my closet regularly. And I also just paid off all my credit cards and am on a saving frenzy. However, I am realizing that just because I have the extra cash, doesn't mean I need to spend it on clothes or shoes or mini strainers for my Matcha lattes (full disclosure, this is currently in my Amazon cart ).
I recently have had a ~life change~ where I have the ability to save a lot and get very good with money (this life change was moving from a trendy, expensive studio in NYC to home with my parents in Ohio… a different story for a different day). And since the change, I have been able to pay off credit cards, buy a car, and get a handle on my money. However, it's time to go to the next step. It's time to get really good with money, even when I have money to spare. This is where my shopping problem comes in, and this is where things need to change. As I contemplated this shopping ban, I analyzed why it is that I shop so much. I am an analyzer and a self-improver by nature, and I didn't want to take on this challenge without fully recognizing the reasons why I have this impulsive habit. Below are the reasons I came up with:
1. Insecurity with my body.
I'm a bit heavier than I've ever been. I'm not crazy about the way my clothes currently fit. I'm by no means saying my weight is unhealthy or unattractive, just for me personally, it's not where I like to be. I would like to lose about ten pounds, and I know I would be much happier with the way my wardrobe fit me if I did so. Right now, I realize I am often buying things to make up for this fact, or because I feel like a certain top will cover the right areas and make me feel better — which just leads to excessive shopping without any satisfaction. So, I now know I should ditch the shopping for a while, and focus on a healthy weight loss.
2. The feeling that good outfits make me a better person.
It's been talked about on TFD before, but sometimes I think that the perfect work blazer will actually make me a harder worker. Or the right (and new) date night dress will make the date go smoother. Good clothes will make me a better person. This isn't true. I think there is something to be said about looking put-together, and I actually do think it helps me feel and act more professionally at work, or more confident on a date. However, I've already put together a wardrobe. I don't need more clothes. They aren't going to change me as a person, so it's about time I learned that.
3. Not wanting to repeat bold outfits
I have a shit ton of weddings to go to this year — like A LOT. And it's amazing, because I love weddings. However, it gives me the irrational feeling that I can't repeat an outfit that might make the social media circuit multiple times. Or what if someone sees me in the same thing twice, because they attended both events? That's insane, but it's often my thought process. Again, I take pride in my clothes and style — but this is beyond that. Clothes are meant to be worn more than once. I have already worked at getting over this — wearing the same tank/skirt combo to both a wedding shower and a different person's wedding. But I have a green dress that I feel like a million bucks in that I've already worn to a wedding this season — and I'm mentally and physically forcing myself to wear it to another one this month. There is literally no reason not to (also because the weddings are two completely different groups of friends…baby steps).
4. Influencers and status.
I'm a big fan on Instagram influencers. I love looking at their perfectly-curated feeds, I love seeing them unbox products on their stories. I buy into it all. It's not even a guilty pleasure — I just find it all very entertaining and enjoyable. I also like to look to them for style, cooking, and product inspiration. However, this naturally leads to unhealthy habits if you don't keep those impulses and feelings at bay. I don't even have envy towards influencers — they just actually influence me a lot of the time. If I see great workout apparel on one of my favorite bloggers, I am influenced to look that workout outfit up. Don't even get me started on the Nordstrom Anniversary Sale Instagrams — I have two new pairs of beautiful fall boots that I LOVE because of it (but probably didn't NEED).
Now, again, I don't find the habit of following and enjoying influencers to be unhealthy (unless you are having serious envy or comparative issues with them…which is very real for a lot of people and understandably so), but it really does get me into shopping mode. And there's just no need. I see these influencers receiving crazy expensive skincare products that I know I can't afford, and don't buy. I should be able to say no to the things that are accessible to me as well. (Side note: if you do follow influencers and enjoy it, I suggest you read and understand how their work works, how they make money, etc. TFD is a great source for this, as well as many influencers themselves if you search around for it. I think it is important to understand how the job works in order to not get ~overly~ or blindly "influenced" and to understand that it's not all rainbows and butterflies.)
5. IT'S FUN.
I think shopping is fun AF. As I said before, I love looking on different sites for a deal on a pair of Paige denim
. I love waking through Target and seeing how different items would fit in my wardrobe or home. Amazon is one of my favorite distractions. But there are many other fun and enjoyable things in life, and I think for two months, I need to revisit those instead. Shopping will always be there, and it will always be fun. No reason not to take a break.
So for two months, starting August 23, 2017, I am implementing a shopping ban. It won't be for everything — I will still allow drinks and dinner out with friends, because that is not my problem area as of now. Until November 1 (I threw in a couple extra days there for good measure), I will not buy the following:
Clothing

Shoes

Trinkets — such as a mini strainer for Matcha lattes

Household items — I have at least 9 mugs for just myself
I will be keeping a sort of diary throughout the two months to ensure I am making progress and holding myself accountable. Also, so that when I do have a shopping impulse, I have a place to word vomit my way out of buying something. Whether it be listing the bullshit reasons I want to buy an item or understanding my feelings as to why I want to buy it to further analyze myself, I think it will be helpful. I plan on updating halfway through and in November to let you guys know my thoughts!
Abby is an management consultant living in the beautiful land of Ohio. She's obsessed with people-watching, problem-solving, and tuna salad. You can follow her on Twitter.
Image via Unsplash