5 Wedding Outfit Ideas Using Things You Probably Already Have
Wedding season is upon us, you guys, and that means the torturous back-and-forth of figuring out what to wear without a) going broke or b) whipping out old clothes that look downright tired. If you're anything like me, you've got a few items in your closet that you bought a while ago for a super-specific occasion but didn't end up wearing (or wore only once.) For example, in my closet hangs a pastel linen blazer that I vowed to wear with a pair of artfully torn boyfriend jeans and heels to pull off a ~casual chic~ look, but I never got around to it. Also, I have an uninspiring plain black sheath dress I bought for my first "big girl" job, which would desperately need a creative eye if I decide to repurpose it into wedding-friendly attire.
Each of the outfit combinations below takes one item of clothing you (might) already have in your closet and builds a wedding-guest-appropriate outfit around it. Hopefully, these collages get your mind working to see what you already own in a new light. Remember, not all of the items listed below are meant to be bought new, and they can be borrowed or purchased at a secondhand or thrift store. Items like neutral pumps, patent leather clutches, and jeweled earrings can be used again and again, so they won't be wasteful one-and-done purchases. If you are buying new, we always recommend purchasing higher-quality investment items wherever possible and avoiding fast fashion altogether if your budget allows.
So, without further adieu, check out the five looks below!
OUTFIT #1: Jumpsuit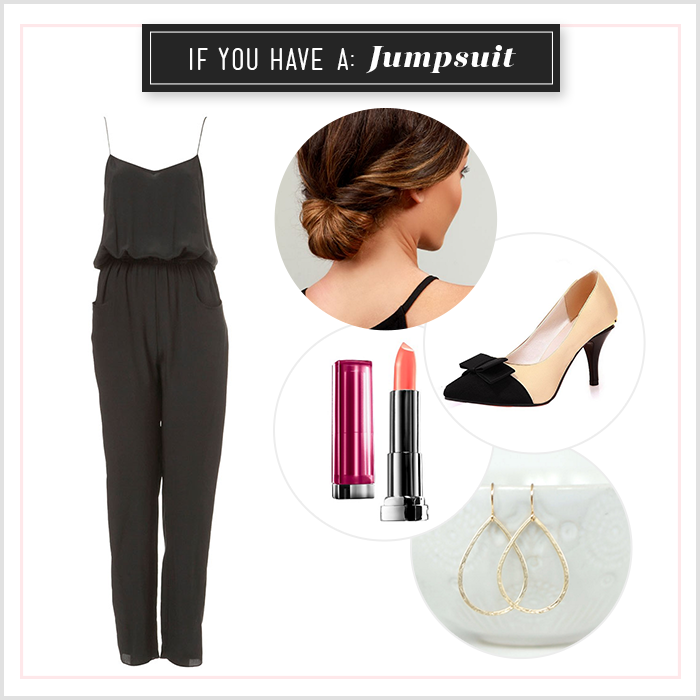 Simple Updo | Shoes | Fun Earrings | Lipstick
I love the look of a jumpsuit, and even though they're harder to pull off, when they work they really work. I bought a black silky jumpsuit last summer to wear on vacation, and it ended up staying in my suitcase the entire time. This is because I didn't know how to style it, and I hated the way it looked with flat sandals (the only thing I had with me). But, at my own wedding just a month ago, a good friend of mine wore a jumpsuit, and it looked killer on her. Pair yours with an elegant pump, long dangly earrings, an unfussy updo, and a bold lip — it really comes together beautifully.
OUTFIT #2: Crop Top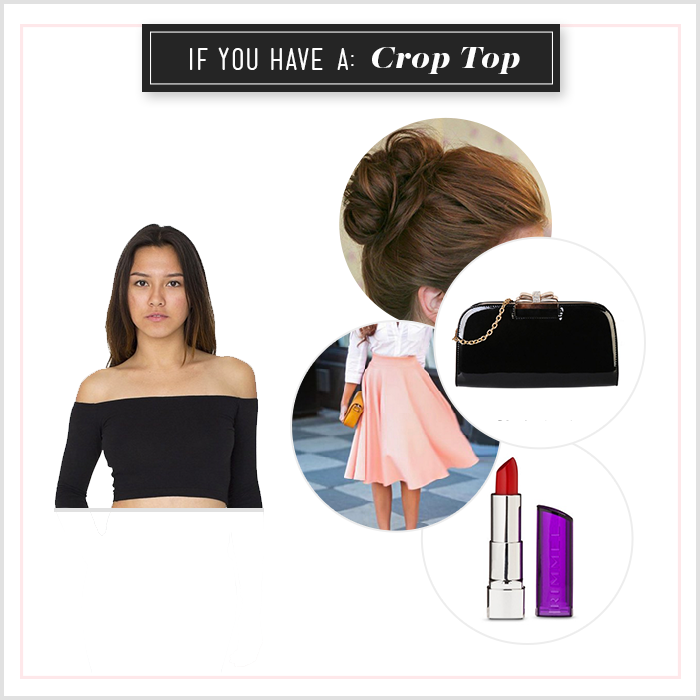 Easy Top Knot | High-Waisted Skirt | Clutch | Bold Lip
I feel like crop tops are a summer staple on rotation in a lot of women's closets. However, if you're over the age of 20, wearing them with a lot of your midriff showing can feel downright uncomfortable. Personally, I think crop tops work best when there's just a sliver of skin showing, and it's totally wedding-guest appropriate when worn that way. When styled correctly, a simple long-sleeve crop top can take on a whole new life. (Chelsea pulled it off beautifully here for my wedding actually!) Add a red lip, a festive curled updo, and a skirt that makes you feel like your living your #bestlife, and you've got it made. While Chelsea wore hers with a more fitted skirt, you can also pair a super-tight crop top with a full skirt for even more oomph. FWIW, I'm really into the blush-colored pink one shown above!
OUTFIT #3: High-Waisted Lace Pencil Skirt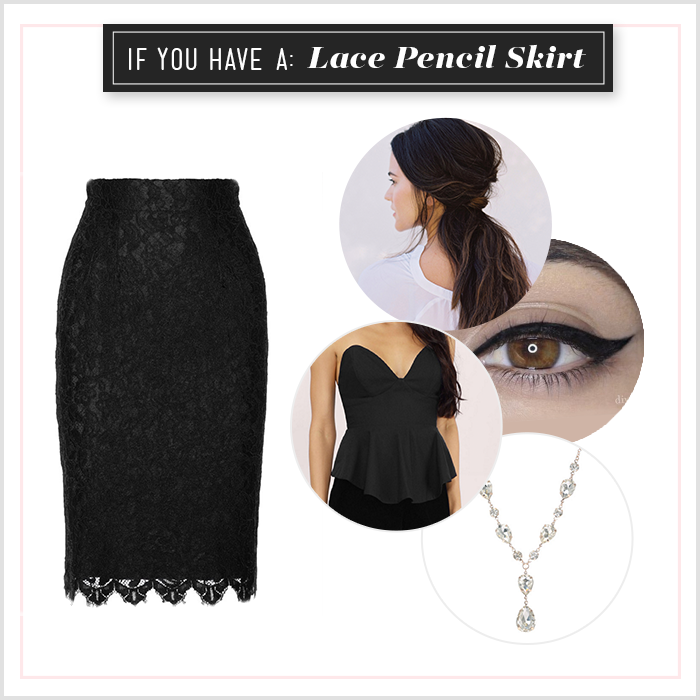 Easy Half Up Hair | Gem Necklace | Peplum Top | Retro Cateye
For the longest time, I felt like owning a lace pencil skirt would turn me into the kind of working professional who always had a go-to piece of versatile clothing to save the day. Unfortunately, buying a lace pencil skirt was a bit more difficult to wear with any kind of frequency. I'm a baby about being cold when I go out, so the pencil skirt sat in my closet all winter long (since you can't really wear a pencil skirt with tights). I found it tough to wear with more comfortable heels, like wedges, because they jive together as well. So, the solution to bring my lace pencil skirt back to life — a wedding! An all-lace black pencil skirt acts as the perfect base upon which you can layer a number of different tops (though, I personally think it's best with a blouse that ends at the very top of the skirt, or a slightly billowy top that you can tuck into the skirt). A flirty half up half down hairstyle + a dramatic cat eye completes the look. Voilà!
OUTFIT #4: Simple Floral-Print Dress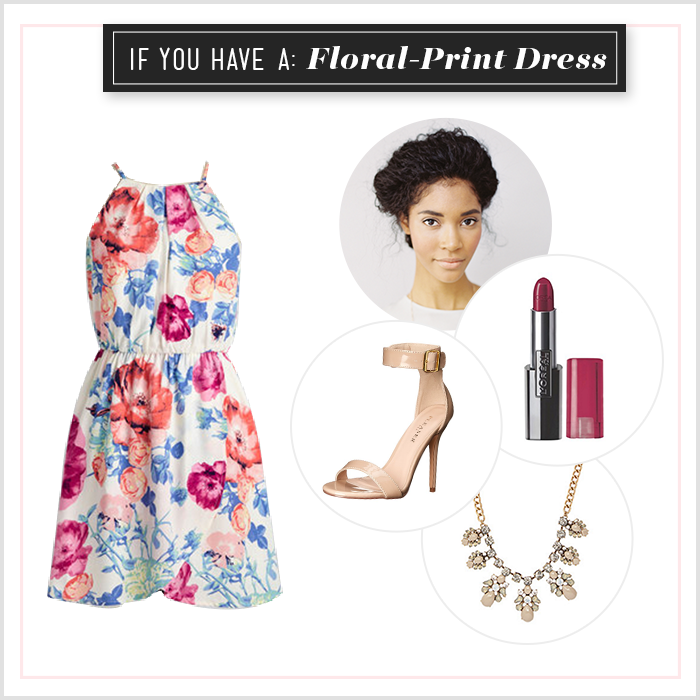 Hair | Strappy Cream Shoes | Necklace | Lipstick
I feel like the short to mid-length floral dress is a staple found in a decent number of my friend's closets. I, myself, went through a phase in college where I thought nothing looked more pulled together than a punchy floral-print dress that fit like a glove. You can still get milage out of this summer staple if you pair it with accessories that elevate it to wedding-appropriate attire. I think a strappy cream-colored heel, a chunky jeweled necklace, and a beautiful updo would take it from picnic chic to #fancy very quickly.
OUTFIT #5: Summery Linen Blazer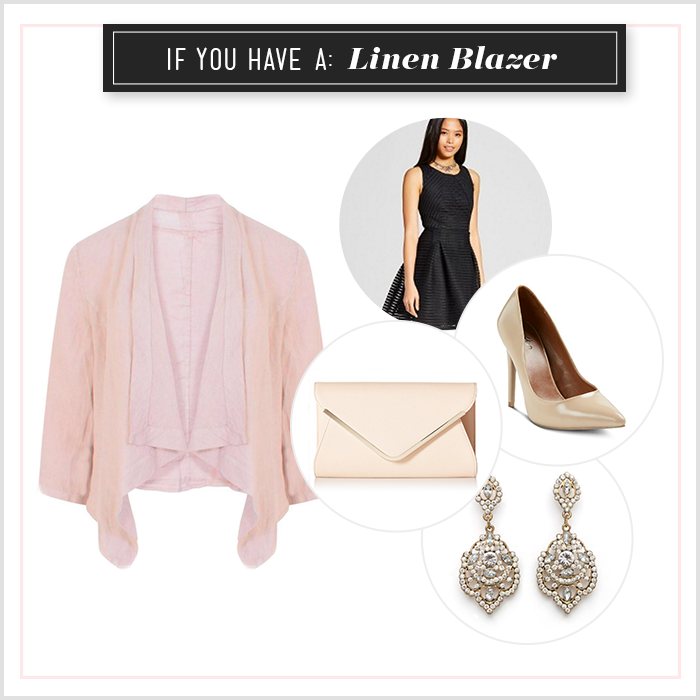 Simple Textured Dress | Neutral Pumps | Earrings | Rosegold Clutch
I had this baby blue linen blazer in my closet for SO long, and I never knew what to do with it. That is, until I read somewhere that spring and summer weddings are the perfect opportunity to whip out something super seasonal like a linen blazer if it's dressed up the right way. I love the way the rosegold clutch works with the pink in the blazer shown above, but you can easily swap it out for any neutral color, or even silver or gold.
You don't have to fall victim to the I-have-nothing-to-wear-so-I'll-just-drop-some-hard-earned-cash game, and it's easy to revitalize old pieces back to life. All it takes is a little bit of time assessing what you have and how you can repurpose it to give it new legs.
Image via Unsplash