The Under-$50 Grocery List & Recipes For My First Gluten-Free Week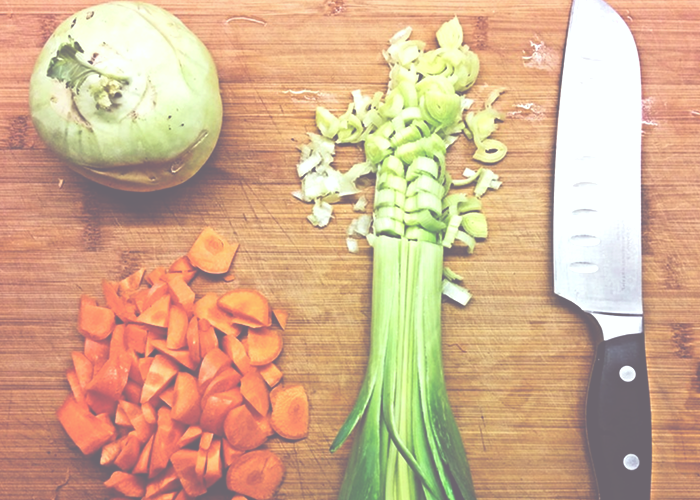 Two years ago, my roommate was diagnosed with Celiac. Shoot, I thought, I can't even begin to imagine life without pasta and gluten! Six months later, in the kind of dark twists that life delights in offering, I was diagnosed with Celiac myself. I had to cut all wheat, rye, barley, and malt-based products out of my life, which was quite the diet shift for someone who ate a Pop-Tart
for breakfast every day and considered Pizza Lunchables as a viable meal option.
My switch to gluten-free alternatives came with a higher grocery bill. Mind you, I keep a fairly modest budget. I spend only $200 to $250 a month on groceries, even now that I'm gluten-free. But, with a potential (and expensive) life change on the horizon, I decided to increase my monthly savings goal. When I realized I could cut my grocery budget by cooking instead of relying on quick (and expensive) frozen gluten-free meals, I set a challenge for myself: a $100 budget for this month's groceries (keeping in mind that I will be traveling for 10 days and won't be dipping into my grocery budget during that time).
For my first week of the challenge, I gave myself a budget of $50. Setting a strict limit forced me to take the time to plan meals for the week instead of my usual routine: realizing I need to eat food and then searching through my fridge and pantry to see what I can throw together at the last minute.
Breakfast:
The first thing that I needed to cut out of my grocery list were my gluten-free Glutino breakfast bars
($5.00 for a box of five bars). They're great for the occasional on-the-go meal, but I needed to break the habit of relying on them daily and push myself to make a decently-filling breakfast.
Scrambled eggs are easy, so I purchased a carton of 18 eggs for $1.49 (less than half the cost!). Best of all, the carton size covered my breakfasts for the next nine days (compared to five days with the Glutino bars).
Dinner:
To cut out frozen gluten-free meals, I decided to make dinner recipes that would allow for leftovers that I could bring to work for lunch the next day. I usually purchase Udi's gluten-free individual frozen meals for $5.00 each (the lasagna actually tastes like lasagna). But those $5.00, single-portion meals add up quickly, especially when you realize you could be making recipes for the same price that'll last for days. For instance, I made three servings of Turkey Chili for a little more than $6.00 total (about $2.00 per serving).
I also made a gluten-free Caprese pizza (and a Caprese salad using leftover ingredients from the pizza) for under $13. The recipe total may seem steep, but keep in mind that the pizza crusts
come four to a package. That's $1.62 per crust. The meatballs come about a dozen to a pack, which allows for leftover meatballs to create another pizza with the following week. The other remaining ingredients (the extra cooked tomatoes, mozzarella, and the second half of the Avocado sliced up with balsamic
drizzled on top) were plentiful enough to make a Caprese salad for dinner another night. That's a (seriously delicious!) third meal for no additional cost.
Snacks:
For snacks to keep me from becoming famished throughout the day, my go-to options were bananas ($0.77 for three), yogurt and granola (my choices: Dannon Light Greek Yogurt for $4.00 and Chex Gluten Free Granola Mix for $3.00), almonds ($5.49), and dried cranberries
($2.39) paired with slices of Cheddar cheese that I already had on hand. Aside from the bananas, these snacks will last me for two weeks.
Final Bill:
At the end of the week, I came under budget at $41.05! This was an especially gratifying victory for me, given that my last few grocery runs have all totaled in the hundreds. (Tip: I shopped at a grocery store where I have a loyalty card in order to receive the discounts, so that certainly helped with a dollar or two of savings.)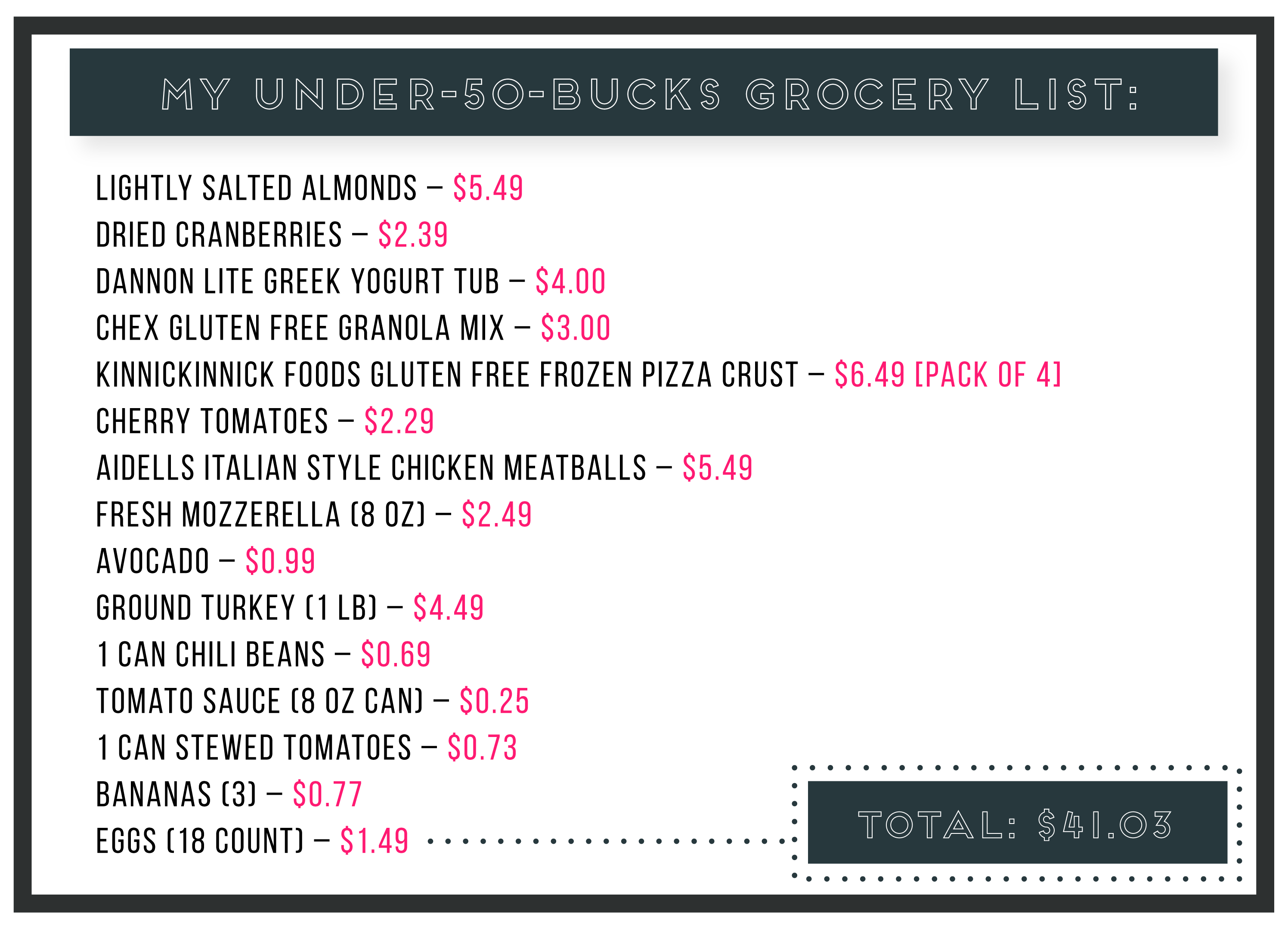 RECIPES
Here are my recipes (with total and per-serving cost breakdowns) for the week: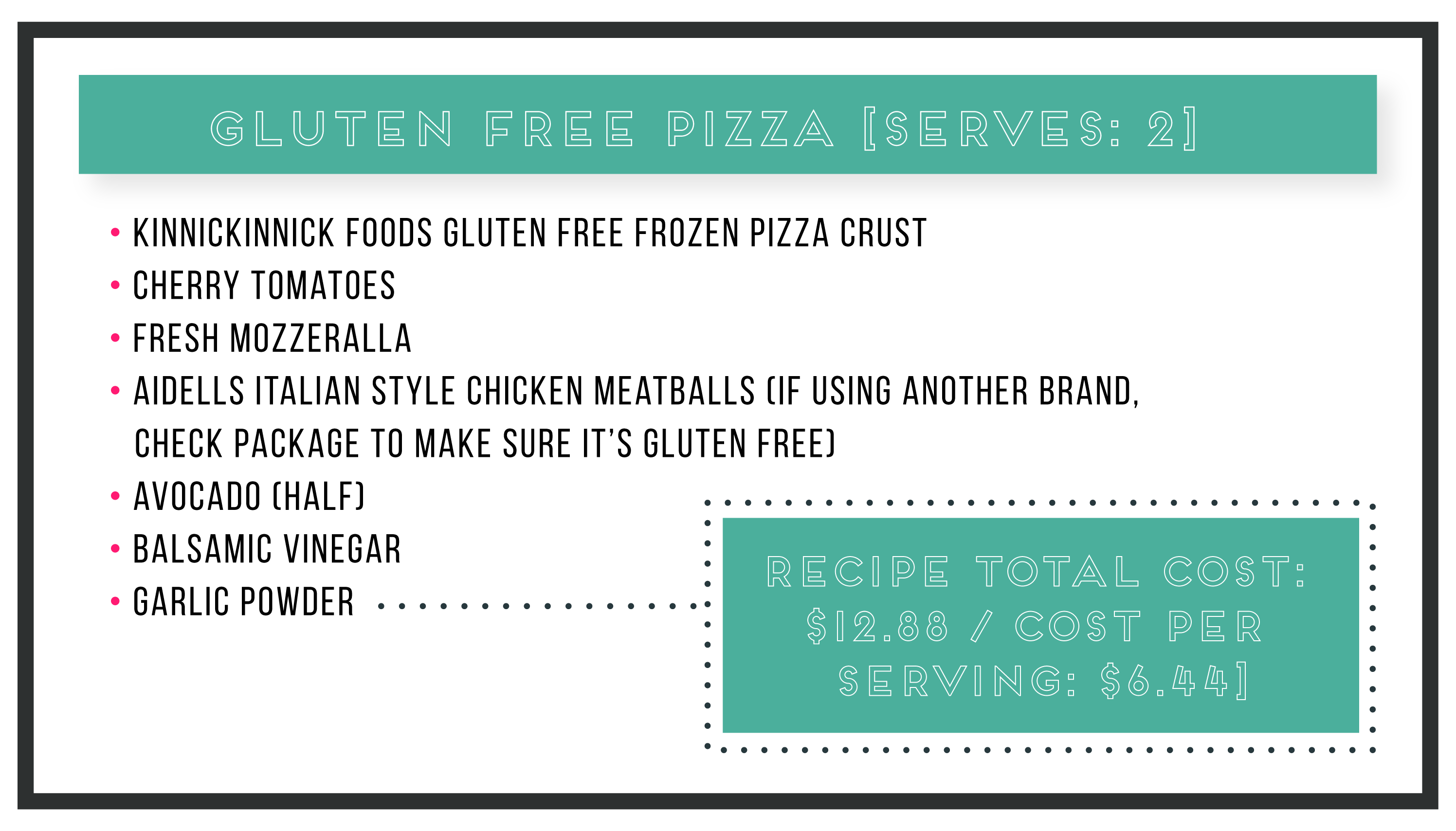 Directions:
Place pizza crust on ungreased cookie sheet. Bake for 7-8 minutes at 375 degrees Fahrenheit. While crust is baking, cut cherry tomatoes in half and place in saucepan drizzled with olive oil. Sprinkle garlic powder to taste over tomatoes; allow to cook on medium heat with lid covering pan for several minutes until skin is slightly wrinkly, then remove from heat. Once crust has baked 7-8 minutes, place quarter-sized chunks of mozzarella on crust with about 4-5 meatballs sliced into fourths. Bake for another 5-6 minutes. Remove from oven, place half of tomatoes on pizza (saving the rest of the tomatoes for use in Caprese salad another night), then bake for a final 2 minutes. Remove from oven; allow to cool slightly, then place sliced avocado on top and drizzle with balsamic. Cut pizza in half and enjoy! Save remaining half for another meal.
Turkey Chili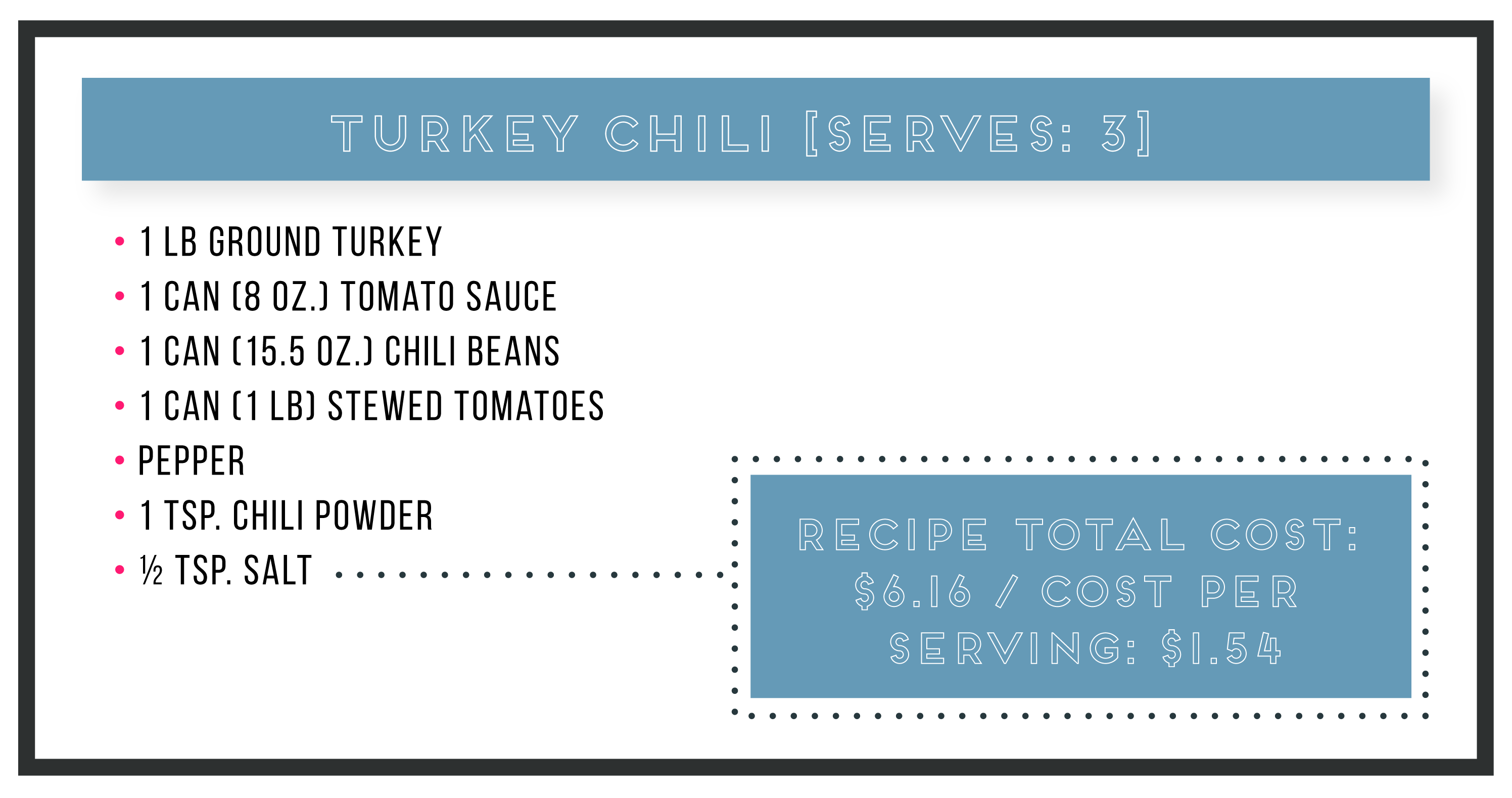 Directions:
Brown ground turkey in skillet; drain excess fat. Combine remaining ingredients with ground turkey in slow cooker. Cook on low setting for 8 to 10 hours. Note: The recipe calls for 1 cup chopped onion, but I usually leave that out of mine and it tastes just fine without it.
Ally Willis is a public relations graduate who buys way too many concert and plane tickets and then writes about it. She puts all things British on a pedestal. She runs a blog about post-grad life and also writes about music and travel on her own personal blog.
Image via Flickr