6 Concrete Ways I'm Going To Avoid Over-Spending On My Vacation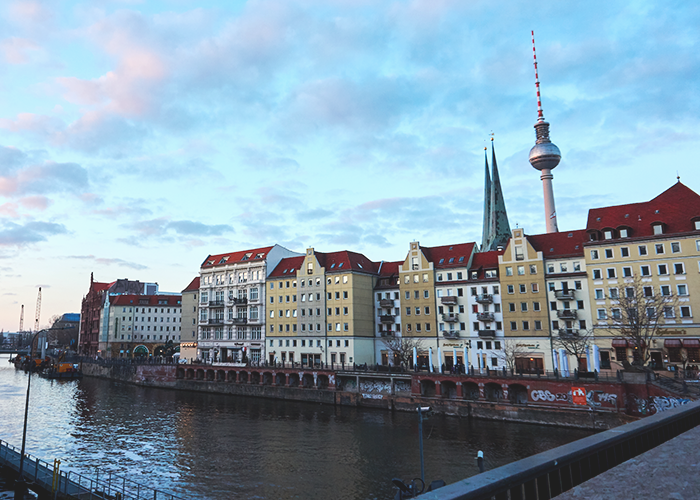 Tomorrow, I leave for a six-day trip to Berlin with my boyfriend, Peter. We are beyond excited, especially because this is his very first trip to Europe, my first to Germany, and our first big vacation away with just the two of us. As I mentioned in my previous post about our trip planning, my goal is to keep my spending around $90 a day, which will come out to about 82€, depending on the day and exchange rate.
I have to say, as much as I will admit that some things are a lot easier as part of a relationship — for example, we're moving into a one-bedroom apartment that I definitely couldn't afford without a partner, and that allows Peter to save more each month than he was previously — I do feel like I often spend more money now than I did when I was single. That probably has a lot to do with where I am in my career, sure, but I also know that Peter and I somewhat enable each other. If one of us has an idea to go out to eat or to a bar for happy hour, or be lazy at dinnertime and order takeout, the other is almost always game. I also know that Vacation Holly is much more apt to giving in to YOLO-moments in the first place — she doesn't just fall into spending traps, she dives head-first, with a smile and some travel-appropriate footwear.
Peter, obviously an avid TFD reader, is very aware of my spending budget (which, quite frankly, I don't think is absurdly limited). It's the amount I already have set aside for the trip, and I know he will be more than okay sticking to it. That being said, my vacation mode means I don't want to feel restricted in any way. Berlin may be more affordable to visit than some other major European cities, but I'm still a tourist — not a local who knows all the best cheap hacks. So, while my trip budget might be a lot less than the total amount I have in my bank account, I still want to try my best to stick to it, so that I don't have to sacrifice other savings goals in the near future. Here are the ways I'm planning to do so.
1. Use cash. This is kind of a no-brainer, but taking out a set amount of cash to spend certainly helps in these kinds of situations. Peter and I both ordered euros through our respective banks, but not the full amount our budget covers — just enough for the first few days. I'm personally extremely anxious about having cash on me (after getting my wallet stolen once, Venmo is my best friend), and it does seem silly to take it all out beforehand, especially since I can use my credit card with no foreign transaction fees in the event that I do not have cash. But if I do end up using my credit card for anything, I will keep track of those purchases along with my cash spending — that way, I won't end up taking out more in cash than I need along the way, and can better stick to my budget.
2. Remember my wishlist. I'm not the world's most enthusiastic shopper. If I had more disposable income, I definitely would be, but I don't super enjoy wandering through stores I can't afford "just because." There are plenty of stores I love to look at, but I don't even let myself onto their websites unless I know there's a killer sale going on (thanks for the email forwards, mom!). That being said, I freaking love a kitschy knick-knack. To help stop myself from buying things I definitely don't need — especially amid paying to move into and decorate a new apartment — I have a list of things that I need in the near future, even if they aren't *absolute* necessities. That way, I'll avoid spending money on a pair of sandals just to be able to say "I picked these up in Germany," and I'll keep an eye out for things I want for the apartment, like wall art or some cute canisters for the kitchen.
3. Pack a little extra. This sounds counterintuitive — why would I pack more clothes than I actually need for a trip? But I find if I have two or three extra "fun" tops to change into in the evening, I'll be much less inclined to spend money on clothing to wear out that night. I'll also have more options already, in case we decide to do something fancier than originally planned.
4. Research a lot beforehand. We're not the types to completely map out how we're to spend every minute of each day, but we have put together a shared Google doc with a ~gentle itinerary~ plus a list of all the activities we want to do, and potential affordable restaurants and bars in the various areas we'll be visiting. The only thing we've purchased tickets for is a bike tour for our first full day there. We are considering doing a second bike tour in Potsdam with the same company, which we'd heard of through friends' recommendations. But since I am not exactly confident on a bicycle (the last one I was on had a backpedal brake system I was unfamiliar with, and I fully ran into a tree), I'll be damned if I commit to two multiple-hour tours on them without even seeing how one goes first. We will see.
5. Use what I've already paid for. *Repeats to self* We. Will. Not. Take. Taxis. We already pre-purchased Berlin Welcome Cards, so we will have unlimited public transportation that we don't have to pay any more for. It's easy to stick to my subway pass in New York, because I already take the subway all the time, and know the system very well. But in a foreign city (especially where I don't speak the language) after spending most of the day walking, hopping in a cab seems oh-so-tempting. But I must resist.
6. Stick to self-imposed drink maximums. Not overindulging in a foreign city I've never visited is a good idea in the first place, but it's also helpful for sticking to a budget. Even in Berlin, where beer is (supposedly) inexpensive most places, we all know that small costs add up.
Do you have any other methods for staying under budget while traveling? I'd love to hear 'em!
Holly is the Managing Editor of The Financial Diet. Follow her on Twitter here, or send her your ideas at holly@thefinancialdiet.com!
Image via Unsplash