6 Cost-Effective Ways To Make Temporary Housing Feel Like Home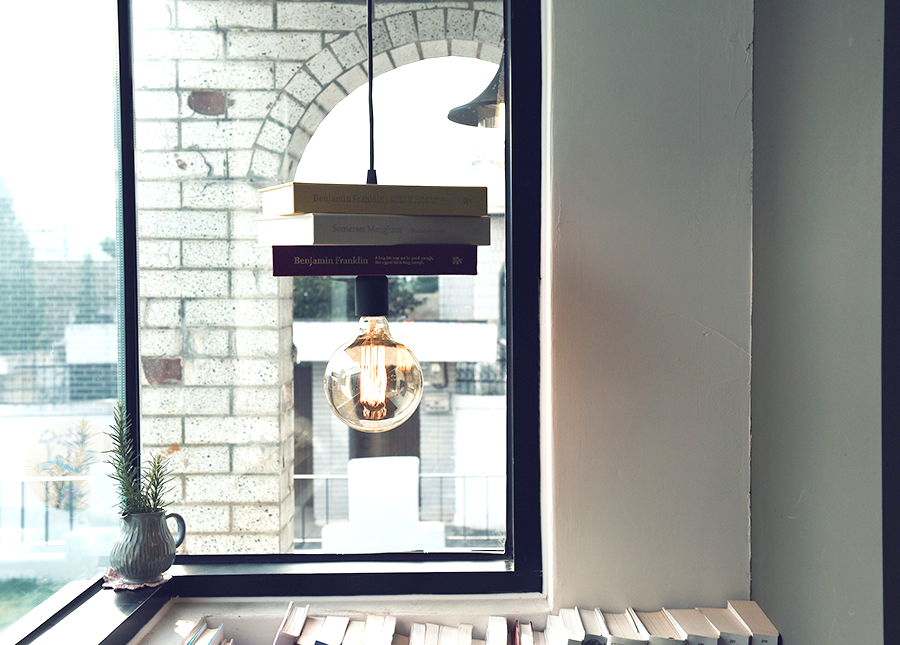 I only moved out of my parents' house last year and, as a first-time renter, I'm still getting used to living in a home that technically isn't "mine." I am a person who really likes decoration and style and "extras," and I'm a religious watcher of every show on HGTV, which means I'm pretty much constantly dreaming up a new DIY home-improvement project. In my family home, I was given a lot of flexibility within my own living space to do what I want. I had almost an entire wing of the house, and within reason, my parents would let me do whatever I wanted to ~express myself~ in my space.
Now, I'm living with a significant other for the first time (which is a huge change, and sometimes a struggle, considering our very strong and very clashing opinions on what looks good in our home), and we're renting a place, so it is hard for us to work out a vision for our home that we both love the look of, and can actually accomplish in our space given the limitations set by our lease.
We moved in to this particular place in May, and being a renter for the first time, I'm having trouble making myself feel at home in a place that I know is temporary. We don't own our apartment, and we will most likely only be living here 2-5 years, depending on what happens for us both career-wise. And adjusting to the feeling that it is temporary has been strange. I've found myself tiptoeing around, not putting a lot of effort into decorating or homemaking, and generally just feeling like the place isn't my home.
Aside from the apparent emotional crisis I'm having related to my home, a lot of people do have trouble putting their own unique stamp on their rentals. Often, you have to just deal with what you're given, and shrug your shoulders at the parts of your home that you don't particularly love. But today, I've decided to share some tips that I've been using to try and make my "temporary" place of residence feel less temporary, and more like my home. This is how I've gone about making the place feel comfortable without breaking the budget (and without spending so much money at Home Goods buying décor pieces that I kill my dream of ever saving enough money for a down payment on a house of my own).
1. Consider your timeline.
Knowing that we won't likely be here a few years down the line dramatically adjusts the potential projects I would take on in this home. If I knew we'd very likely be staying here for ten years, I'd want to do more things to make it feel like mine, and make it fit our own personal design styles — I'd consider buying furniture specifically tailored to this space, rather than dealing with our mismatched hand-me-downs and stuff-we-aquired-for-cheap that doesn't quite match, but gets the job done, and possibly even look into getting the carpets torn up. However, knowing that this place will only be ours for a couple years reminds me that those are projects that cost a little too much to justify doing while I'm still living in a fairly temporary rental.
2. Establish a comfortable budget.
Although putting money into improving your living space isn't actually an investment, since you're not the property owner, it is okay to invest in your emotional satisfaction for the next few years and foot the bill for a certain amount of money that will make you feel more comfortable in your home. Coming with little furniture/belongings in general and moving to a place much bigger than Drew's last one (which I only lived in with him for a couple of months), we knew there were some things we'd need to buy once we moved in here, and some improvements we'd want to make to make our space more functional. We set a budget that we were comfortable with, making sure not to give ourselves a huge budget, and keeping in mind that this money was being spent purely to make us feel more comfortable, but not necessarily in a way that would be a great investment for us. We had a goal to spend only a certain amount of money (or less), and to get it all done at once, finishing by the end of summer, so then we could feel properly "settled" and stop throwing money away here or there constantly to try and make it feel more like our home.
3. Stop thinking of your place as someone else's.
Obviously, it is someone else's property, and you have to follow the rules they've put in place. However, there likely aren't too many rules to follow. Personally, we've been given a lot of flexibility to make changes without asking permission, provided that we make sure everything is put back to its original form when we move out in a few years. But as someone living in a rental for the first time, I've had to really let go of the feeling that it isn't my place, so I shouldn't try to make it feel comfortable and homey for me. I'm not living here for a month or two — we'll most likely be in this apartment for around three years, so I need to remind myself constantly that, for the time being, this is my home, and I need to make it feel like home, or else I'll spend the next three years feeling like a guest in an Airbnb.
4. Consider what problems are your own personal ones, and what problems are flaws with your rental itself.
If you hate your rental for some reason, and feel like no matter what you do, it still doesn't feel like your home, you need to consider whether or not the problems you have with the unit are fundamentally wrong with the unit itself, or if they are things you can change with added effort. Example: I was salty for the first few weeks in our new place because most of it is carpeted in light-brown carpet (which, to be honest, is just not a good carpet color — it just looks like a dirty white carpet). I thought this was unfixable, because we aren't really rolling in enough cash to fund tearing up the carpets. However, although I used to think it was a weird look to have carpet-on-carpet, I've found that putting large area rugs that I actually find attractive over the carpets covers up the ugly brown that I don't like and makes it feel more like it fits my own style. Other things –- like our not-so-cute kitchen cabinets, which we can't paint -– are flaws with the apartment. I can't change that one thing I don't like, so I just have to accept it and focus on what I can work with.
5. Think about higher-impact home updates instead of small, unnoticeable ones.
You can buy kitschy little décor pieces all you want, and while it'll definitely add character to your home, these are tiny little aesthetic updates that aren't really high-impact. Things that can really change the entire feel of a room (rather than just adding something cute to it) include things like painting, adding shelving or bigger furniture pieces, or adding things like rugs or curtains to bring a certain style to the space. Lighting is also a great way to do this –- replacing those weird-af boob-shaped light fixtures that seem to be all over every shitty rental with nice pendant lights
, chandeliers
, or attractive lamps brings a room to a whole new level.
6. Talk to your landlord honestly.
Landlords want their tenants to be happy — ideally, they want a good (i.e. respectful and consistent/punctual with rent payments) tenant to stay for years, rather than having to constantly negotiate new deals, write up new contracts, and deal with new people. Have an honest conversation with your landlord about things that you might not love about the place, and see what they are willing to work out with you. If appliances or fixtures in the apartment are shoddy, they might be willing to replace them. (We got our place repainted and got all new blinds on the windows the first week we moved in, all on the landlord's dime.)
If there are projects that you'd like to do for more aesthetic reasons, express this to your landlord and see what they'll allow you to do to their property. You can often get them to budge on things like painting (we're allowed to paint if we repaint the walls white in a few years when we move out, although I'm not sure we are ambitious enough to) or hanging things on the walls. If there are bigger things you'd like to update that may improve the quality of the apartment and actually be a good investment for the owner of the unit, discuss with them whether or not they'd be willing to strike a deal with you. Maybe you get new flooring put in and they pay for some of it, or all of it. This isn't always possible, but you never know what you might be able to get out of them if you don't ask.
Mary writes every day for TFD, and tweets every day for her own personal fulfillment. Talk to her about money and life at mary@thefinancialdiet.com!
Image via Unsplash