6 Creative & Affordable Date Night Ideas From Couples In Quarantine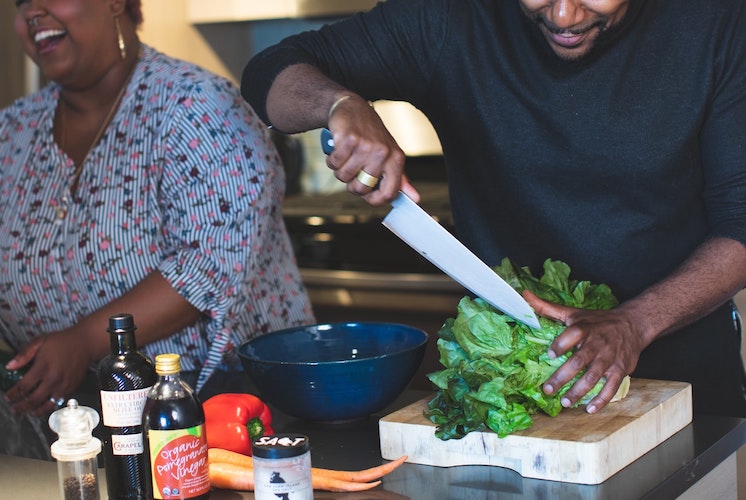 Date nights are the cornerstone of a solid romantic relationship. It's a much-needed time to relax and connect with your partner. Pre-pandemic, date nights were often difficult to schedule between overbooked partners. Now, if you're on lockdown with your loved one, there's a new wrinkle: You can't leave the house. If you're looking at Day 45 of scrolling through Netflix and calling it date night, we can help. Here are six creative and affordable date night ideas for couples in quarantine.
Have a cook-off a la Chopped
If you're a fan of "Chopped," you'll like love this idea. Twitter user @XoGossipGeorge shared photos of his boyfriend's Bravo-inspired date night set up. He put out a handful of random refrigerated and pantry ingredients, and the two of them came up with the best dishes they could—a salad and a stir fry. Do this at home, but be warned, one of you will get chopped! (Said in your best Padma Lakshmi voice). 
My boyfriend made me a Chopped inspired date night ✨ pic.twitter.com/XXvrF1sy2F

— George Elrod (@XoGossipGeorge) April 25, 2020
Try an at-home spa night
What's more relaxing than a date to the spa? How about a visit to the bathroom with your bae, for some DIY skincare? Raid the wellness goodies you have on hand, and give each other facials or body treatments with sheet masks, scrubs, and moisturizers. Fill the bathtub with oils and flower petals, or turn the shower on hot and spray some eucalyptus or lavender for a seriously relaxing at-home spa date night. Shared back rubs complete the evening. BYO bathrobe.
Bring the movie theater to your living room (or backyard)
Movie theaters are very much closed during quarantine, but movie studios are releasing hits straight to TV—and who doesn't have a Netflix subscription at this point? Take a page out of Twitter user @MattyCalderbank's page, and set up a backyard mini-movie theater with nothing more than a bedsheet and a projector. No space outside? No worries. Keep it indoors. Popping popcorn, eating boxed candy, and printing fake movie tickets makes it feel like you're watching on the big screen. Don't forget to lower the lights. 
Date night in lockdown🍿🎥♥️ pic.twitter.com/IBO3kDQ3Hr

— Matthew Calderbank (@MattyCalderbank) April 26, 2020
Have a patio picnic 
We're all a little tired of constantly cooking (and doing dishes) so maybe it's time for a date night picnic. Spread out a blanket in the backyard or on the living room floor and pretend you're in Central Park or sitting along the Seine. Some edible and easy cleanup suggestions? Crackers, veggie sticks, cheese, cookies, charcuterie, and wine. Bust out the picnic basket and mason jars of wildflowers if you have them on hand. 
Go on a road trip (from the driveway)
Canceled vacations are a sad reality of quarantine. How about pretending you're on the road? Twitter user @CampersDoLittle decided to use his imagination and set up a quarantine date night in their VM camper van—complete with a printed ticket for his wife and an Indian dinner set up in the back. No space to eat? Even sitting in the sedan and listening to love songs on the radio offers a much-needed change of scenery. Swoon!
Had a lovely date night in the van tonight 😊 pic.twitter.com/euffDGWYU7

— Dolittle Campers (@CampersDolittle) April 22, 2020
Organize old photos and create an album
Since you can't go on a trip right now, take a trip down memory lane instead. Quarantine is an excellent time to go through your phone camera albums, social media feeds, and digital camera cards. Delete duplicates (or pics that don't respect your best angles), and then edit and print your favorites to make an online or printed album keepsake. Make the time more romantic by trading favorite trip moments with your partner, and planning your dream romantic vacation when it's safe to jet again. Date night in Paris? Yes, please.
Image via Unsplash
Like this story? Follow The Financial Diet on Facebook, Instagram, and Twitter for daily tips and inspiration, and sign up for our email newsletter here.