A Week's Worth Of One-Pot Dinner Ideas For Those Who Detest Washing Dishes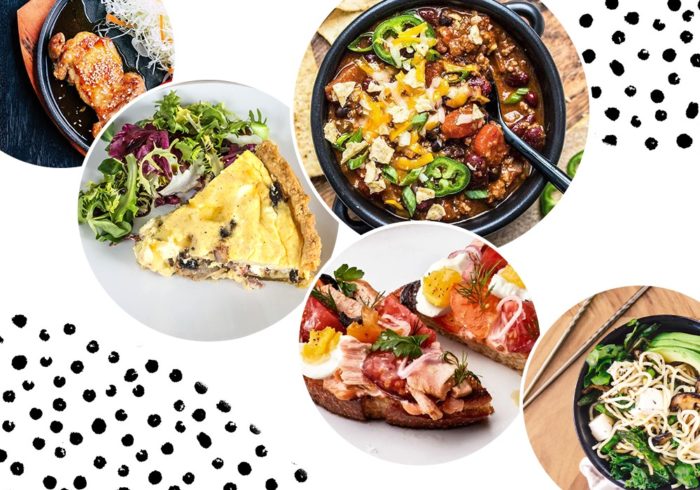 With all of us cooking at home more, I'm guessing that the dishes in your kitchen have been piling up just as fast as mine are. And if you're anything like me, you're sick of washing them.
To counteract this problem, I've been reducing the number of pots and pans that pile up by embracing some of my favorite one-pot (or pan) meals. I thought I'd provide a few of the handy dishes I've come to keep in my pocket for rainy days. 
Below I list out a week's worth of meals. I have not included cooking oil, butter, or salt and pepper in the ingredients because, well, everything needs them! Hope you enjoy!
Monday: One-Pot Chili
Filling, flavorful, and easy as hell, chili is an ideal lazy meal to start your week. Plus it makes a ton so you'll likely have leftover for lunch the next day.
Dishes: One pot, one cutting board, one knife
Bare minimum ingredients: 
Aromatics like onions and garlic (Pro tip: chop way more than you need and save the rest for the other meals you'll make this week. If you have a food processor, you can use that to chop these even more quickly)

1 can black beans (I pour in the juices too, which some might say is weird but I think it helps make it thicker and saltier)

1 can diced tomato 

Spices to taste (chili powder, cumin, cayenne, paprika, whatever else you like)
Even better ingredients:
Ground meat (any kind really) or if you're going for vegetarian, different varieties of beans 

Fun toppings like shredded cheese, sour cream or Greek yogurt, diced onion
Recipe: Simple Homemade Chili from Budget Bytes
Tuesday: Breakfast For Dinner
The world is upside down right now. If there was ever a time to rebel against the dietary norms of society, it is now. Few things are more comforting than a full-on, diner-style breakfast with greasy bacon, eggs, toast, and the whole nine yards. But who has the time or wherewithal to whip that up on a workday morning? I only think to do this like once a year, but every time I do it is more exciting than it should be. Below are two takes depending on your laziness level:
Fancy version: Egg frittata 
Dishes: One skillet or oven-safe frying pan, a spatula, a whisk, and a knife.
Bare minimum ingredients:
Eggs

Heavy cream

At least one add-in (could be cheese, tomatoes, spinach, potatoes, bacon, etc. Basically whatever you have on hand. The most lazy options are pre-shredded cheese and baby spinach because they require NO MORE DISHES!)
Recipe: How to Make a Frittata With Whatever You Have on Hand from The Kitchn
Plebeian Version: Plain old eggs and bacon.
Dishes: One frying pan (plus a baking dish if you choose to roast the bacon,  BUT if you line the pan well with foil you may get away with not having to wash it all).
Bare minimum ingredients:
Even better ingredients: If you like your eggs scrambled, you can toss in things like baby spinach, pre-shredded cheese, or crumbled feta, none of which require prepping or chopping.
Recipe: Roast Bacon from Ina Garten
*This may be controversial, but my personal tip here would be to bake your bacon in the oven rather than sautéing it. I find it easier to make a large quantity without burning it that way (and if you make a lot, you can save out some extra for bacon bits later in the week!). 
**Another myth I like to dispel is that you have to scramble eggs in a separate bowl. While I'm sure this is the better way to do it, I've whisked them right in the pan many times and it turns out fine. Just be sure to do it with a rubber spatula (never metal) so you don't ruin your pan.
Wednesday: Toast With Goodies
Not only do I count toast (with toppings) as a meal, but I count it among my favorite meals. Call me lowbrow, but I would legitimately take a fresh piece of bread with indulgent toppings over a $50 steak dinner. Alternatives to the slice of toast include a bagel, baguette, or your crackers of choice. On the "stuff on top" category, some of my favorites include:
Cured meats (like prosciutto or salami) and brie, camembert, or any other nice cheese 

Cream cheese and lox (extra good with capers and dill)

Cream cheese and tomato or cucumber and — wait for it — a sprinkle of cayenne pepper, plus lots of regular salt and pepper (this was served at a cafe I used to frequent and it changed my life)

Egg salad (basically, just boil some eggs, mash them up with mayo, salt and pepper)

Tuna salad (same as above but I like to add chopped onion or celery and a squeeze of lemon)

Peanut butter and bananas (true story — a friend of mine told me once he made this for dinner

most

nights?? But hey, it's yummy, filling and pretty nutritious). 

Almond butter and fresh preserves (otherwise known as "Adult PB&J")

Mozzarella, cheese, and basil (basically, pizza)

And of course…avocado 🙂
True, the ultimate lazy meal is a sandwich with sliced deli meat, which I adore. But they feel so school-lunch-esque that unless you have like, a fresh baguette and some truly premium condiments, having one for dinner has kind of a sad energy to it. Also, almost all of the above items have long shelf lives (eggs, for instance, can last 3-5 weeks, and a can of tuna lasts 3-5 years).
Dishes: Just a knife and cutting board (or at most, a pot for boiling eggs, but that doesn't even require washing, just a quick rinse).
Bare Minimum Ingredients: Toast + any one of the above toppings
Recipe: Bon Appetit's 38 Recipes for Toast, Crostini, Bruschetta, and Toppings
Thursday: Loaded Baked Potato
Here's where you get to take the bacon bits you saved from your Breakfast for Dinner and let them shine!
Dishes: One baking pan, one small bowl, one spoon.
Bare Minimum Ingredients:
Russet potatoes
Butter
Cheese
Even Better Ingredients: 
Bacon bits
Sour cream
Chopped chives
Recipe: Loaded Baked Potato with Bacon and Cheddar from Delish
Friday: Souped-Up Instant Ramen (pun intended)
Friday calls for the ultimate lazy comfort food and in this category, instant ramen reigns supreme. Yet, like a turkey sandwich, an instant ramen dinner can have dangerously sad energy to it. But it need not feel shameful. With the simple addition of some fresh (or frozen!) vegetables, you can take your ramen from depressing to delectable in seconds. It's a great way to get some nutritionally-dense greens in your system while enjoying the down-to-a-science addictive flavors of packaged seasoning. 
While I don't make this a daily habit because the sodium and fat are still high — and highly-processed — it really hits the spot when I'm in need of something super comforting on a busy night, and I don't feel nearly as guilty about it with the added veggies.
Dishes: One bowl if you're only throwing in things like spinach and mushrooms. If more, just one knife and one cutting board.
Bare minimum ingredients:
1 Pack of some delicious instant ramen like

Nongshim Kimchi Noodles

or good old

Top Ramen

Veggies such as baby bok choy, broccoli, spinach, Napa (Asian cabbage),  bean sprouts, mushrooms (or as we refer to them in my household, mushies), red or green peppers, tofu, etc.

Optional: eggs (I like to crack an egg directly into piping hot soup, just make sure it was brought to boil right before you do it so it's hot enough to cook the egg)
Recipe: 6 Ways to Upgrade Instant Top Ramen from Budget Bytes
Saturday: Salmon and Asparagus
I wrote all about the liberating revelation of sheen pan cooking here so I'll refrain from gushing too much again, but basically the gist is: a) Put things on a pan, b) Leave them in until they look ready (if veggies) or read hot enough on a thermometer (if meat). 
Salmon is a nice choice because it's highly nutritious and naturally flavorful. While many veggies would go nicely with fish, asparagus is an especially easy one because you don't need to chop it up. It's nice to cut off the bottom ends, but if you're just making this for yourself or a close friend/partner, you can just do this on your own plate.
Dishes: One baking pan
Bare Minimum Ingredients: 
Even Better Ingredients:
A marinade for the salmon (for instance, a teriyaki one like the below recipe)
Fresh lemon to sprinkle over the fish and veggies
Fresh herbs like dill
Recipe: How to Cook Salmon in the Oven by The Kitchn
Sunday: Oven-Roasted Teriyaki Chicken
Sunday may find you with a tad more time and energy. So to continue with the roasting trend, I'd recommend a very special roasted chicken dish that seems way harder than it is: Teriyaki Chicken Wings and Drummettes. My Japanese-American family ate these a lot and they remain one of my favorite comfort foods. Plus you can easily make 12 servings at once.
Dishes: One baking sheet (or even better, a broiling pan), one large ziplock bag or Tupperware for marinating and measuring spoons/cups if you're more of a precise type.
Bare minimum ingredients:
Chicken wings and/or drummettes 

Teriyaki marinade (

store-bought

or homemade)
Recipe: I could not find a good one online, so sharing my family one here: Marinate chicken overnight (or for at least 5 hours) in a large Ziploc bag or container, with the following:
Homemade marinade:
½ cup soy sauce 

¼ cup brown sugar

1 tablespoon minced garlic

1 tablespoon minced ginger

A few sprinkles black pepper
And if you have them:
1-2 teaspoons sesame seed oil

1-2 teaspoons rice vinegar
*Pro tip: You do not need to measure this all out with cups and spoons (because, more dishes!). Just eyeball it. It's a marinade not a fancy cake.
When you're ready to bake it, heat the oven to 375 degrees. Cooking time varies slightly depending on the size of your pieces but will be about 40-50 minutes. Just check it around that time and use a meat thermometer for thicker pieces. That's it!
For even more tips on maximizing laziness, you can read my article, 7 Home-Cooking Rules for People Who Hate Doing Dishes here.
What are your go-to one-pot (or plate) dinners? Let us know in the comments!
Annie Atherton is the Chief Operating Officer of The Financial Diet.  She leads business development, partnerships, and marketing. When she's not helping to ensure our company runs smoothly, she is reading, going for walks, and avoiding the dishes.
Like this story? Follow The Financial Diet on Facebook, Instagram, and Twitter for daily tips and inspiration, and sign up for our email newsletter here.