6 Low-Carb Recipes That Don't Taste Like Shit (& Don't Cost A Ton To Make)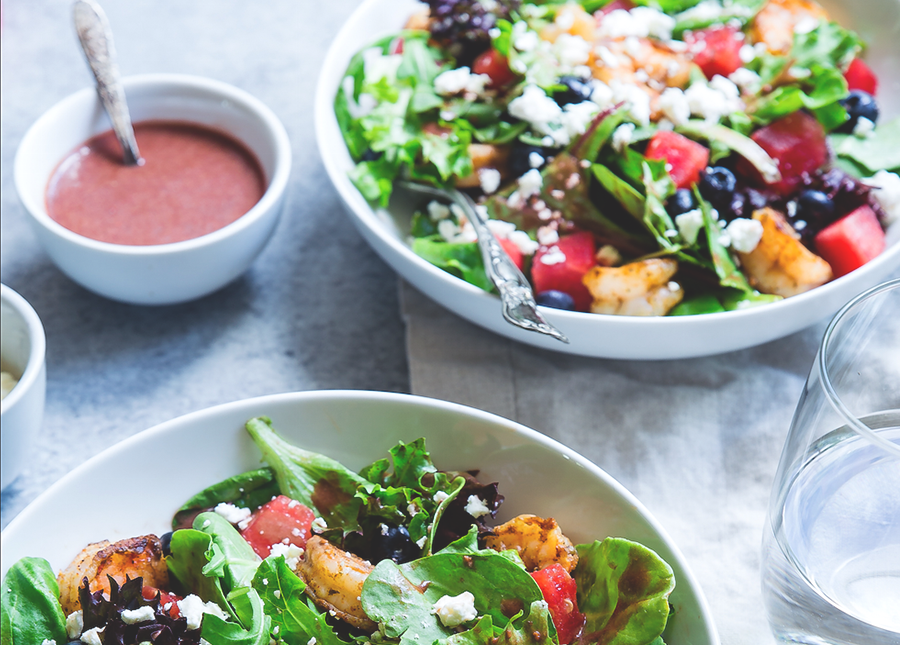 Time for another weekly recipe roundup, y'all!
I love carbs. I'm not necessarily proud of it, but transparency is important here. My diet consists of some protein and a ton of carbs. For breakfast, I sit across from my omelet-eating boyfriend with my big bowl of cereal, or a waffle, or a slice of toast. I love any and all carb-based meals, from rustic pasta dishes to hearty sides of potatoes. Another reason why I love carbs (that isn't quite as important as the fact that they taste good as hell, but is a close second) is that they are usually very cheap. My personal weekly groceries (consisting of vegetables and starchy carbs, and very little meat if any, because I'm just not a huge meat-fan) cost around $30, sometimes even less. It isn't all too culinarily impressive, and possibly not always the healthiest, but it works.
In direct contrast to the way I prefer to live my life, I happen to have a partner who doesn't really eat carbs. He has been eating low-carb (less than 25g per day) for a long time now, and I just deal with it because I have to respect his choices.
Not that eating low-carb is a bad choice! It is actually quite healthy from what I've researched
, and works for a lot of people who need help maintaining their health and weight.
It is certainly not for me, but it works for people, and that is awesome. And since one of those people it works for lives with me, I have to find a way to a) afford both all-carb-diet and low-carb-diet groceries, and b) figure out how to cook for and feed two people living under one roof with vastly different dietary preferences.
A lot of nights, two different meals are cooked and consumed in our household (and the subsequent leftovers are eaten until finished). But more recently, I've gotten a little more into investigating low-carb recipes that I can actually enjoy too, even as a Certified Carbaholic.
A lot of low-carb versions of things you might normally make — homemade pizza, for example, or breaded chicken) — call for pricier ingredients like almond flour (which costs way too much, imo), so for this roundup, I decided to collect a bunch of yummy low-carb recipes that can be made with regular, inexpensive ingredients that you probably already have (or at least can buy for cheaper than a $17 bag of almond flour
).
Unlike a lot of broccoli cheese soups (but no disrespect because I truly love them all), this one has a good amount of spice to give it a little extra ~pizzazz~. You could serve it with a hunk of low-carb bread if you're the type of person who makes stuff like that (I'm very much not), but I think it would be just as delicious on its own, or with some baked low-carb tortilla chips. (Cut low-carb tortilla into triangle wedges, arrange in single layer on baking sheet
, sprinkle with salt, bake around 10-15 min at 350 degrees.)
2. Keto "Lasagna" with zucchini "noodles."
I personally have a huge problem with calling zucchini "noodles" (they're not — they're vegetables). But as a standalone dish that I refuse to call lasagna (that's genuinely disgraceful to my people — Italians, and pasta-lovers) this is actually pretty delicious. I happen to love zucchini, and the flavor combo of zucchini with a good pasta sauce (I'm always hopelessly drawn to "spaghetti zoodles" because I love the crisp earthy flavor of the vegetable against a sweet and garlicky sauce), so I think it is amazing. And if you're craving some comfort food (think "covered in hot gooey cheese") but still trying to steer clear of carbs, then this is definitely for you.
I'm always here for a good lemon butter chicken recipe, and this one doesn't disappoint. Tbh, it isn't really a special "low-carb" recipe — it is just a delicious meal that I'd make any old day, and just so happens to have the bonus of being low carb. Serve with green veg instead of potatoes or rice (wehhhh, I know) to keep the entire meal low-carb.
I live for Thai food, and although I acknowledge that my personal favorite dishes are deffo high-carb, this one is both low-carb and good enough to be worthy of my sophisticated palate. Just make sure your iceberg lettuce is crisp and sturdy as all hell, or the yummy spicy chicken mixture will be everywhere.  
5. Crockpot shredded buffalo chicken.
My boyfriend actually makes an excellent version of this (we had it tonight for dinner, and it was delicious) that is pretty regularly in our dinner rotation. However, this version is made with ranch seasoning, which also sounds kind of delicious, and I'd be willing to try. (In case that's not your thing, try his version: chicken breast, red hot, one chopped onion, butter.)
The best thing about this meal (aside from the fact that it cooks for eight hours in a crockpot and requires almost no effort) is that it can be made into so many different dishes once it is finished cooking. For the low-carb person, chop up some celery, roast some red peppers, and roll it all into low-carb tortillas to make shredded buffalo chicken wraps. If you're a carb fan, make it into a sandwich, put it in a pasta dish (pro-tip: it is amazing in homemade mac & cheese) or even use it as a pizza topping.
Another awesome crockpot recipe, because 'tis the season. I made a version of this earlier in the week, but mine was a bit different because I changed the recipe to keep it lower in carbs so Drew would eat it. First of all, I didn't add the quinoa — I have a texture issue with quinoa, so I just decided to cut it out. Also, I pretty much doubled the spices added (maybe not doubled exactly since I didn't measure, but from what I eyeballed, it was definitely extra — I like things spicier). You can keep the corn and black beans separate and just add them to individual bowls to keep it extra low-carb for those who won't eat them. It is so delicious with tortilla chips (I bake mine at home with corn tortillas or low-carb tortillas for the boy — see #1).
Mary writes every day for TFD, and tweets every day for her own personal fulfillment. Talk to her about money and life at mary@thefinancialdiet.com!
Image via Unsplash