7 Fall Wardrobe Items I Always Thrift To Save 80% Off Retail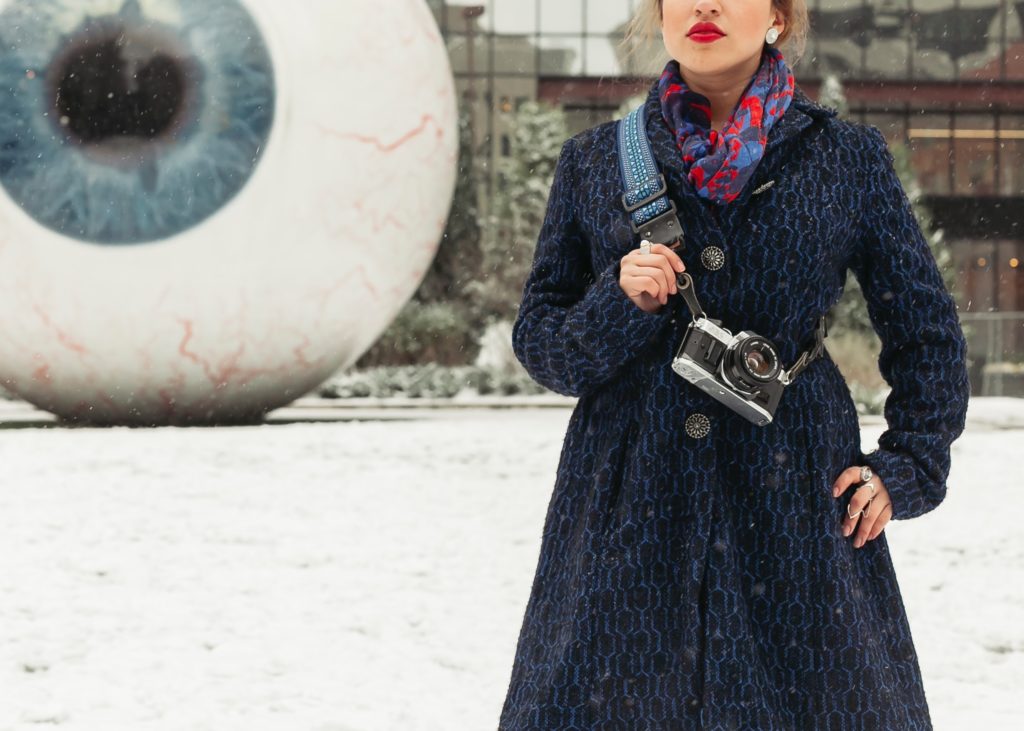 For many of us, fall feels like the perfect time to make drastic changes for our day-to-day outfits. And with the big shift in appropriate seasonal apparel, it may call for a wardrobe touchup. Replacing a season's worth of clothing can add up — but there's an alternative to replenishing your closet with the latest trends.
I'm a devout thrifter who suggests you try buying your "new" fall pieces secondhand! Many are skeptical of thrift stores due to germs, "wearing a dead person's clothes," and other dubious concerns, but I've had exceptional experiences buying thrift, especially during the fall. I've always found quality and name-brand pieces. In fact, I prefer buying my fall items second-hand!
There are many fall items I've found at thrift stores that beats purchasing at full retail price:
1.  Leather Jacket
Leather jackets are a telltale sign of fall. This edgy and stylish jacket is sleek and fitted, yet warm. Many fashion lines that sell leather jackets are actually selling faux leather. An authentic leather jacket ranges from $80-$2,750, which is rather costly. New leather jackets can also snug and restrict your motion, taking time to get to the right level of worn. Why not save some bucks and discomfort with authentic leather? Thrift stores often carry 100% leather jackets costing around $50. The Salvation Army is my go-to thrift shop, and all their genuine leather jackets are sold for this price. No matter what cut or style, whether aviator or greaser, I can find the leather jacket I want at Salvation Army inexpensively. I came across a cute and warm motorcyclist one a few years ago that I still sport.
2. Pants
No matter your personal style preferences, pants are a part of our closet's fall collection. For a plus-sized community member  like myself, finding a pair of pants that are both durable, flattering and fashionable is truly a unicorn encounter! So many pants I've purchased in retail stores have torn between my thighs within a few months. How impractical would I be to keep repacking them? Durable pure cotton pants are my way to go, but can become costly. Look through the thrift store racks for pure cotton from brands like Eddie Bauer. Another great thing for plus-size pants thrifters is that there's no fat tax. No qualms will burden me as I thrift so my next pair of quality plus-size pants. Even if you're not plus-size, pure cotton pants are always available at thrift stores!
3. Rain Boots
A must-have for fall weather if you live someplace with frequent storms. But we all know the pain of breaking in new rainboots — buying second-hand can help you avoid blisters. I found a reliable pair of rainboots at my local thrift store. They were a sturdy pair from a notable brand. If I purchased those rain boots at their full retail price, I would have spent over $100. Instead, I spent only $12 on L.L. Bean boots, a popular brand with sturdy and fashionable rain boot options. You'll know you're getting a great pair of rainboots at a thrift store by the brand. High end rain boot companies use rubber or vulcanized rubber, which is more durable and long-lasting than the synthetic rubber commonly used in other rain boot brands. Try your luck and see if you can land great rain boots for a great deal!
4.  Blazer
On cooler days a blazer provides adequate warmth — not to mention a more professional look to any outfit. Blazers are now relatively ubiquitous at fast fashion retailers, so buying a brand-new blazer can be inexpensive. But the quality of those blazers is often questionable. We wear blazers to make a statement, so how ironic would it be to purchase a blazer with unimpressive quality? A second hand blazer has the distinction and style, without the overpriced cost. Personally, I always keep a navy blue blazer in my closet. It's my favorite neutral color and I'll always find them at the thrift store. Specifically, I search for ones with large golden buttons that are engraved. These give me a luxurious feeling whenever I sport them. Each blazer I've purchased at Salvation Army costs anywhere between $8-$25. Not only am I finding cute fall pieces on a budget, but I'm also getting quality material. You can tell whether a blazer is good quality by the sewing, lining and material. The material should be a higher quality fabric like wool or cotton. Step into autumn with a statement while helping your savings with a thrifted blazer.
5. Sweaters
The sweater is the MVP of fall apparel. Who doesn't love a good sweater? But maybe your sweaters are washed out, linty beyond repair, torn, or lost their elasticity. There are entire sections dedicated to sweaters at my local thrift store. I literally pass aisles and aisles of sweaters. All sweaters are at my thrift store. Whatever I want, I'll find: from basic like crewnecks and boyfriend sweaters to richly textured cashmere and wool sweaters are hanging on those possibly dusty but always economical racks. While looking through all the sweaters, you can find a good quality piece by checking the material. I like when sweaters are both cute and warm. So, as the weather cools I look for thrifted sweaters with a high count in warm fabrics like cotton, sheep wool, and cashmere. Get both warm and stylish sweaters for a fair price by shopping at a second-hand store. My favorite find was a turquoise cashmere sweater I bought last fall for only $15! 
6. Hats/Caps
The thrift stores I frequent have specific items for one dollar all year round. Tapes, books, and luckily for me dad hats are included. Not only are they one dollar, but there's so many options. I've seen this accessory run for this rate at Salvation Army, Goodwill, and the ma and pa thrift stores within my neighborhood. All the options makes finding a "new" hat a fun fall find. Many of my friends buy dad hats at Urban Outfitters, ranging anywhere from $8-$15. That's relatively inexpensive, but I can stock up on caps if I purchase them second-hand. This is worth seriously considering if hats are an essential piece to your fall looks.There's also something endearing about second-hand hats; for me they have character. That element of authenticity in dad hats makes the deal more worthwhile. If you're looking for your favorite fall hat for a lower price, check out a thrift store. Just be sure to wash your hat thoroughly, to avoid passing on any lice. Now that's something no one likes to sport!
7. Jean Jacket
Who doesn't have their go to jean jacket for a brisk autumn day? Many times, the women's fit ones are cut in a flattering way, but I've found that they aren't as comfortable as men's jean jackets. If you're ok with stepping into the men's section at the thrift store, you'll find plenty of comfy pieces to select from. With a used jean jacket, the fit is better, and the jean material is nice and worn, so you don't have to worry about the roughness upsetting your skin. I've bought jean jackets for retail price before, and the raw denim was unpleasant on my skin and would flare up my eczema. It takes 3 months for the denim to break in, so it's best to avoid the discomfort and high prices by thrifting this favored autumn jacket.
Try secondhand shopping just once — and see if you're still not sold
If you're still not sold on purchasing your fall clothes at a secondhand store, I urge you to just try it. Thrift stores get a lot of flack, but shopping at these stores and boutiques helps me exponentially. I've saved 80%-90% by thrifting my fall pieces, while still enjoying major brands and quality clothing. What we wear should make us feel good, and you can feel amazing after finding goods at Salvation Army or Goodwill. I also frequent Buffalo Exchange, which is on the higher end of thrifting, but also has great fall pieces for less than retail stores. Make shopping fun and worthwhile by going to a thrift store! Because I do, my wardrobe doesn't have to suffer as we transition into colder days, and neither does my savings.
Rebecca is a true New York hustler! Styling, Babysitting and Public Relations Managing are some of the hats Rebecca Blanc wears, but Copywriter is undoubtedly her favorite. Having obtained a Bachelor's of English at Florida Atlantic University, Rebecca has since contributed to many notable media platforms. A few of her passions are women, youth, wellness, and nail art!
Image via Unsplash
Like this story? Follow The Financial Diet on Facebook, Instagram, and Twitter for daily tips and inspiration, and sign up for our email newsletter here.