7 Healthy Lifestyle Tweaks To Give Your Life More Structure This Fall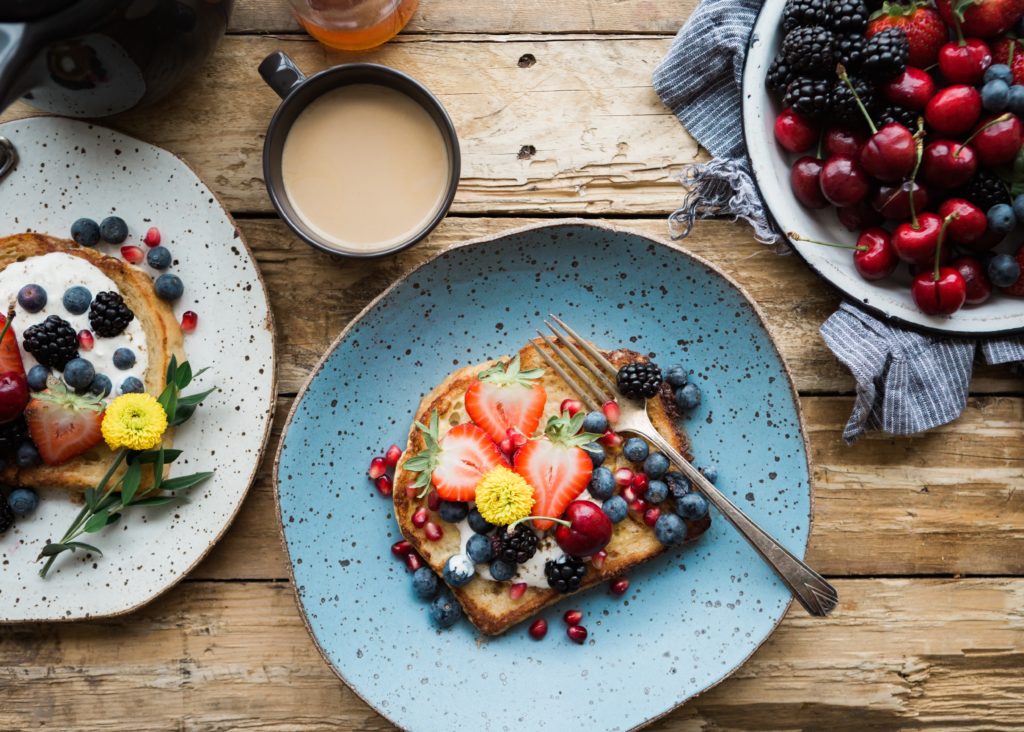 This article is brought to you by Freshly.
Whether it's your first semester on campus, the middle of your college career taken virtually from home, or a time when you're adding to your education in another way, this semester has already thrown most students some curveballs. 
One way to proactively make this semester great, both as an atmosphere for learning and for enjoying yourself, is to bring in a few new routines and added structure. Some of the more automatic forms of structure in our lives may not be available to us right now. Yes, it's a new world, but some specific kinds of organization, planning, and self-care can really help set you up for success. So we've partnered with Freshly — a great solution for lunch or dinner on busy weeknights — to bring you some practical tips for structuring your life this year.
Think Ahead of Socially-Distanced Outdoor Hang-Out Options
In general, getting in-person social interaction is harder these days, especially if you're working hard to prevent virus spread. One way to add some structure to this Fall is to proactively plan a few ways to hang out with friends. Consider everything from planning to identify good weather days and a good park where each friend can sit on their own picnic blanket, to choosing to bike, hike, or swim in ways that don't create close contact. Planning ahead avoids leaving you with a long stretch of not seeing anyone or getting out in nature, both of which are nice wins. Consider parks or areas of campus with shelters in case your hangout time gets rain or snow. 
Use A Meal Delivery Service to Eat Healthy Any Time
When semesters get busy, it's easy to lose track of time and not focus on cooking. And if you weren't much of a home chef to begin with, (which, let's be honest, how many students are?), maintaining a healthy diet while buried in studies is going to be especially tough. Rather than turning to expensive takeout that's probably not the healthiest and takes a long time to arrive, consider a meal delivery service like Freshly. It lets you choose how many fresh, not frozen, meals you want, and they can be stored in a mini fridge, only requiring three minutes to prepare with the microwave. You'll save time, eat healthy, and be able to quickly dive back into your work, alert and ready to learn. Consider meal delivery as the gift of time: more time for friends, sleep, and school, all while fueling you with strong nutrition. Plus, TFD readers get a special discount! Get $60 off your first four orders ($15 per order) of Freshly with code LAUNCH15.
Schedule Weekly and Monthly Video Check-Ins With Friends
For friends who are living and studying far away, try to set a time each week or month (depending on how close you are!) when you can see each other. I find that setting a recurring meeting at a time when you're both usually free is easier than trying to find a time to schedule each time. You can always cancel or move the meeting if you need to.
Worried about getting Zoom fatigue? Consider doing something rather than just sitting at your computer while talking sometimes. You can eat your meals together, color or draw, or even study quietly, with an occasional conversation note. It's nice to feel accompanied by someone you care about the same way you would if you were spending time together in person.
As Much As Possible, Create a Dedicated "Work Zone" at Home
You don't have to outfit your home or dorm office to the nines, but try to make a space that fits your personality and gives you a sense of calm and purpose, ideally a little separated from your other zones of the home. I know that's tough to achieve in small spaces, but it is worth the effort to, for instance, keep books for school at the desk and other books away on a shelf. Make sure you always have the tools you need, from books to a laptop computer to pens and paper. Having everything ready can really help you look forward to getting classwork done, even from the comfort of home.
Create A "Done-With-Homework" Transition Activity
When we're spending more time indoors or at home, it's valuable to create clear boundaries so that you can really enjoy and recharge during your free time. Figure out what would help you 'turn off' work mindset and tune in to your leisure life. Some people like putting together a simple to-do list that will be ready for the next day, while others prefer a nice walk with a podcast. Pick something that you can easily grab to create a boundary and avoid staying up all night on a project due to the lack of structure.
Pick Those Wake-Up and Sleep Times and Stick With Them
This one is hard for me, but when I make it happen, it really changes my days. Try not to let wild variation enter your sleep schedule, even if you've just found a whole batch of TFD articles you want to read. 
Pick a time when you're going to start your sleep time activities, getting ready for bed. Obviously, life occasionally throws us situations where staying up late makes sense, but do your best to get in a sleeping routine. When you set an alarm in the morning, pick a reasonable, if not early, time, but make sure you're doing what you can to get your 7-8 hours of sleep. It's a lot easier to do your schoolwork well with a refreshed brain.
Low on Extracurriculars? Consider a Regular Volunteering Gig
Clubs and sports are different this year, but that doesn't mean you can't get involved. A lot of studies have shown that getting involved on campus is a mental boost for students, which is connected to sticking with school when the days are long or the quizzes are tough. 
If you're doing school from home, you can still create involvement and community. Many organizations still need help right now. If you can safely join a team of volunteers once a week or once a month, you may see some mood benefits as well as start to get to know people. Even simple volunteering like packing boxes of food can get you moving, remind you that you are helping others, and help you see another aspect of your community. Try it out, especially if the commitment is flexible and you can try a few options to find your right fit. 
Creating a great structure for your semester isn't stopping you from being spontaneous: some of my best memories from the college years involved reading an amazing piece of literature late into the night or going on a walk with a friend without a plan. Still, having structure to return to after those spontaneous moments makes the everyday experience of college more orderly and pleasant, giving you the keys you need to be ready to learn.
Thanks to Freshly for sponsoring this article. Check it out here, and don't forget to use our code LAUNCH15 to get $60 off your first four orders ($15 per order) of Freshly!
Image via Unsplash
Like this story? Follow The Financial Diet on Facebook, Instagram, and Twitter for daily tips and inspiration, and sign up for our email newsletter here.