7 Ways To Improve Your Screen Time (Because It's Not Going Anywhere)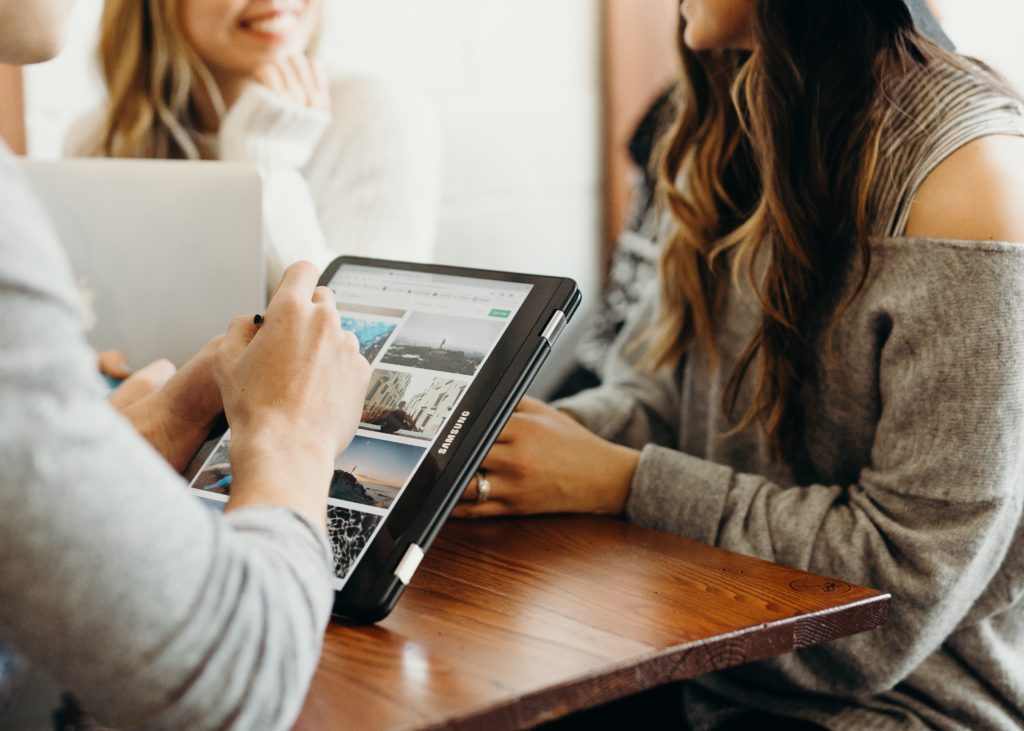 We know that getting too much screen time is probably not the best for us — but the truth is, it's here to stay. Everything is geared toward mobile devices these days, and everyone is on their screens — especially our children, who are growing up with technology literally in the palms of their hands. Here are some ways to reduce your screen time and improve the time that you do spend on your screens (whether it be podcasts, apps, or streaming content), giving you the power at your fingertips to make your screen time count.
1. Get wiser
Streaming endless hours of television can be an escape, but it can also be a pretty mindless way to spend your valuable time. Consider streaming documentaries over rewatching your favorite guilty-pleasure reality series. For instance, check out this curated list of documentaries on space, and use your streaming time to gain knowledge about our universe. Learning about the world around us can expand our curiosity and inspire us to learn more, whether we're five or 95. Many libraries also now offer free streaming services where you can find the latest educational documentaries and TV shows.
2. Get handy
YouTube is an endless source of entertainment, whether you're looking for music videos, funny cat antics, or original streaming series. But you can also search for DIY fix-it videos for just about anything, which has bonus benefits: You learn a new skill, and you save yourself money by fixing it yourself. And you can potentially prevent an item from ending up in the landfill when it doesn't need to be — so watching videos can actually help you positively impact the environment.
3. Get moving
One of the detriments of too much screen time: We're sitting too much. Researchers have found that those of us who sit 13 hours or more and walk fewer than 4,000 steps per day become resistant to the benefits of exercise. Meaning, we need to get up and move. There are endless exercise videos online — choose one that suits the length of time you have available, and use it at intervals throughout the day to get your heart pumping and your feet moving. Exercise and fitness apps can help keep you on track. Check out the comprehensive Noom, which helps you plan meals as well as fitness programs, or Couch to 5K, a beginner's guide to running your first race.
4. Get healthy
Apps can give reminders for keeping up with your overall health and wellbeing, too. The Plant Nanny app, for example, encourages you to drink water by keeping track of your progress through plant growth. In the app, you water the plants as you water yourself by keeping track of how many glasses you drink — and the plants grow or die depending on how well you do. You get to keep the grown plants and start a garden, and you can buy different types of plants with the credits you earn. It's a garden of goodness.
5. Get unstressed
Too much screen time scrolling through social media on your phone can contribute to your overall stress, so why not use your device to create the opposite effect instead? A wealth of apps designed to help you de-stress can teach you how to easily incorporate meditation into your day. Apps like Calm, Happify, and Pacifica help you take a moment to breathe, be mindful, and bring yourself down from all of the daily stressors that grab our attention, including the self-induced ones. You can start with really short meditations — no need to block off calendar time.
6. Get smarter
You won't earn credits, but you can learn from some of the best professors at top universities around the world for free. Harvard, Yale, Stanford, MIT, the Sorbonne, and other universities offer public, online courses for learners everywhere. Get up to date on topics like artificial intelligence, marketing, and innovation, or classes of interest that you missed as an undergrad because you were busy majoring in something else. The best part: you don't have to show up for an 8 AM class after that crazy party the night before.
7. Get audio
We can still use our devices in a quality way without staring at them constantly. Podcasts are booming in the United States, with about one in three people listening in every month. At least half of us have listened to at least one. Pop in your earbuds and listen to one while walking the dog, doing the dishes, cleaning the house, or raking the leaves, and accomplish even more while listening. You can choose podcasts based on your interests and find in-depth examinations of news events, commentary and comedy, and even fictional serials.
Bottom line:
There are lots of ways to help us improve the quality of content we consume on a daily basis and to get the best out of our screen time.
Hilary is a freelance writer with a background in English, content strategy and journalism. She's written for publications like Venturebeat, Today, Women's Health, POPSUGAR, KSL News, and Yahoo. She particularly loves to write about family and parenting, smart technology and science, and anything that makes her healthier in any way.
Image via Unsplash
Like this story? Follow The Financial Diet on Facebook, Instagram, and Twitter for daily tips and inspiration, and sign up for our email newsletter here.