7 Women On The Single Most Versatile Piece In Their Wardrobe (And How Much It Cost)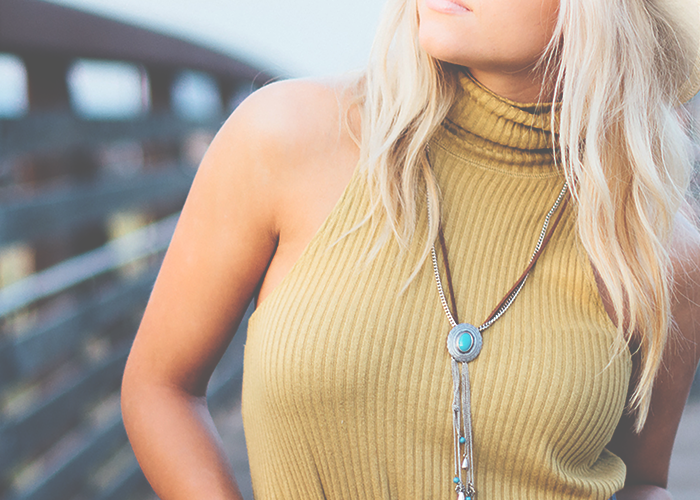 Although we all know I'm not exactly one for "paring down" my wardrobe, I do frequently edit to ensure that I'm using each item I own, and when I do buy new things, I'm always thinking about how it will be incorporated with the rest of my closet-contents. Looking for cheap-but-durable basics is sort of a pastime of mine; I'm always on the prowl for simple, classic pieces (e.g. white button-downs, black trousers) that can be worn and look chic on their own, but also be paired with my wilder looks (e.g. leopard print coat) to take them down a notch and make them more wearable. However, this is really hard for me. I seem to have a hard time with "classic pieces", as I am a sucker for anything that looks highly ridiculous on me.
My most worn and most versatile clothing item (or items, technically) are my beloved collection of cashmere sweaters. I buy one on sale at Macy's every few years after Christmas, when the price is marked down from $130 to usually somewhere around $40. I have accumulated a small collection of them in various colors, and I wear every single one constantly on rotation every winter. I don't have one that I wear less than the others, to be honest, so I know buying them in multiple colors and cuts (i.e. crew neck, zip-up, V-neck, etc.) was totally worth it. And at 40 bucks each, it was a pretty small price to pay for the quality, and the amount of use I get out of them. I feel confident that if my entire wardrobe were made up of these sweaters, weather permitting, I would be completely comfortable living in them every day. But as much as I complain about cold New England weather, it isn't always 14 degrees, so my "most versatile basics" collection needs to allow for some year-round appropriate pieces that will go with everything.
I wanted to know what some other ladies consider to be their tried-and-true staple pieces, and why these pieces are so much more well-loved by them than any others in their wardrobe.
I asked a bunch of people in my life what they considered to be the single most versatile piece in their closet – and exactly how much they spent on it – to see if I could curate a similar collection of classic, easily wearable items, while keeping within my budget. Here's what they had to say.
1. "Contrary to the school of thought that believes investing in more expensive or high-quality clothing is always best, my most worn and versatile item in my closet is a black t-shirt dress
that was probably $11. I actually got it gently used on Poshmark but it was originally from Forever 21. So it was super cheap, and extra cheap because it was secondhand, but I wear it so often and it has held up really well in the two years since I got it. It is black and so simple and classic, but it is casual enough for every day. I wear it with sandals in the summer, boots and tights in the winter. Heels and a cute jacket with more elaborate makeup for a night out. I could probably wear one just like this every day and find a new way to wear it every day to make it look different and change it up." – Lindsay
2. "My multi-way nude bra
is a life saver. It has changeable, or removable straps, giving it the use of a strapless bra and it is also nude which is great for certain shirts. That cost me about $60 but it's worth it because it's so useful and I know it's good quality. It automatically makes dressing way easier." – Kayla
3. "A black leather backpack
. I didn't realize how necessary this was for my wardrobe until I got one. It is so sleek and goes with everything I own, but is also so practical. It is roomy enough to fit my computer when I need to travel with it, or I can use it for school books since I'm still a student. Most often, I just use it as a purse. It is so much more comfortable to carry than a regular purse, it fits everything I need and more, and adds a lot of cool points to my outfit. This one cost about $45, which is a steal because it is real leather and that is a great price for a real leather backpack. It was only this cheap because I got it at T.J. Maxx, so the 'retail price' on the tag said $120, but I got it for $45. That store is my home." – Olivia
4. "I recommend investing (like, really investing a decent amount) in a good pair of boots. And not just like, a pair of snow or hiking boots, although those are good to have depending on where you live. But just a pair of black Chelsea boots
or ankle boots or riding boots if you prefer taller ones. I have a really sturdy thick-soled pair of ankle boots and they didn't even cost me too much – about $80, which is good for that sort of thing. They are so practical and stylish, but they are also so classic and well made, so I will definitely use them for years. And you can definitely wear them year-round. Summer is hard, but there are definitely ways to work them into your summer wardrobe." – Jasmine
5. "I have three of the same white tee shirt from J.Crew. I bought two more after the first one I purchased got so much wear, and I was nervous I'd wear it out. But the material really holds up, none of the three seem to be wearing out, and they don't look faded or grey or stained or anything. I got mine at a J.Crew outlet though, so they were only $17 each. I think they are more at the regular store, but they're worth it. I'd pay full price for sure." – Kathleen
6. "Probably leggings
I guess! And they're no more than $10 at most stores. You can wear them with almost anything, they're super comfortable, and they can be 'dressed up'. They are a staple for everyone, especially because they are so cheap." – Erin
7. "I think I'd say this black pleated coat with military buttons I bought in 2011 and I've worn every winter. It was £18 and is still my fanciest and most complimented piece in my wardrobe. A coat is usually a good place to invest, but this one was cheap and still holds up amazingly." – Margaret
Mary writes every day for TFD, and tweets every day for her own personal fulfillment. Talk to her about money and life at mary@thefinancialdiet.com!
Image via Unsplash