8 Instagram Accounts To Follow If You're Searching For A New Job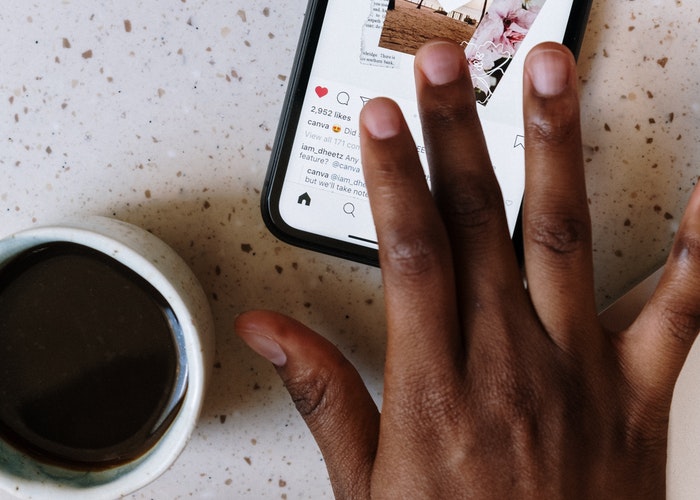 Searching for a job, especially during a pandemic, can feel like a job in and of itself. And let's be real: even if we're supposed to be searching for our dream jobs, I'm still on Instagram every ten minutes. If you're struggling to find the motivation to look for work, or you're stressed about navigating the process virtually, here's a roundup of ten Instagram accounts to follow with career advice, tips, and inspirational stories. Of course, TFD's own Instagram account is chock-full of useful advice for managing your money and career, and there are a handful of other accounts we also enjoy. Scrolling through these on your feed is sure to give you the boost of energy you need to log back onto LinkedIn and finish that cover letter—you got this! 
If there's one account you follow from this article, let it be this one. Career Contessa's simple, aesthetically-pleasing Instagram posts contain everything from email templates, quick tips to deal with difficult work conversations, and even a list of careers in demand each month. These are interspersed with hilarious tweets, inspirational quotes, and discussion posts where Career Contessa followers can share what they wish they knew before their first job, for instance, among other topics. There's even a fabulous podcast to listen to, Femails, so you can continue your career growth journey even on your next walk or car ride. 
This is another amazing Instagram account geared towards women with tips for people at any stage of their career. There are posts on leveraging your LinkedIn account but also tips on leading a team and others on public speaking. Bossed Up also has a podcast with "Boss Tips" which makes following this account more of a lifestyle and community versus just a piece of advice. 
Oh, how I wish I had this Instagram account before I started my first job! But regardless of where you are on your career path, this account is full of tips, tricks, and lessons on navigating the workplace. While a lot of these are geared towards job-seekers and those starting a new position, the posts further normalize mundane issues at the office, from embracing confrontation to hustle culture. In fact, I think these posts are a good reminder that work is simply a part of our lives, not our entire lives, and it's important to have boundaries both in the workplace and mentally when it comes to work, too. 
This account is quite unique, so I'm thrilled to have discovered it during one of my many Instagram spirals. What makes this account special is their IG TV series, "Ask an Expert," which is an amazing resource if you're job-searching or just figuring out the perfect career path. These interviews are short and easily digestible, but they do the work of "informational interviews" for you, which I think is a win-win. You have access to women in fields you likely wouldn't be able to speak to otherwise, and I especially appreciate their strong emphasis on featuring women of color. Moreover, this account holds conferences you can register for, frequently polls womxn to highlight their struggles in the workplace, and has an amazing business podcast, Work Party! 
If you enjoyed the expert spotlight aspect of Create & Cultivate, Entrepreneur is another must-follow Instagram account. With a mix of inspiring quotes, interviews with entrepreneurs, and news on the latest startups, this account is essential for anyone aspiring to start their own business. Even if you're still job-searching or working a 9-to-5, the content on this account is incredibly motivating and can open your mind to other career paths and possibilities. 
Speaking of ambition, give the Lean In account a follow! I particularly appreciate that their recent posts have centered around how to make the workplace more inclusive or how to be a better ally since these are important lifestyle changes we all need to strive to make both in and out of the office. But this account does a terrific job of providing tips for job-seekers and interviews while also highlighting the many difficulties women face in the workplace. It feels like such a relief to know that I'm not alone in my career struggles and that many of them are linked to systemic issues, not necessarily a negative personality trait that I possess. They also host Q&As on IG TV, so this is yet another account that allows you to access the wisdom of top leaders from the comfort of your home. 
This account is an incredible resource since their highlights and saved stories contain tips on interviews, networking, resumes, and cover letters so I appreciate that this is a one-stop-shop for nearly everything. As with other accounts, the posts are a mix of tips on virtual calls, recommendations for aspiring law students, ways to prepare for workplace dissatisfaction, or even how to amp up your productivity. I appreciate that this account caters to such a broad base of followers, though. While they do share underutilized campus resources, they also have advice for managers or guidelines for cover letters. I'm positive there's something for everyone with this IG account. 
Her Agenda shares useful articles, such as how working remotely can boost your professional skills, and their posts highlight quotes and advice from Black female business owners. I love how inclusive and diverse this account is. I also appreciate how timely and helpful so many of their articles are, from tips on investing in the stock market to advice managing work stress. While the recommendations may be most useful for those already with a job, I think job-seekers can learn a lot from the professionals and careers highlighted and glean inspiration, too. 
Keertana Anandraj is a recent college grad living in San Francisco. When she isn't conducting international macroeconomic research at her day job, you can find her in the spin room or planning her next adventure.
Image via Pexels
Like this story? Follow The Financial Diet on Facebook, Instagram, and Twitter for daily tips and inspiration, and sign up for our email newsletter here.