8 Painless Changes You Can Make To Up Your Resume Game Today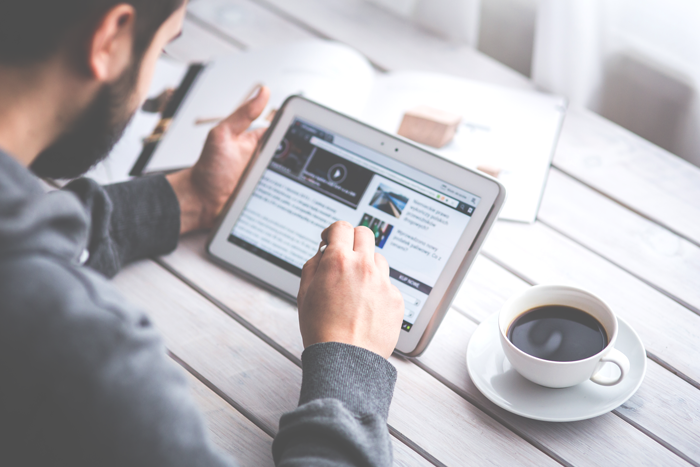 Yesterday, I came across this article, which has been one of many I've read on the subject of best practices in terms of crafting your online resume. At my old job, I was quite close to a recruiter in the HR department who shared a ton of little details with me about what he looked for in candidates for the agency internship program. Since I was one of the youngest members on staff (I had gotten hired right out of school) I myself was recruited to help out with organizing and training interns. Since he had gotten wind of the fact that I spent two years as an on-campus peer career advisor reviewing resumes and organizing monthly workshops, there was no outrunning my looming ~intern training duties~.
I learned that the specific qualities that he (and many others in HR) looked for in potential candidates for the internship program were also relevant to way he hired freelancers and full-time employees. Seeing the way he operated was an invaluable teaching tool which helped me gain an understanding of a system which was fine-tuned to select the best possible applicant for a job opening. Below are eight things I learned recruiters look for in a resume, which have been gathered from my time spent as a peer career advisor (and shadowing my agency recruiter cohort).
A professional-looking photo.
One of the (admittedly terrible) running jokes amongst the recruiters and HR employees I knew was that they wanted to put together a coffee table book full of all the downright unprofessional resume photos they've seen.
First impressions are crucial, and showing the world a well-lit photograph of yourself gives the recruiter a chance to see your face and fill in the gaps. A professional-looking photograph allows them to make a more complete analysis of who you are as a candidate and person. There are some great tips on how to get the perfect LinkedIn photo here — check them out!
Active language (and keywords).
I was always told that vague language is one of the pitfalls of many resumes. Sentences like  "I worked as a full-time designer in the packaging and social expressions department" says almost nothing. When you take the same sentence and switch it to active, specific language such as "I played an integral role with the conception, rebranding, and execution of X product line for the Spring 2015 launch," you seem much more invested in your work. Recruiters want to see you as a hands-on proactive employee who will take charge of their work. Also, be mindful of including SEO keywords that will attract the attention of recruiters. Stay on top of industry trends, and make sure you're up-to-date on terminology that will make a potential employee take notice.
If you're active on social media (with URLs to your platforms included).
The more transparent you are with your potential employer and recruiter, the more comfortable they will be with hiring you. Recruiters want to discern whether or not you're a good fit for their corporate culture. Allowing them access to your social media gives them a real sense of who you are. Of course, if things are wildly inappropriate, vulgar, political, or insensitive that should be going nowhere near a potential employer — especially if it's a job in a more conservative field. However, I think it's important to walk that fine line between revealing enough personality while maintaining a sense of privacy. You don't want to be phony and hide who it is you really are, but it's not always best to let it all hang out so to speak.
A separate "skills" section.
When you have a separate skills section, it allows recruiters to get a concentrated snapshot of what it is you're best at, and how your skills might translate/fit into another position. For me, I always list out the programs and software I use beginning with the highest degree of proficiency. It's important to be honest here and not to over embellish on things you are only kind of (sort of) good at.
Consistency in formatting, grammar, etc.
Another huge turn off for recruiters is seeing poor grammar, inconsistent headers, bolding, alignment, etc. The HR department at my old job used to say "if they don't notice formatting details in their resume, how can we expect to trust them with detailed work we'll be paying them for?" Correcting my own personal use of commas, run-on sentences, and proper tense/verb agreement has been something I've always had to work on. But it's essential to maintain professional-level formatting and consistency if you want to be seriously considered for any job.
Content they can easily skim (i.e no vague Objective).
The biggest gift you can give a recruiter is a pared-down-yet-powerful resume. No need for a vague objective at the top, super long descriptions of what you did as an intern four years ago, or how that study abroad semester changed your education for the better. Keep it simple and easy to read, yet still engaging.
Real numbers and work that can be quantified.
When I worked as a peer career advisor in college, I was always told to force students to provide numbers and specific details wherever possible. For example, if you are going to say that you managed a team of designers, write down how many you managed, or how long you managed them for. How many new business pitches did you work on last year? How many page views did your article generate, and how did it boost the resulting ad revenue? It's always a good idea to provide specific details which will allow recruiters to get a more complete understanding of the work you are capable of.
(Explained) gaps in your employment. 
Recruiters want to understand what employment (and life) has looked like for you since graduating from college. Where have you worked, traveled, moved, etc. A few individuals I know took six months to a year off of work to travel, write, photograph, design, or do an internship in a completely different field. Or sometimes, people are simply let go and have difficulty finding work again. While gaps could potentially turn off a recruiter (it's difficult to say how any one person will react), just remember to always be honest and explain gaps as best you can. There are fantastic resources that will help you explain employment gaps in your resume here, here, and here.
Some additional links/tips to writing resumes that get noticed below!