8 Specific Ways To Make Your Hobbies More Affordable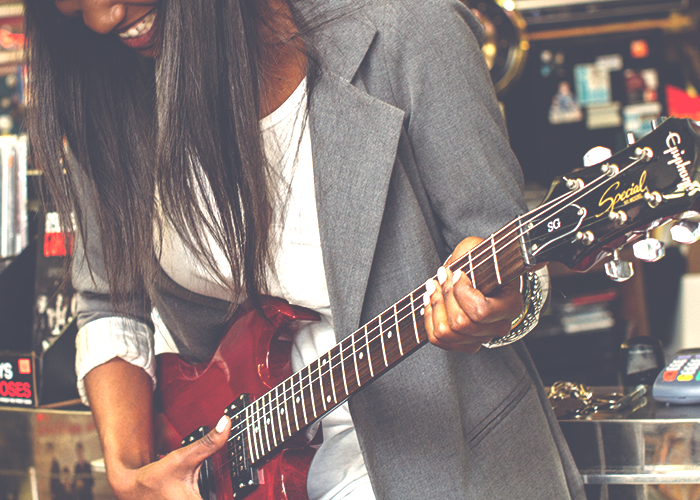 It's easy when you're in school or just starting a new job to fall into a pit of not doing anything else. You show up to your classes, or you clock your 9-to-5, and then you go home and Netflix and chill, Netflix and chill, and Netflix and chill some more. When you're all wrapped up in your work — whether it's school or your career — it's easy to let your hobbies slip away. And it's especially easy when those hobbies are expensive. Without really meaning to be, I am the queen of expensive hobbies. Travel? Check. Specialized sports that require particular gyms and equipment? Check. Shows with ticket prices that jump quickly into the triple-digits? Check, check, check. As a card-carrying member of the entry-level life, I've had to learn quickly how to hack the prices of my hobbies so that I can still do them and not break the bank.
So, whether you're looking for a new hobby to break up your relationship with your couch and TV remote, or you're looking for a creative way to approach an old standby activity, here are some ideas for how to make your hobbies more affordable:
1. Yoga
While yoga classes start at around $10 and quickly go up from there, yoga studios frequently have free "community" classes that you can attend and donate whatever amount you'd like. Your local college or university may have yoga clubs that offer free public classes as well. There might be only one a week (the only one near me is on Saturday mornings), but checking out the free classes — with my $5 donation of course — is not only a great way to get some yoga in during a busy week, it gives you a chance to try out different studios and different teachers. Of the dozens of yoga classes I've been to, I have had hugely different reactions to and preferences for different teachers, so it's great to try a variety of classes (especially if you're considering committing to a class package).
2. Reading
Do you have a library card yet? Get a library card! It will give you free access to books, audiobooks, e-books, movies, magazines, most of which you can request without leaving your house. 
3. Going to the theater, music, and dance performances
Even though many of us are trying to declutter our lives and inboxes, it might be smart to sign up for emails from your preferred venues, whether it's the dance club downtown, or the fancy ballet company. Email subscribers get alerted to deals on ticket prices. And if you're near a major city, lots of the heavy-hitting arts organizations have student/young professional rates. For example, the Lyric Opera in Chicago offers steeply discounted tickets to individuals under 40, but it takes a bit of hunting on their website to find that info. If I just went straight to the "book tickets" page, I never would have known discounts were possible. If there are no discounts available, look into volunteering (or working as a side hustle!) at the venue. Being an usher or ticket-taker can have huge perks! Additionally, local colleges and universities put on student and faculty performances all the time, and they're often free, or really cheap, and open to the public. It might not be Broadway-level stuff, but you might get lucky and catch the next Lin-Manuel Miranda when they're still an awkward undergrad.
4. Museums
Even museums that have the highest ticket prices (I'm looking at you, MoMA) have free nights, so search those out. They'll be crowded, but can be worth it to see an exhibit you wouldn't ordinarily want to pay for. And it's also worth it to ask at a museum's information desks if the price is required or suggested. At the Metropolitan Museum of Art, the ticket price is suggested. They now have that more clearly displayed on their ticket price signs, but it used be in tiny letters at the very bottom. Of course, it's still encouraged to pay something, but it never hurts to ask about pricing. Like at performance venues, volunteering at museums is an awesome way to get inside without paying a dime. And needless to say, if you're a hard-working, conscientious volunteer, that means you're also building your professional network.
5. Other athletics
When I'm working on my fitness, I like to swim laps, but swimming is in no way the cheapest way to get my heart rate up. Not only do you need a ton of gear and special beauty products to save my hair and skin from the chlorine, but a gym with a pool automatically costs more than a gym without. Swimming isn't the only costly sport to participate in, but they all have the same solution: become certified to coach/referee/lifeguard/teach lessons in your sport of choice, and you'll have access to the pool, playing field, or court you need. While the certification might cost up-front, the savings in gym fees or even the salary you make will recoup the cost quickly. Even if you're into Crossfit or another super specialized workout, if you get certified to coach, you can sweat on the cheap. A couple of years ago, my boyfriend got certified to coach Crossfit and at that time it cost $1,000, but it's pretty common to make $50-$100/hour coaching Crossfit, so you can make back that initial investment in only a few classes.
6. The outdoor life
If you're a rock climber, there aren't too many ways to make your gear any cheaper, but if your goal is hiking/camping, check out your local state parks. While state parks usually aren't quite as spectacular as Yellowstone, Arches, or the other biggies, they tend to be free, or have super low admission prices, which can be made even lower if you get an annual-entry pass. Last time I looked at the park map for my state, I was shocked by how many options there were; I have three free parks all within a 30-minute drive! 
7. Art classes
If you fancy yourself the next Frida Kahlo, but don't have the cash for classes/supplies, community art centers frequently need help, whether it's filing in the main office, sweeping the floors of the ceramic studio, or helping maintain order in the pre-school tempera paint sessions. And volunteers almost always get discounts on classes/supplies. Or, if you're brave, you can get a job as a life-drawing model, which would get you in the door and get you paid. (You often get bonus points if you have interesting scars or tattoos for the artists to focus on.)
8. Travel
When people ask me what I like to do, the first thing I always say is travel. But let's face it, even when you're doing it budget-style, travel adds up fast. So for me, the most important thing to do to keep travel costs from going sky-high is to pay attention. Make sure you're watching flight prices way in advance, so you can buy at the right time. Also, when you're actually on your vacation, be aware of whether you're adhering to your budget. It's too easy to meticulously save for months, and then toss your budget out the window the minute your feet hit the sand. Sometimes budgeting is just a matter of recognizing that after a couple nights out at your destination, you've got to reel in your spending for the last few days. Travel costs get out of hand when you're not keeping an eye on them. During the first summer I spent in Italy, I ended up spending over $1,000 on last-minute train tickets because I didn't plan anything in advance. I was seeing a boy in a different city (I was in Florence, he was in Rome), and I would swipe my card in the train ticket machines without keeping track of how many times I had done it. My vice was train tickets, yours might be drinks, shoes, taxi rides, or souvenirs. Whatever it is, keep it in check by paying attention!
Although this wasn't an exhaustive list, it is a starting place for trying to get into, or get back into, the hobby life on the cheap. And while some nights really call for taking it super easy on the couch, resisting the siren song of Netflix usually means you get to try out fun things, meet new people (while potentially building your professional network), and engage in something that is almost without question more rewarding than binge-watching a 10-year-old TV show.
Brenna Graham is an art history PhD who writes and works in Wisconsin. She chronicles her travel adventures on her blog. 
Image via Pexels