8 Websites Every Job-Searcher Needs To Know About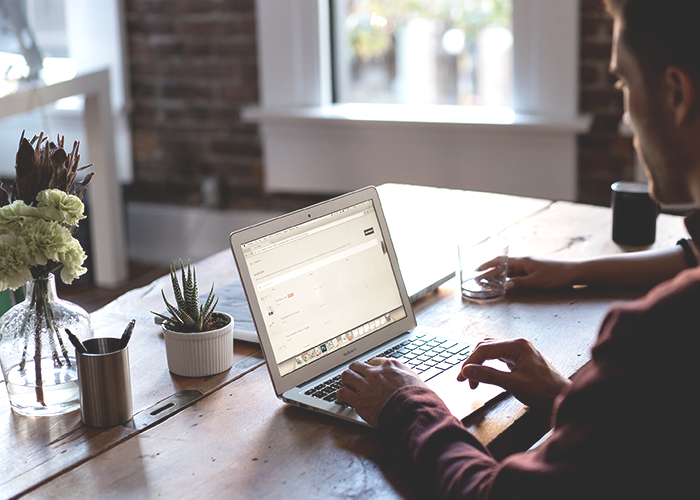 Looking for a job
is no easy feat. There seems to be an overwhelming amount of resources available for individuals looking for work, but it's tough to know which sites are the most efficient, reputable, and useful. Recently, a new college grad wrote in to ask me for any help/research I could offer in this arena. While I am currently not looking for employment, I have used a fair number of job board websites in my day. I've hired freelancers and posted, accepted, and searched for jobs with the extremely useful platforms listed below. While everyone has their own opinion as to what job board platform they prefer, I've listed sites that have received stellar reviews and very positive write ups. Take a look at these eight websites that every job seeker should be  aware of. They can truly make a world of difference in your job search endeavors.
1. CollegeRecruiter.com (GREAT FOR ENTRY-LEVEL JOBS)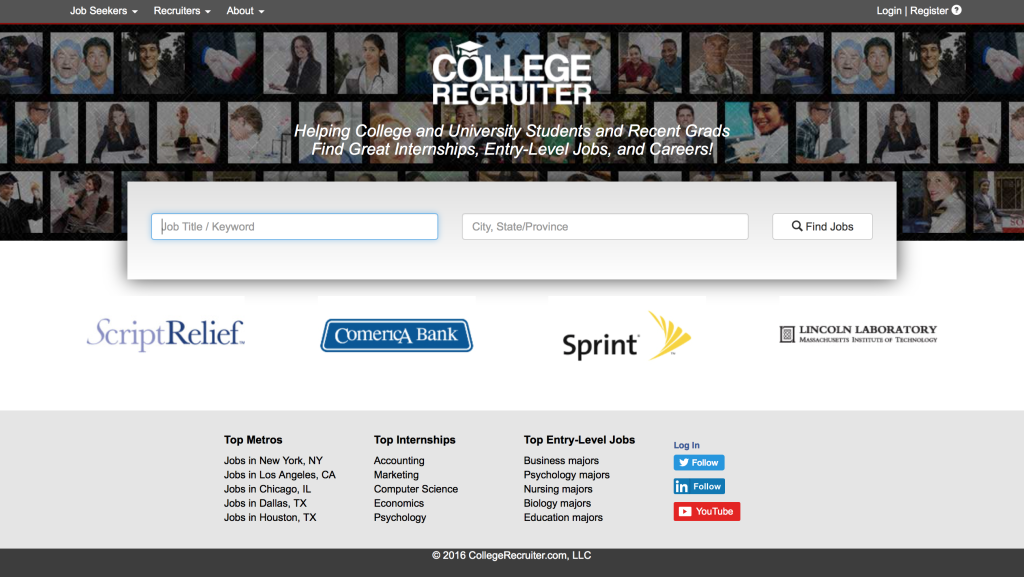 I know a lot of new college grads who have used this website to find entry-level jobs. The platform is extremely easy to navigate, and the number of job postings listed on it is sizable to say the least. Comparakeet.com, an internet software and services review website, gives it a favorable review saying, "This is the only college job board to win the award for eight straight years. In addition, they have also been rated as a 'best' site by CareerXroads, as well as featured almost regularly by major media, including ABC News, Associated Press, Business Week, CBS News, Chicago Tribune, and many more. This job search site has 7 million grads and 10 million students in its database, as well as more than 100,000 entry level and internship job postings." CollegeRecruiter is especially great for first-time job seekers, and it provides a number of additional resources in the form of articles, videos, and advice columns. It even offers a salary calculator to help entry-level employees negotiate salaries to discern whether an offer is competitive. Be sure to check it out if you are an industry newbie.
2. Upwork.com (GREAT FOR CREATIVE PROFESSIONALS)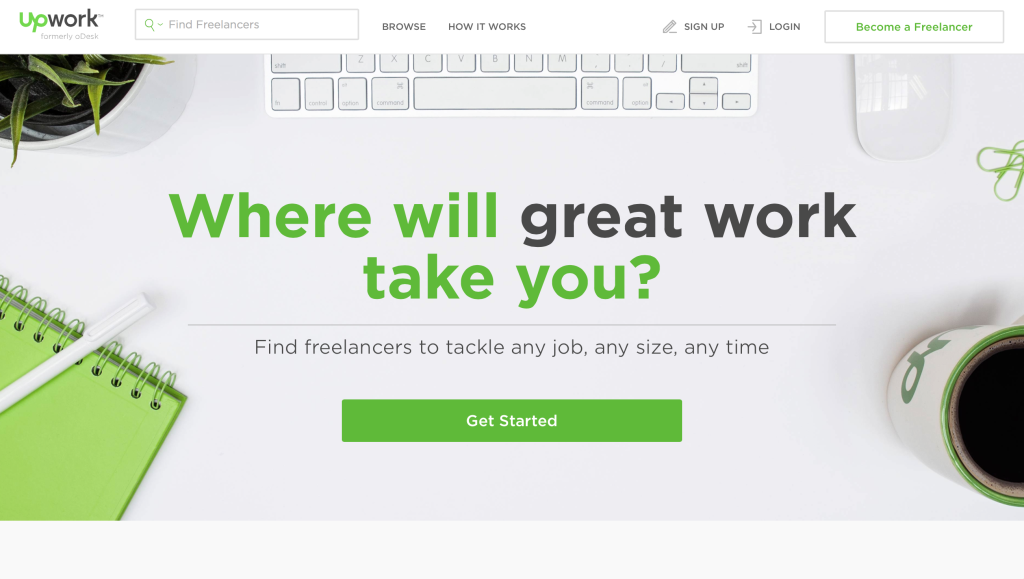 Personally, I've used Upwork (formerly Elance-oDesk) to hire freelancers, but the website it equally useful to search for jobs. The site is very simple and straightforward to use, and it allows you to gain access, free of charge, to everything it has to offer. The website is fantastic for freelancers looking for part-time or full-time work, or one-off jobs. Upwork has a large network (if not the largest) of users in the freelance community. However, be aware that Upwork take a 10% commission fee on every project you complete. Comparakeet elaborates on this and says, "Even though Upwork membership is free and they charge absolutely nothing for signing up, they do charge a 10% commission on every job you do. If you look at it per job then it seems very minimal, but those little 10% amounts can add up if you are doing numerous jobs at a high rate and ultimately cost more than say a $100/month membership fee." Something to definitely consider, but, in my opinion, the extensive job postings you have access to makes the small fee worth it.
3. SimplyHired.com (GREAT FOR WIDE-VARIETY JOB SEARCH)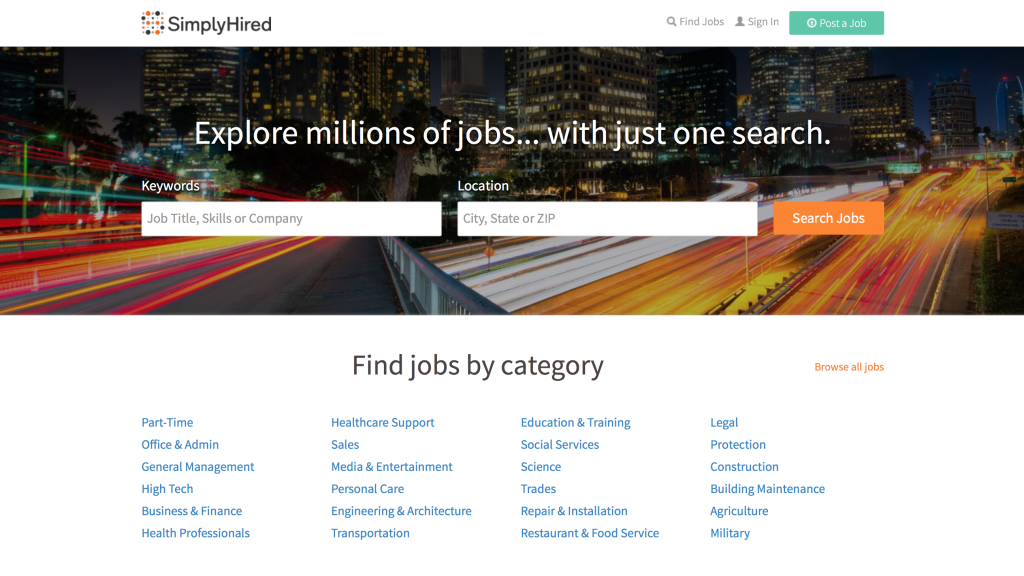 A tried-and-true favorite is job aggregator giant Simply Hired. Nearly everyone I know, who has searched for a job in the last few years, has probably landed on Simply Hired at some point. Reviews.com writes, "They offer one of the largest job pools because they pull job listings from around the web, including those from social-media sources. Its mobile apps are some of the best in the industry, seamlessly integrating with the web version to save and access previous searches no matter where you are." There are an abundance of jobs to be found on this platform, most of which are pulled from a number of U.S sources. According to PC Magazine online, they write, "The site currently contains over five million jobs including thousands of newspapers, 5,000 job bulletin boards, and over 200,000 companies." There are 24 different categories to choose from, and they also run a blog where job seekers, recruiters, and employers can go to for additional resources. Hot damn!
4. AfterCollege.com (GREAT FOR NEW GRADS)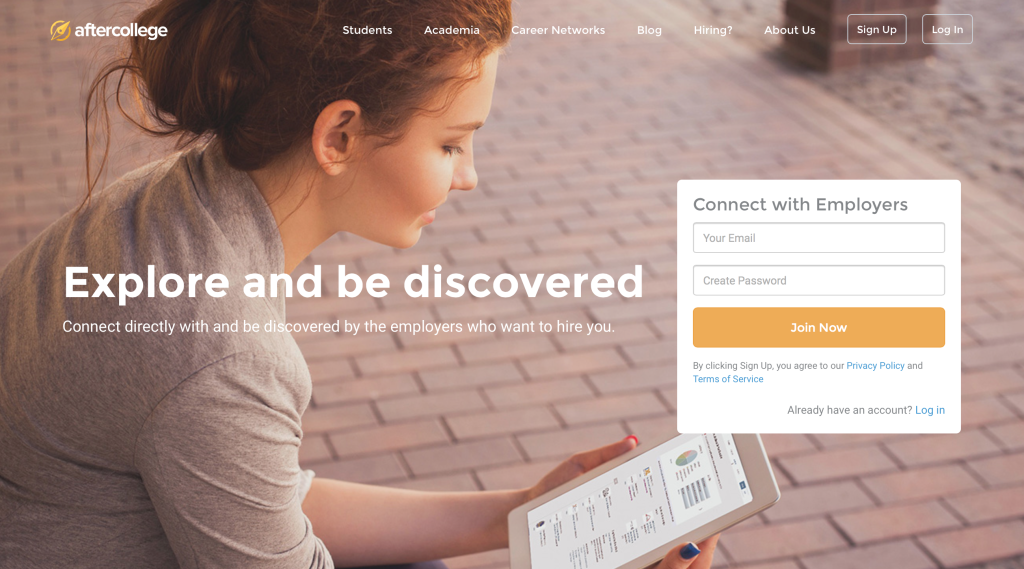 AfterCollege is an online career network that is perfect for college students, recent graduates and alumni who are looking for entry-level jobs and internships. The site specifically helps new job seekers figure out their first post-college step. U.S. World & News Report sings its praises and writes, "It's a no-brainer to use. "Students can set up an online profile and can connect to local employers in their alumni network and get a much-needed foot in the door when applying for new positions," says Stacy Redd, content development coordinator for Education-Portal.com. "We know that there are lots of sites dedicated to making professional connections, but we chose AfterCollege.com because it's specifically designed to help new grads find their first job." This site also features a Career Networks tab where you can search by school name to view student profiles, jobs, employers, and career networks. This site can be a godsend for newbies, so be sure to check it out!
5. WeWorkRemotely.com (GREAT FOR FREELANCERS)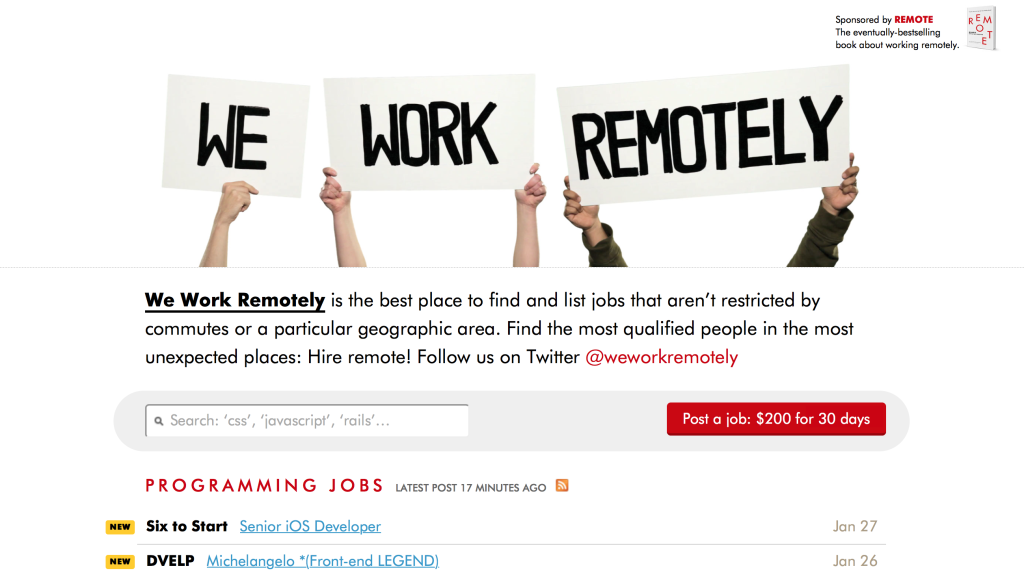 There is a growing trend of remote work, and We Work Remotely (where 75% of its staff work remotely) capitalizes on that reality. Mashable writes, "We Work Remotely is reserved exclusively for remote job listings. It features programming, customer service and support, design, business, and miscellaneous jobs, with the latest postings featured first. You can also grab the RSS feed so you never miss an opportunity." The job board offers up opportunities across the design, marketing, and business/management industry, so there is a wide variety of work to be found. The site is sponsored by REMOTE, a book about the culture of working remotely.
6. DICE.com (GREAT FOR TECH PROFESSIONALS)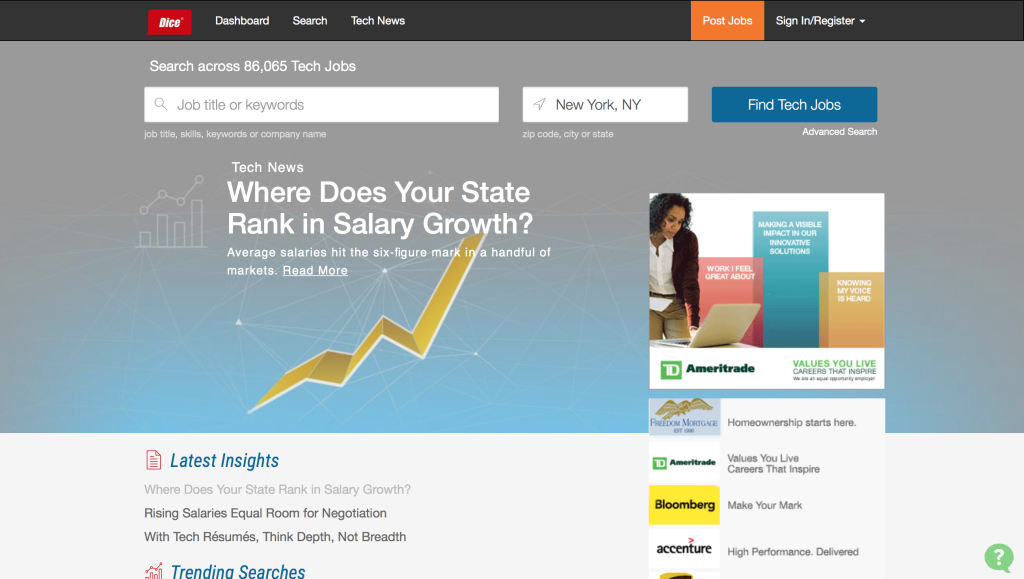 DICE.com is a rather niche job board website, and it only lists openings for IT jobs. They currently have about 85,000 jobs, and they boast one of the largest communities of people seeking work within the information and technology industry. DICE is more than a job board, and the site offers up valuable industry insights for individuals looking to broaden their knowledge base. For example, a few articles that jumped out at me were Rising Salaries Equal Room for Negotiation and With Tech Résumés, Think Depth, Not Breadth. I knew a lot of people in my graphic design program who, shortly after graduation, decided to switch industries — and they used DICE to help find work. Digital Trends has given the site a favorable review saying, "The site offers approximately 80,000 jobs listings on any given day, whether you're looking for an entry-level position at a small Silicon Valley startup or a coveted position at Google or Microsoft. Users can create a profile, upload a resume and search postings from around the globe." Check it out!
7. CareerBuilder.com (GREAT FOR A TRADITIONAL JOB SEARCH)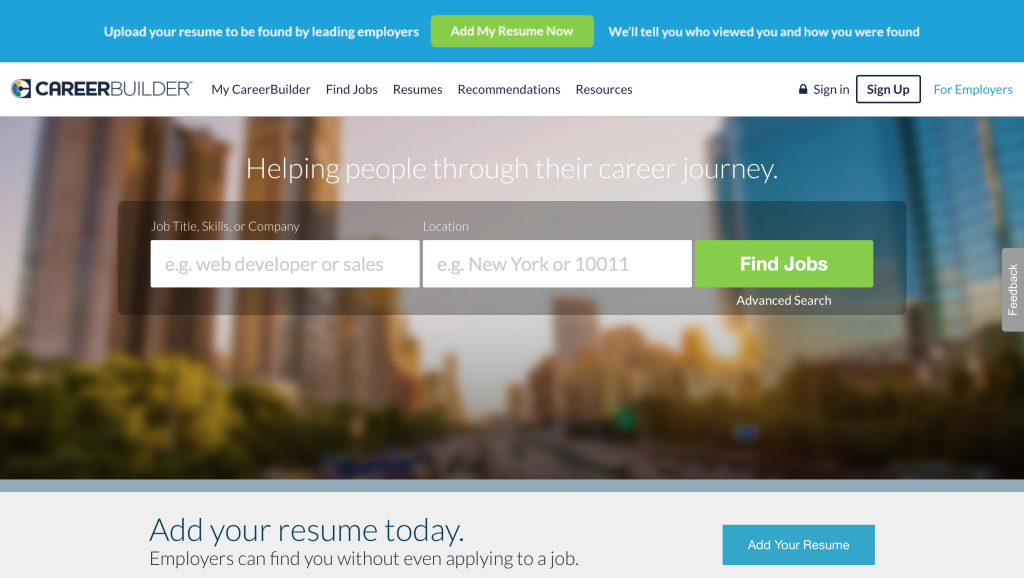 CareerBuilder frequently shows up on lists of the top job search websites — and for good reason. The sheer abundance of listings is enough to make anyone feel like they can kick their career into high gear. Comparakeet raves about CareerBuilder, which has been around since 1995, and writes, "Careerbuilder is one of the top job search sites in the industry, with over 24 million unique monthly visitors that use the website to find new jobs and obtain career advice. The company also works with countless employers around the world, which includes 92% of the Fortune 100 companies. Furthermore, it maintains a global presence with operations in the United States, Canada, Europe, Asia and South America, which ensure that job seekers the world over can take advantage of Careerbuilder's comprehensive and unique take on the job board website." The site makes it easy to search for jobs, and it offers personalized career tests, advanced search options, and a way to see how you measure up to rest of the competition. Pretty neat!
8. Twitter.com (GREAT FOR SOCIAL MEDIA JUNKIES)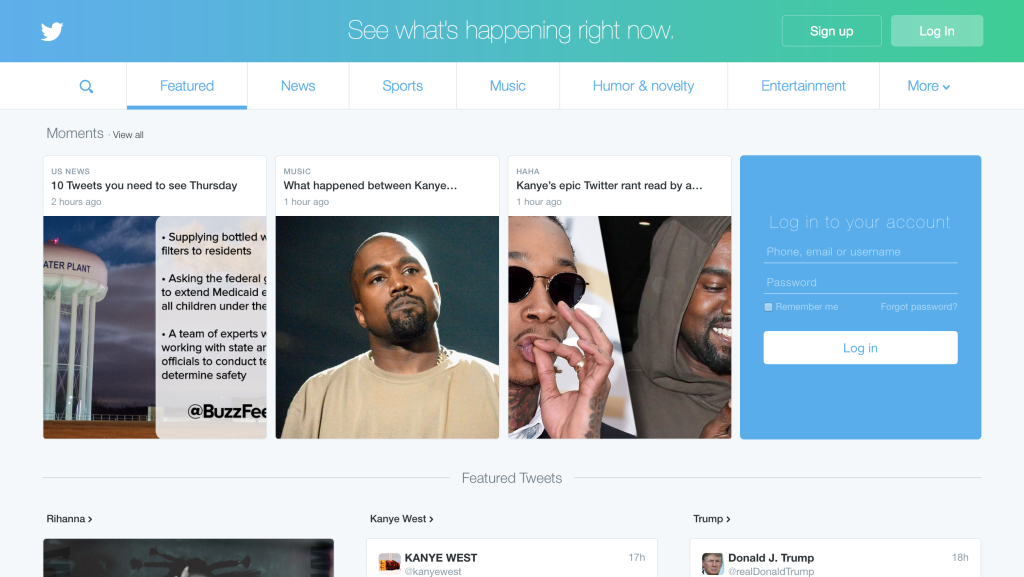 Using Twitter as a platform through which you can find a job, is a vastly underrated (and underutilized) job-search method. I've read articles about why Twitter has emerged as the latest job board here and here, and it opened my eyes to some of the platform's untapped potential. It's difficult to find a platform that rivals Twitter's ability to offer employers direct connections with potential talent. In turn, Twitter makes it super easy for job seekers to connect with companies tweeting out job postings directly to followers. It's a win-win for both sides. U.S News and World Report describes the platform saying, "Companies and recruiters often tweet out their most recent or challenging jobs to fill, along with links to full descriptions and instructions for how to apply. Applications like Tweetmyjobs send alerts to you when you sign up and tell it what you're interested in receiving." If used properly, Twitter has the ability to connect you, in real-time, to job postings from your favorite companies. In fact, many traditional job board websites are joining Twitter and tweeting out their latest job postings in that space. Big Interview.com provides a pro tip for using the site saying, "You may want to follow employees of the companies you're interested in working for. They are often the best source of insider information when those companies are hiring or preparing to hire."
Like I said above, there are a ton of resources out there (way more than I could ever cover in one post) for an individual to find work, you just have to know where to look. In addition to the above sites, I've rounded up some helpful articles to help you find specialty jobs (think medical and legal work). Be sure to check them out!
Image via Unsplash