9 Women On The Most Financially-Stupid Things They've Done For Beauty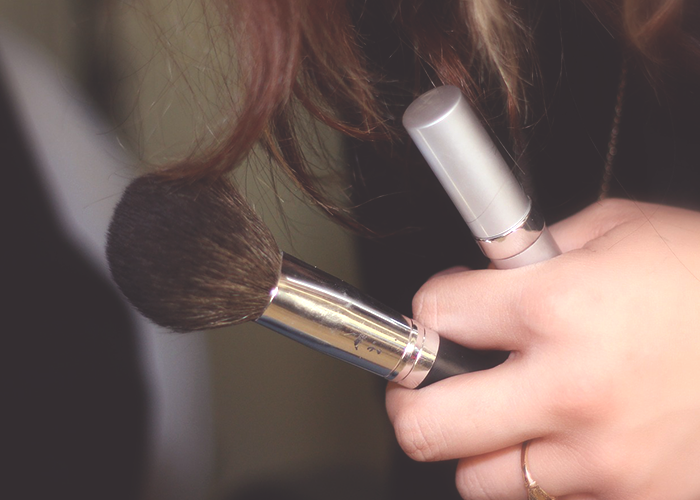 Yesterday, against my better judgment, I offered up my golden moisturizer to my boyfriend see if it would help remedy a bit of dry skin on his sad, allergy-ridden face. When he was surprised and impressed by how well it worked, I said, "Yeah, it better freaking work. I spend more money on that moisturizer than pretty much anything else in my life." He went on to guess the cost, starting around $20, then $30, and eventually stopping by $45 when I said "higher…" and he saw the guilt wash over my face.
It is a shit-ton of money, and I am actually still having a really hard time justifying the amount I spend on it. My moisturizer, however lovely, is one of the most luxurious and expensive things I've ever spent money on in the name of beauty. It isn't a necessary purchase by any means — most beauty-related purchases aren't — but I love it nonetheless. Admitting the price of my favorite beauty product to him got me curious about what other women have spent ridiculous amounts of money on in their beauty-past. I asked around to find out the most hilarious and shocking stories of what a bunch of different ladies in my life have dropped money on, beauty-wise. This is what everyone had to admit.
1. "I spent a good six years spending $120 every three months to get my hair done. I'm talking the whole deal — cut, bleach, color, blow dry. I wanted red hair but my hair was literally black. So I had it stripped down (and continued to strip the roots every few weeks thereafter) and dyed ginger-red. For so many years. I'm finally back to my natural color, and it has saved me SO much money I can't even believe I ever prioritized that." – Annie
2. "When I was 17, I was working for my Aunt in Manhattan. It was a long summer, and it was a repetitive one as well. I was working in an office for this big company, and I was rather bored with my little life. One morning I decided that I could not live any seconds longer without getting my legs waxed. I hadn't shaved them in a while, and I was ready to spice up my life. So on my lunch break, I headed over to the waxing salon to get my stems rejuvenated. On my way over, I tried estimating how much it would hurt, so I pulled at the hairs on my arm and decided it would be fine. I laid down on the table ready for it all. She ripped the first patch off and I was already sweating. The woman even started laughing at me because I was crying at one point. It was horrible. I didn't even find the cheapest place in the area! I paid $70 plus tip for the most emotionally jolting experience of my life. Never went back." – Maggie
3. "I guess… Getting my hair dyed, manicures and pedicures, waxing my eyebrows, and buying certain makeup items that I'll never actually wear." – Kayla
4. "I spent, like, $1,000 in one year on skincare after a bad breakout. And obviously none of the products really worked, because they're products. I needed medication to finally calm it down. But I seriously own every Clean & Clear- or- Proactiv-brand product on the market, all half-used and will never be touched again. I spent so much money I can't even tell you." – Isabella
5. "I don't even have a job, but every time I get like $50 from anywhere for any reason, I blow it almost immediately at Ulta or Sephora. I'm makeup-obsessed. I watch YouTube videos all the time and I can't stop splurging on products even though I know I can't afford to. I just bought a bunch of makeup at Ulta the other day, charged it on a credit card. I know I will be borrowing money from my mother to pay for it. I need to stop actually but I really just love it." – Madelaine
6. "Ok so, wanted to change it up, just ended plays and got my tax refund so it seemed like a good time. Saw 'ecaille' on Pinterest, loved it, and wanted it. I wrote a status about it, and a friend studying hairdressing at a local school offered to do it. I was hesitant about the school part, but it seemed like a good price and he said he understood what I wanted. But shit went down. He majorly fucked it up — had to call in his teacher who had already left for the day.
At one point, he responded to an educational question from the teacher, who was kind of aghast at the whole sitch, with 'I don't know. Honestly, I'm done,' and she was like 'Fuck no you're not!' She kind of repaired some of the fucked-up-ness but at the end of it all, like houuuuurs later, I ended up paying a shit ton more, like $100 more than he had originally said. It was $200, and it was hideous. And not subtle. And not ecaille, or even highlights. It was skunky, thick, random pieces of bleached hair that were yellow, the color of corn. And the next day I bought two boxes of hair dye to try to get rid of it, but it still took a while. But the worst part was having to hug the guy who did it and pretend it was fine." – Kiernan
7. "I got blue-colored contacts to change my eye color, but I don't even need contacts. I literally purchased them to temporarily change the color of my eyes. I realized one day I just wanted to be me and be happy with me, that was too fake. That wasn't such a huge financial burden, but it's the first thing that popped into my mind." – Lynn
8. "I had to find foundation for my headshots, but I never wear foundation because in my 21 years of life, I have not been able to find a foundation to match my super-fair skin tone. I went to Sephora and asked one of their 'specialists' to match me. She slathered this yellowish shade all over my face and was like 'This is it.' Then I was like 'No, it is not, I don't look like myself.' Then she slathered a slightly-lighter color on my face, and I felt too bad to say no again. So I was out $60, and now I'm out another $200 because my face didn't match my neck in my headshots, so I have to get them done again." – Erica
9. "My mom and I have blonde eyelashes, so we got our eyelashes dyed. I think we did the procedure twice, and then decided it was stupid expensive and pointless, because we were still using mascara to give our eyelashes some volume anyway." – Lizzy
Image via Pixabay