A Beginner's Guide To Biking For Health, Wellness, And Exercise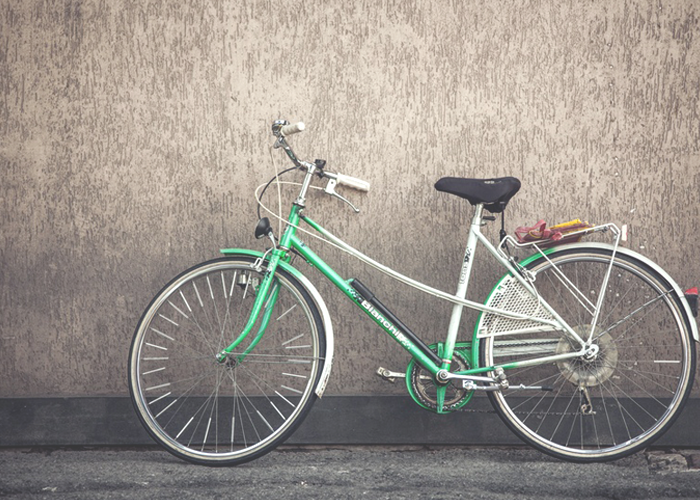 Bicycling is the best! It's not just some hip photo-opt thing, although bikes do make for an attractive Instagram snap, biking is great exercise as well! Bikes are the most energy-efficient, sustainable, and cheapest mode of transportation. They are also a great form of low-impact exercise that you can partake in your whole life. While it's not necessarily worth it for everyone to buy a bike, if you have a safe place to store it (e.g. not chained up to a rack on the streets of your city), can use it to commute, or find yourself regularly using the city bikes, buying one can be a great investment. If you are looking to buy a bike and get more heavily invested in biking as a hobby, mode of transportation, or form of exercise, here are my tips to keep in mind when acquiring your first bike!
Be prepared to spend a total of roughly $500 on a bike, lights, and a good helmet. I know you might be saying "WTF — I could get a cheap bike at Walmart/Target etc., why would I spend THAT much?" My first answer would be: Walmart sucks, why would you get anything there? But my second and more serious answer is that generally (but not always) a cheap Walmart bike is the equivalent of a Forever21 shirt; a waste of your money. Why? First off, a bike is like a car, and it needs to be treated carefully, and with love.
A bike is a finely tuned machine, and this means it needs to be maintained often and be well-made, so it will last a lifetime. I bought my first bike a few years ago. It is a 1967 Gitane, and it still works like a dream. Although bike technology changes about as fast as car and/or phone technology, this bike is still a beauty because it was well-made to begin with, and it's been regularly maintained.
Another reason to buy a good bike, is if you buy a cheapo one, the bike will inevitably need part replacements. Replacement parts are not available for Target/Walmart-brand bikes, because they are such POS' to begin with that the manufacturers expect you to trash them. On the other hand, you will often be able to find or switch out/upgrade alternate replacement parts for a well-made bike. Case in point: my Gitane. The gears were clunky when I got it, but my mechanic was able to find alternate parts to replace the discontinued ones, and he turned it back into a smooth riding machine by adding new wheels, gears, and brakes.
Now, a quick word on used bikes. Used bikes are great, but try to get it from a shop. Do not, under any circumstances, buy a used bike from Craigslist, yard sale, or other random place without having a mechanic (or someone who really knows bikes) check it out first. My boyfriend works as a bicycle mechanic, and almost everyday someone comes into his shop with a Craigslist bike that is unusable without needing hundreds of dollars worth of repairs. Buying a Craigslist bike is like buying a Craigslist car without Carfax. Yes, you may score a sweet deal, but unless you or someone you know is actually knowledgeable about bikes, there's a 99% chance you are throwing your money down the drain, and/or buying stolen property.
If you are a commuter, get a hybrid/commuter bike. Do NOT get a cruiser, road bike or a mountain bike. Cruisers are clunky, and buying one is a tell-tale amateur move. Mountain bikes are great over bumpy roads and snow, but unless you are actually going to ride mountain bike trails, they are not worth the price. I know people who use road bikes to commute to work, but when you're positioned over your handle bars in that way, it's not a comfy commuter pose to be stuck in long-term (especially if you're wearing a backpack). More importantly, you cannot put paniers or a basket on a road bike without really throwing off the balance, and having storage is sometimes essential. I really liked the Jamis Coda when I was in the market for my bike, and I have friends who got other Jamis models and liked them too. Road bikes are also typically more expensive than commuter/hybrid bikes and do not hold up as well for commuting (think potholes, poorly maintained roads, rain, snow, etc.). Riding a road bike to commute to work is like driving a Porsche when you really need the space of a Subaru. It only makes sense to invest in a road bike if you know you're going to log some serious mileage on bike routes/trials/lanes for exercise.
Get a helmet.
In some cities, it's the law to wear a helmet. Even if it isn't the law in your city, wearing one can save your life. Make sure it fits, and doesn't shift when you shake your head.
Get lights and a bell.
Having lights on your bike is a legal requirement in most cities and, even if it's not, they're a cheap potential lifesaver. Get a light for the front and one for the back, and try to find ones that have a blinking feature. I got Frog ones for less than $20, but they don't hold up if left outside in the elements, so take them off your bike if you store it outside.
Ride in bike lanes/through parks/campuses wherever possible.
These areas are always more bike-friendly. If you have to ride in heavily trafficked areas with no bike lanes, observe traffic rules as if you were a car. In most cities, bike rules mirror traffic ones, so it's easy to remember the rules. I know cyclists who've been ticketed for riding against traffic, on the sidewalk, and failing to stop at lights, because cops considered them vehicles. Don't be ~that~ cyclist guy.
Wear close-toed shoes.
Seriously, if you wear flip-flops while you bike, it's just a matter of time before you lose a toenail or foot. If you're biking in a skirt/dress, be sure to pop on a pair of little shorts underneath your dress to keep everything covered and comfy (I got some spandex shorts from TJ Maxx for ~$5, so there's no excuse!). Also, wear sunglasses. Nothing sucks more than getting road dirt in your eyes and/or not being able to open your eyes in a strong wind. That is not a safe way to go about biking in any capacity.
Have fun, be safe, and invite someone for a ride and post to Instagram!  Bikes are photogenic after all. Below is a quick takeaway of some essential bike safety tips to keep in mind while out and about!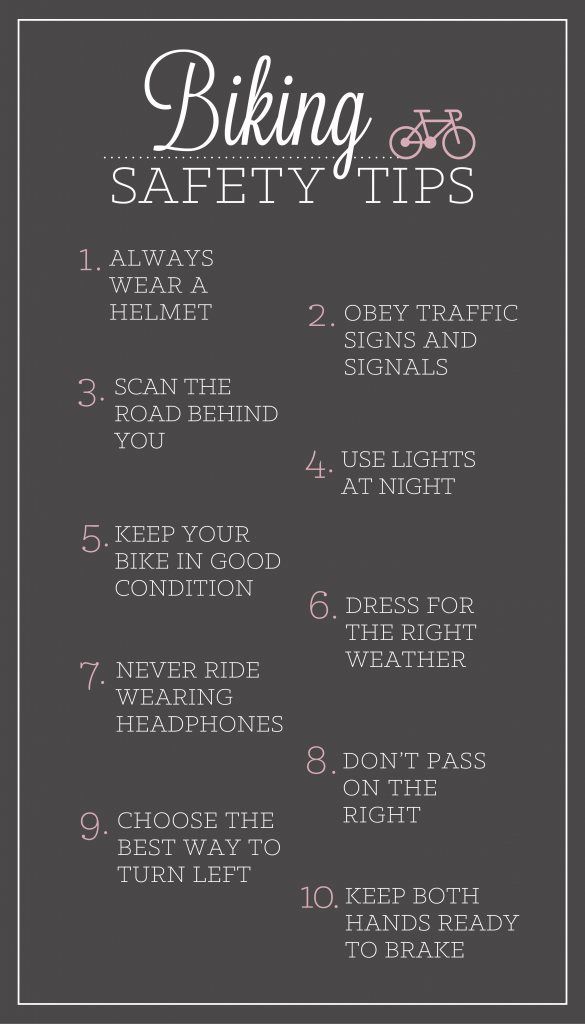 Also, below are some tips for finding a good bike helmet:
Emma is an attorney who moved from NYC to Nashville for law school and decided to stay.  She will never again live North of the Mason Dixon line or pay more than 1/3 of her salary in rent. Follow her blog or her Instagram.
Bike safety tips via WSDOT. Bike icon in graphic via Flaticon.com