A Makeup Artist Shares Her 5-Product Minimalist Routine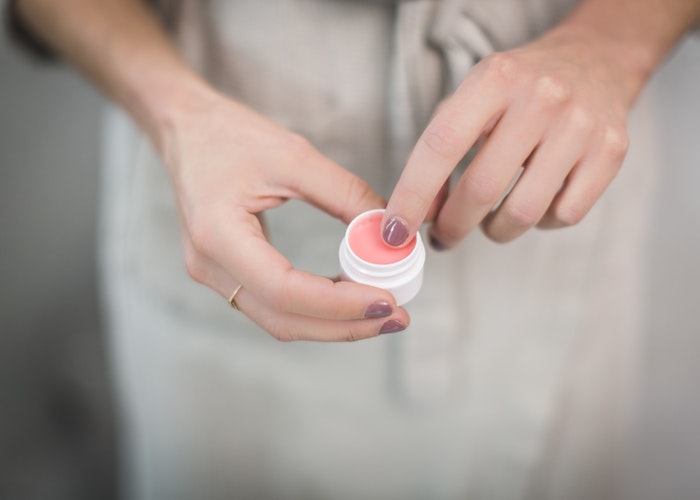 You wouldn't think minimalism and makeup go hand-in-hand, but as a makeup artist, combining the two has saved me time and money, both on set and in my personal makeup routine. Minimalist makeup application, like the minimalism movement itself, is about intentionality and cutting out any excessive steps or products. What is essential, and what can you live without? Cutting down the number of products you use will also help you cut down on time spent doing your makeup, which will, in turn, give you more freedom to enjoy life outside of looking into a mirror. 
Minimalist makeup is about using a few products in multiple ways to enhance features and conceal blemishes without drawing too much attention to the fact that you've done either. In my experience as a makeup artist, this technique has served me well in commercial and film environments, where clients often don't want it to look like the talent is wearing makeup, but they can't appear to be barefaced either. The harsh lighting on these sets exaggerates natural highlights and shadows on the face, so thoughtful product placement applied with a light hand is essential to avoid looking too "done" or cakey. I've spent the last few years experimenting to find out just how far I can stretch this technique to save money and time. Here are a few of my best tips and tricks for mastering the art of minimalist makeup.
Use concealer instead of foundation.
If you want to trim down your makeup routine, start at the foundation — literally. Ditch your high-coverage foundation and use a liquid concealer like L'Oréal's Infallible Full Wear Waterproof Concealer to correct any blemishes and dark spots. As a makeup artist, we're taught that the primary purpose of a foundation is to even out skin tone and create a visually flat surface to layer shadows and highlights on top of. High-coverage foundations actually require you to use more products on top of the foundation, because you have to recreate the natural shadows and highlights that you just eliminated with foundation. If your face isn't a significantly different color than your neck, your skin tone is already even, so you don't need foundation. 
Use a concealer that's the same shade as your face on any blemishes or dark spots. Contrary to popularly-held concealer beliefs, you don't want to use a lighter shade because that would be highlighting what you want to conceal or blend. For many people, the areas you should target are typically just around the nose and under the eyes, close to the tear duct on the inner corner. Less is more. Use your fingers to blend the edges around the area that you want to conceal for the most natural finish. With the correct product placement, you can still conceal any blemishes without wearing a full face of foundation, which means you can cut back on products overtop of foundation.
Use lipstick as blush. 
Cream or liquid lipstick can easily double as a liquid blush, and using the same shade across your lips and cheeks connects the two. Cream products look more natural than powder, which can often appear cakey or chalky if applied too heavily. 
Of course, if you have any allergies, you want to watch out for problematic ingredients, but generally, if a product is safe for your lips, it should be safe for your skin. Apply your favorite rose or peachy shade to your lips, and then pick up some product from your lips onto your fingertips and apply it on your cheeks. Some brands have a blush and lip stain combo product, like this stain from Burt's Bees or this pencil from Nudestix. You'll use fewer products this way, rather than applying straight to your face from the tube, so there's little to no risk of over-applying and looking like you're ready to pass out balloon animals at a children's birthday party. 
Use bronzer as eyeshadow. 
Bronzer makes a great natural eyeshadow, and again, connects the two areas of the face naturally. Physicians Formula Butter Bronzer Murumuru Butter Bronzer comes in a variety of shades that aren't too orange or too grey, so they truly look like you just spent the last two days vacationing in the Caribbean. Keep the bronzer right beneath your cheekbones, and avoid applying it past the center of your eyes for the most natural glow, and don't forget to sweep it across your nose. Bronzer is essentially faking a tan from the sun, and your nose always gets a little color. Apply what's left on your brush onto your eyes to fake a natural shadow in your crease. You don't have to be too exact; it should look like a wash of color — like you're not even wearing eyeshadow.
Use brow pencil as a natural eyeliner. 
If you can't live without eyeliner, but you're serious about minimizing your makeup routine, this tip is for you. If you use a pencil in your brows, try running the same pencil across your lash line. Unless you're doing a full-on wing, eyeliner is used to make the lash line appear thicker, which makes your lashes look fuller. Any brownish pencil will create this same effect. For an even more subtle eyeliner look, start at the middle of your eyes instead of at the inner corner. This will make the outer lashes appear thicker, which will make your eyes look more almond-shaped. 
Apply moisturizer strategically for a natural glow.
Powder highlighter on a bare face can look stripey and out of place when the rest of your skin is so natural, but this doesn't mean you should skip highlighter altogether. Highlight serves a purpose, but it doesn't have to be glittery. Take a creamy balmy moisturizer, like Weleda's Skin Food, and apply it on top of your cheekbones for a natural yet reflective highlight. A tiny bit of face oil could work here, too. If you skip foundation, your highlight actually works double-duty as skincare and makeup. 
With minimalist makeup, you can still achieve a look that covers your imperfections and gives your face some color without spending hundreds on a ton of different products that take up space in your life and your makeup bag. If you follow this routine, your makeup bag would only include a concealer, lipstick, bronzer, brow pencil, moisturizer, and possibly a tube of mascara. 
Using these few products, you can easily create a look for every day, slow weekends, or even a casual office. Carry the lipstick and some powder in your purse to touch-up throughout the day — or don't. The best thing about wearing less makeup is that it fades a lot more gracefully throughout the day.
Cristina is a freelance beauty writer in Austin, Texas. She spends her spare time masking and wondering if jade rollers really work. DM her your favorite moisturizer on Twitter or visit her on her website. 
Image via Pexels
Like this story? Follow The Financial Diet on Facebook, Instagram, and Twitter for daily tips and inspiration, and sign up for our email newsletter here.