The Minimalist Guide To Meal Prepping: 60 Minutes, $50, 10 Portions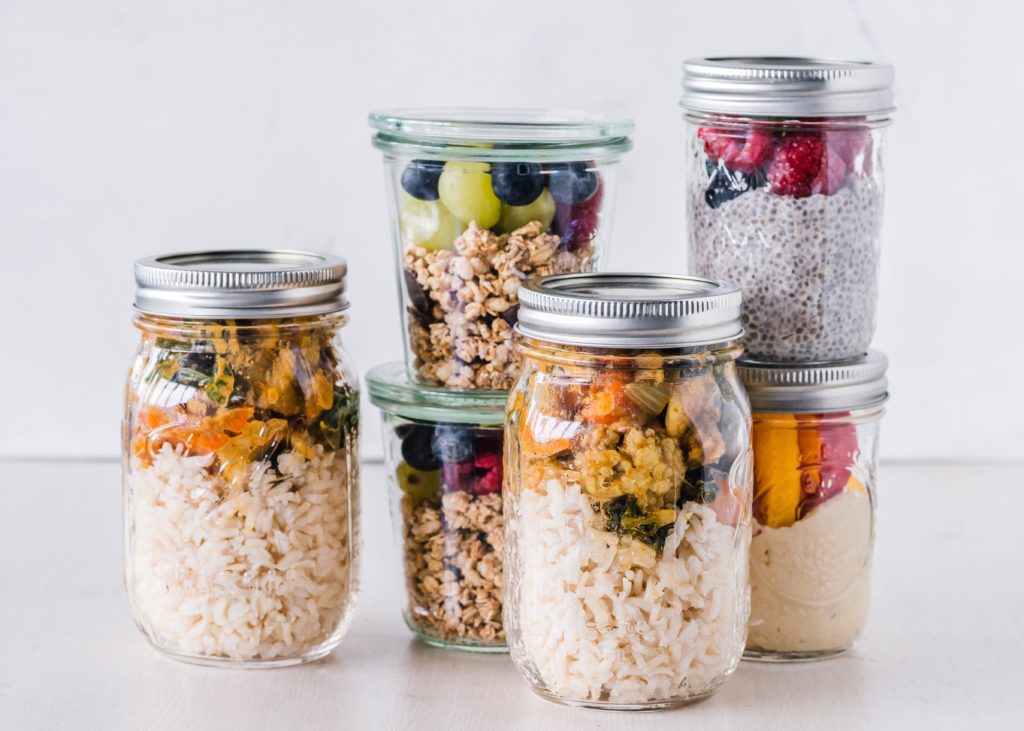 I never used to be someone who meal-prepped. To be honest, I never even used to be someone who cooked. I always felt that it took too much time, considering how quickly I would wolf down my meals afterward, and I couldn't imagine finding enough time in my day to prepare meals in advance for an entire week. But graduating college and working my first full-time job, complete with a 45-minute commute each way, meant that if I didn't meal-prep my meals over the weekend, I simply didn't have the time or energy to prepare lunch for the next day while also making myself dinner that same evening. I needed to come up with a simple guide to meal prepping that I could easily follow.
So: I'm going to share my comprehensive method — which boils down to two tips you may not have thought of — for minimalist meal-prepping. Here's how to prepare a healthy breakfast and lunch for the entire week with just seven containers, sixty minutes, and less than $50.
My Minimalist Guide To Meal Prepping
This may surprise a lot of people, but this step is actually the one that I spend the most time on. During the week, I'll either take a quick break from work to browse recipes or spend a few minutes on my commute thinking about what I want to cook. I'll make a grocery list keeping in mind the ingredients I already have at home and don't give myself any room to cheat: I go home and double-check that I have enough quinoa, milk, oatmeal, eggs, peanut butter, etc. for the week ahead so that when I'm at the grocery store, I don't wind up buying extra "just in case" I don't have it at home. For me, allowing myself to deviate from my grocery list even once gives me permission to do it again, and again, and again. Since I live alone, buying additional items in the grocery store not only means that I've spent over my budget, but it also means that a lot of the food I purchase will go to waste. As such, this is often the most important step in the meal-prep process.
To give you an idea of my general diet, I meal-prep overnight oats for breakfast from Monday through Friday and tend to cook myself an omelet or toast bread with peanut butter for a light dinner with fruit. I've always eaten light for dinner, so these protein-packed meals fill me up and don't take too long to make. I also tend to get hungry on my commute back from work and eat a granola bar roughly an hour before I eat dinner, so that further explains my smaller dinner portions. For lunch, I always start with a base of quinoa — I tend to cook 1 ½ cups of quinoa for five lunch meals — and then I switch up what I want to add on top of that base.
In general, about once (or twice, as needed) a month I have these "staple" items on my grocery list:
1 Large Bag of Quinoa

1-2 Half-Gallons of Almond Milk

2 Boxes of Trader Joe's Steel Cut Oats

2 Jars of Peanut Butter

1 Bag of Chia Seeds (for overnight oats, but this is optional)

1-2 Cartons of Eggs

1 Loaf of Bread

1-2 Boxes of Granola Bars

1 Bag of Clementine's/Apples/Fruit of Choice

1 Bag of Frozen Berries (for overnight oats, but this is optional)

1 Bag of Almonds/Pecans/Nut of Choice (for my overnight oats, but this is optional)
The staples, every month, cost me around $55-60, and I spend an additional $20-30 on rotating ingredients for my lunch every week, so that's roughly $150-200 on groceries a month.
2. Organize Your Time
Now that you've spent the time curating your grocery list, researching recipes that you'll be excited to eat for five days at a stretch, and double-checking that you're not about to buy extras of any of the items you already have in your kitchen, you now need to spend a few minutes planning out how you're going to organize your time to meal-prep. I grocery shop once a week and either visit the Trader Joe's near my office on my way to the train station or, if I have time over the weekend, I'll walk fifteen minutes to a bargain outlet and pick up my groceries from there. In total, walking to and from the grocery store, finding my items, and checking out takes about an hour.
But what I'm asking you to do here isn't simply finding the time to grocery shop — you already know you have to do that, regardless of whether or not you meal-prep — but organizing how you're going to finish cooking breakfast and lunch for five days in 60 minutes (if that's something that you want to do!). Here's an example of what I mean if I was planning to make a salad:  
:00-:05 – Preheat oven to 400 degrees Fahrenheit and then measure out 6 cups of water to boil for the quinoa.

:05-:15 – Cut vegetables for the salad while checking on the boiling water and adding 1 ½ cups of quinoa to the pot once the water has boiled.

:15-:20 – Line sheet pans with aluminum foil and season the vegetables before adding them into the oven.

:20-:45 – Check on the quinoa, clean up the kitchen, and take out five lunch boxes in preparation. Next, take a larger container to make the overnight oats for the week. Add 1 ¼ cups of steel cut oats, 2-3 tablespoons of chia seeds, and 2 cups of almond milk. Then add 2-3 tablespoons of peanut butter (honey/maple syrup optional if the peanut butter isn't sweet enough for you) and mix well. Refrigerate and clean up the kitchen once more before checking in on the quinoa and switching off the stove.

:45-:60 – Evenly distribute quinoa into five bowls after the oven is turned off and the vegetables are taken out to cool. Next, wash the kale and arugula and evenly distribute on top of the quinoa. Finally, add the roasted beets and brussels sprouts and add goat cheese, almonds, and pomegranate seeds. Put the pot of quinoa in the sink to sit for awhile with some water and clean up the rest of the kitchen, refrigerating the lunch boxes to enjoy later in the week.
If I hadn't thought in advance to preheat the oven and get the water boiling for the quinoa, I likely would not have been able to cook my quinoa and vegetables at the same time. By having thought in advance, I freed up time for myself to make my breakfast for the week before returning to my lunch meal-prep. This is what I mean about organizing your time, at least mentally, in advance so that when you enter the kitchen to meal-prep, you can be as efficient as possible. Regardless of what I'm making, I always set my water to boil first so that while my curry or burrito bowl chicken is cooking, I can evenly distribute my cooked quinoa and add other items to the bowl (such as salsa or beans, in the case of the burrito bowl) while I wait for other ingredients to cook. By taking a few minutes on my commute to mentally plan out, in detail, my 60 minutes in the kitchen, I'm able to create healthy meals that don't take nearly as long as I'd have imagined they would take.
My Go-To Budget Meal Prep Meals
I'm also including a few of my favorite go-to meal grocery lists and prices below to give newcomers to meal-prepping a head start. (Note: these lists are in "addition" to the staples I already listed above. So assuming you have quinoa at home, for instance, which is an essential staple in my lunch, you can then add the cost of these items to create lunch for the week for one person.)
Chicken Burrito Bowls: $15-20
Prices vary depending on the grocery store. For instance, I buy my pico de gallo fresh and very inexpensively, as I live in a Hispanic neighborhood, but it may be more expensive in other areas of the city or country.
Chicken

Spinach

Bell Peppers

Black Beans (1 Can)

Pico de Gallo
Thai Tofu Red Curry: $20-$25
I love adding spinach to as many dishes as I can since it's so healthy, I think it's unbelievably tasty as it takes on the flavor of the food it's added to, and cooked spinach has a lot more protein than raw spinach (because it's denser, so you end up eating more spinach).
Tofu

Frozen Vegetables

Spinach 

Coconut Milk (1 Can)

Trader Joe's Red Curry Sauce (any red curry paste will do)

Onion

Garlic

Ginger
Indian-Inspired Lentil & Okra Curry: $20-30
I added a wider range depending on whether or not you already own the spices that are necessary. I'm Indian, so I always have Indian spices at home that my parents and grandparents give me. But in general, you need chili powder, turmeric powder, coriander powder, and jeera powder.
Okra

Yellow Lentils

Tomato Sauce

Onion

Ginger

Garlic

Tomatoes

Frozen Vegetables (Optional)

Spinach

Spices 
Goat Cheese & Beet Salad (from above!): $20-25
Here, the range depends on whether or not you already have almonds in your house if you're adding them to your "staple" grocery list for breakfast.
Goat Cheese

Beets

Pomegranate Seeds

Brussel Sprouts

Kale

Arugula

Almonds
The Benefits Of Scheduling My Meal Prep
This method may not work for everyone — I totally understand that! — but I work from 7 AM – 3 PM and tend to eat lunch at my desk. Prepping breakfast and lunch beforehand ensures that I don't feel tempted to spend money on Starbucks or other nearby restaurants, which would cost a lot more than my groceries. I come home every evening and make myself a simple omelet or toast a slice or two of bread to enjoy with peanut butter (I'm obsessed with peanut butter, in case you couldn't tell) and afterward, I'll quickly scoop some of the large overnight oat mixture into another lunch container and add some frozen berries and nuts on top to heat up and enjoy at work the next day.
For me, meal-prepping is all about planning — and I love planning. Nothing gives me as much joy, or quite the adrenaline rush, as planning a trip or event, and meal-prepping is so similar, to me. Breaking down the steps and focusing on creating the grocery list ahead of time and on imagining the process of cooking and prepping my lunch boxes makes meal-prepping seem like a simple, easy-to-do venture for me instead of the complicated task that it is often made out to be on social media. I hope this article can help other recent grads save money, especially without having to invest in fancy kitchen gadgets and utilizing just seven boxes — one for breakfast that I wash and re-fill every night, five for lunch, and one for the bigger batch of overnight oats that I refrigerate all week.
Keertana Anandraj is a recent college grad living in San Francisco. When she isn't conducting international macroeconomic research at her day job, you can find her in the spin room or planning her next adventure.
Image via Unsplash
Like this story? Follow The Financial Diet on Facebook, Instagram, and Twitter for daily tips and inspiration, and sign up for our email newsletter here.