Everything You Need To Know About Saving Money On Beauty, From A Professional Makeup Artist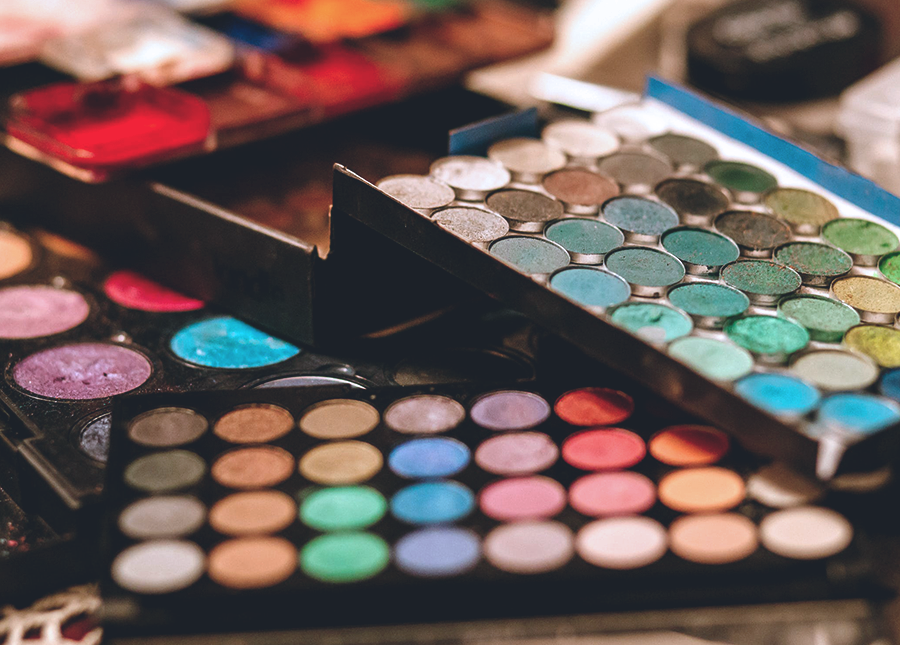 You don't need me to remind you that the beauty industry is fucking huge. It is worth $445 billion in sales and shows no sign of stopping any time soon. And when it comes to makeup, there are endless brands to choose from and countless places to shop. Understandably, then, it can be totally overwhelming to build your perfect makeup kit while staying in your budget — and without sacrificing quality.
This is where expert advice comes in. I (virtually) sat down with kickass makeup artist (and my former colleague) Brianna Solberg. A former Sephora makeup artist, Solberg is now freelance, which she balances with her full-time 9-to-5. She is hella talented, passionate, and knowledgeable. I have also never seen someone do a better smoky eye than her. She knows her stuff and provided some really helpful insights about what it means to shop smart for makeup. Read the full interview below to learn where to splurge, where to save, the best stores, the importance of samples, and more.
Tell us a little about yourself and your makeup artistry.

Where do I start? I've been applying someone's makeup (whether it be my own or a client's) for so long! I really amped up my skills and passion when I worked at Sephora for nearly six years. From there, I had freelancing opportunities in bridal, boudoir, small films, commercial gigs, and for lots of local black-tie events. I did stage makeup and airbrush tanning for a fitness competition once, too! I love being able to pick my hours and be a part of some pretty awesome "behind the scenes" teams. I've had to taper down some of my business, because my 9-to-5 job during the week has become much more demanding. The awesome thing about being a makeup artist is that it is a creative outlet that I always look forward to.
Where are your favorite places to shop for makeup and why?
Everywhere. I can't stop! I have a soft spot for Sephora ever since I worked there, and it always feels like "home." I also love Ulta for their sales, Beautylish for the Ordinary skincare products, Glossier for all my beauty news (and they also make a fantastic lip balm), Nigel's for pro products, Amazon for my applicators and sanitation tools. Sometimes if I'm in the mood to browse in person, my favorite "beauty counter" world is Nordstrom. I like to stop and swatch all the new shadows from Mac, Lancôme, Dior, Chanel, and YSL to get inspiration.
What are your money-saving hacks when it comes to buying makeup?

Samples are my go-to because I would otherwise be a terrible impulse buyer and it helps me keep my makeup hoarding to a minimum. I have a separate email address just to subscribe to all the retail rewards and it helps me stay organized and always be on top of the best deals.
Sometimes I'll go into Sephora with minimal makeup just to have a chance to try on a foundation and walk around the mall to let it "cook" on my skin and give it a good test drive. I also get a sample or two whenever I'm shopping so I can try a new product. You would be surprised how a little goes a really long way in those sample jars!

What products are always worth the splurge, and why?
I'm willing to splurge on skincare and foundation because I take my skin seriously. It's the most visible feature when thinking about makeup, so I think that should come first. It doesn't matter if you have a $75 luxury brand lipstick if your foundation is the wrong color or finish.
What products can you buy cheaper without sacrificing quality? And why?
Lipstick! There are so many inexpensive lipsticks that are beautiful when wearing the right shade for your skin. It comes down to color for me, because I can make any lipstick stay on if I prep with the right products. Liquid lipsticks are having a "moment" right now, and I have no shame in my drugstore game when buying up tons of these for my kit.
What are your top 5 luxury brands?
And your top 5 drugstore brands?
What is a common misconception about makeup that you want to clear up?
Airbrush makeup does not always mean you will look "airbrushed." To truly look airbrushed would require a photographer with editing skills. Or Snapchat filters, lol.
What's your favorite makeup product ever?
This is the hardest question ever, but I am loving my Glossier Balm Dot Com in "Birthday." Lip care is important!
What was the best deal you ever got on makeup?
I kept my Ulta points for a long time and paid next to nothing for a Tarte eyeshadow palette.
Anything else you think we should know?
Ask for advice! The beauty gurus at Sephora, Ulta, and others really do know how to help most of the time. Also, be realistic about expectations. Instagram and beauty bloggers post selfies that look amazing, but in real life, it may look a little over the top if you're just going to class. If you like a photo, maybe think about what it is you are drawn to. I notice people shopping for a specific lipstick just because Kylie Jenner wore it, and end up disappointed when they don't look identical. Use social media as inspiration, not a shopping list.
Molly is an assistant digital strategist by day and a writer by night. She drinks way too much coffee and can be found on Twitter here.
Image via Pexels