Exactly How Much One Bad Case Of The Flu Cost Me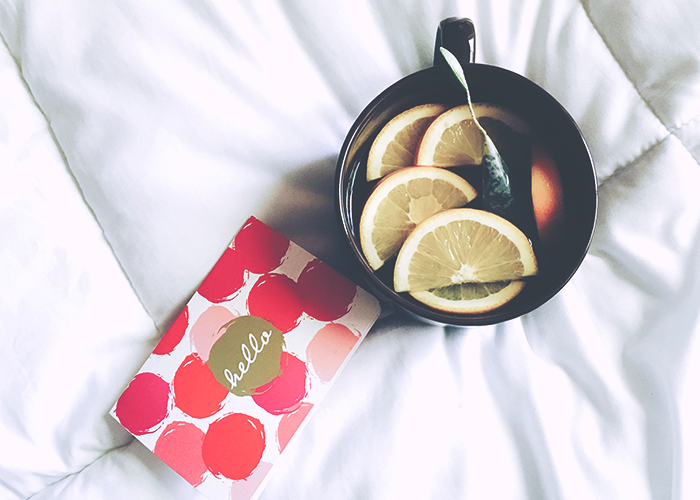 I've just come out of a seven day haze of snot, tissues and coughing fits. It was not fun. I woke up on a Sunday morning with a scratchy throat, but put it down to a few too many champagnes the night before. I tried to brush it off, as we had lunch planned with my family in a few hours. But by the end of lunch, my nose was running, and by the time we arrived home, I was done. I took some cold and flu tablets, sat on the couch, and was out like a light. I woke up a few hours later to watch some Sunday night TV, before promptly conking out again.
I headed into work Monday morning to divert urgent work to my boss, and a few hours later, I headed back to the couch, where I basically stayed for the next few days. The thing is, though, I was entirely unprepared for this illness, and I usually do our grocery shopping Sunday afternoon and cook throughout the week. So Monday night, my husband came home and asked what's for dinner. I know…you're totally giving him side-eye too, right? He managed to cobble together a dinner of two-minute noodles.
The the next night, he came home and asked what's for dinner. Again, I gave him side eye, so he went and ordered fish and chips.
The next day, I was getting sick of eating stale sandwiches and takeout, so I dragged myself off the couch to visit the doctor and get some groceries. One stronger set of drugs later, and grocery shopping done at the more expensive supermarket because I didn't have the energy to visit the green grocer and butcher separately, and I decided I was lacking in nutrition, so I stopped by the expensive juice place to get myself a green juice. After a fairly carb-heavy diet, I expected that first sip to be a dream. Instead, it tasted like nothing.
I finally dragged myself back to work on Thursday, but the sandwich I planned for lunch just wasn't appealing. So I headed out to get myself dumplings. I still couldn't taste anything, but I felt better for it, because I clearly wanted to consume salt.
On Friday, I headed into work again, but it is clear I have relapsed. So I went home at lunch time, stopping at Costco to stock up on essentials ahead of the weekend, but instead of eating my prepared lunch, I grabbed a hot meal instead. I then fell asleep for the rest of the afternoon. Saturday morning, I had to leave the house to vote in our local election. We went out for brunch afterwards, because I couldn't be bothered preparing anything. Later in the day, I had to head into the city for a regular appointment, and afterwards I decided to stop by another expensive juice place to get a smoothie that, thankfully, does take like it was advertised. On Sunday, I summon my remaining energy to do my weekly grocery shopping, but again I am too tired to visit the green grocer and butcher, so the costs mount up.
By Monday morning at work, the fog around my brain starts to lift and I feel better — albeit it takes a few days for all of my energy to come back.
So at the end of all this, the sickness budget blow out totals $20 for takeout, $22 for medications, $10 for one overpriced green juice that I couldn't taste, and $15 more in groceries for being too lazy. $9 for dumplings because I didn't want my sandwich, and $15 for lunch because I was feeling sorry for myself. $45 for brunch because I was lazy, and $12 (yes, you read that right) for a delicious smoothie. And one more visit to the expensive supermarket added an extra $20 in grocery costs. The total cost of one bad sick week, over and above regularly weekly expenses: $168.
I know I should feel bad about this laziness…but I just don't. I know that is not necessarily what you want to hear on a budgeting site. But I was honestly in such a world of hurt, snot and haze, that all I wanted was my meals prepared for me, and someone to stroke my back.
But I have learned something: the importance of having some go-to meals in the freezer for those unexpected occasions. Whether when you are sick, too tired to cook, or short on time, a well-stocked freezer will save you from budget blow-outs, and husbands who ask you what's for dinner.
Tell me, do you keep your freezer well stocked? What are your go-to freezer meals?
By day, Sarah is a mild-mannered marketer from Melbourne, Australia. By night she enjoys long walks in the park with her puppy Bessie and bad TV with her husband Ben.
Image via Pexels