How I Furnished My First Apartment For Less Than $1,000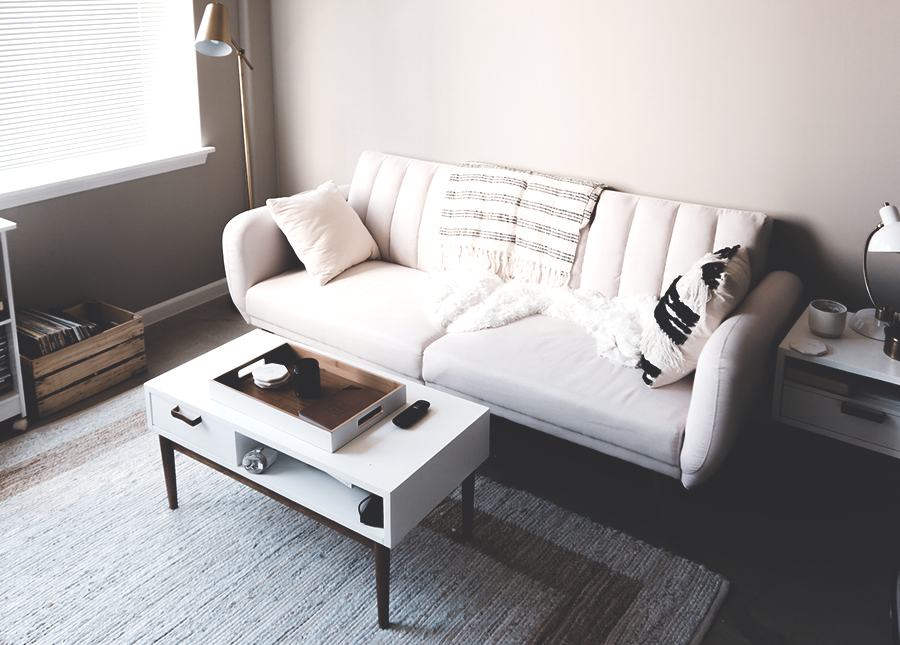 I just moved to my first "adult" apartment after living in a less-than-ideal student housing situations for four years during college. I graduated in June and landed a job in a different city very far away from both my hometown and my college town. It's a fresh start that feels both exciting and daunting at the same time.
All the student apartments I lived in had been fully furnished by the landlord, so the only pieces of furniture I owned were a collapsible plastic table and a desk shelf. I always knew I'd be moving out of my college town after graduation, so I avoided buying any large items that couldn't fit inside a car. Now that I was actually having to settle down somewhere for at least a few years, I definitely needed to buy a couple of pieces of furniture to call my own.
The goal was to keep my furniture purchases under $1,000 CAD since I wouldn't even be getting my first paycheck until two weeks after move-in. I would have liked to buy more of the items secondhand, but since I don't own a car, I relied on a rental vehicle to bring my purchases home all at once. It was sadly not practical to shop around craigslist or a flea market for furniture when I didn't have a car at my disposal. So far, I've spent $843.67 ($680.42 USD), and while there are still a couple of small things I want to add to my home later on, I am fully content with everything I have now.
Mattress and Box Spring ($599, or $676.87 after tax — $545.90 USD)
This was the most expensive purchase by far. My parents always emphasized the importance of sleeping on a good mattress, and they told me I should budget $1,000 (??!!) for the mattress alone. I toyed with the idea of buying an air mattress for the first couple of months and saving up to buy an expensive mattress later, but decided against this idea, because I did not want to shell out almost $100 for an air mattress and a pump when I didn't need to.
While still in my college town, I visited Sleep Country (a major mattress retailer in Canada) and managed to get a back-to-school deal and a student discount on a Simmons mattress with lumbar support. I also mixed-and-matched the brand name mattress with a generic box spring, so I saved around $75 there. They were happy to ship it for free to my new home because they had locations all over the country. I also wanted to buy a mattress protector since I have two cats, but I am holding off this purchase until I have a bit more money saved up.
Ikea POANG Chair ($74, or $83.62 after tax — $67.44 USD)
I decided against buying a couch a long time ago, because I never really enjoyed sitting in them. They will also be a pain to move around, and since I am moving into a rental apartment, I am not sure when I will have to move again. Not only that, but my cats will tear a couch up in no time. Instead, I decided to go with the Ikea POANG chair, which I know I will love sitting in. My parents have one of these in my childhood home, and it's everyone's favorite chair by far. I love how it sinks in a bit when you sit down, and allows you to rock ever-so-slightly. The cushion and chair frame can be sold separately, so if my cats ever tear up the cushion, I can easily replace it.
I initially paid the full price of $99 for this chair, but a week later, I got an Ikea flyer in the mail that was advertising this chair for $50. I went back to Ikea to get a price adjustment, but was disappointed to find out that only the white cushion was 50% off, not the black cushion I bought. I had already assembled the chair, which made making an exchange difficult. In the end, I got $25 back for the frame portion of the chair, so I was still able to take advantage of the sale.
Ikea LACK table ($9.99, or $11.39 after tax — $9.19 USD)
This thing will double as a coffee/dining table and a footstool when I sit in my beloved POANG chair. I also use it as a seat when I need to do work on my desk (the aforementioned plastic collapsible table). It's not the most durable small table out there, but it's definitely the cheapest.
Ikea KULLEN 3-Drawer Chest ($59.99, or $67.79 after tax — $54.67 USD)
I initially wanted to buy a cheap plastic drawer set to store my socks, underwear, and foldable clothing, but seeing that I could get a real dresser for around $60 at Ikea, I decided to bite the bullet. I prefer folding my clothes whenever I can, so having a nice dresser is a huge plus for me. This drawer chest also doubles as a bedside table, where I charge my phone and leave any papers or receipts I need to sort out. The assembly process was quite a pain, but I felt accomplished when I finished it.
Body-length Mirror (free)
I took ballet classes for 10 years as a child, and nowadays, I practice barre a few times a week at home. It's the only exercise I get. If you've ever taken a ballet class, you know the importance of having a mirror as part of the practice. I never had a full body mirror during college because I didn't want to move it around every year, but it was definitely on my wishlist for my adult apartment.
The end of August is move-out season in my college town, and every year around this time, I'd see piles and piles of discarded furniture being tossed onto the curb. I was able to find a perfectly good body-length mirror (albeit the white frame was slightly faded) in one of these piles. I brought it home and gave it a good wipe with some disinfectant, and it's as good as new.
An Aloe Plant and a Lucky Bamboo ($4 — $3.23 USD)
I've always envied people with luscious and thriving indoor plants in their homes, but unfortunately, a big indoor plant is just not in my budget right now. Ikea has a big selection of indoor plants at great prices, so I picked out an Aloe plant for $2.99 and a single lucky bamboo for $1. Both of these plants are low-maintenance, and the aloe is perfect for my west-facing apartment.
Cissy is a recent university graduate figuring her life out in Ottawa. In her spare time, she likes to cook, write, play the piano, and hang out with her two cats.
Image via Unsplash