Here's How Much The Bridgerton Houses Cost So You Can Stop Your Zillow Hunt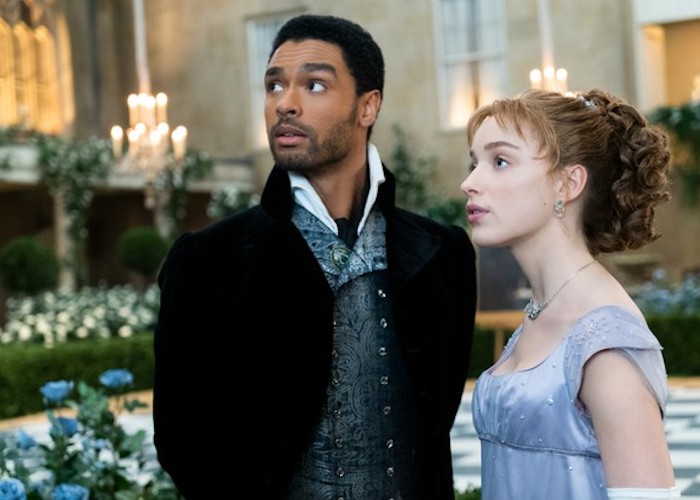 As soon as the Netflix hit series, Bridgerton, dropped to Netflix on December 25, fans were instantly enchanted. From the regency era glamor to the identity of the mysterious Lady Whistledown, there's a lot to unpack in the first season. And if you managed to pick your jaw up off the ground after seeing Simon Basset lick his spoon, you might have noticed another bewitching component of the show: The real estate. Since these are the families with money and influence, it makes sense that their estates would reflect their social class. 
So, in an effort to see just what it would take to own one of the opulent "homes" (if you can call castles and mansions "homes") featured in Bridgerton, mortgage experts at Money.co.uk crunched the numbers and came up with the Mortgages for Monarchs report. This report breaks down the price, monthly mortgage payments, and taxes on each of the famous families' homes. And while you might have previously been eyeing a nice three bed, two bath townhouse to settle down in, these six Bridgerton homes will blow your current Zillow favorites out of the water. 
1. Queen Charlotte's Residence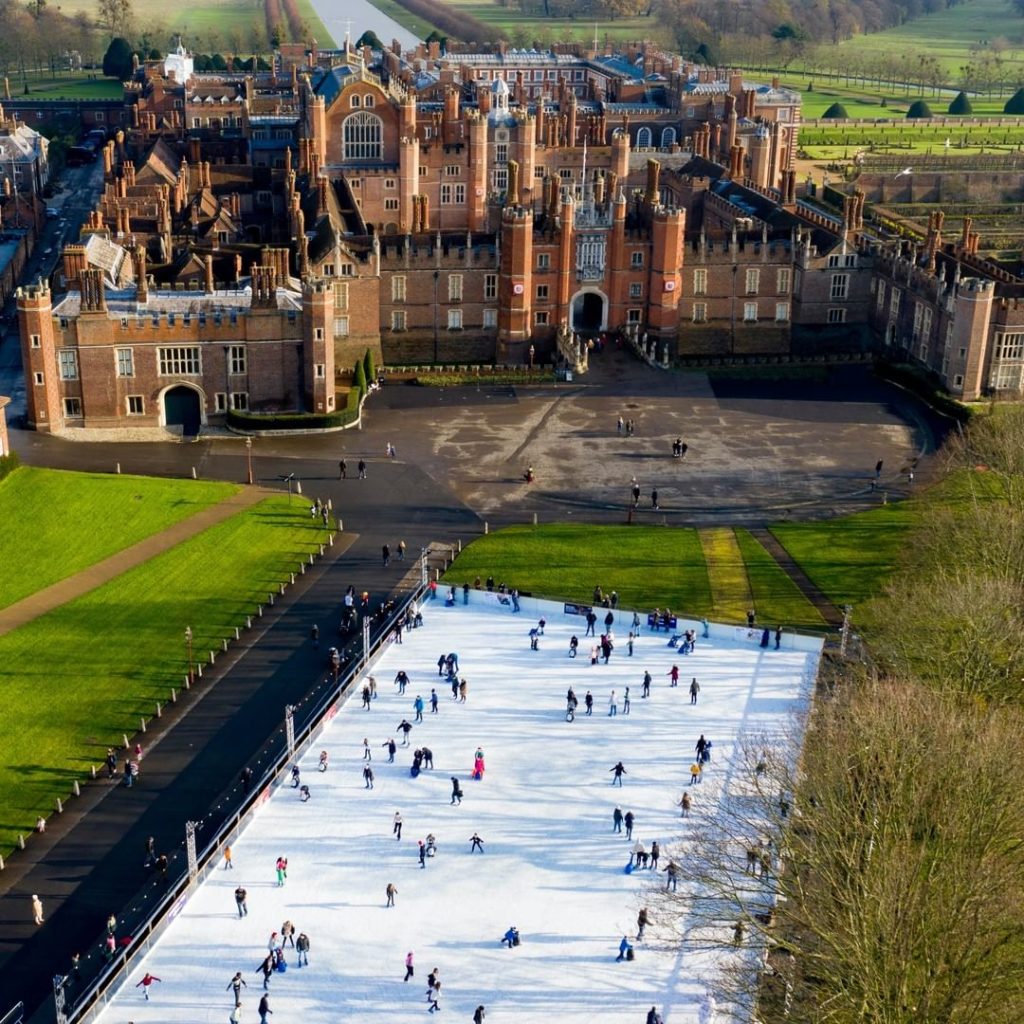 Image via: Instagram
Price: £473,096,481 ~ $644,672,962
Monthly Mortgage: £5,689,225 ~ $7,766,361
Stamp Duty*: £91,053,507 ~ $124,290,678
The most opulent residence in Bridgerton, Queen Charlotte's estate is the definition of high-end luxury. In the show it's decked out in coveted art, the highest quality furnishings, and is suitable for pets, considering she has about a million pomeranian pups. The Grade 1** palace spans 505,904 sf. and boasts royal luxuries like tennis courts, expansive gardens, and a banquet kitchen that can serve 800+.
If you wanted to purchase her fictional home, it'd cost you over $644 million, but considering how decadent it is IRL, it's worth the money (I say, as I struggle justifying a $5 coffee). The downside (other than the price, of course)? It's not actually for sale. In the non-Bridgerton world, Queen Charlotte's castle is actually the renowned Hampton Court Palace in Richmond, England. It was built in the early 1500s for King Henry VIII and is currently owned by Queen Elizabeth II and The Crown. And while you might not be able to live in the castle, you can definitely visit it post-COVID and take regal pics that'll make your followers declare "my lord!"
2. The Duke and Duchess' Residence (Clyvedon Castle)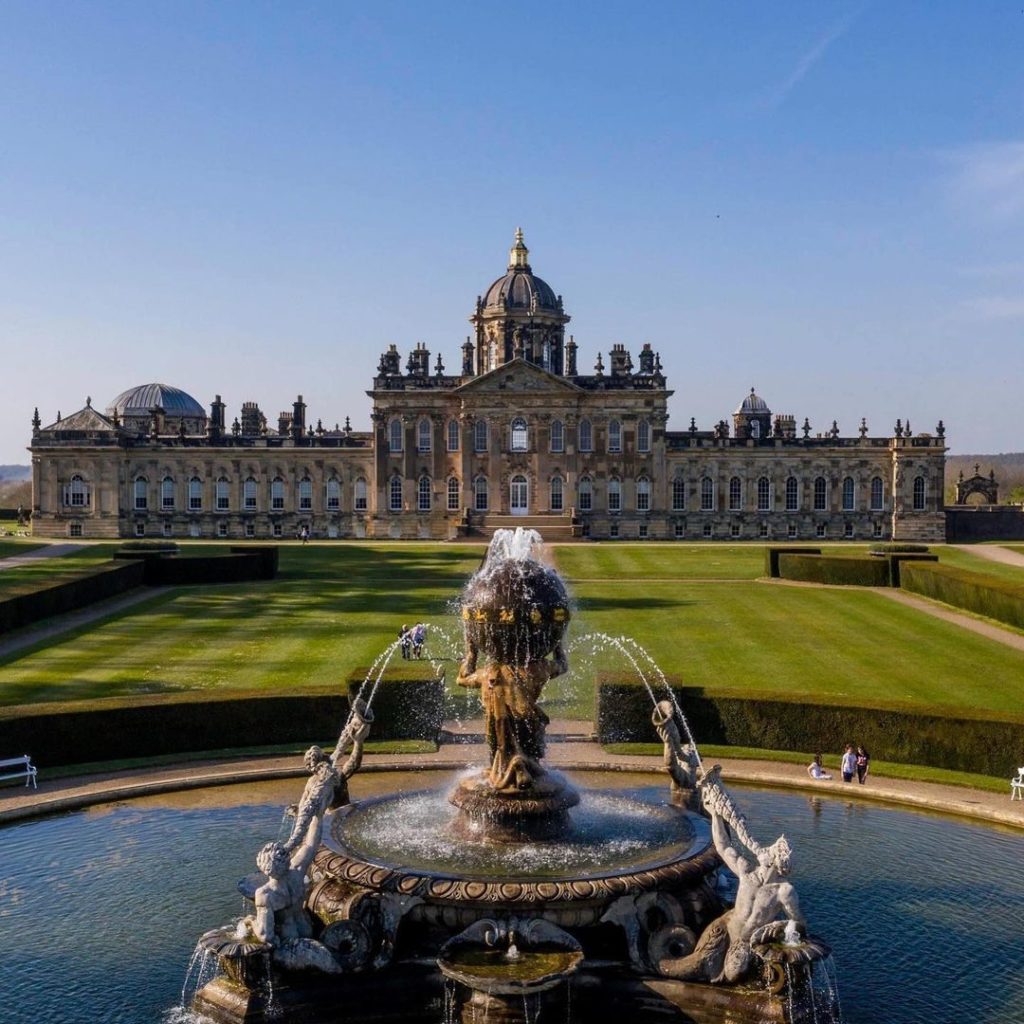 Image via: Instagram
Price: £213,416,717 ~ $290,804,820
Monthly Mortgage: £1,598,656 ~ $2,186,474
Stamp Duty*: £25,523,756 ~ $34,895,569
Leave it to Simon and Daphne to have one of the most coveted castles to live, work, and uh, have a lot of sex in. After the Duke and Duchess honeymoon, they head "home" to Clyvedon Castle, where they partake in quite possibly the most steamy hookup montage ever. If you managed to peel your eyes away from Simon's abs, you might have noticed how spectacular the residence is. The 140-room castle has ornate, sprawling corridors, spectacular gardens, famous artwork, and yup, even that small temple the couple retreats to in the rain.
Their home is actually based on — and was mostly filmed at — Castle Howard in York, England. Construction began in 1701, and it took over 100 years to complete. The Grade 1 dwelling has remained in the family since then, but they offer different options for guests to visit and stay on the grounds. While the residence (real or fictional) isn't actually for sale, if you wanted to buy it, it'd cost you over $290 million, and your monthly mortgage payment would come in at around $2.2 million. So if you have your eyes on this estate, it'd probably be easier to just marry into the family than pay the exorbitant fees. 
3. The Duke of Hastings' Residence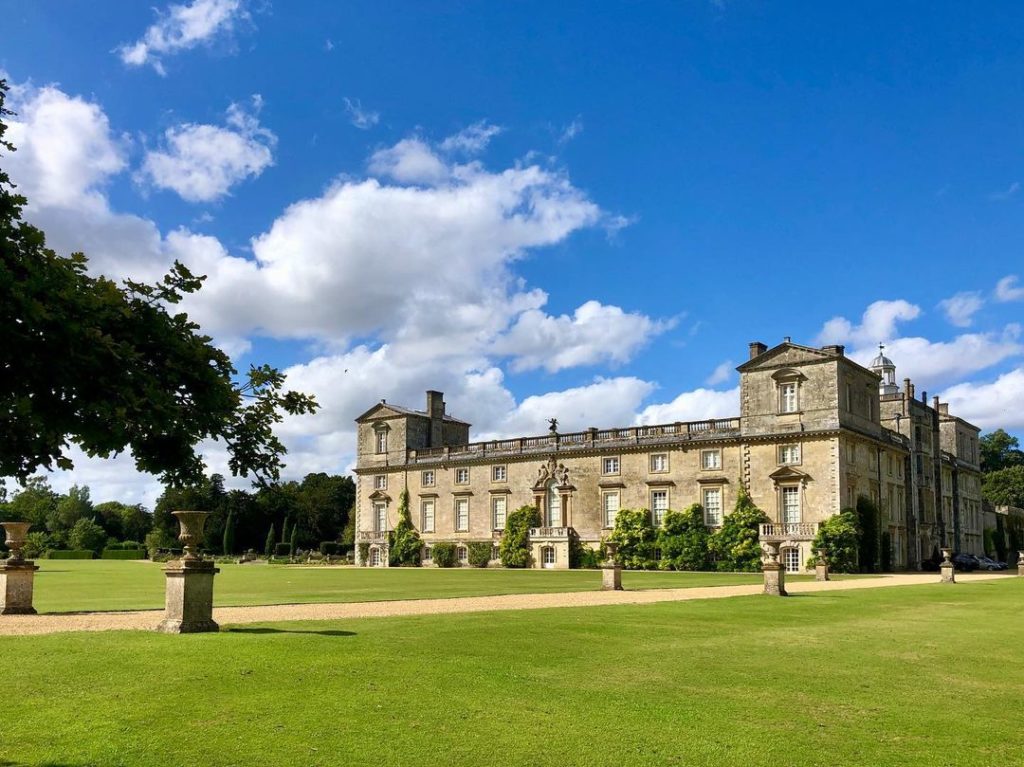 Image via: Instagram
Price: £111,971,261 ~ $152,569,128
Monthly Mortgage: £838,751 ~ $1,146,656
Stamp Duty*: £13,350,301 ~ $18,255,869
It makes sense such a handsome Duke would have an equally enticing home. Prior to heading to Clyvedon Castle with his new bride, Simon spends time in his ~modest~ London retreat. The estate (which would cost you over $153 million to purchase) sits on 14,000 acres and truly has it all: Ancient bridges, expansive banquet rooms, quadrangle architecture, priceless art, and ornate ceiling murals. IRL, it's actually The Wilton house, and its history and allure is just as impressive as the Duke of Hastings'.
The Grade 1 house in Salisbury, England has been around seemingly forever, with the oldest building on the property dating back to 871. The current structure was built around 1544 when Henry VIII bestowed it to Sir William Herbert. For over 450 years it's remained in the family and is currently owned and managed by The Earl and Countess of Pembroke. It's now one of the UK's most renowned homes and is a wildly popular filming location. Not only was it used as Simon's London estate, but some of the interior shots of Clyvedon Castle, Lady Danbury's estate, and the Buckingham Palace were filmed here as well. While buying it might be out of the question, visiting it's famous grounds is definitely an option.
4. Lady Danbury's Residence
Price: £44,534,990 ~ $60,682,264
Monthly Mortgage: £333,601 ~ $456,216
Stamp Duty*: £5,257,948 ~ $7,190,218
Simon's life-long caregiver and close confidant, Lady Danbury, is known for her quick comebacks, brutal honesty, and spectacular London residence. Never one to miss out on lavish events, her home has everything from spacious entertaining areas to breathtaking works of art. While the dwelling is actually The Holburne Museum IRL, if you were in the market for Lady Danbury's fictional abode, it'd cost you about $456 thousand dollars a month — not even including the price of all the caterers and planners you'd have to hire for the elegant balls you'd be bound to throw. 
As for the building's real story, the Grade 1 building in Bath, England, was established in 1882. It was originally designed to be a hotel, but now it's dedicated to showcasing decorative art as well as hosting events and workshops. While you probably won't be pulling up to it via carriage for a high-society gala, at least you can visit for a day of culture and snap a picture in front of it's famous, columned entrance.
5. The Bridgertons' Residence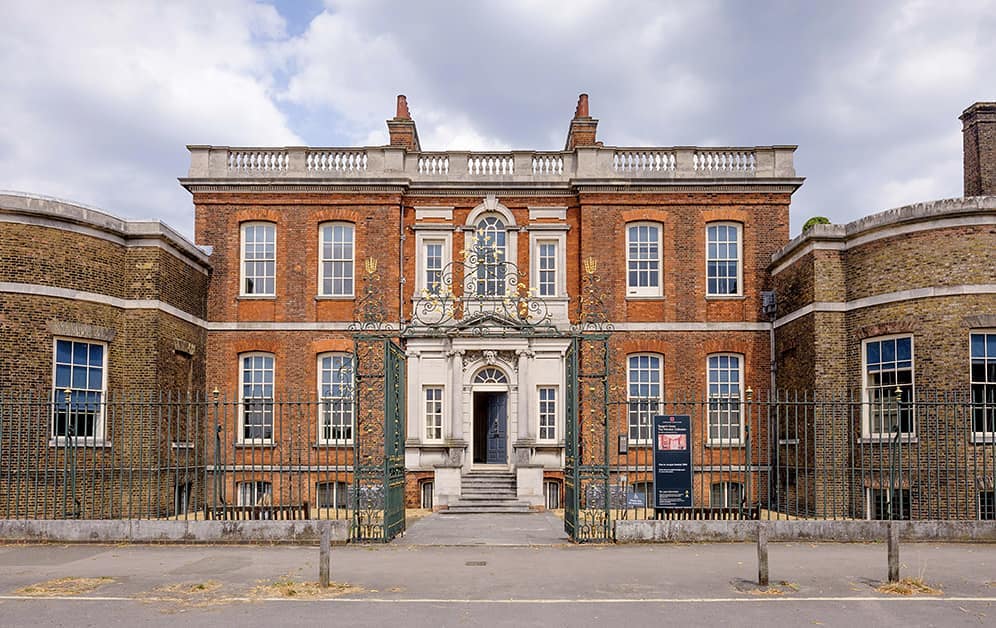 Image via: Instagram
Price: £35,233,027 ~ $48,009,580
Monthly Mortgage: £263,922 ~ $360,912
Stamp Duty*: £4,141,713 ~ $5,663,772
As the family home of the Bridgertons and where Daphne grew up, it makes sense this residence would be a splendid mix of ornate and whimsical. Much of the start of the series is spent at this fictional home, including the opening shots. With its wisteria draped entrance, plush sitting rooms, and exquisite grand staircase, the Bridgertons' home is a true testament to the affluent family's wealth and influence. Coming in at $48 million dollars, it would cost you $361 thousand dollars a month to practice your piano skills while waiting for your many suitors to visit you in-home. 
In real life, the exterior of the Bridgertons' residence was filmed at Ranger's House in Greenwich, London. The Grade I Palladian style mansion was built in 1722 and is located directly adjacent to Greenwich Park. While it was originally the residence of the royally appointmented Ranger of Greenwich Park, it now acts as an art museum. As for the interior shots, they took place at one of the UK's largest Royal Air Force stations, the RAF Halton.
6. The Featherington Residence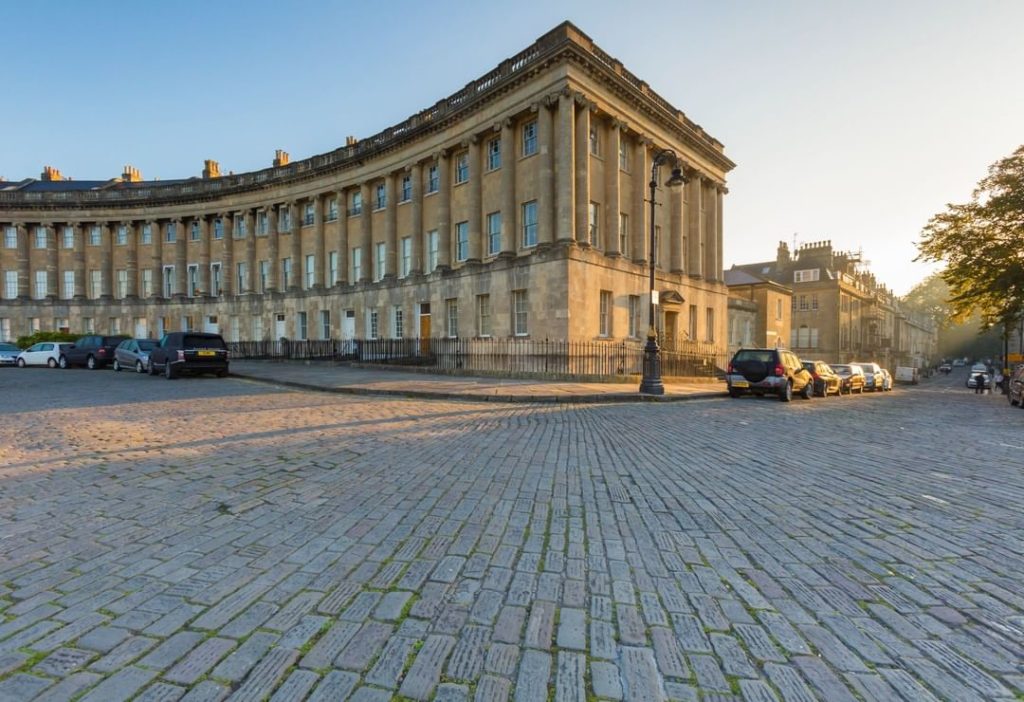 Image via: Instagram
Price: £6,439,162 ~ $8,774,195
Monthly Mortgage: £48,233 ~ $65,958
Stamp Duty*: £686,449 ~ $938,798
Despite struggling financially, the Featherington's estate is still a regency era vision. As the family attempts to keep their heads above water amidst scandal, they manage to still give off an air of wealth and prosperity, thanks in large part to their impressive home. While it took multiple locations to create the interior and exterior shots of the Featherton abode, if you were to purchase the fictional residence, it would cost around $8.77 million dollars. That said, considering Season 1 ends with the family facing serious financial distress, you might be able to snag it for cheaper if you do some skillful swindling. 
Regardless of multiple film locations, when you think of the Featherington home, you're probably picturing No. 1 Royal Crescent. The Grade 1 building in Bath, England was built in the 17th century and is located on the eastern end of the Royal Crescent. While it was once a prestigious residence, it now serves as a historical museum that showcases what life was like in the 18th century. If you want to feel like a true Bridgerton character, spend a day strolling along the Royal Crescent where a 5-star hotel, spas, luxury shops, and high-end dining await. Unfortunately a handsome Duke on your arm isn't a guarantee, but if it's going to happen anywhere, it'll definitely be here. 
***
*A stamp duty tax is a tax you pay to the government when buying a home in the UK. It's one of the fees associated when purchasing property, similar to closing costs in America. 
**What does "Grade 1" mean? The home is "of exception interest" and listed on the national register. According to Direct Line Magazine, "There are around 500,000 listed buildings in the UK … [and] only around 2.5% of listed buildings are Grade 1." Basically? The building is a major VIP.
Rachel Varina is a social media, digital marketing, and editorial expert living in sunny Tampa, Florida. When she's not creating content or collaborating with brands, you can catch her devouring thriller novels and supporting pineapple in the great pizza debate with her husband and two rescue pups by her side. You can find her on Twitter and Instagram.
Images:  Money.co.uk / Netflix