How I Reclaimed My Definition Of "Self-Care" & Found A Routine That Actually Improved My Life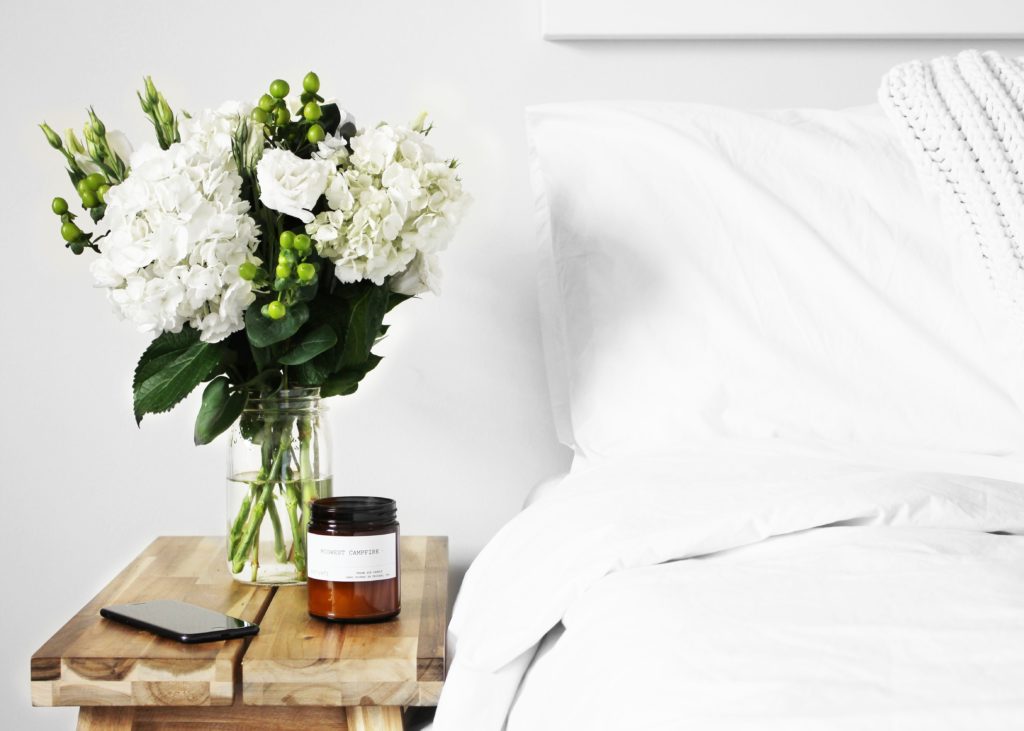 The word "self-care" has a shaky reputation. Likened to dodging responsibility or as an excuse to engage in unhealthy behaviors, the term is often saddled with empty phrases. "Mental health day," "treat yourself," and images of luxurious bubble baths and the purchasing of your entire Amazon Wish List immediately come to mind. It has been capitalized upon, insisting that a subscription box will solve our problems and be a vital source of monthly joy. 
The concept of self-care receives a lot of criticism, morphed into a word without weight, and I'd like to invite you to take a moment to rework this definition. 
Self-care is a deeply personal, intentional set of choices, choices that ultimately contribute to our overall physical, mental, emotional, and spiritual well-being. I encourage you to invest in yourself and be honest with yourself; you're worth spending time on. When I was a stressed-out college student, many acts of what I thought were self-care left me feeling guilty for spending time and money on myself. This is because these acts were superficial and did not actually give me the nourishment I needed. I was drinking with my friends and crying on their couches instead of going to therapy or journaling out my problems.
One summer, when I had a lot of time on my hands working a campus temp job, I took the time to get serious about my self-care. I was sick of feeling burnt out and generally unwell. So I scoured Pinterest posts and the lifestyle corner of YouTube for rituals and habits that felt substantial. I was inspired to reflect on my actual needs and wants, to identify the rituals that didn't serve me, and to open my mind to activities that had been suggested to me (that I previously shrugged off for "lack of time"). 
What I realized was that my needs and wants are ever-changing, my self-care plan was riddled with useless practices, and I had a long list of rituals still to try. So I made the time and I took to editing my plan. I still had a few years left of college, two years of graduate school, and the start of a new career as a mental health counselor to embark on. 
From this point, my self-care got a whole lot more genuine and in touch with my needs. If we want to get meta about it, I had made a ritual out of finding new rituals. No more cringingly expensive dinners out, horrendous morning runs, or numerous exhausting social events. Those may be someone's cup of self-care tea, but they aren't mine. I gave new practices a chance and, to my surprise, some actually stuck, such as picking out all my outfits on Sunday for my work week. A close friend shared this ritual of hers and I gave myself the flexibility to try it out. 
I look back and thank myself for taking the time when I did to change my definition of self-care. 
I am now a new professional, working for a school-based mental health program in which a solid, but flexible, self-care plan is crucial for my professional and personal well-being. I am acutely aware of the high burnout rate in the helping fields and know how easy it is to let self-care slip. I also bring this perspective into my sessions with middle and high school students; I offer them the idea that you can't fill from an empty cup, but first, you need to know what to fill your cup with.  
With this mindset, every season or so, I take a close look at my current habits and rituals and reflect on the actual impact each is having on my life — a self-care census, you might call it. The thing about how self-care plans are marketed these days is that they appear concrete…for once you write down that you will exercise every day, you shalt not make changes to that bullet-journaled self-care goal (written in extra fine Sharpie marker). This is not realistic. Our needs from season to season, month to month, and week to week are going to change. What is the use of a self-care plan that doesn't actually attend to your current needs, that feels like a chore more than a helpful tool? 
Once I accepted that my needs and wants were fluid, I became open to trying new activities and exercises, reflecting on their addition to my life, and ultimately integrating them into my normal routine or storing them in my self-care bank for a later time. Letting go of a ritual that doesn't serve you can be difficult. Maybe you feel pressure to participate in a practice plastered in promises of benefits or your friends report overwhelmingly positive results…but it just doesn't do anything for you. That's okay. A healthy habit can start out as just that, and easily be ineffectual when circumstances change. 
I personally feel inspired to make changes to my routines at the beginning of each season. With fall upon us, I've spent time editing my plan, being mindful of the major change of starting a new job. 
Here are two self-care practices I've prioritized, one that I've dropped, and one that I'm trying out:
Focusing On My Sleep Routine (keeper!) – With a longer commute, earlier hours, and a more demanding job, I reworked my sleep so that I was going to bed earlier, focusing on getting 7-8 hours of quality sleep a night.
Purposeful Friend Time (keeper!) – My weekly coffee shop dates and dinner/Netflix nights give me something to look forward to, and time to laugh and relax during my week. 
My Gym Membership (dropped!) – Last January, a friend gave me a discount coupon for a gym she works for. This weekly habit served me for a few months, but eventually, the discount expired and I stressed about the expense, often thinking about if I was using the membership enough to pay full price. Instead, I began walking around my neighborhood, as this is now more doable for my schedule and wallet. 
Bedtime Book (new!) – A ritual modeled by my parents, I've been reading a few chapters before bed at night, phone in the other room, giving my brain a gentle segue to restful sleep. 
Now, I am NOT knocking the power of purchasing new bath bombs, your favorite latte, or having a Wednesday night Netflix binge. 
These small indulgences can really get you through. They are quick fixes to unexpected bumps in the week. So have your go-tos that make you feel better. But consider making the infrastructure of your self-care plan sturdy with activities that produce long-lasting results like therapy, quality friendships, and ample rest. What I've learned from the mental health field so far is that life is easier to manage when we have a plan, little joys to fall back on, and coping skills that are tried and true. 
Your self-care doesn't have to feel stale. You can give it a reboot at any time. Ask yourself 1) what is working 2) what isn't working 3) what would I like to try? Do this often. New job, new relationship, new city, new anything? Take a look at that self-care plan. It may need to be refined. There is no one-size-fits-all template for taking care of yourself and it may take some brainpower and uncomfortable reflection. But with a little bit of mindfulness, maybe a few reality-checks, and just being real with yourself, you can add depth to how you take care of yourself: I give you permission to give yourself permission to reclaim your self-care.
Skylar is a mental health counselor who talks about self-care as the foundation of a prosperous life.
Image via Unsplash
Like this story? Follow The Financial Diet on Facebook, Instagram, and Twitter for daily tips and inspiration, and sign up for our email newsletter here.