How I Spent Nearly $400 During My No-Buy Makeup Month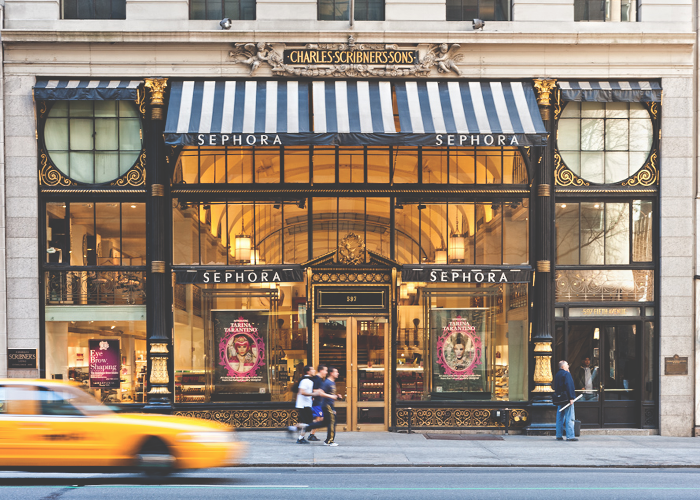 My first "no-buy" month was April 2016.
After getting my first full time job in June 2015, and with it a fancy-schmancy paycheck, I had been spending money egregiously, and needed to find a way to make it stop. With a need for a big-girl wardrobe and a stronger need to look presentable at work daily, I found myself spending money on work clothes and "long lasting" makeup as I realized my quick college routine was not going to cut it in the workplace. After reading about a couple of these "no-buy" months on TFD, I decided to do one myself.
It was successful! The whole month of April I bought NO makeup, and since I avoided places that sold makeup (i.e. malls), I didn't spend money on clothes or other unnecessary items. (Yay!)
Then, the first week of May, I un-discerningly bought more makeup and clothes.
For the next few months, I monitored my spending and didn't deprive myself, managing to strike a balance between buying everything I wanted and being able to look presentable. It helps that I had already built the bulk of my work wardrobe, no longer needing to go to the mall to visit The Limited or Ann Taylor Loft to find work clothes, therefore not seeing Sephora or MAC as often. I also found make up that worked for me, and didn't digress from my routine.
On July 31st, I landed back in Dallas after my multi-week trip in (!) London, Paris, and Dubai. Suffice it to say, I spent quite a bit of money on the whole trip, and I brought back with me quite a bit of skincare/makeup "souvenirs". (They really were souvenirs! Parisian drugstores are everything they're cracked up to be, and more! As were various stores in London and Dubai, tbh.) After this debacle (which I do not regret one bit!) I thought it'd be a good idea to have an August "no-buy" month to cleanse my palette.
Below is a list of opportunities where I could I have spent a ton of money, and didn't.
Kylie BIRTHDAY LipKit + more

Nordstrom Anniversary Sale

Gilt $5 credit expiring

Glossier Restock of Skin Tint, Stretch Concealer, and Generation G

Victoria Secret Pink Sale

Who What Wear Launch at Target with the worlds cutest skirt

Elizabeth and James perfume launch in Vanilla Bourbon and Rose
I was doing a great job, and I was so proud of myself! Each of these items were things I really, really wanted to purchase, for various reasons. I haven't bought a Kylie Kit yet, and really wanted to, I got my favorite shoes at last year's Nordstrom Anniversary Sale and wanted to recreate the magic, I cashed in my Lancôme insider points for the Gilt credit that was going to expire, and more!
But my good behavior quickly spiraled. You see, after a few weeks of travel with my deceptive, blemish-free skin, my skin had a (predictable) freak out. The Peter Thomas Roth Stickers are literally my savior in life, and I considered them to be an acceptable cheat. I ran out to my nearest provider to grab them so I can avoid temptation, and I ended up in Ulta (closest place that sold them!). While I was there, I grabbed a Murad Vitamin C Serum mini, because my current serum (Sunday Riley Good Genes) was almost out, and that stuff costs a small fortune.
Once I made this purchase, which was technically skincare, I felt like the floodgates were opened. The next time I was at the mall, which is way too close to my house, I stopped by Sephora. I bought my aforementioned pricy serum, a new foundation, a Marc Jacobs lip kit, and while I was in the check out line I grabbed the Caudalie Elixir mini.
The worst instance is when I was at home, and went out of my way to drive to the Target that was by my office, to buy a Cushion Compact from Laneige because the two Targets near my home doesn't carry that line.  (While I was there I grabbed a liquid liner from the Ulta next door that I had I saw in the seven million make up videos that I watch on a daily basis.)
When my skin acts up, which unfortunately is more often than I'd like, my insecurities come out and I feel the need to have the best foundation, and the best serum, and the best facemasks. In August, when my skin acted up I bought serum and facemasks to "cure" it, and different foundations to cover it. My obsession with beauty videos, on Youtube and Instagram, definitely don't help the situation.
When I fell off the wagon, and bought a number of items I enjoy but may or may not have needed. i.e. I would I argue that I needed the Sunday Riley Good Genes, (ONE) new foundation, and the Marc Jacobs lip set (which is bae). The rest of the items I am glad to have, and am not thinking about returning any of them, but I probably did not need to buy them right now.
Peter Thomas Roth Stickers: $30

Murad Vitamin C Serum Mini: $20

Sunday Riley Good Genes: $105

Caudalie Beauty Elixir Jason Wu (LE): $18

Smashbox Studio Skin 15 hr wear: $42

Marc Jacobs The Nudeist Show Lipstick and Lip Liner Collection: $28

Laneige Cushion Compact: $34

Stila Eyeliner: $22

Peter Thomas Roth Mask Sampler: $25

IT Brushes set of 4, Travel Set: $19.50

NYX Contour Palette: $12

Birchbox: $10
Money spent on Makeup in August: $185.5
Money spent on Skincare in August:  $190
That brings me to a whopping total of $365.5 of money spent on makeup and skincare purchases in the month of August. I ~*definitely*~ did not need to spend this money, especially this month, when I was explicitly trying to keep myself from spending. I realize, looking back, not only are the numbers staggering, but the combination of serious skin insecurity and feeling like I've already "ruined" my spending freeze meaning the flood gates are open means serious spending spirals. I have to think of a way to ensure I do not spend this much money in the future months — I want to not only bulk up my savings, but also take another awesome trip next year. Both goals require me to save MUCH more money than I am saving now.
My current plan is to buy ONE makeup/skincare item in the month of October — it can be fun, egregious, and it doesn't matter, but only one. Maybe that'll satisfy my craving and enable me to start saving, if I give myself a little permission to be imperfect. 
What do you do?
Shama Sadruddin is constantly trying to force her inner Liz Lemon to become Leslie Knope. All her thoughts are on Twitter, and all her dog and food pictures are on Instagram. Her dog's name is Scooby. She loves her dog. She's obsessed with her dog. (He actually wrote this post.) Follow Shama on Twitter or Instagram. 
Image via Flickr