How My De-cluttering Routine Saved Me $100 This Year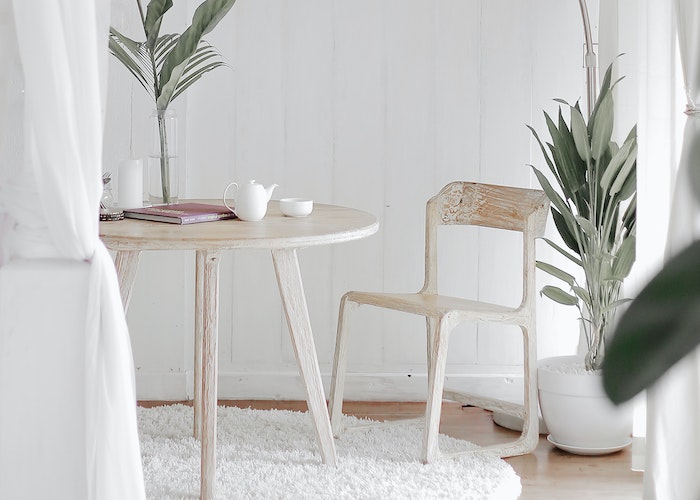 Please tell me I'm not the only one who does this.
The scenario: I desperately need to do laundry, then suddenly realize I barely have enough detergent for a load. So I make a quick trip to whichever store is closest and then, inevitably, spend way more on this last-minute purchase than I normally would. Had I just known beforehand that I was running out of detergent, I could of easily looked for deals ahead of time.
Basic household items like detergent, toilet paper, shampoo, soap, cleaning products, and more are all so easy to save money on, whether by buying them in bulk at Costco or Walmart or simply maximizing on deals at CVS and Walgreens. Ever since I created an inventory of these basic goods, I've managed to save hundreds of dollars over the course of the years. 
In order to create my inventory, I went through each room of my apartment and documented, in an Excel spreadsheet, which household essentials I had and how much of each of them, noting that I had ½ or ¼ of a bottle if I didn't have a near-full one. I further itemized these, mainly because I had a significant number of cleaning products that could be used as replacements for each other if I ran out. For example, I didn't want to run out to buy Windex if I had Lysol.
Next, I wrote down the items I was running low on and would need in the near-future, such as if I had only three rolls of toilet paper left or only half a tube of tooth paste, so I would be reminded to look for deals over the coming weeks. I often did this on a physical post-it note, leaving it in the kitchen or on the bathroom mirror so I could be reminded of it, every day. I additionally messaged friends who I knew had a Costco membership, or even a car, to see if they could grab any items for me on their next visit and made it a point to double-check with my roommate that there weren't any supplies that I was missing in the inventory of our household. 
I recommend being as specific as you can, with this inventory list, noting the number of dryer sheets you have (or at least if you have close to a full box, or just half, or have three extra boxes), dishwasher pods, tissues, soil (if you have plants that need repotting), candles, vacuum filters, and so forth. I find that while I can often track some of the larger items that I'm running low on, like kitchen towels, I'll completely fail to realize that we're running low on other shared apartment items that, when I last saw them, seemed to be half-full and when I next see them are merely an eighth-full.
But by updating this inventory list every two weeks or so, I'm able to think ahead and be cognizant of what needs to be re-stocked and what doesn't. I've definitely been at Target and brought home dishwasher pods if they were on sale only to realize we already had two big boxes at home. While this type of storage and supply issue may not be a problem if you live in a large home – or, rather, if you live alone – it can be an added headache in a shared space.
So, what have some of my savings been like? Assuming a household of two where these items are shared and used liberally, here is a list of how much we've saved.
Laundry Detergent: $9.99 for 141oz with Target Circle coupons, saving roughly $20/year given that this giant container lasts my roommate and I for nearly a year and before, we were both buying multiple smaller detergent containers a year.

 

Dishwasher Pods: $12 for 115-count detergent pods from Costco, using a friend's Costco membership, lasting us a year since I often wash dishes, with savings of $18/year since we used to buy two $15 boxes from Target with fewer detergent pods since we didn't know anyone with a Costco membership, previously.

 

Dish Soap: $9 from Costco for a container that lasts us a year, saving us $1.50/year given that we used to buy two smaller containers from Walmart to get us through a year.

 

Dryer Sheets: $7/240 sheets from a sale at Walmart, saving us from our typical $4/80 sheets deal that saves us $5/year.

 

Toilet Paper: $20/30 rolls at Costco that last my roommate and I both for about four months. I would often spend $6/12 rolls that would only last me about two months from Walgreens or CVS, whichever was closer, costing me $36/year. With Costco deals, we save $12/year. But, this is one area I can likely save further, scouring for more coupons at particular times from Walmart or Target, but it's still more of a saving than before.

 

Kitchen Towels: These are almost universally $20/12 rolls, costing my roommate and I about $40/year, though you can find a few deals on this, if you're lucky, though at most it would save about $1/year from my estimates.

 

Tissues: $22/10 pack of 230 sheets each from Costco compared with $11/6 pack from Target with half as many sheets, saving at least $10/year.

 

Swiffer Dry Sheets: $12/52 refills from Amazon opposed to $15/52 refills from Target, saving $3/year.

 

Swiffer Wet Sheets: Wait to buy these from Target for about $8/24 count opposed to $10, saving $4/year.

 

Hand Soap: I used to pay $1 for a 7.5 fluid ounce bottle of hand soap in my kitchen and bathroom, but now that I have access to Costco, I pay $10/160 fluid ounces of soap. This saves me $21/year.
Grand Total
These savings don't include smaller savings, like a few cents on a toilet cleaner or the range of prices, this year, for disinfectant but overall, I save roughly $95.50 a year, for a household of two, which rounds up to $100 given other smaller savings, as I mentioned. As such, my decluttering routine saved my small household $100 this year. Your savings may be even more depending on your preferred units of backstock or if you're in a space with more roommates.
Happy savings (and storing!)
Keertana Anandraj is a recent college grad living in San Francisco. When she isn't conducting international macroeconomic research at her day job, you can find her in the spin room or planning her next adventure.
Image via Unsplash
Like this story? Follow The Financial Diet on Facebook, Instagram, and Twitter for daily tips and inspiration, and sign up for our email newsletter here.