How To Give Yourself A Salon-Quality Pedicure With What You Have At Home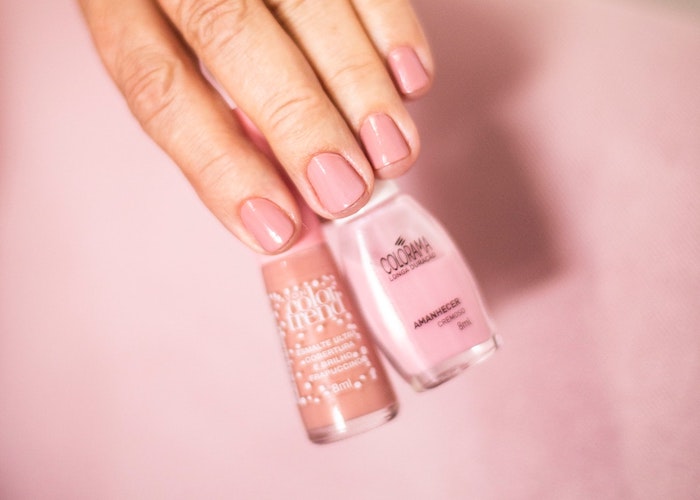 With nail salons temporarily closed, many of us are looking to do our own upkeep. Keep in mind that many nail salons are mom-and-pop shops. These small businesses deemed non-essential are at high risk of shutting down in the midst of the current pandemic. So if you have a favorite spot — and the funds to spare — see if you can purchase gift cards from them online right now. This advice has been widely circulating in terms of supporting local restaurants, but it definitely still applies to other neighborhood businesses you may frequent. 
Meanwhile, you may not be able to head to your favorite local spot to get a professional pedicure right now, but there are plenty of ways to make your feet feel brand new from the privacy of your own home. First, some items you'll need. Chances are, you have most of these on hand. Try to make do with what you already have. Items marked with an asterisk are especially crucial for the process, while others are less important.
Cotton pads

Nail polisher remover or acetone

Nail clippers*

Footbath or large bowl with warm, soapy water*

(you can also use your bathtub)

Towel or washcloth*

Foot scrub*

(any exfoliating scrub will work. Check out this post for an awesome DIY exfoliator recipe.)

Pumice/foot file

Nail file*

Cuticle pusher/trimmer

Foot cream or body lotion* 

Cuticle oil*

(petroleum jelly works as a common substitute)

Toe separators

(if you find them helpful, you can also roll up a paper towel)

Nail polish of your choice* 
Once you have the supplies you need, it really comes down to a few steps:
Step 1: Remove any lingering polish.
The first step? Get rid of any polish currently left on your toenails. Using cotton pads with some nail polish remover, wipe off any leftover polish.
If you have shellac or gel polish on, you'll need to do a bit more work. Try soaking 10 small cotton pads in pure acetone, placing them on top of your toenails, and wrapping them with squares of aluminum foil. 
Leave them to soak for approx. 10-15 minutes, then remove the wraps and try scraping the polish off with a cuticle pusher or metal tool. If necessary, repeat the process to soak off all the nail polish. (Note: pure acetone can irritate your skin. If you have sensitive skin, take breaks from soaking your nails with acetone or remove the cotton pads earlier.)
Step 2: Use a foot bath to soften your skin and exfoliate.
This step will help soften your skin and nails to make the rest of the process much easier. Fill a foot bath, large bowl, or your tub with warm, soapy water. (If using a foot bath or a large bowl, lay a towel underneath for easy clean-up.
You can add fancy, scented body wash or bubble bath to make it feel even more luxurious. Then, soak your feet for at least ten minutes.
While in your foot bath, scrub away dead skin using a foot scrub, foot file, or pumice stone. Pay close attention to your heels, which often get especially cracked. Rinse off with warm water.
Step 3: Get to work on your cuticles and toenails.
With your skin and nails prepped and softened, take out your nail clippers, nail file, and cuticle pushers/trimmers. Cut your nails straight across using a nail clipper, then file the edges to your desired shape.
Optional: for an extra-clean look, push back and trim your cuticles using clean tools. This isn't entirely necessary, but it's a step that's usually taken at a nail salon. Be careful not to nip your skin. When you're finished, wipe away any residue left on your feet with a damp cloth.
Step 4: Moisturize, moisturize, moisturize.
After using nail polish remover, scrubs, files, and cuticle trimmers, your skin deserves some much-needed moisture.
Apply a thick layer of foot cream or body lotion all over your feet and especially on your heels. Next, apply some cuticle oil or petroleum jelly to your cuticles. This is especially important if you've opted to push them back or trim them.
Step 5: Prep your nails for polish.
After having applied all those moisturizing products, you don't want them to interfere with your polish application. So, take cotton pads with nail polish remover again and wipe off just your toenails (not the surrounding skin). This will remove any lingering oil or moisturizer so that the next step is easier.
(I learned this hack from AlexandrasGirlyTalk on YouTube — she's got a whole series on DIY nail care!)
Step 6: Apply your favorite nail polish.
For this step, ideally, you'll have a base-coat, nail color, and top-coat, but if you only have nail color, that'll be fine — the pedicure just might not last as long. Personally, I don't really like using toe separators, but if you have some on hand and find them useful, insert them between your toes at this point.
If you've got clear polish or a base-coat on hand, apply one coat to each toenail and wait two to three minutes for that to dry. Then, using your nail color, apply one coat to each toenail. Again, allow a few minutes for this application to dry. Then, repeat with a second coat, and wait again. Lastly, apply your clear polish or top-coat and let everything dry for at least 5-10 minutes. At this point, remove your toe separators (if applicable).
Keep in mind that fast-drying nail polish is ideal since it's much less prone to getting smudged. I like to use Sally Hansen's Insta-Dri line because it's affordable and dries very quickly. But again, make use of whatever's available to you right now in the comfort of your own home.
Step 7: Take extra caution with your fresh pedicure.
Regular nail polish takes many hours to fully dry, so be careful not to smudge your fresh pedicure.
For this reason, I like to do DIY pedicures in the early evening (around 5-6 PM) so that I can let them dry for several hours before bed and, in the morning, I can scrape off any excess polish that got on my toes while in the shower.
Some experts recommend running fresh manicures or pedicures under very cold water, which can help them dry faster. This is optional but may help.
And there you have it, a do-it-yourself pedicure with salon-worthy results. Repeat the process in two weeks to keep your nails looking fresh. But let's hope that soon enough, you can get your pedi in an actual salon.
Mercedes Killeen is a Toronto-based freelance writer and editor. You can learn more about her work, and order her freelance services, at mercedeskilleen.com. 
Image via Pexels
Like this story? Follow The Financial Diet on Facebook, Instagram, and Twitter for daily tips and inspiration, and sign up for our email newsletter here.