8 Essential Tips For Your Saturday Closet Purge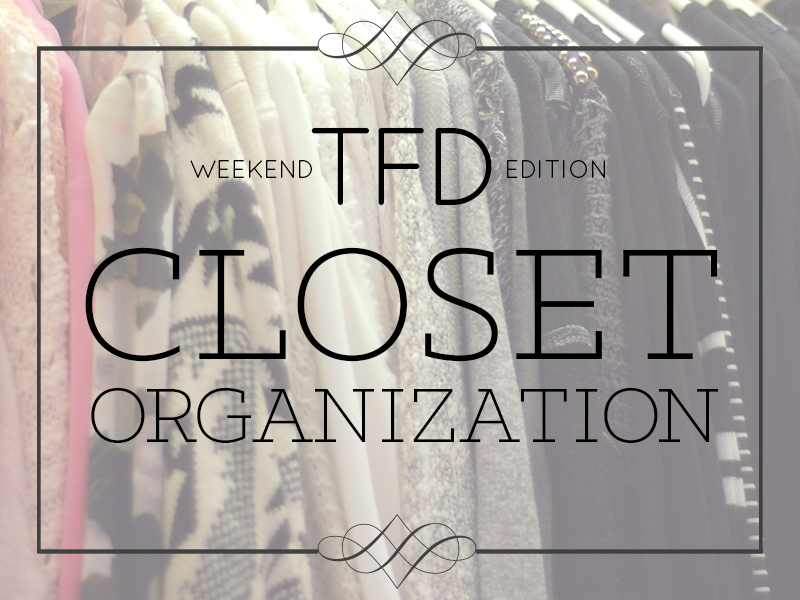 But first, some closet porn for your Saturday viewing pleasure.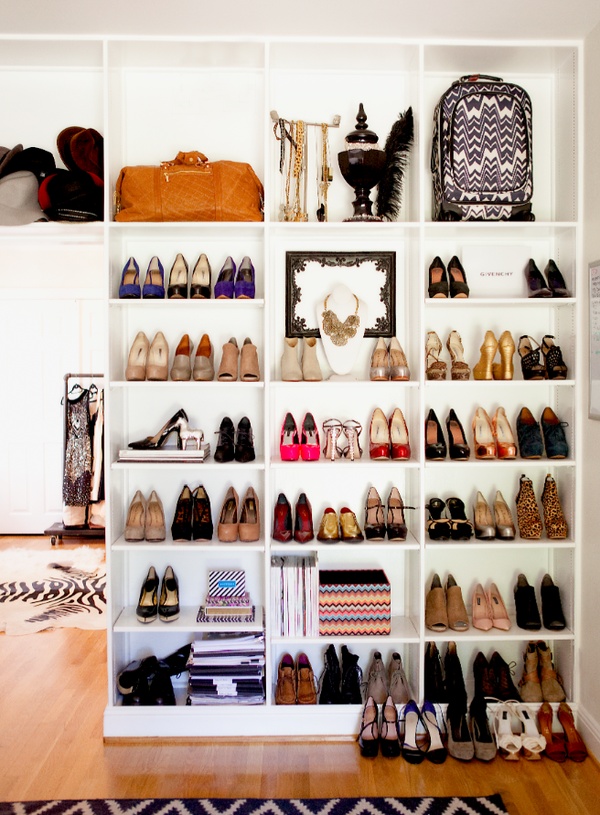 Now let's get down to it. Put on some music and pour yourself a cup of tea to sip on as you go about your Saturday Closet Purge. FIRST AND FOREMOST, every good SCP begins with the removal of EVERYTHING. Yes, everything. Dump it all onto the floor in a pile and work your way through.
1. Implement the Discardia Closet Trick. This forces you to see what you are and aren't wearing over the course of 6 months and can help you face the music when it comes time to chuck those unflattering clothes you know you'll never wear again, but don't want to throw out.
2. Use uniformed, wooden & sturdy hangers. Having good hangers means difficult items won't incessantly slip off crappy wire hangers onto the floor. Streamlining your hangers makes everything look more uniformed and clean, so it's easier to see what you have.
3. Consider using bookshelves for displaying your nicer shoes. I know that having extra space that allows for the addition of a bookshelf might sound like pure luxury because a lot of people simply don't have the extra space in their apartment. However, if you DO have the extra room I promise this will change your life. I bought this inexpensive bookcase from Ikea and tucked it into the back of my closet (I have a very long and narrow one). It allows your shoe collection to be clearly displayed in an organized and neat fashion. I've also found that giving shoes more space rather than cramming each pair into a shoe cubby like I used to have hanging over my closet door, has drastically improved the quality of the shoes AND their longevity. It also vindicates the occasional splurge on a nicer pair of heels because now I have a much more open and beautiful way in which to display them.
4. Make sure your closet is well lit. Is there anything worse than trying to shuffle through what you have to wear and the lighting is so poor that the very back of your closet kind of blurs off into the edge of a black hole? Invest in a lamp that you can place near the door of your closet. The ability to see every inch of your closet space, makes deciding what you want to wear each morning much less stressful.
5. Color-code your clothes from lightest to darkest and from lightest materials to heaviest. Giving your clothes a sense of order through the arrangement of items by color will provide an instant calm for chaos that is a pre-purge closet.
6. Invest in nice storage containers that can house miscellaneous odds and ends. Have an abundance of leggings and tights that don't fit on hangers or in a drawer? Roll them up and line them in a linen basket that can sit on a closet shelf or on the floor. For me, things like winter hats, gloves and scarves always manage to scatter all over the place, but after I bought a wooden linen-lined basket I now have a designated area to put them in. I can see my cold weather accessory collection with ease and brave the frigid weather completely prepared.
7. Hang purses and bags on hangers. Again, if you have the luxury of space, good handbags deserve a prized spot on a hanger and not crammed onto the bottommost part of your closet collecting dust and dirt. When you simplify your wardrobe and have extra space, consider hanging up a couple of your nicest bags.
8. Utilize every inch of space you have in an efficient way. Hang belts and scarves on hooks over the closet door. You could even consider adding a second lower bar to provide addition space for hangers. I have two bars in my closet – the top one houses short tops, sweaters and skirts and the lower bar houses pants, jeans, dresses and oversized longer items.
Having an organized and beautifully layed out closet, is one of the easiest Saturday projects to tackle and provides a significant peace of mind that makes you feel like you can conquer the world.