The New Tool That Makes It Easier Than Ever To Buy From Black-Owned Businesses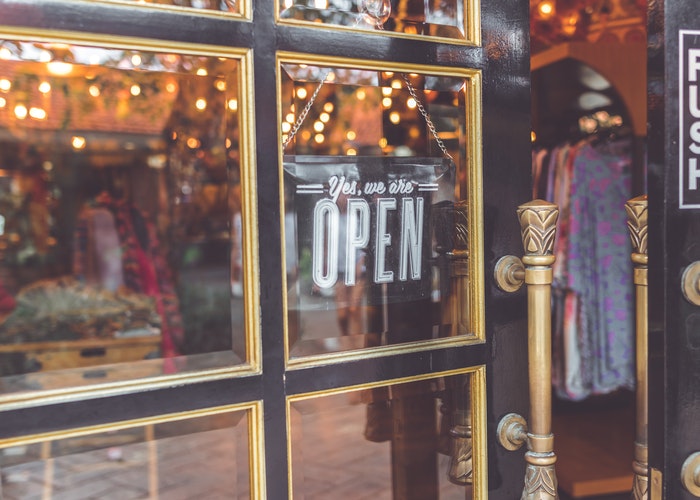 Recently, Yelp announced it would launch a tool to make supporting Black-owned businesses easier than ever. This feature is scheduled to roll out in the coming weeks, and when it does, you'll be able to search specifically for Black-owned businesses — in order to be featured, business owners will need to opt-in to the program. 
In light of the Black Lives Matter protests, many of us are making it a point to support these businesses. And this is important, considering 40% of Black-owned businesses aren't expected to survive coronavirus. 
In the U.S., business ownership can be an important tool in building generational wealth. Much like a house, businesses can become an asset that's be passed down from generation to generation, creating an income tool to sustain future family members. Unfortunately, Black families own a very small portion of American businesses–according to the 2017 Annual Business Survey, "Black or African Americans owned 124,004 firms in 2017." But with some community effort, we can support the growth of these businesses (and if you aren't in a position to offer your financial support right now, there are other ways to help — consider leaving a 5-star review on a platform like Yelp, for instance). 
There are extensive lists of options for businesses to support here, here, and here. And here are just a few in some popular categories:
Bookstores
For even more cities, check out this list.
Clothing brands
Jewelry brands
As for restaurants, the EatOakra app, founded by Anthony Edwards, Jr. and Janique Bradley, lets you browse and find Black-owned restaurants in cities across the country. (You can also order delivery or purchase condiments from businesses within the app).
Official Black Wall Street is another great tool you can use to find businesses to support by searching for the services you need. They are currently hosting a 30 Day Buy Black challenge, asking followers to highlight and patronize the Black businesses that their team is showcasing between June 19 (Juneteenth) and July 19.  
Of course, if you'd like to donate to the Black Lives Matter movement and similar causes more directly, you can find a list of groups supporting Black communities here. Additionally, instead of making a one-time contribution, consider #BudgetingForGood by setting up a recurring donation to your favorite organization. Even if it is a small amount, like $5, you are helping to provide ongoing and dependable support even after the flood of one-time donations stops.
Through collective, urgent, and lasting action, we can make long-term changes to help bring true equality to our society.
Simplicity Bryan is deeply entrenched in the worlds of self-help, gratitude, personal finance, and organization. She's happiest paddleboarding with her pup and storytelling with a purpose. You can follow her here.
Image via Pexels
Like this story? Follow The Financial Diet on Facebook, Instagram, and Twitter for daily tips and inspiration, and sign up for our email newsletter here.