I've Started Online Therapy — Here Are The Pros & Cons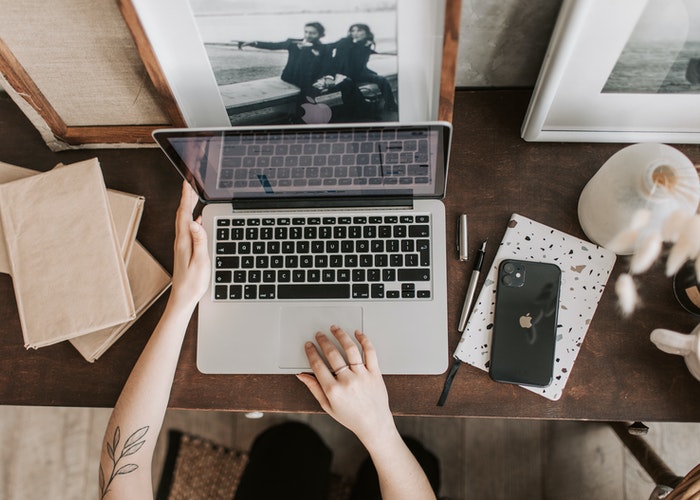 Therapy has been a big part of my life for the past 16 years. My mom worked in the field of psychology for 30 years, and mental health was always a regular part of our family discussions. From a young age, I always understood that some people seek therapy for long-term personal growth, while others might only use it temporarily.  
I've also always understood that seeing a therapist isn't a sign of weakness. Having someone to talk to regularly about what's happening in my life gives me more perspective. I leave each session feeling better and as if a weight has been lifted off my shoulders.
Online therapy is a newer approach, however. And it becomes more desirable as our lives become increasingly remote. I had never tried it until recently, as my schedule got more packed and I began traveling frequently — I thought online therapy might be a more flexible approach. Here are some of the pros and cons of online therapy, from my experience.
Pro: Flexibility
The flexibility of online therapy makes it easier to stick to the commitment, which is a given, but I never considered how much it would impact my experience. It's easier to plan a time and move an appointment if necessary, which is not ideal but it's nice to have the option. Also, you eliminate the commute and wait time. There's also flexibility with messaging and communication and, for the platform I used, it was all sourced on the app. My therapist sends me worksheets (this may differ from each therapist) when applicable to our conversation. If there isn't a time available, it's easy to work with my therapist to find a better time. The flexibility completely changed my mind about online therapy. 
Pro: Mid-week check-ins are easier 
Because it's easy to communicate on the app, my therapist is good about responding in between sessions, too. We communicate throughout the week and she often provides worksheets to help me with various struggles. I like this because it allows more time allotted for important, in-person discussions and to use our time efficiently. 
Pro: Pricing 
The cost per session depends on your income, but it ranges from $40 – $70 a week, billed monthly. You don't need insurance, which helps. Lots of therapists will work on a sliding scale if you cannot afford therapy. However, I think the price scaling on BetterHelp and the variety of therapists around the country gives you more opportunity to find a person within your budget.
Pro: There are more therapists to choose from
Think about it: You aren't just searching within your zip code, you have therapists all over the country to choose from, not just those within your city. This gives you options to find the best-suited fit, based on the initial questionnaire and searching through the database.
And now, onto the downsides. Fortunately, I believe there are fewer cons than pros.
Con: Lack of privacy if you live with someone else
Privacy can be an issue. I live with roommates, and sometimes it's difficult to find a space to talk privately. This became particularly challenging during the pandemic when we were all quarantined.
Con: The sessions are shorter
The sessions are automatically shorter; it's just how the system is set up. The sessions would be in half-hour intervals, which bothered me. However, you can request a longer time for a session or you can book more than once a week. I think it's too short of a time to be able to discuss and resolve issues from each week. However, my therapist worked with me and extended our sessions whenever I asked. 
*****
Overall, I would highly recommend anyone considering online therapy. I didn't expect to like the set-up as much as I have. I also think it's an easy way to get started if therapy is new to you. Especially during this pandemic, I cannot express how grateful I am to have therapy online. It helped me process the drastic changes and handling being stuck inside. If you've been thinking about it, right now would be a great time to start!
Image via Pexels
Like this story? Follow The Financial Diet on Facebook, Instagram, and Twitter for daily tips and inspiration, and sign up for our email newsletter here.