The Right Way To Do A 30-Day Challenge & Improve Your Long-Term Health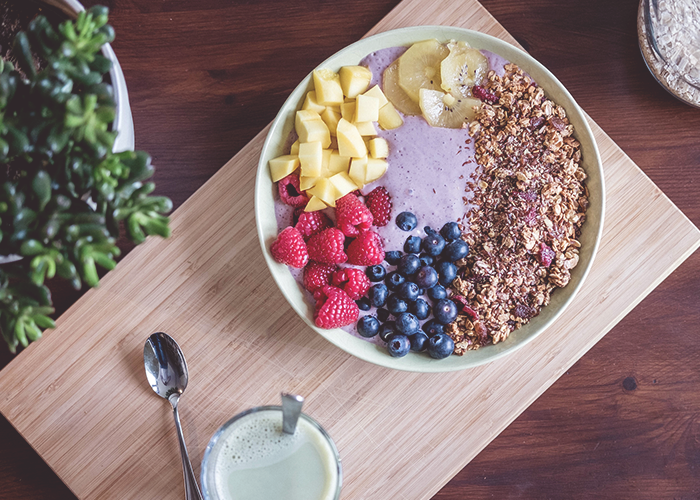 We at TFD have been all about 30-day challenges lately, deciding to declutter our lives, find our different ways to healthy, or spend more time honing our creative skill sets. So, of course, we had to share this post from Everup detailing how to make a challenge actually work for you and improve your health in the long run. If you've got health or life goals on the horizon, but don't know where to start, keep on reading!
Maybe you're 12 days into a self-imposed health feat of some sort — perhaps you swore off sugar or booze, subscribed to a restricted diet complete with its own hashtag and cult following, or are banging out squats every morning before you get in the shower. But in the back of your mind is a dose of skepticism: How much progress can actually be made in 30 days? (Translation: Is this torture worth it?)
The appeal isn't lost on us: 30 days is an attractive time frame. It fits nicely into a single Instagrammable calendar page, and is a manageable amount of time to commit to a not-so-fun goal, while still being substantial enough that you feel like you're putting in real work. But is 30 days enough time to see and feel a difference?
At the heart of every challenge, regardless of whether you're sipping seltzer and lime at happy hour or barely able to sit on your overworked ass (#squatitout), is the idea of habit formation. Do any of these drastic changes in your routine become second nature after one month of consciously forcing yourself to do them?
They might.
But they might not.
And making your newfound health endeavor a habit is key to turning any boost you may see in the short-term into a long-lasting benefit. The obvious next question is…
How Long Does It Take to Form a Habit?
If you're looking for a magic number — a specific length of time you can track and tick off the calendar until you've officially reached habit-worthy territory — you're going to be looking for a while.
A study published in the European Journal of Social Psychology set out to determine just how long it takes to form a new habit. The results were less than definitive: they found that it took anywhere from 18 days to 254 days for people to form a new habit. The average being 66 days (or two months).
"When you study to be a personal trainer, they tell you that it takes about three months for a person to decide to continue with the commitment as it turns into a routine," said Tal Siperman-Cohen, personal trainer, Nike trainer, Pilates instructor and owner of Train With Tal. "If you look into research, the more up-to-date ones say two months."
So while committing to a specific health goal for 30 days is notable headway, it's progress towards the formation of a new habit. Which doesn't mean you're off the hook come next month.
The Problem: Sustainability
When you begin to view one month as the beginning of a habit-forming journey, instead of an isolated 30-day experience, goals begin to shift. You can completely cut out sugar for a month, but are you willing to do it for three months? six months? A year? The same goes for fitness-related challenges. You may be able to push yourself through 50 burpees a day for a 30-day stretch, but is that sustainable in the long run?
"A challenge that removes full food groups, provides unrealistic restrictions on calorie intake, or provides you with exercise much more intense than you are physically ready for is a sign that this challenge will not be sustainable for life," said Erin Palinski Wade, RD, CDE, author of Belly Fat Diet For Dummies
. "They should not be so restricting that you are falling right back into old habits (or worse yet, feeling so deprived you turn towards bingeing at the end)."
"I personally believe that when doing something in such an intense form (six to seven days a week), you might give up just because it's too much," added Siperman-Cohen. "That's why I always tell my clients to start slow."
Okay, so cutting out complete food groups or vowing to do an absurd amount of a certain unenjoyable exercise isn't the healthiest choice. But if you're committed to finishing out the month, and find the willpower in there somewhere to stick with it, can you expect to see benefits at the end of the 30-day period?
A study published in the journal Health Psychology found that participants who successfully upheld their commitment to a booze-free January were consuming less alcohol and getting drunk less often six months later (and even those who merely attempted to stop drinking for a month reported a decrease in alcohol consumption over the following six months). Which shows that the popular drinking hiatus inspiring green juice photos tagged #DryJanuary may actually help to alter behavior in the long term.
But the key to turning that 30-day commitment into tangible health benefits is the continued application of said goal in your day-to-day.
Challenge Yourself the Right Way
Making significant changes in your health is going to require a commitment after the end of 30 days, but that doesn't mean you can't see or feel a physical difference in that amount of time. Health experts set healthy weight loss at one to two pounds a week. So it's feasible to drop eight pounds this month — definitely a solid step towards your goal weight.
"From working with clients one on one, in 30 days, it is possible to lose as much as five to 10 percent of your body weight (if overweight), lower blood pressure and blood glucose levels, and boost energy and fitness," said Palinski-Wade. "A challenge that helps you to boost overall physical activity and provides a healthy balance in your diet is the best chance at achieving results that stick."
But the potential results are dependent on the type of challenge you subscribe to.
"An ab-only challenge won't bring the same results as a full-body challenge," said Siperman-Cohen. "With a full-body challenge that combines strength and cardio, you will most likely see a change in size (weight loss), increase in muscle mass and a decrease in the body's fat tissue and better cardio abilities. You would also most likely feel more energetic, and simply just feel much better, thanks to the endorphins that will run through your brain in each and every workout."
And you also need to be hesitant to jump into a one-size-fits-all challenge that's not necessarily taking into account your personal health level. "Just because you see fast results, doesn't mean that it's necessarily safe," said Siperman-Cohen. "A lot of these challenges are very intense and don't fit the fitness level of all participants. So people can end up hurting themselves. On the other hand, it can also be too easy, and then you probably won't see results. It's kind of like going to a group exercise class (which I'm totally in favor of): it's really great for overall fitness when you enter a class that suits your level, but at the same time if you are taking a class that is too hard or too easy for you, you might end up either hurting yourself, or you won't see progress."
These hyper-focused challenges can also cause us to look at health with a one-track mind. But it's important to remember that even if your goals are fitness-based, nutrition is still an important component if you're trying to tone up or shed pounds. "Research consistently shows that controlling calories is more important for weight loss success than exercise," said Johannah Sakimura, RD. "And that makes complete sense — it takes a few minutes to eat 500 calories, and about an hour of moderate-intensity exercise to burn them off."
Bottom line: Don't reward yourself for banging out those burpees with a chocolate donut.
Time for a Reframe: The 30-Day Jumpstart
"The key to being successful long term with '30-day challenges' is to be in the right frame of mind. These challenges should jumpstart you into making realistic dietary and fitness changes you can stick with long term," said Palinski-Wade.
We need a change of perspective on the way we see our re-commitment to a healthy lifestyle. Instead of thinking of it as a challenge, which implies a beginning and an end (that will have many counting down the days until they can chug a beer, eat a steak, snooze the 7 a.m. gym alarm, or indulge in whatever other lifestyle choice they have labelled off limits), think of it as a jumpstart — which suggests creating a momentum that will continue to propel you towards a goal, making it a habit that sticks instead of something you revisit fleetingly and then abandon.
Image via Unsplash