TFD's Weekly Amazon Prime Super-Sale Roundup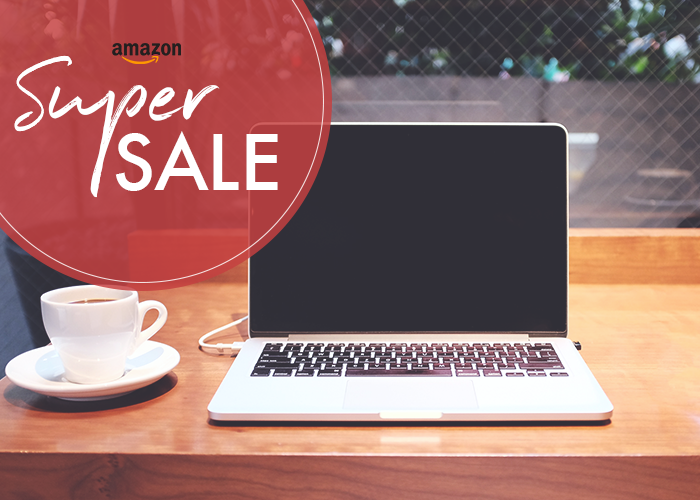 This is our now-weekly roundup of awesome, useful products currently at a big discount on Amazon. From the bigger investment items your home needs to the things that are nice to have, we'll be letting you know when the stuff you've been wanting anyway has gone on sale (sometimes up to 81% off) so you can get the best deal possible!
1. mothermade® Deep Moisturizing Rich Snail Facial Mask 10 individually packaged bundle – 100% cotton Cupra sheet, Anti-aging, Anti-Wrinkle, Deep Hydration, Snail Secretion Filtrate (5,000 ppm)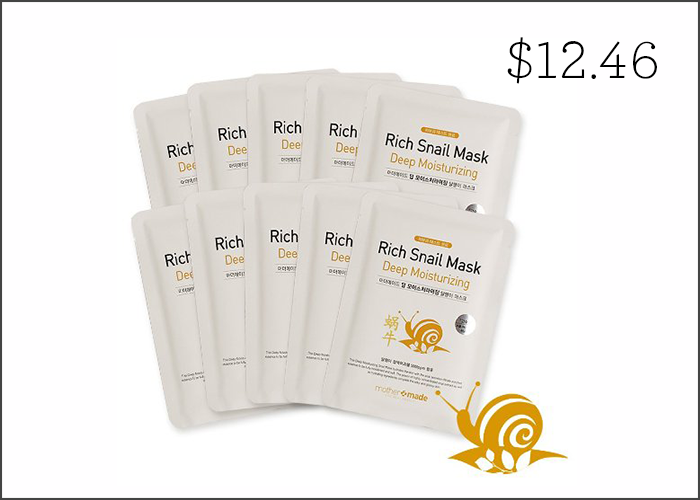 31% off. I remember reading this article about Do or Don't: Snail masks last year, and thinking "oh hell no, that's not for me." But since then, I've heard a lot of people talk about them and the rave reviews they get. Anyway, if you're more adventurous than I, this set above is on a solid discount today and they get AWESOME reviews — like, 4.5/5 stars good. The masks tighten, hydrate, and nourish your face. Check 'em out!
2. Cucisina Lemon Squeezer / Lime Juicer / Citrus Press – Commercial Grade Aluminum (Red)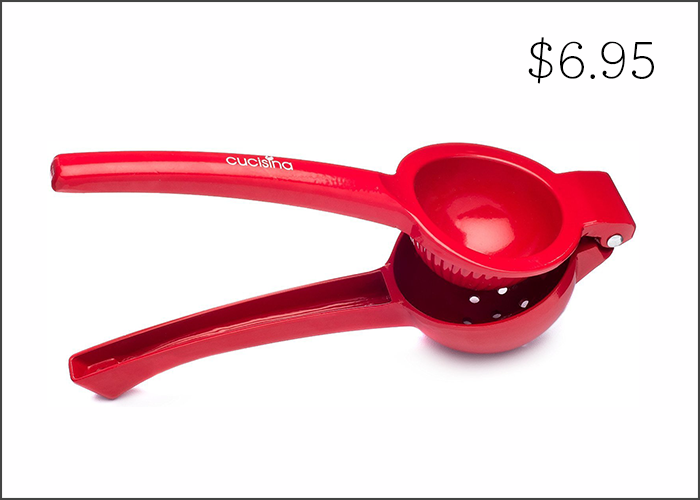 65% off. It might sound dramatic, but having a citrus squeezer is life-changing when it comes to making cocktails that require fresh juice. The last time I made a batch of margaritas for guests we were having over, I thought, "Never again will I spend an hour squeezing 15 limes by hand to yield enough juice for this one pitcher." This guy is SUPER cheap today because it's at a steep discount at 65% off. A kitchen must have!
3. Pre Seasoned Cast Iron Skillet (12.5 inch) by Utopia Kitchen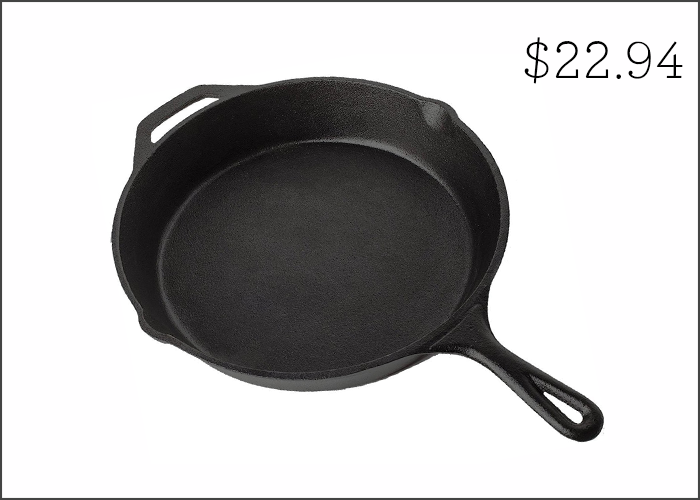 77% off.  A good cast iron pan will completely change the way you cook, for the better. Using a nice cast iron skillet lets you make the crispiest eggs, potatoes, and meat, and you don't need to use as much oil as you would when cooking with a regular non-stick pan. The one above is on DEEP discount today, clocking in at 77% off. It's well worth the $23 dollars, and I promise you that these skillets will last a lifetime if you take care of them properly.
4. MANZOO Queen Comforter Duvet Insert White – Quilted Comforter with Corner Tabs – Hypoallergenic, Plush Siliconized Fiberfill, Box Stitched Down Alternative Comforter – Machine Washable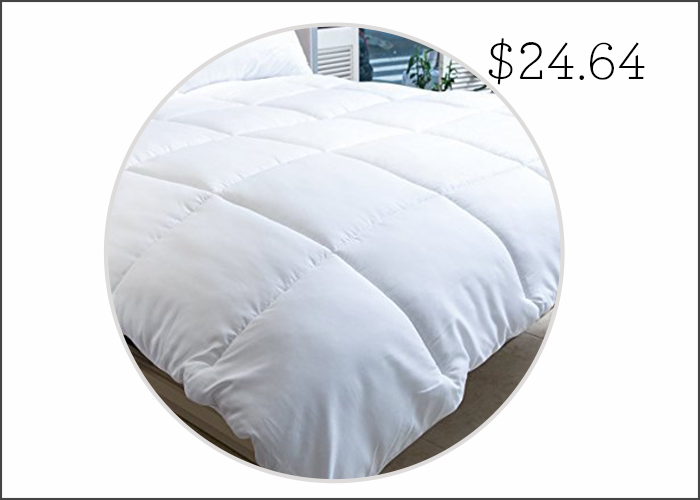 15% off. The importance of a good, comfortable, fluffy comforter cannot be emphasized enough. The one above is beautiful and very high quality, and a total steal for $25. It's also hypoallergenic and machine-washable, which means it's easy to care for and won't irritate those with sensitive eyes or who are prone to allergies.
5. HOTAPEI Summer High Waisted Vertical Striped Maxi Skirts For Women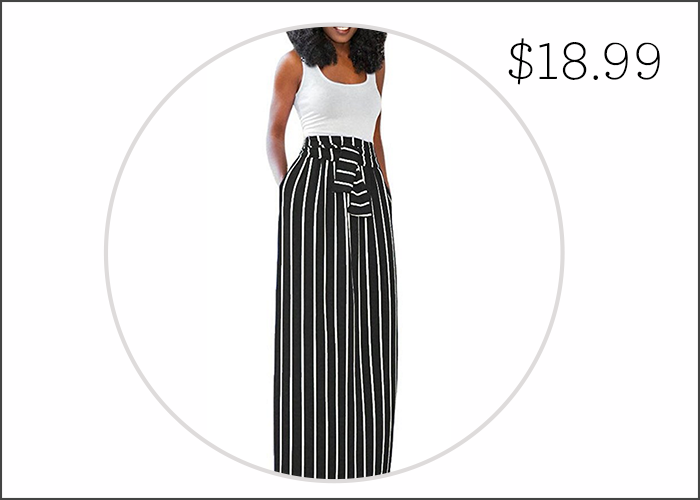 53% off. Wee ooo weee, look at this gorgeous striped, high-waisted maxi skirt! It's so flattering and stylish, and the perfect thing to have in your closet that can easily transition from warm to cold weather. It comes in a few nice colors, but the black and white striped version above is a classic look that I love. It's made of quality material and gets high reviews, so the 53% off discount more than justifies it. I don't order a lot of clothes online, because I'm always nervous that they'll look cheap or ill-fitting when they arrive, but this one looks like a safe bet.
6. DAVIDJONES Women's Top Handle Shoulder Hobo Handbags Tote Purse Camel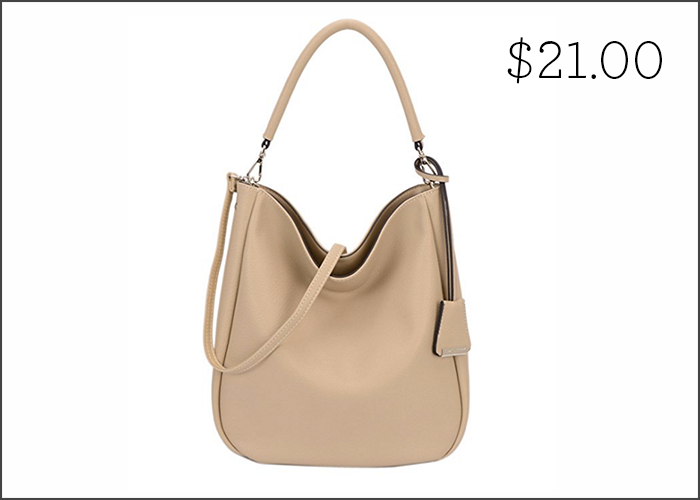 60% off. As I was scrolling through the Amazon deals, this bag caught my eye. It's a gorgeous camel color, and has a wonderful easy shape about it, which would pair beautifully with a chic fall ensemble. I usually dislike the way structured bags looks, since they remind me of something I'd wear to work. But, the relaxed silhouette and super-soft high-quality leather make this one a great investment.
7. Fancyskin Womens Scalloped Bikini Halter High Waisted One Piece Padded Swimsuit M Black
60% off. I know the summer season is coming to a close, but this suit is just beautiful — the Ultimate Flattering one-piece, if I do say so myself. I love the combination of the scalloped cutout and deep v-neck in the back. The suit also comes with padding (even though I'm generally unconcerned with that), which will help keep the top up despite the large cutout. It's over half off and VERY reasonably priced, so this could be a great end-of-season buy to keep on deck for next year.
8. ProCase 13 – 13.5 Inch Laptop Sleeve Case Bag for Surface Laptop Surface Book Macbook Pro, Protective Carrying Handbag Cover for 12″ 13″ Lenovo Dell Toshiba HP ASUS Acer Chromebook Notebook -Dark Gray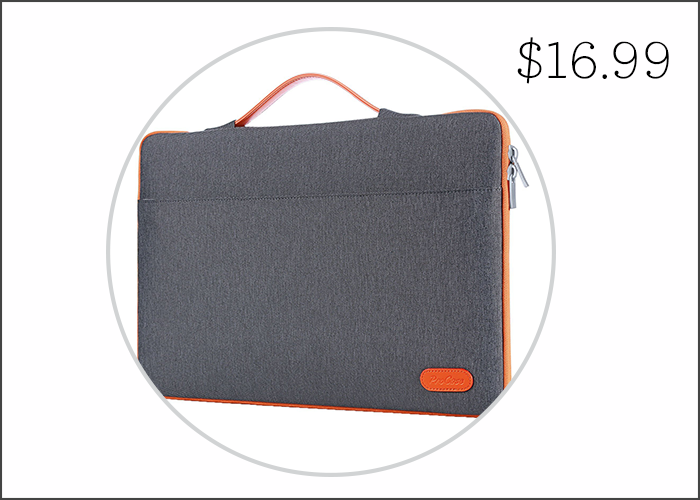 Gotta have a fashionable and substantially-padded computer bag, and this one is not only cute, but also super high-quality (and cheap!). I love the gray + orange color combination, but they have a few others to choose from. They offer cases for all different sized laptops, so they'll have one that's sure to fit your needs. This one comes with a durable zipper and additional flaps and compartments for storage, which will make working on-the-go a lot simpler. If you're in the market for one, check it out!
9. ProCase Makeup Bag Organizer for Purse, Cosmetic Pouch Clutch Travel Storage Bag for Women Skincare Facial Cleanser and Beauty Stuff -Large, Black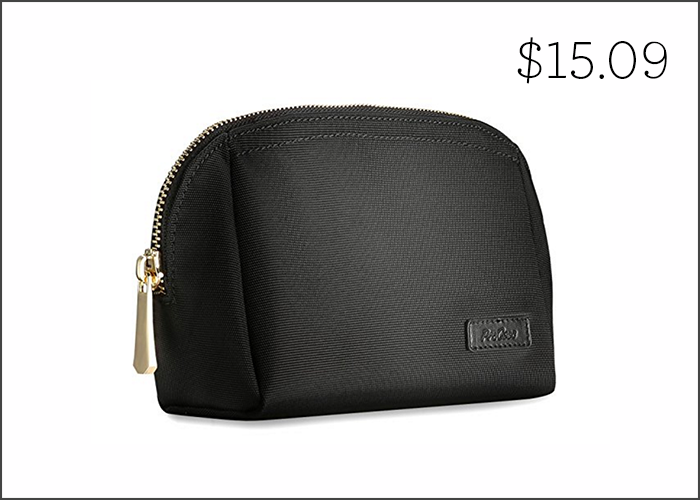 16% off. Every woman deserves to have a beautiful, simple, and well-made toiletry/makeup bag, and this one fits the bill. It's not expensive, it's understated, has beautiful stitching and a lovely gold zipper, and has plenty of room to fit all of your beauty essentials. This would make a lovely gift for a friend or a nice addition to your own bathroom or vanity. Or, if you want to stay super organized on the go, you can use it as a purse organizer and keep it as an additional container for all of your stuff. Check it out!
10. Eparé Milk Frother Whisk- Electric Battery Operated for Cappuccino Latte Coffee Foam and Matcha (Grey)
23% off. Ahhh, finally, a milk frother. I used this thing all the time when I lived with my parents, and it truly does make your morning coffee that much better. Use it on hot milk, and you'll have a frothy cappuccino in no time. And, if you're not a coffee drinker — fear not! You can also use it to make matcha green tea latte. The best part? It's only 10 bucks, which is a steal for something so useful and practical. Might be worth investing in if you want to make your morning coffee routine a little bit fancier.