TFD's Weekly Amazon Prime Super-Sale Roundup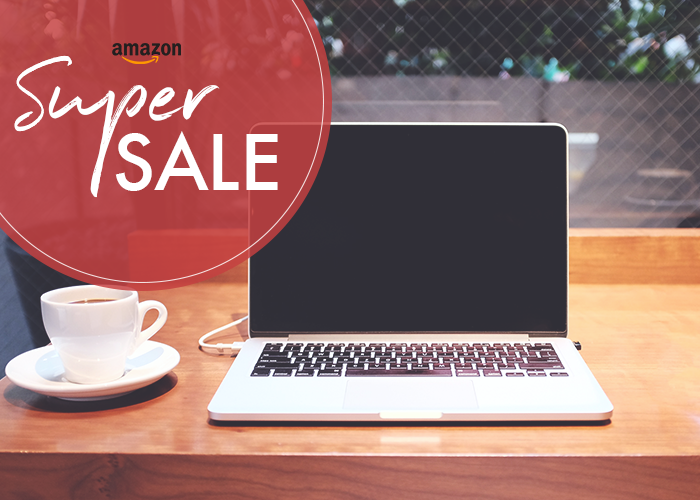 This is our now-weekly roundup of awesome, useful products currently at a big discount on Amazon. From the bigger investment items your home needs to the things that are nice to have, we'll be letting you know when the stuff you've been wanting anyway has gone on sale (sometimes up to 90% off) so you can get the best deal possible!
1. Purefly Soft Velvet Inflatable Travel Neck Pillow for Airplanes with Packsack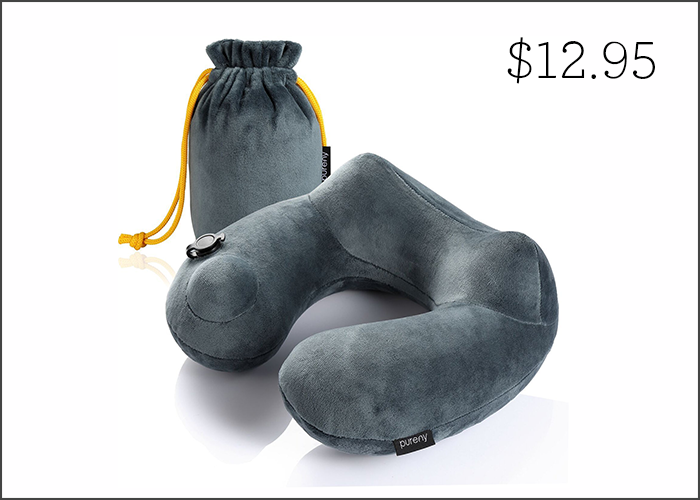 81% off. I've been debating getting one of those sweet airplane neck pillows for like, the last three years or so and STILL haven't bought one. Mainly because I'm always faced with the question, "Where do I store it once I get home?" The idea of having a random, oddly-shaped neck pillow floating around the apartment because we're so tight on storage is one I'm not so jazzed about. However! This guy is inflatable and packs up easy, which means there's no need to find storage for it. You simply pack it up back into its neat little carrying case and voilà!
2. FSK Cotton Canvas Women's Apron with Convenient  Pocket Durable Stripe Kitchen and Cooking Apron for Women Professional Stripe Chef Apron for Cooking, Grill and Baking(black and white)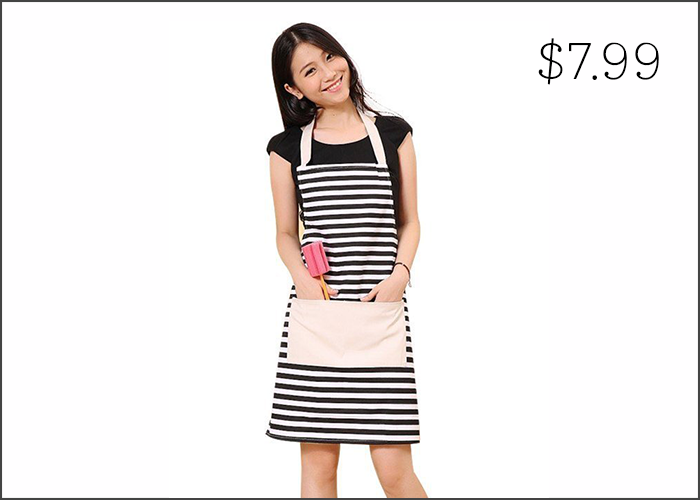 20% off. I've ruined enough of my clothes to know that it's never a good idea to cook or bake unless you have an apron on. I was given a not-so-stylish one as a gift when I first moved out, but have since upgraded to one that has no frills or flowers on it…heh. I love this striped one with the front pocket, which makes it easy to store your phone while you cook. (For me, it's usually because I need to double check the recipe!) Anyway, this one is 20% off and comes in two bold colors. Check it out!
3. WENFENG Manual Coffee Grinder, Adjustable Ceramic Conical Burr Grinders for Precision Brewing, Stainless Steel Coffee Grinder for Home & Traveling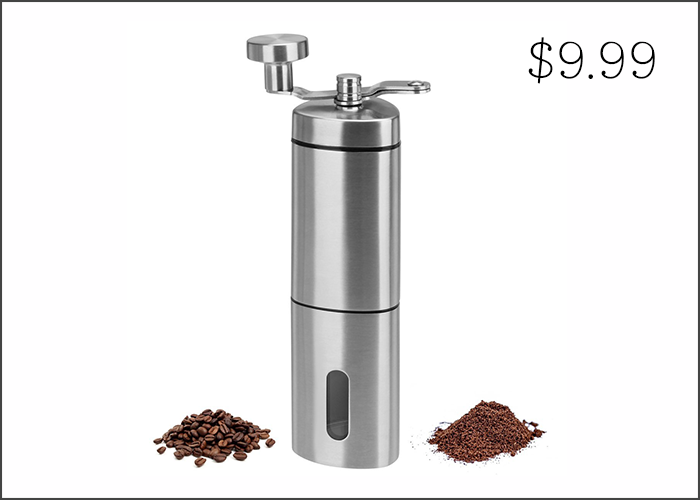 90% off. Whoa, 90% off?! Yes, you read that correctly. This sleek, manual coffee grinder was originally priced at $90, but it's on steep discount today for only $9.99. It's tagged the #1 in New Releases on Amazon, and snags a four-star rating! I use an electric grinder at home, but it sets my (and I'm sure my neighbors') teeth on edge when we use it at 7:15 every morning — it's so loud. So, having a grinder that's efficient and oh so quiet would be a nice alternative to a noisy coffee grinder. Totally worth it!
4. Wide Mouth Mason Jar Utensil Holder by Comfify – Decorative Kitchenware Organizer Crock, Chip Resistant Ceramic – Perfect Cookware Gift – White, Large Size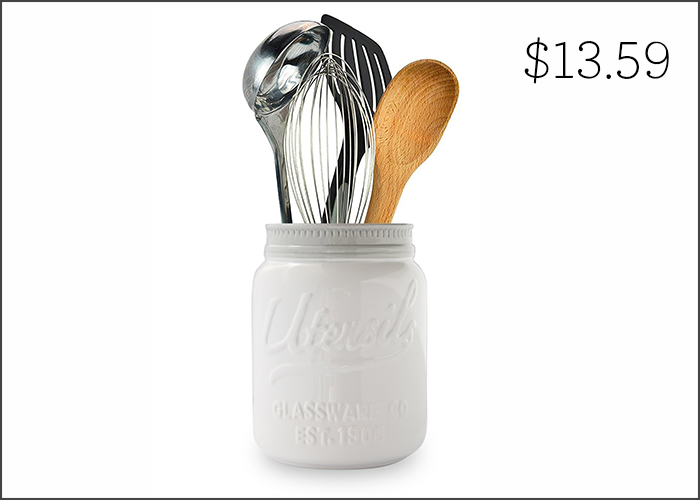 60% off. I use almost this exact same canister at home to safety store away all of my various kitchen utensils, and I can confirm it's very cute IRL. I love the bright white of the canister and the wide mouth at the top, which makes it easy to fit a bunch of stuff inside. It's 60% off today, so it clocks in at a very reasonable price. If you're looking for a simple and inexpensive way to add a little bit of functional style to your kitchen, check out this guy!
5. Pyrex Basics Clear Oblong Glass Baking Dishes, 2 Piece Value Plus Pack Set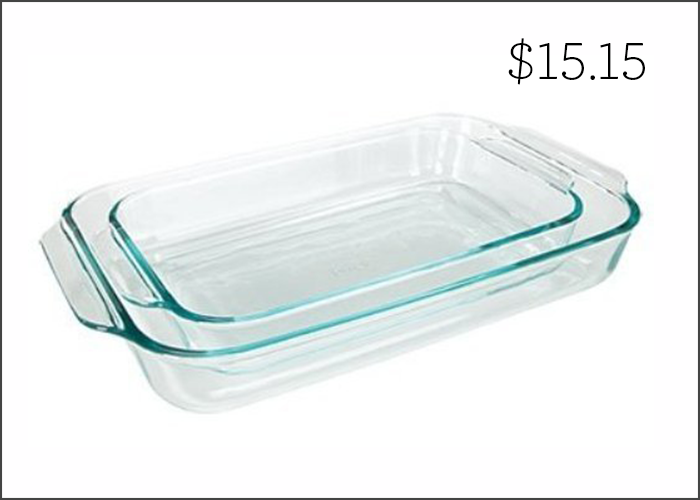 10% off. If you are a baker, or aspire to be a baker, or know someone who just got their own place and is interested in baking, this set of dishes is worth checking out. These have served me well over the last five years — they're classic-looking, the perfect shape, and easy to clean. They're perfect for making brownies, cakes, and bars with, and I've used them more than any other dish I own. This value pack is well worth the money, and it'll last for years to come.
6. LANGRIA Wall-Mounted Coat Hook Bamboo Wooden Coat Rack and Hook Rack with 5 Metal Hooks and Upper Shelf for Extra Storage Scandinavian Style for Hallway Bathroom Living Room Bedroom, Bamboo Color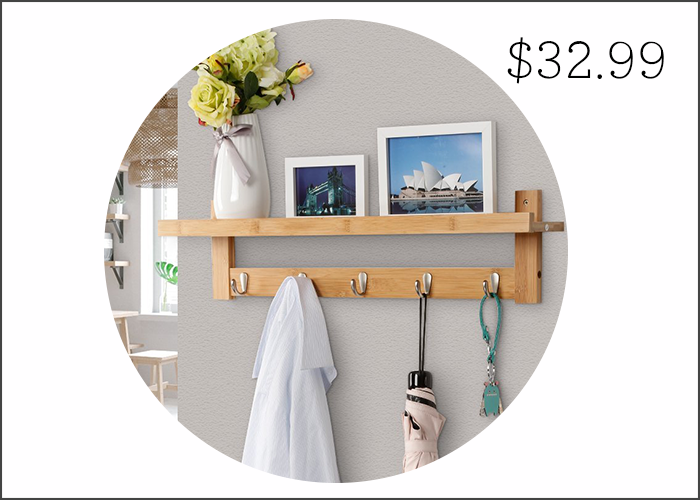 34% off. Nothing screams Organized! Adult! quite like a put-together home entrance situation. (<– that sounded weirdly formal, lol.) I'm talking shoe racks, coat racks, hooks for keys, a mail holder — you name it, I love it. My friend back in NJ has the most enviable vestibule at the front of her house, and it's so cozy and chic —  I daresay it's one of my favorite rooms in the house. Anyway, I saw this little hook/shelf storage thingie, and was immediately impressed by how simple and effective the design was. Not only can you store coats and umbrellas, but you can add stacked photographs and plants up top to make the whole thing feel more intentional. 34% off today as well, so worth taking a look at!
7. Ammiy® 18 Pcs Makeup Brush Set Professional Wood Handle Premium Synthetic Kabuki Foundation Blending Blush Concealer Eye Face Liquid Powder Cream Cosmetics Lip Brush Tool Brushes Kit ( White Case Bag)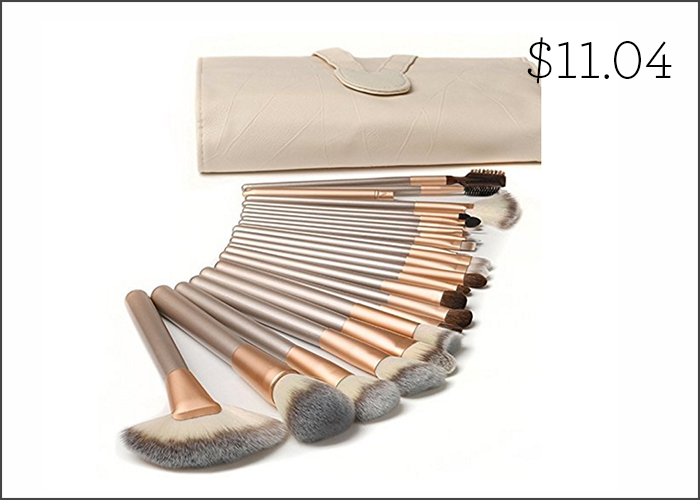 31% off. 18 pieces, for $11?! Literally enough said right there to make this a good deal. BONUS: the set comes in a hella nice shade of beige + gold, comes with a cream-colored carrying case, AND is the highest-rated set on Amazon. Check! It! Out!
8. Premium Velvet Suit Hangers – 30 Pack – Heavy Duty – Non Slip – Velvet Suit Hangers Black – by Utopia Home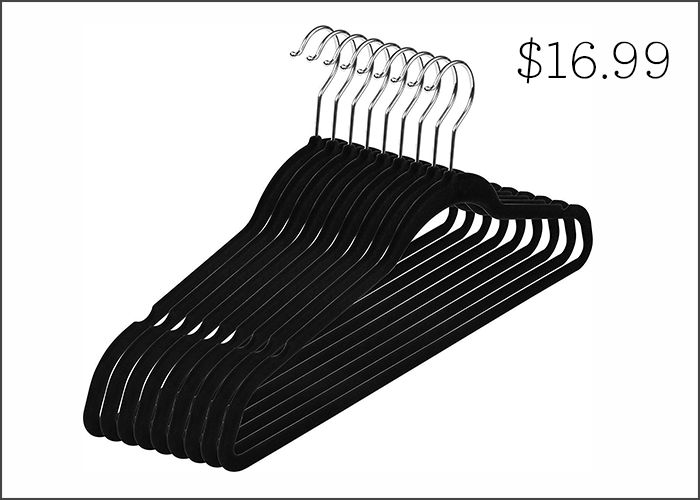 58% off. These are the hangers I use in my own closet and love, and I would never change them for anything. They're slim, which is essential when you share a tiny closet with your S.O., and clothes literally never slip off of them because they're lined with velvet. WIN! Making sure all your hangers match is the absolute easiest way to streamline and improve the look of you closet without much effort. Also, the black makes other colors pop more, so it's easier to see what clothes you have. Highly recommend — check them out!
9. Led Clip Reading Light, Raniaco Reading Lamp, USB Rechargeable, Touch Switch Bedside Book Light with Good Eye Protection Brightness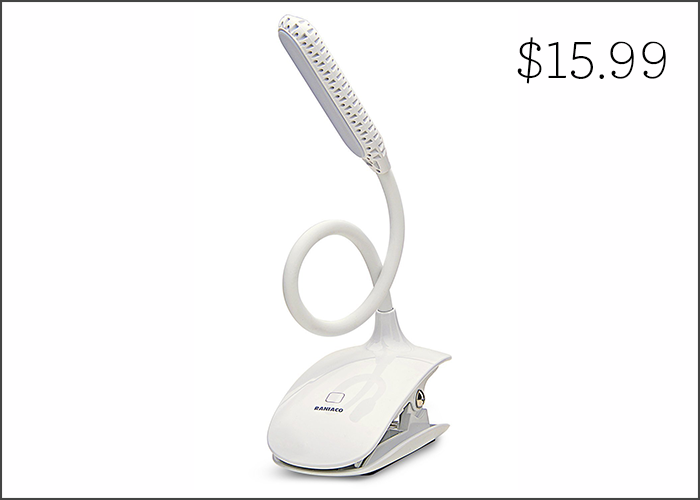 47% off. Joe and I typically head to bed at the same time each night, but one of us will usually stay up reading for a bit before falling asleep. This super sleek clip-on reading lamp is an excellent addition to the bedroom, so we have enough light to read with, but it's not bright enough to keep the other personal from falling asleep. This guy is the #1 Best Seller in the category and gets solid reviews. If you're in the market for one, I think this would be the perfect solution.
10. Design Bathroom Shower Caddy Tote for Shampoo, Soap, Razors – Medium, Black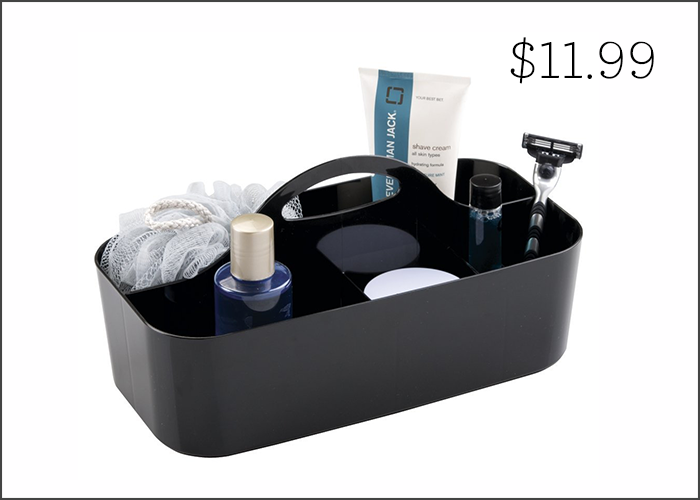 20% off. During my college dorm room days, sharing a bathroom with three other women was a nightmare, but also a blessing. Sure, we'd fight for the right to use it during those crucial AM hours before class and before we'd all leave for a night out, but it taught me the importance of staying organized and super clean. Instead of keeping my toiletries inside the shower (which would end up getting knocked over and/or used by others), I'd keep all of my toiletries inside a little caddy — like the one shown above — and bring them along with me into the bathroom when I was ready to use them. None of my stuff ever went missing, and it helped us keep the bathroom clean and organized. I highly suggest that all college students who share a bathroom grab one of these simple shower caddies. They're life changing!