TFD's Weekly Amazon Prime Super-Sale Roundup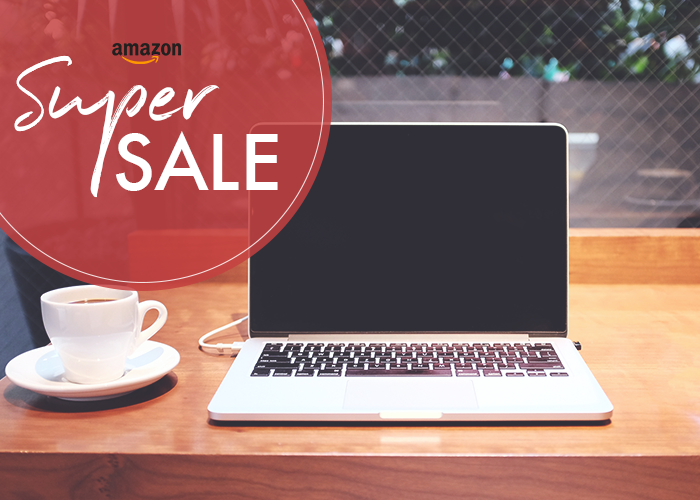 This is our now-weekly roundup of awesome, useful products currently at a big discount on Amazon. From the bigger investment items your home needs to the things that are nice to have, we'll be letting you know when the stuff you've been wanting anyway has gone on sale (sometimes up to 83% off) so you can get the best deal possible!
1. SONGMICS 4-Tier Shoe Rack Shoe Tower Shelf Storage Organizer Cabinet Grey ULSA14G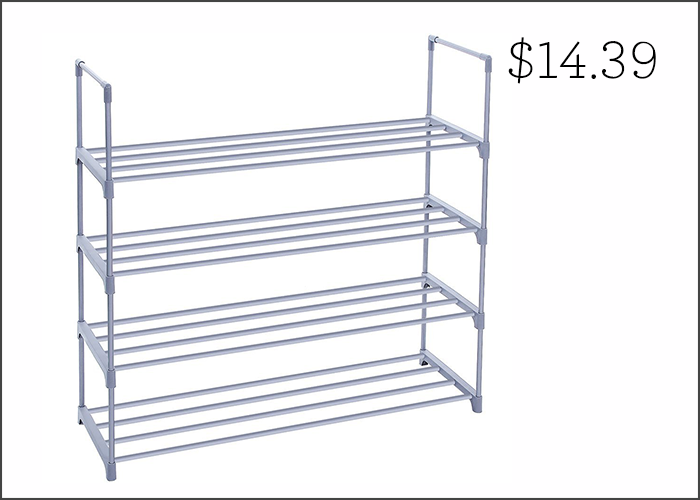 37% off.
 Back when I used to have my own closet (now I share one with Joe), I had a glorious old bookcase that I used to house all of my shoes on. Since (very) limited space is my new reality, we've had to get more creative with our storage solutions. If you have a little more room to play with, this utilitarian, 4-tier shoe rack would be the perfect thing to slip into a hall closet for storage to occupy the bottom half of the area. It's a great way to keep shoes neat and organized, and it's not expensive. This guy is 37% off today, and it would be a smart addition to any entryway, closet, or mud room.
2. BLACK + DECKER CHV1410L 16V Cordless Lithium Hand Vac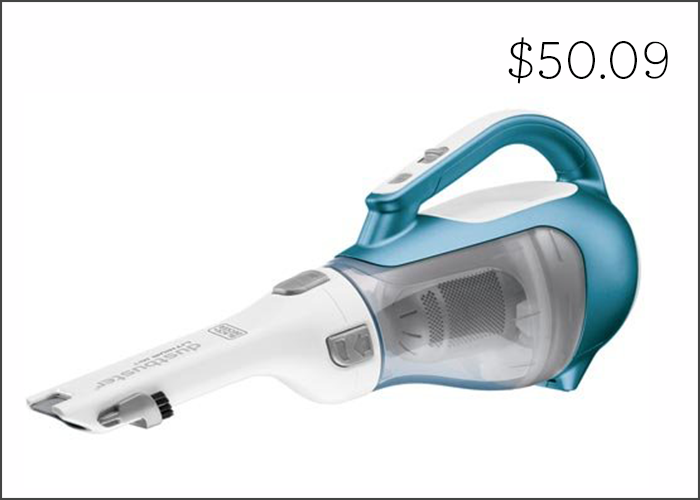 17% off.
 My vacuum is one of my absolute favorite items in our home, and I know that makes me sound incredibly boring, but it cuts weekend cleaning time down by about half. If you don't want to commit to buying a full-sized vacuum, this cordless hand vac is an awesome alternative. You can use it in hard-to-reach spaces, and using it doesn't require a cardio workout (like bigger vacuums do.) Yes, $50 is a decent amount of money to shell out at first, but to me, there's nothing better than sucking up dust, dirt, and the occasional spider (if I'm being honest) with such ease.
3. Lifewit Makeup Organizer Premium Quality Acrylic Cosmetic Storage Lipstick Case Palette Holder Large Capacity With Handle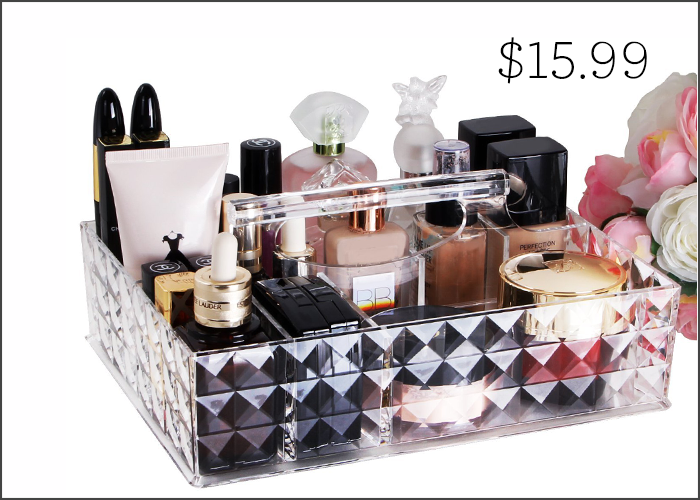 60% off. Investing in a solid makeup organizer is life changing. I used to keep all my products in one giant tote bag that hung on the back of my bedroom door. It always meant having to shuffle through the entirety of it's contents for about five minutes before I found the item I was looking for. This one is chic, simple, and streamlined, and even has an interesting texture on the outside which beautifully reflects light. It's definitely worth $15.99 in my opinion, and it could be a lovely addition to any bedroom dresser top or bathroom vanity.
4. Waste Bin – Woven Waste Paper Basket for Bedroom, Kitchen, Bathroom or Office – Seagrass Trash Can – Versatile wastebasket for garbage and rubbish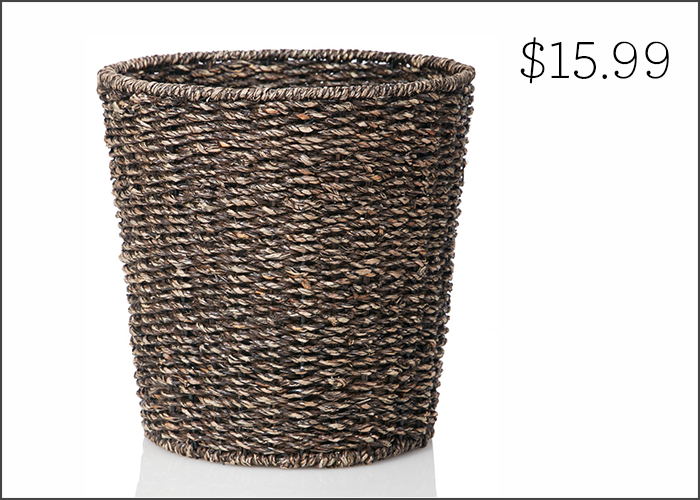 50% off. 
We have a woven basket in our living room beside the couch, which houses extra blankets, linens, and pillowcases for overnight guests. It stylish and functional, and easy to clean. I love how neutral and organic-looking the material of this basket is — it looks a lot more mellow than the stainless steel garbage can I have in my bathroom. If I were to swap that one out anytime soon, this is the one I'd buy. And, it's 50% off today, so there's no better time to buy if you, too, are looking for a cute and versatile wastebasket.
5. Homitt 2 Pack Super Plush 100% Cotton Pillow, Queen Size Filled Pillow for improving Sleeping at home or Office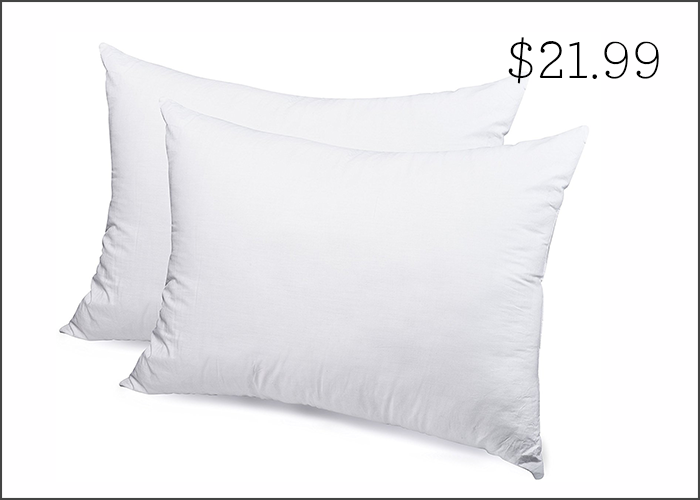 63% off. Just yesterday, Chelsea wrote an article about the essentials every adult should have for overnight guests, which reminded me that I need to upgrade the lumpy older pillows we currently have on hold for our guests. Don't you just want to run right over?! This set of super plush, Queen-sized pillows is on extreme deep discount today for a VERY affordable price. If you're trying to level up the experience of your overnight guests, than these could easily fit the bill.
6. Tea Forté Couture SINGLE STEEPS Loose Leaf Tea Sampler, 15 Designer Teas in Single Serve Pouches – Black Tea, Green Tea, White Tea, Herbal Tea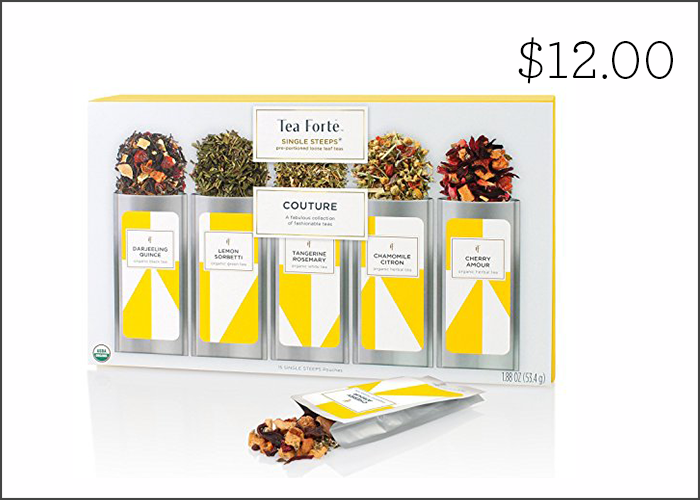 18% off. For my past birthday back in January, my brother and sister-in-law got me the most thoughtful gift: a blue ceramic tea pot, three tins of really nice loose-leaf tea, and a couple sleeves of digestive cookies — my ultimate favorite tea snack. It got me thinking about how I could package up a similar gift set for future birthdays for a family member or friend. This fancy ~couture~ tea set would be the perfect addition to any fancy foods gift basket or for the tea lover in your life.
7. Pizza Stone for Cooking Baking Grilling – 15 Inch 3/4″ Extra Thick – For Oven and BBQ Grill – With Durable Foam Packaging, Gift Box & Pizza Recipes EBook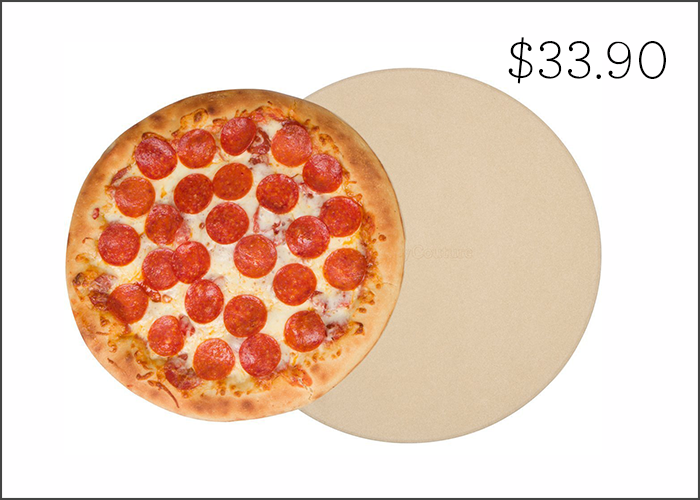 48% off. Last weekend — when I was visiting my parents' house — I tried to make pizza sans pizza stone, and man…it yielded sad results. Joe and I use a pizza stone at home, but we weren't about to carry it with us on the bus back to NJ for over an hour. Anyway, the crust just didn't come out the same, and it fell limp and squishy instead of crisping up and getting all nice, brown, and toasty. I vowed that I'd buy my parents one for their house, and this bad boy gets really high ratings AND is on super sale. A winning combo if I do say so myself.
8. StorageWorks Polyester Storage Box with Strong Cotton Rope Handle, Foldable Basket Organizer Bin, White, Bamboo Style, Large, 3-Pack

56% off. I have a set of these storage baskets with handles on them at the top of my closet, and they make housing bulky sweaters, jeans, scarves, etc., super easy. They were well worth the investment, although mine weren't 56% off at the time, but if you buy these ones now, you'll have those bragging rights over me! Do it!
9. DII 100% Cotton, Professional Unisex Bib Chef Kitchen Apron, Adjustable Neck & Waist Ties, Front Pocket, Durable, Comfortable, Restaurant Cafe Unifrom, Perfect for Cooking, Baking, BBQ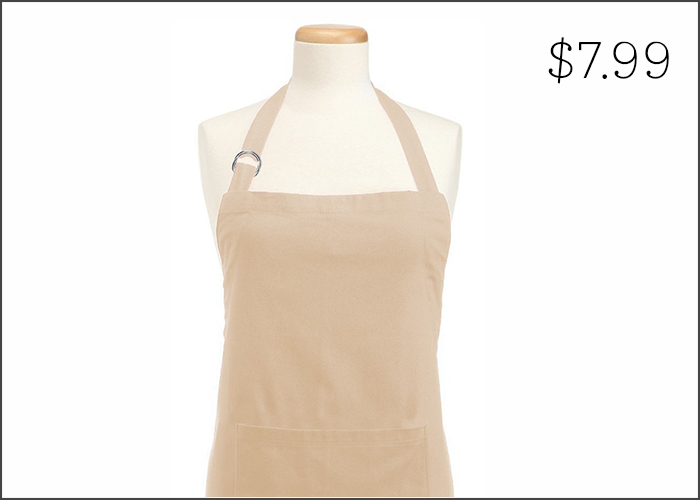 20% off. I'm not trying to gender the purchase of an apron here, since I fully believe that think both men and women should do an equal amount of cooking and prepping in the kitchen. This lovely neutral option could be a perfect addition to any kitchen — it's durable and will protect your clothes from stains and splashes. I learned the hard way and ruined a pair of jeans when I was making falafel one night =(  Anyway, grab this one while you can!
10. LANGRIA 4 Tier Modern Storage Organization Rack and Shelving Unit, Silver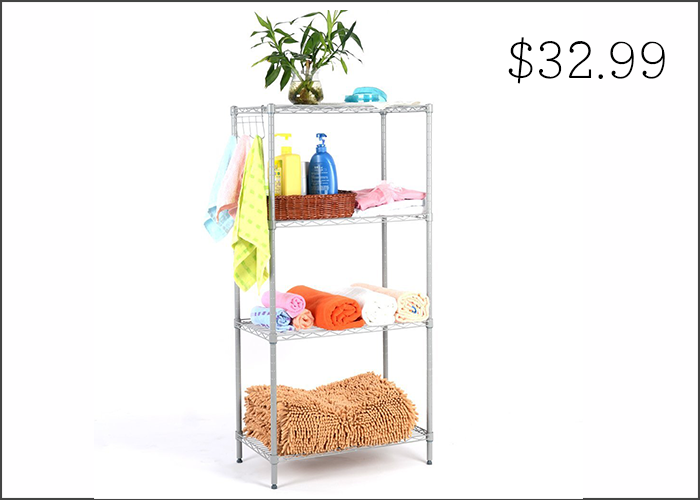 59% off. A few weeks back, I included a beautiful kitchen cart storage rolling rack on this roundup (which Holly bought and loved!), and when I saw this bathroom-ready one I was like, "cool!" Another good find! This one looks similar to the previous one, but it's narrower and taller. It's the perfect size and shape for a bathroom on the smaller side like mine. It's the perfect way to store towels, baskets of soap and other items you might want to show off and keep organized.