The $19 Do-It-All Product This Makeup Artist Can't Live Without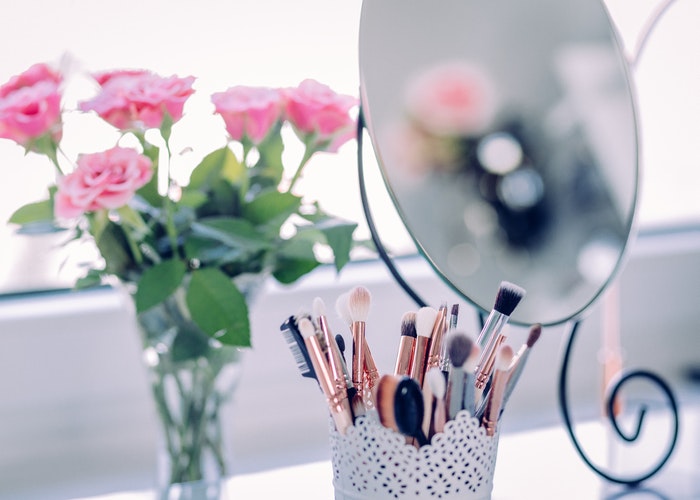 As a makeup artist of over two years with experience in bridal, editorial, and commercial makeup, I have a theory: Cult makeup products are a marketing ploy to get you to buy something you're not even sure you like. In my opinion, Maybelline's Great Lash isn't that great, and NARS Orgasm blush is faking it. Controversial, I know, but as a makeup artist, I feel I've developed a sixth sense for sniffing out when a product is truly something special, or if marketing dollars just made it seem that way. 
Weleda Skin Food was one of those "cult" products that makeup artists always swore by. It was hailed as one of the industry's best-kept secrets, until celebrity makeup artist Katie Jane Hughes, whose clients include Ashley Graham, Rosie Huntington-Whiteley, and Kate Bosworth, among others, put it on the map last year. Reluctantly, I purchased it, fully expecting it to be another Mario Badescu Facial Spray situation, (too smelly and sticky!) but I was pleasantly surprised to discover Weleda Skin Food was everything everyone said it was and more. 
The name "skin food"  doesn't do justice to how thick and delicious the cream is, like a decadent cream cheese frosting, but the name is accurate. It's full of nutrients, with extracts of gentle viola tricolor, calendula, and chamomile. It has a strong scent, but I don't find it offensive. It smells like walking into a LUSH store: Maybe a bit overwhelming at first, but eventually it envelops you into the kind of calm you thought you could only get from laying underneath a weighted blanket. It's completely natural, and certified by Natrue, a Brussels-based nonprofit "committed to promoting and protecting natural and organic cosmetics worldwide."
If I had to define Weleda Skin Food in one word, it would be multipurpose. As a makeup artist, the biggest draw is in its all-around functionality. The clean, fruity smell, natural ingredients, and affordable price point (just $19 for 2.5 ounces) are all just perks. Here are a few ways I use Weleda's Skin Food:
Body lotion: Skin Food is not your average lotion. For starters, it's a lot thicker. It squeezes out of the tube with the consistency of Neosporin, but don't let that scare you: it's so much more luxurious and velvety. It doesn't sink into your skin after a few minutes like most lotions, and personally, I find that to be a great thing. Skin Food sits on top of your skin and covers it in a layer of moisture so thick that it's almost reflective. In my work, I love applying this to the shoulders and decollete of brides, because I don't think highlight should stop at your cheekbones. Body glow connects the makeup look to the rest of the anatomy, and it gives a youthful finish to any exposed skin, like a sexy sweat. By the time the shine fades away hours later, the bride is already working up a natural glow from tearing up the dance floor. Apply it to legs, elbows, and anywhere you need a hydrating glow.
Face moisturizer: I would never recommend using body lotion as face lotion, except when it comes to Weleda Skin Food. Remember, it's extremely thick, so it's best applied as the last step in your skincare routine as more of an overnight mask. If you have oily skin, this might be too heavy for you, but for those with dry skin, this product is a game-changer.  
When I apply it to myself, I picture my pores reaching up with their tiny invisible hands and grasping onto every heavenly moisturizing molecule, like the alien toys inside the crane machine game in Toy Story. On clients, I've also used it as a 10-minute mask for those with extremely dry skin. Just remove it with micellar water to get rid of the excess oil on top of the skin, but even 10 minutes is enough time to rehydrate those dry patches many people get around their nose, especially in winter. It's a little too heavy to use as a daytime moisturizer, but the thick base of oils and beeswax makes for the perfect hydrating night cream.
Eye cream: I firmly believe that all eye creams are a scam, which is why the only eye cream I use is Skin Food. It doesn't matter how much you pay for a tiny 0.35-ounce tub of glorified snake oil, an eye cream cannot get rid of wrinkles. Only injections can do that. What it can do, and what all eye creams should aim to do, is hydrate. Eye creams temporarily deliver a boost of hydration to the delicate skin underneath your eyes, which, yes, can reduce the look of wrinkles. When your skin is dry, your under eyes are the first place that show it. Compared to the cost of other eye creams on the market, Skin Food is a no-brainer when it comes to price per ounce. 
Highlighter: The reflective glow that makes your shoulders, legs, and chest look so good can also be achieved on your face, if applied correctly. Less is more here. Take the tiniest amount and pat it across your cheekbones for a natural, not glittery highlight that is subtle in the most striking way. It doesn't look like a traditional highlighter, but applied underneath makeup, it truly gives that glow-from-within look that everyone is after but few rarely achieve. It's reminiscent of the way a child's face looks after they've been playing outside all day; balmy and youthful. If I'm not wearing makeup, I love applying this as a highlight to give my face some dimension and avoid it looking flat. 
Hand and cuticle cream: Your hands do a lot, and they deserve some skincare, too. Skin Food's creamy blend of oils and beeswax coats your dry cuticles and calloused hands in a glove of moisture. This hand cream is pure luxury. It stays slippy for a while after application, so it's not the best idea to apply before steering a ship or doing anything else that you might need full dexterity for.  Nothing is more luxurious than being immobilized from doing any kind of work with your hands. 
This hand cream begs you to sit down, slow down, and enjoy it. The tube packaging also makes it easy to throw in your purse to fight off those cracked winter hands. You could also slather your feet in Skin Food, put on the fuzziest socks you own, and let your feet marinate in a Skin Food stew while you sleep. 
*****
Skin Food is easy to find in stores like Whole Foods or Target, and I recommend waiting for a sale, which occurs often. It comes in a light version as well, and I honestly can't tell you which one I adore more. I'm in dire need of an oil change, and I just might be crazy enough to see if Skin Food can rise to the occasion. Kidding —  kind of — but with how many ways I'm able to use this one product, let's just say I wouldn't be surprised.
Cristina is a freelance beauty writer in Austin, Texas. She spends her spare time masking and wondering if jade rollers really work. DM her your favorite moisturizer on Twitter or visit her on her website. 
Image via Pexels
Like this story? Follow The Financial Diet on Facebook, Instagram, and Twitter for daily tips and inspiration, and sign up for our email newsletter here.