The Crucial Life & Career Lesson That I Only Learned Because Of COVID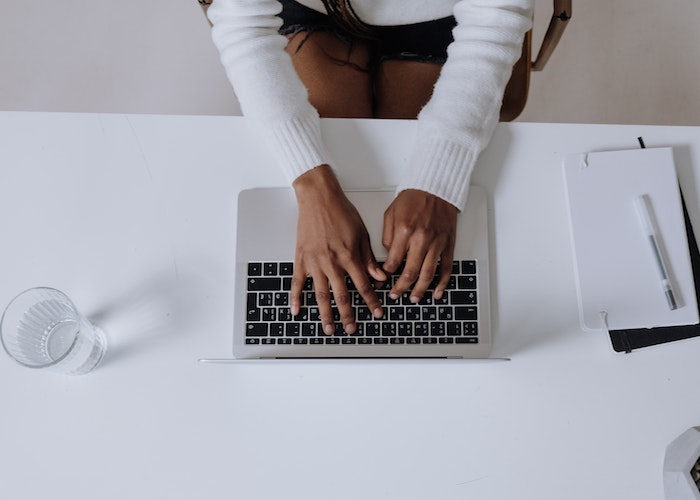 Throughout my childhood, I often heard the phrase, "Girl power."  It was conceptualized for me in the Michael Jordan and Mia Hamm Gatorade commercial. Growing up, I watched Mia Hamm keep up with Michael Jordan in terms of athleticism, and I just knew I could keep up with the boys too. I ran track, played football against my dad's wishes and I even tried boxing. I learned to be a team player; I developed stamina and physical strength. The combination of my success both scholastically and in sports, made me think I had the tools I needed to take on corporate America.
At the time, corporate America is where women were starting to shatter glass ceilings, and to me that sounded exciting. By the time I reached adulthood, I was ready for fellow feminists to pass the torch to me. Now, as a seasoned professional, I have come to understand that thriving in the workplace means much more than just being a team player.
With the current pandemic, I found myself slowing down, and measuring strength in a new way. These days I realize that my inner strength comes from self-advocacy.
Since March, the burden of my independence has weighed on me differently. Coronavirus is plowing through the Black community and I cannot help but be concerned about my own family. At some point during the peak of COVID-19 cases, it dawned on me that the last time I saw my immediate family in person could be the last time I physically see some of them. The last time I saw them I said bye as if to say, "Until next time." Granted, I knew that anything could happen between now and then, but on my list of worst-case scenarios, I did not include a pandemic.
I even started to wish that I had not followed through on my childhood aspirations to move far away from my hometown. To make matters worse, when we started sheltering in place, my dad began coughing and complaining about not feeling well, during a conversation. As we were talking on the phone, I cleared my throat to maintain my stoic daughterly voice. My boyfriend bore witness to the silent tears that paved their way down my round cheeks. I later blamed my independence for leading me so far away from my family, in more ways than one.
It wasn't long before I even began to resent people who were quarantined with their families. From the outside looking in, quarantine was the opportunity for others to spend more time with their spouses, parents, siblings, and/or children. I wanted the same thing with my family, but instead, here I was establishing myself more than ten hours away from my hometown.
Fortunately, my father has since recovered from his bout with the sniffles, but I still yearn to be closer to him. I recently even considered dropping everything just to whether this storm with my family. It did not take me long to learn the lasting impact of COVID-19 amounted to more than quality time and creating new memories. Research conducted by Columbia University's Center on Poverty and Social Policy reported that Black Americans, working adults, and children will fall below the poverty line at the highest rates, due to the coronavirus pandemic's economic impact. I am embarrassed to admit that, up until recently, I could not see the implications of COVID-19 beyond the ones that directly affected me. No matter if people quarantined together or alone, everyone has been uniquely impacted by it.
It turns out that I was experiencing what's called, "Anticipatory grief." In an interview with Harvard Business Review, Daniel Kessler defines anticipatory grief as the feeling we get when we are uncertain about what the future holds because, although we cannot see it, our primitive mind knows something bad is happening. I know that Thanos is a fictional character from The Avengers, but I feel like in real life, he snapped his fingers and now the world will never be the same.
For example, unemployment rates reached 14% back in April, the United States' pandemic has had more casualties than the casualties in World War I, and there still have not been any arrests for the cops who killed Breonna Taylor. This pandemic has me anticipating the next bad thing that will happen; I even wonder if there will be an influx in casualties during flu season. And if so, does that mean the economy will shut back down and the unemployment rate will increase, yet again? I hold my breath each time I hear about a Black person in an altercation with the police. There has been so much trauma and grief, sometimes I find it hard to believe it's still 2020.
I've found new strength in admitting that I felt vulnerable without my family or my boyfriend near me. Daniel Kessler notes that there is power in naming our emotions and finding balance in the way we are thinking. Before I could physically say how I was feeling aloud, I started journaling, and it's helped me work through a lot of my feelings. In turn, it has been less challenging for me to ask for what I need. Whether I'm calling in Black, or declining in-person invitations to social gatherings, these days, I'm advocating for myself and my peace, more than ever.
Subsequently, I've found a balance in my new way of thinking. Although not ideal to have a virtual Black Is King watch party, my friends and I hosted one anyway, and we had so much fun. It also gave me peace of mind to "see" everyone, and know that they're safe. We all loved the visual album, and you can never go wrong with Beyoncé. Even if from a distance, I find solace in establishing my online community.
These days my definition of "girl power" has evolved over the years. While in quarantine, I have found strength by making time for myself, journaling, talking through my feelings and virtually connecting with loved ones. These practices have helped ease some of my anxieties. It does not change what is happening in the world, but it has had a positive impact on my mental wellbeing.
Self-advocacy helped me express what I needed to get through these uncertain times. As soon as I opened up about how I was feeling, I felt more confident within my network of friends and family. This is not exactly the girl power my younger once envisioned while watching that Gatorade commercial. However, I know ultimately that my younger self would be proud of the formidable woman I've become.
Tara is a writer currently based in Kentucky. When she's not pouring her heart onto a page, she's reading, practicing photography, talking on the phone, or cooking. Follow her in Instagram at ms.taranicole
Image via Pexels
Like this story? Follow The Financial Diet on Facebook, Instagram, and Twitter for daily tips and inspiration, and sign up for our email newsletter here.