The Entry-Level Crock-Potter: Coq Au Vin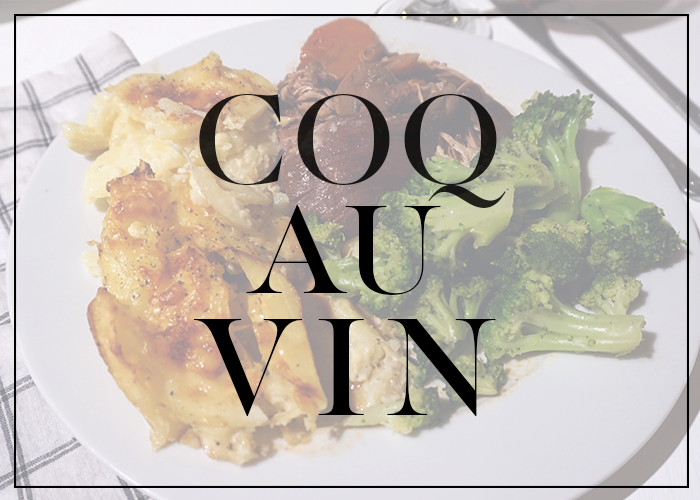 Somehow, despite being an avid home cook, lover of soups/stews, and seriously lazy, I've never owned a Crock Pot in my life — until now. For some reason, it always seemed vaguely Midwestern mom to me, and it conjured images in my head of overdone casseroles and flavorless fajita fillings. I was wrong, of course, and I fully admit my naïveté on the subject. Because when a friend was moving and gave me her (totally unused!) Crock Pot, I started poking around the internet for all the things I could do in it this fall/winter, and all of it looked absolutely fucking delicious.
So Lauren and I decided to start a series on learning the ins and outs of Crock Pot use with recipes that don't suck. We want to focus on things that seem complicated, but which are actually simple and fun when you figure them out. We all deserve restaurant-quality dishes that one would never normally think came together in a little electric machine on your counter. Today, we're making a coq au vin in the Crock Pot, with our (totally optional but delicious) side of gratin dauphinois. I'll give the recipes for both, but let's focus on that delicious, brought-tears-to-the-eyes-of-a-Frenchman coq au vin!
Crock Pot Coq Au Vin
Total Prep Time
-30 mins
Total Cook Time
-3 hours
You will need:
-1 pack chicken thighs (there were 4-5 decently sized ones in our pack, but it will depend on what can fit in your pot)
-1 bottle reasonably fruity red wine (we used cab sauv, could also def use pinot noir, etc)
-3 large cloves garlic
-2 bay leaves
-3-4 sprigs thyme (or several healthy shakes of loose thyme)
-A tea bag
-3-4 large carrots
-2 medium/large shallots
-Approx 2 cups button mushrooms
-2 tablespoons flour
-4 strips thick-cut bacon
-1 3/4 cups low sodium chicken stock (this way you can salt to taste)
-2 tablespoons tomato paste
-Salt n pep to taste
Start by pouring your whole bottle of wine (sheds single tear) into a pot on medium heat to reduce it by half. While your wine is reducing, sear your bacon off in a large skillet until it has rendered its fat and is nice and crispy. Set aside the bacon on a plate and leave the fat in the skillet. Once your wine is fully reduced by half, cut the heat.
Now set to making your bouquet garni, which basically just means a little bunch of aromatics, in this case contained in your little tea bag (we double bagged ours). Put your thyme, bay leaves, and garlic cloves in the bag, tie very securely, set aside.
(And as a general note, everyone needs to know and love bouquet garni when it comes to soups/stews/general French cooking. Having the aromatics infuse low 'n' slow throughout the whole cooking of the dish lends it a deep, rich subtlety of flavor that simply cannot be achieved any other way. When you're eating some braised dish at a French restaurant and wondering how it tastes so infused with its flavors, it's the bouquet garni. And animal fat, but definitely the bouquet, too.)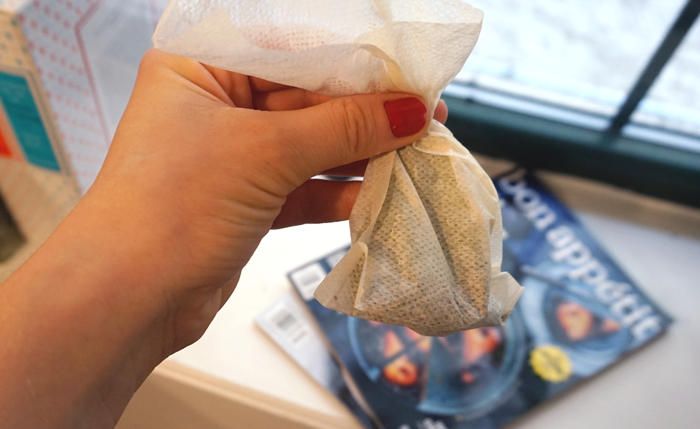 Now, chop your veg: carrots should be cut on the bias into little 2-inch-thick slices, button mushrooms should be halved, shallots should be quartered and separated into nice little "shallot chips."
Salt and pepper your chicken thighs on each side.
In your bacon-fatty skillet, remove enough fat so that there is just a coating on the bottom of the pan, and sear off your chicken thighs on high heat so they get a nice caramelization, about three minutes on each side. They should not be cooked through by any means, though!
Once they are caramelized, remove them and add a bit more bacon fat if necessary (butter if you have no more fat), and caramelize your shallots and mushrooms until they soften slightly and take on a brownness. Should be about 3-5 minutes total.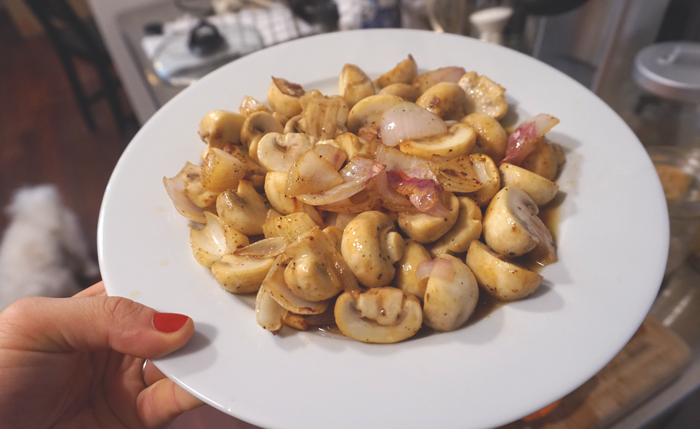 Now, in the fatty, browny remains of your skillet (mmm), add your flour and whisk until it picks up all the brown bits and mixes with the fat, then add your tomato paste and wine, continuing to whisk, finished off with your chicken stock. Let it simmer and mix together for 2-3 minutes, salt and pepper to taste.
In your Crock Pot, put your chicken thighs at the bottom, add your (still raw) carrots, the crumbled bacon, your mushrooms and shallots, and your bouquet garni. This is a picture about halfway through that process, lol: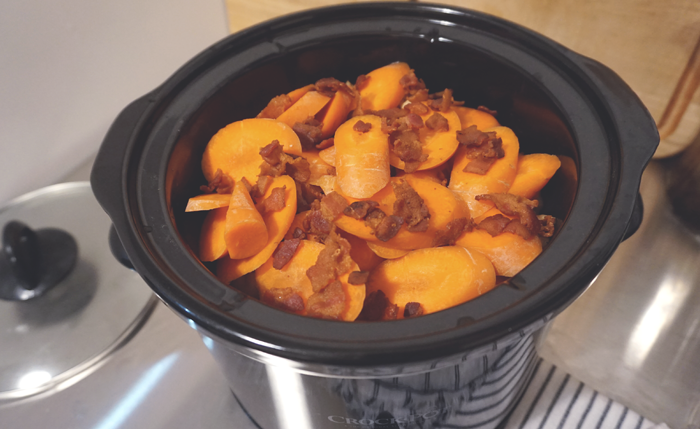 Cover it entirely with the sauce mixture, cover the pot, set it to low. It needs to cook for three hours or until beautifully tender and falling apart, I stirred occasionally but you could definitely go out and run errands or whatever you need to do.
To serve, simply remove the bouquet, stir a bit, and ladle yourself some chicken, veg, and that beautifully reduced sauce. (Pro tip: If your sauce isn't yet thick enough for your liking, simply put it in a saucepan and simmer for a few minutes until it gets thicker, but totally up to you. I like it soupy myself.)
This dish is absolutely MAGNIFICENT and restaurant-worthy, despite being incredibly easy and mostly taking place while you're doing other things. And it's all the more impressive when you serve it alongside the most lovely gratin dauphinois I learned to make back in Gay Paree.
The Perfect Gratin Dauphinois
Total Prep Time
-20 Minutes
Total Cook Time
-30-45 Minutes
You will need:
-1 sack yukon gold potatoes (around 10 potatoes)
-4-5 cloves garlic, minced
-2 cups gruyere cheese, shredded
-2 cups comte cheese, shredded (if you can't find it, 1 cup of good parmesan or pecorino will do)
-6 tablespoons heavy cream
-1/2 gallon milk
-Salt & pep
-A pat of butter
To start, slice your potatoes about 1/2 inch thick, and put them into a skillet with high sides (or a pot if necessary), and cover with your milk until they are all covered, setting them to a simmer. Salt this well.
While they are simmering, rub a large baking dish with the butter, and spread your minced garlic all around the bottom and sides of the dish, sticking it into the butter. This is weird but so, so important.
Once they are slightly harder than fork-tender (we are partially cooking the potatoes here, because there is no greater a sin than gratin with hard potatoes), put a small bottom layer of potatoes onto the bottom of your dish (don't add any milk). On top of this layer, pour 2 tablespoons of the cream evenly, a handful of each cheese, and liberal amounts of salt and pepper. Repeat this 1-2 more times, or until the baking dish is full and you are out of potatoes.
It should look like this before going into the oven: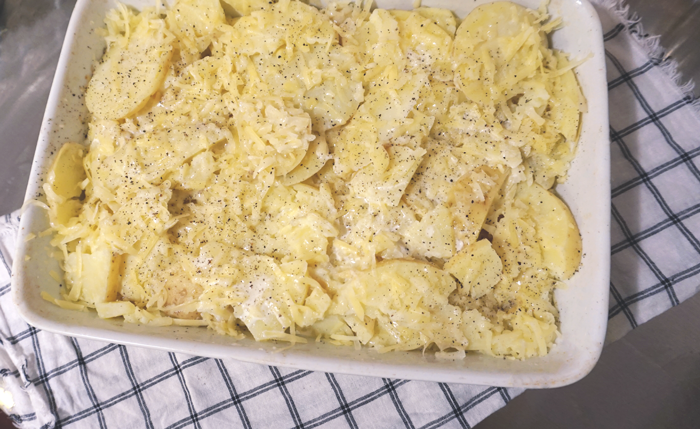 Put it into the oven at 375 until golden-brown and crispy on the top, about 30-45 minutes, depending on how brown you like it. Serve with your coq au vin, or eat it right out of the dish while making moaning sounds, like I do!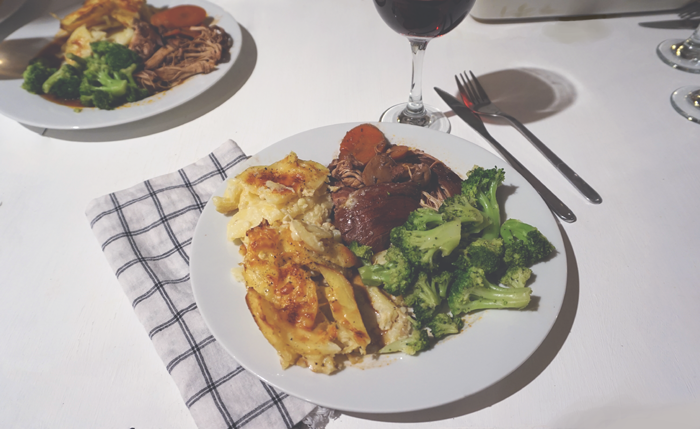 Bon appetit!