The Essentials You Need For A Perfectly Stocked Pantry To Limit Your Grocery Trips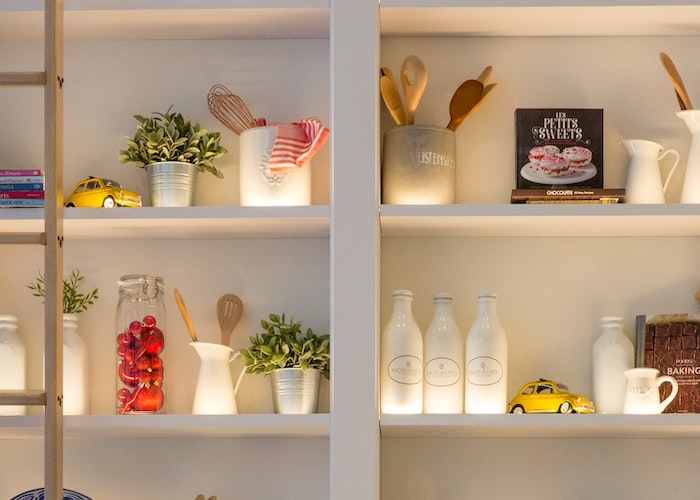 Growing up, my mother didn't keep snacks in the house. Rather, our snacks were leftovers from dinner and whatever we could quickly put together with the raw ingredients we had on hand — usually, this meant apple slices with cinnamon sugar, quick french toast with whatever stale bread was around, or a quick pasta dish. Whether my mother realized this or not, she trained me to be a home cook from age three onward. The first thing I ever learned to make was eggs, and the second I was able to do so, any time I said I was hungry, my mother pointed in the direction of the stove, suggesting I make myself some eggs. 
But since then, I've partnered with a lifelong snacker and we keep much more in our house by way of "quick treats" but when it comes to our nightly dinners, daily lunches, and baked goods, we make everything from scratch. Because of this, our pantry is always stocked with an arsenal of multi-functional raw ingredients from which we can make anything. Should there ever snow up to our roof, we're able to make our meals without frantically trying to dig our way to the grocery store. 
Before I put together this list of pantry essentials, I asked my friends and family members what they keep in their house, too, barring anything pre-made. In those conversations, I learned that nearly everything on this list is regularly stocked in many homes, no matter how often the person actually cooks or bakes. This list is not meant to be a grocery list. Rather, it's meant to highlight what you may already have and how you can use it. Here's my list of pantry essentials you can use to make practically anything:
Baking essentials: flour, sugar, cornstarch, baking powder, vanilla extract

Milk, milk substitute, or heavy cream

Butter (or a vegan substitute)

Maple Syrup, honey, or agave syrup

Spice essentials: salt, whole peppercorns, oregano, parsley, thyme, rosemary, garlic powder, onion powder, paprika, cayenne, cinnamon, and red pepper flakes

Bouillon or soup base in chicken, vegetable, and beef

Eggs

Oils: vegetable and olive

Vinegar: white wine, balsamic, apple cider

White or brown rice

Wine (Pro tip: Don't buy cooking wines. If you can afford to, stick with something you like to drink)

Mirepoix (or onions, carrots, and celery to make this yourself)

Shallots and garlic

Lemons

Canned tomatoes
Honorable mentions:
You don't need these to have a well-stocked pantry, but they come in handy:

Chocolate chips

Yeast

Coffee

Dried fruit

Orange juice

Nuts

Dijon Mustard
I imagine this list will vary quite a bit for people of different cultural backgrounds, but in my home, our meals are heavily influenced by my Italian upbringing with alternating stir-fry served over rice as well as soups and stews. You may notice that I didn't include dry pasta on this list. Did you know that all you need to make pasta is flour, eggs, and water? I tend to make a big batch of dough–it's freezer friendly–and roll it out and portion it as needed for our meals. 
I also didn't include meat. Why? For one, I wanted this list to be as vegan and vegetarian-friendly as possible. I've done stints as a vegan — and vegetarian — for environmental reasons as well as auto-immune issues. With that said, we entertain often and many of our guests have different dietary needs than our own. Similarly, your favorite meats are likely not the same as mine. So it's worth it to have your favorite meats and veggies on hand, too.
So what can you make with the above ingredients? A hearty soup or stew is my go-to savory option. When I'm not making matzo ball soup with my leftover chicken carcasses, I am frequently simmering a large pot of pasta sauce. Other nights, I'll put together flour, salt, and a whole stick of butter to make a perfect pie crust for a pot pie. When I have guests for breakfast, I whip up some quick scones in just 4 minutes of hands-on labor. I frequently keep heavy cream on hand for adding decadence to any and all sauces, my favorites being tomato cream sauces for pasta and a quick pan sauce for steak. Heavy cream is just two minutes away from being whipped cream at any given moment. I pair it with whatever fresh fruit I have on hand. 
It's hard to get into the habit of cooking for oneself. With so little time between work and the rest of life, it's easy to get into the habit of picking up whatever's hot on the way home from work or staying firm in your habit of eating instant ramen. It's not an overnight shift, but should you ever end up sick, snowed in, unwilling to make that additional trip to the grocery store for any other reason, check your pantry. You probably already have these items. And if you don't, now you know what to get.
Permanently logged on and always percolating, Ally Sabatina is a Philadelphia-based freelance writer whose parents wish she had just gone to law school. When she's not writing, she's watching too much TV, tweeting, texting, scrolling, cooking, lusting after cannolis and waiting for the next opportunity to go to the dog park. 
Image via Unsplash
Like this story? Follow The Financial Diet on Facebook, Instagram, and Twitter for daily tips and inspiration, and sign up for our email newsletter here.