The Side Hustle Diaries: Earning $400/Week As A Wedding Photographer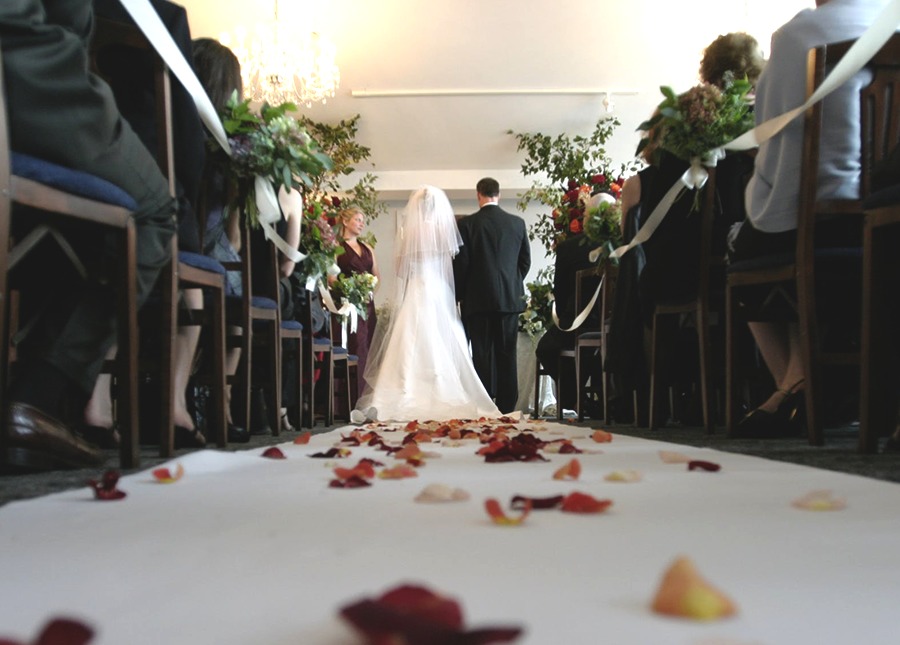 The Side Hustle Diaries is a column showcasing how different real-life people earn extra money on the side — because you totally can, too. Click here to read more!
In my second year out of college, I'm starting to approach an age when it feels like all of the couples I knew in school are getting engaged. In the past year alone, I've been invited to three engagement parties and two weddings — and next year is gearing up to be the same. Most of my friends are planning small weddings, keeping their venue, travel, and entertainment costs to a bare minimum, asking for friends and family to chip in whatever they're willing to/whatever they can (e.g. I made a cake for one friend's wedding; another is having her sister emcee the reception and her mother officiate the ceremony). But recently, I spoke with someone whose amateur forays into combating the Wedding Industrial Complex resulted in a long-term side hustle.
The backstory: a few months ago, I was at the wedding of an old coworker, and realized that her photographer had been a middle school classmate of mine. We chatted for a bit during the reception, and she told me that she actually was working as a lab tech at the local hospital — photography was just a part-time gig to pay for graduate school. This month, she sat down with me to talk about how she got started, how it fits into her life, and where she sees it taking her in the future.
How does your side hustle fit into your average day?
I do a lot of editing on the train — I take the commuter rail to work every day, so it's a little over an hour each way, and I think it's a lot easier to focus without wifi: I just plug in headphones and edit. With actual gigs, I never take mid-week weddings unless they're covering travel and housing costs (it's happened before!), but I usually do 1-2 weekends per month. I also take client meetings during weekday lunches, which is essentially just sitting down with a client and talking about the location, their expectations, the size of the wedding and the wedding party, etc.
I used to do a bunch of work as a second shooter (essentially someone who takes all the B-roll) because it was good practice, but I'm comfortable enough in my photography to turn down most second shooting projects now. It was exhausting, and it wasn't a great way to get my name out there. I've had a lot more success with just Facebook and Instagram. Instagram, especially, has drawn in a lot of my clients — wedding hashtags are gimmicky but so helpful!
How did you find your way to that position?
I started taking people's headshots for LinkedIn, graduation photos, sporting events, etc. about halfway through my junior year in college. I had worked on our newspaper staff for years, and one of our photographers was selling her Canon for super cheap, so I bought it — I'd always been interested in photography, and it felt like a good investment. I actually still use that camera sometimes.
Then after I moved out here for my current job a couple years ago, I started looking for part-time work because I was saving for grad school. Around the same time, a good friend mentioned that her sibling was looking for a last-minute second shooter for their wedding but couldn't find anyone affordable, so I contacted the primary photographer and took the position, just to help them out. It was kind of the classic combination of a little drive, a personal connection, and a ton of luck, because I ended up getting along really well with their photographer and she called me for a couple of other gigs after that one. And then after a few months working with her, I had a fairly full portfolio that I was able to show to potential new clients.
How much do you make during an average week from that side hustle?
I charge $800-1,200 per wedding, depending on a bunch of factors like the ones I mentioned earlier: natural vs. artificial light, the number of staged and candids, that kind of thing. I do 1-2 weddings per month, so it averages out to ~$400-600 per week — but I also spend probably $100-200 of that on my Adobe and Dropbox subscriptions, Instagram ads for my business account, transportation, equipment and repairs, etc.
What's your favorite thing about having a side hustle? Your least favorite?
I know career photographers who really hate it, but I actually do kind of like wedding photography itself. I get to help people create a story, and it's amazing to feel like my photos will shape how they remember that day.
I'm not a huge fan of all the logistics, though: itemizing all my purchases for taxes, keeping track of invoices, figuring out equipment and transportation things. I also hate negotiating when I feel like someone is pushing back against a rate that I think is reasonable. TBH sometimes I just give up those gigs because I get so anxious about it, which is…not the best reaction. I do think, though, that it really helped to know someone who was kind of in the industry, so I knew how much my work was worth/what unexpected costs there might be in maintaining it as a side job.
If you keep a budget, how does income from your side hustle fit into it? And if it fits into multiple categories, would you mind doing a mini budget-breakdown of that income?
All of my income from weddings either goes back towards getting equipment, gas money, marketing and that kind of thing; or it goes straight into a savings account designated for graduate school.
How do you see that side hustle changing or fitting into your long-term plans (if at all)?
I think it'll always be something I do for a little extra income, but I'm not married to it (no pun intended). I definitely don't think I'd ever want it to be a career. It's just something I don't mind doing, and it makes it easier for me to feel like I have the financial freedom and stability to pursue other things I love.
Last question: is there one financial goal that you feel like your side hustle has helped you meet? 🙂
I'm starting an MPH program this upcoming January, and between general savings and money from photography, I didn't have to take out any loans!
Julie Zhou is a writer, editor, and born-and-bred Midwesterner. She loves unreliable magazine quizzes, cast-iron pans, and the Oxford comma. She hates the question, "No, but where are you *really* from?"
Like this story? Follow The Financial Diet on Facebook, Instagram, and Twitter for daily tips and inspiration, and sign up for our weekly email newsletter here.
Image via Unsplash