In The Kitchen
How To Throw The Perfect Memorial Day Party On The Cheap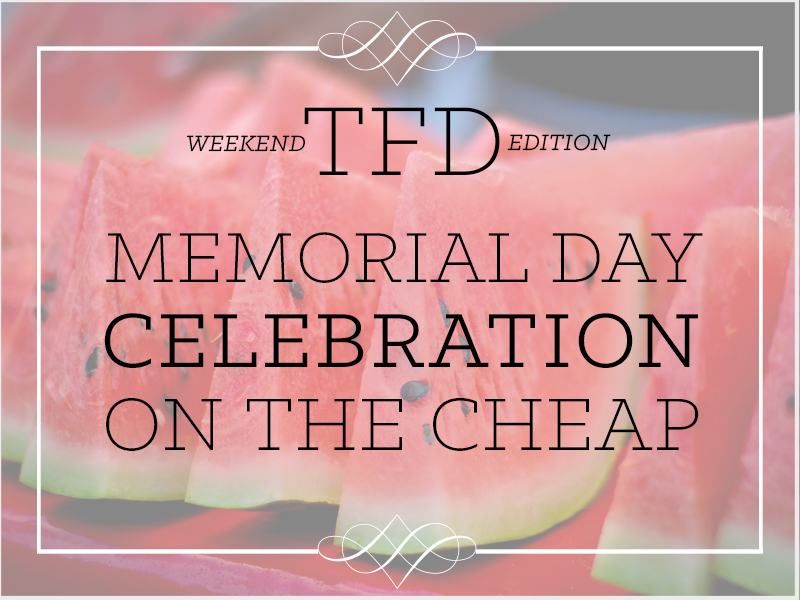 Nothing feels more like the arrival of summer than cooking seasonal, delicious food for a group of close friends and family. However, you don't need to break the bank to host a great party, and you certainly don't need access to a big yard or a fancy grill to throw an appropriate Memorial Day celebration. Some of the best BBQ-esqe/holiday celebrations I've experienced were thrown together at the last-minute, and for a very reasonable price. Your Memorial Day celebration could be a festive picnic arranged for a small group, or a full on potluck style cookout in a nearby park with friends. However you choose to celebrate Memorial Day this year, we've got tips and recipes to help you plan a perfect afternoon celebration on the cheap.

My favorite big batch to serve at a holiday cookout is by far a pitcher of Sangria (for a summer celebration, white is the way to go). But when hosting on a budget it's prudent not to blow your budget on booze. My rule of thumb is that I like to offer guests one seasonally themed cocktail, which is then supplemented by a case of beer or a few bottles of wine that other guests may bring over.
Below are some of my favorite sangria recipes that you can make using relatively inexpensive wine, something to stretch the cocktail, like soda or seltzer, and minimal amount of extras like a touch of liquor, some sugar, and a medley of whatever fruit is on sale that week at the grocery store. Be sure to slice apples, pears, lemons, oranges, etc., super thin to really fill up the container. As an alternative, you can buy frozen fruit which is usually cheaper and will keep the sangria extra cold as it ~marinates~ and soaks up the flavor of the fruit.
Mint citrus white wine sangria
Sparkling white wine peach sangria

(If you're feeling red:)
5 Ingredient Spanish sangria

Appetizers should be VERY simple and small which serve as a little nibbles for guests to enjoy as everyone filters into the party. Consider making your own homemade pita and tortilla chips, which can be a cheaper & more delicious alternative to buying a bag of expensive brand name ones. However, make sure you set aside enough time to prepare them a day ahead or morning of if you choose to make them at home.
Simple homemade tortilla chips

Side dishes are a great thing for guests to contribute to the meal. Ask friends to bring over classic dishes like potato and macaroni salads. Since these dishes require refrigeration, it's a wonderful thing to have guests bring them over so that space is freed up in your refrigerator. Use fresh, seasonal ingredients that are simple to prepare and require few ingredients. If preparing vegetables, do so simply, and roast or bake them with just a little bit of salt, pepper, and olive oil. I like to serve a majority of my side dishes at room temperature so I can get the items out of the fridge and onto a nearby table when guests arrived. This way I have room in the fridge for any alcohol guests might bring, or for a fruit-based dessert that needs to be chilled.
Tomato salad and green bean salad

Whenever I host cookouts, potlucks, barbecues, lunches, etc., I always make sure that I take care of the main dishes in their entirety. Since I'm used to entertaining with vegan and vegetarian friends, I'll whip up black bean or veggie burgers for them to eat alongside the hearty vegetarian side dishes like potato salad and grain bowls. In my opinion, it's usually a good idea to offer up two choices of meat, a poultry and a beef. Yes, meat is expensive and a good chunk of your budget will be spent on it, but if the rest of the table is laden with simple, vegetable heavy dishes, you can stretch your dollars further. I also like to keep main dishes simple and focus on key ingredients that make the dish flavorful. It's important that I'm not spending all my time babysitting food that's cooking. and that I'm still able to enjoy myself while entertaining. The recipes included below aren't fussy and will take you no time to whip up.
7 ingredient easy veggie burgers

At the end of the night, you and your guests should be slightly buzzed, enjoying good conversation, and feel ready to round of the evening of delicious food with a little something sweet. I always like to pare down deserts in the summertime, and I usually opt for fresh fruit like big slices of watermelon or a fruit salad. However, fruit salads can get expensive to prepare as they can call for a number of different out of season fruits. In lieu of a traditional fruit salad, grab a watermelon which can be easily sliced and laid out on a tray, as a simple fresh dessert. However, if you're feeling more ambitious, the recipes below use few ingredients and take little time to prepare.
The simplest, flourless peanut butter cookies
Baked peaches with whipped cream
Your Memorial Day celebration should be relaxing and fun! It's key not to overspend on fancy food items that you don't need, and to encourage your guests to supplement alcohol, and bring sides dishes and dessert. Below are some additional resources for tips on saving money on hosting, and cooking with vegetarians/vegans in mind.
Image via Hasha K R  on Flickr.