How To Say No When Your Friends Won't Respect Social Distancing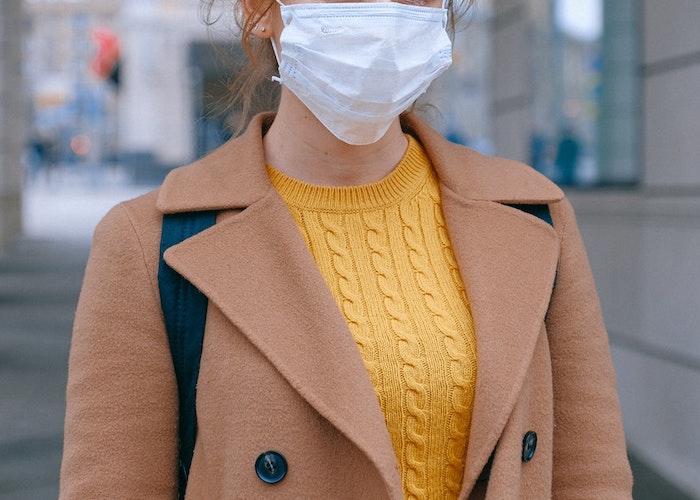 As states ease up on COVID-19 related restrictions, many people are wondering what the rules and best practices are around social distancing at this point. As we enter different phases of the economy reopening, where do we go from here?
First, let's review what social distancing actually means. According to the U.S. Centers for Disease Control and Prevention (CDC), social distancing means avoiding large groups and crowded areas as well as maintaining a separation of at least six feet from others. This doesn't apply to the people you live with, of course, and that might mean family, friends, or roommates. If you've been social distancing together, your "pod" is safe to interact with each other normally. 
When you go outside, however, the CDC still says you should wear a face covering, limit public transportation use (including ridesharing services like Uber), and be sure to maintain six feet of distance in stores. Of course, protesters have been demonstrating across the country over the recent killing of George Floyd, and health officials are concerned that these mass gatherings could add to COVID-19 cases. If you've been protesting, CDC director Robert Redfield recommends getting tested for COVID-19.
When possible, the CDC also recommends getting groceries or medicines delivered and continuing to work from home. State rules around COVID-19 vary drastically as the country starts to reopen. For example, movie theaters are open in Texas, while recreational stores still aren't open for in-store shopping in Massachusetts, and Virginia is currently under a stay-at-home order.
Some people feel comfortable following their recommended state guidelines, but others might not. If you're at a higher risk of severe illness from COVID-19, your state's orders may not feel precautionary enough. But it's important to remember we're still fighting COVID, so there's still risk when you socialize with people outside of your "pod." So as things open back up, how do you know what kind of activities are okay and which you should still avoid?
NPR has a great list of advice on common summer activities and their relative risk. According to their experts, staying in a vacation home with another family (assuming both families have been practicing social distancing appropriately and to the same extent) is relatively low-risk. However, activities like outdoor wedding celebrations with 10 or more guests and eating at an indoor restaurant can pose a high risk.
Ultimately, our risk tolerance is going to vary. If you're planning to see a friend in close proximity, like the vacation home scenario described above, or even from a distance via a social distance walk, it is completely fair to ask how seriously they have been following recommended protocol so that you can make a fully informed decision.
Of course, issues can also arise when you aren't seeing a friend and still have strong feelings over their personal social distancing policies. COVID-19 is forcing us to examine issues like socioeconomic and racial disparities in the healthcare system, which can cause even more frustration if your friend's approach to social distancing is apathetic. 
I recently had a very open conversation with a friend about just how much quarantine was weighing on her. Adhering strictly to all aspects of social distancing had started taking such a toll on her mental health that it seemed to be more of an imminent threat than COVID-19 itself. As such, I couldn't bring myself to be anything but understanding when she decided she was going to visit a friend nearby for the weekend. If both parties have been taking social distancing seriously outside of seeing one another, and it means a break from poor mental health for my friend, I certainly understand the logic.
In other scenarios, a friend might invite you to a non-socially-distant event that you don't feel comfortable attending. Or they might give you a hard time for continuing to wear a mask. All you can do is stick to the facts and explain that you merely want to adhere to CDC guidelines and do what's best for everyone. The refusal strategy — "I don't feel comfortable going to your pool party, sorry," works well in this case.
Ultimately, how you react depends entirely on what level of social distancing you think is appropriate given the circumstance. All we can do is ensure our loved ones understand the risk of not social distancing and communicate our feelings about it clearly. 
Simplicity Bryan is deeply entrenched in the worlds of self-help, gratitude, personal finance, and organization. She's happiest paddleboarding with her pup and storytelling with a purpose. You can follow her here.
Image via Pexels
Like this story? Follow The Financial Diet on Facebook, Instagram, and Twitter for daily tips and inspiration, and sign up for our email newsletter here.