Why $10 Monthly Beauty Boxes Are A Total Waste Of Money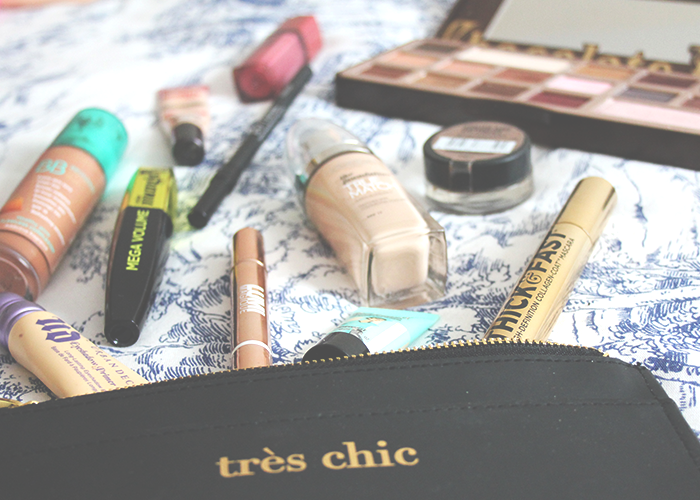 To this day, I remember the buyer's remorse I felt after I marched into Sanrio as a kid (well, since I didn't have spending money of my own, really I mean the remorse I felt for my mother). I was a Hello Kitty connoisseur, and I made damn sure to thrust myself through the aggressively pink doors of her store every time my mom took me out. Every single time, I fell victim to the strategic product placement of their infamous "mystery bags." Every single time, I convinced my mom to spend $5, $10, or sometimes even $20 to indulge my hope that these adorably-decorated paper bags would surprise me with rare Hello Kitty paraphernalia to my heart's delight. And every single time, it was filled with crap that no one was buying at the store anyway.
Regardless of repeated disappointment, I continued to beg my mom to take me back in the hopes that I would eventually get something good. (Spoiler alert, it never happened.) Hell, she could have bought me one of the vastly-overpriced Hello Kitty plastic bracelets with all the money I convinced her to spend on bags of cheap erasers!
I recognize the above anecdote makes me sound like an entitled brat (and I…won't argue with that assumption), but I want to share it because it's an experience that I recall as my first encounter with financial awareness. It was the first time I understood that — in order for a purchase to be "worth it" — the value of a purchased object should be higher than the price tag.
That is why I will never subscribe to any of those sample boxes that have become increasingly popular (Birchbox, Ipsy, and now Sephora has one too??). While I genuinely want to blame Sanrio for all of my consumerist commitment issues, I must admit, those wily "mystery bags" aren't the only reason that I — as a financially-aware adult — think beauty boxes are a waste of money.
I can't stand beauty subscription packages for the very same reason that I can't stand vacation packages — a deal is sometimes a devil in disguise.
Now, I understand the appeal. It's easy to justify spending a measly $10 a month when you're getting like, $30 worth of beauty products in return, right?
But DO you really get $30 worth from these beauty boxes? We already know those creams and powders come with a huge price markup by the time they reach shelves. If you took the time to calculate the retail cost divided by the sample size weight (and how many "uses" the sample sizes allow for), you could come up with a more concrete total. But before you whip out the calculator: I think just by gauging the quality of products, it's pretty easy to see the beauty box's total value. Most of the time, when my mom receives one, it contains items like a single face mask or paper-slip fragrances (which are in magazines…and free at Nordstrom if you ask for them). Sometimes, the products she receives aren't even high-quality, reputable brands. When you take the tiny sample sizes, poor brand quality, and amount of completely free products, the box is barely worth the actual $10 you spent on it, let alone the $30 value they boast.
At what point did a SAMPLE become something that companies could profit off of?? I thought the point of getting a small amount of something was to entice you to buy it in the first place. Now, you pay for the sample, and if you like it enough, you also have to pay for the full-size product!
I think the only situation in which subscription boxes would make sense is if they were your ONLY source of makeup or beauty products. Then, these cheap samples would constitute a huge savings (of time spent shopping, and also money). But for most people who subscribe to these boxes, it's certainly not their only source. My mother has racked up $120 in extra spending on top of purchasing her regular makeup this year, thanks to her subscription box. She justifies this spending because it enables her to conveniently try new products without dropping a huge dollar amount on a full-size bottle at the store.
I understand that my mother's interest (and most subscribers' interest) in beauty boxes is entirely motivated by convenience. My mom is one of those people who would rather spend $10 a month on products she may or may not like than haul herself to the store to take a chance on a $40 makeup foundation. Having a cheap sample shipped straight to your door certainly saves you the hassle of having to return something. But considering the fact that most places still accept returns, subscription boxes feel like nothing more than a non-refundable gamble. If you only like 30% of the products you receive, but you're guaranteed to lose 100% of your money every month, that's not a worthy value-pricetag ratio.
It seems the only real value of these beauty boxes is their convenience. People like my mom are drawn by the promise not having to choose things for yourself, which seems counterintuitive. I thought the whole point of style and beauty was the personal element. But when you sign up for a beauty box, you put your trust in the user algorithms that "predict" which shade works best with your assumed style. In other words, beauty boxes are the eHarmony of the makeup world! Call me old-school, but I'd rather go out and play the field of testing things on my own.
I'm not sure who I'm more annoyed with — the companies who are profiting off of what used to be a free perk, or the people who passively accept this chicanery and buy into this wasteful monthly ritual. Maybe I'm just too cautious and stingy. But when it comes to setting a budget, particularly for beauty expenses, I find that it's a much financially-wiser decision to use the trial-and-error method on full-size, fairly-priced products until you find what satisfies you, and then stick with that product long-term.
I'm glad my mom likes her beauty box (that is, an adult version of a "mystery bag"), but my Hello Kitty days are over. I think I'll pass on the beauty boxes and save the surprises for once a year, on Christmas morning.
Savanna is a freelance writer in Northern California whose hobbies include all things theater and dog-related. She hopes for a world where avocados will be included in the price of her entrée and a 12-step program is widely available to people who obsessively collect air miles.
Image via Flickr