Why I'm Actually Grateful for the Victoria's Secret Fashion Show This Year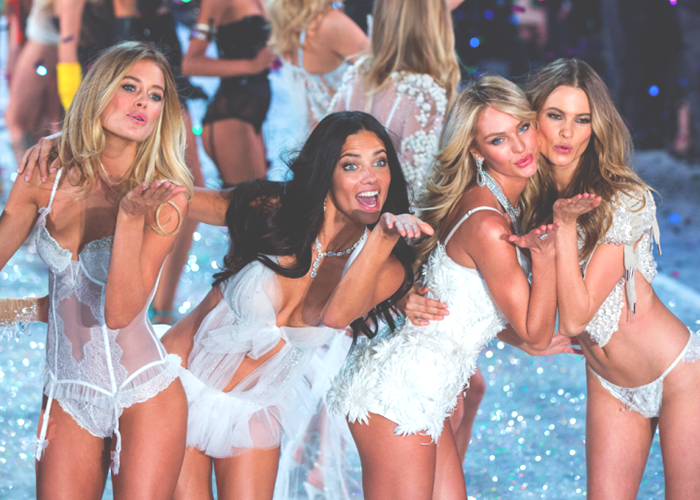 Maybe you've noticed it on Instagram or Snapchat, but it's that time of year again — no, not the holidays: the Victoria's Secret Fashion Show.
Yep, once a year, the lingerie behemoth flies dozens of supermodels on a private, branded jet to a new and exciting location, where they will give interviews, don Angel wings, and film a TV special that is as much a concert as it is a fashion show. The lingerie featured will be stuff already in stores, and likely in your own closet; the outfits they put over the bras and underwear will be the show-stopping centerpiece. Of course, if you're going to bare very nearly all for millions to see, you're going to want to be in insanely good shape. And trust me, these models are.
But there's something that's been happening in the past few years of the show, and especially thanks to social media: the models are becoming increasingly transparent about their grueling workouts and how they prep for the show. Long gone are the days when Gisele Bundchen smiled for the cameras while eating pizza backstage  — and looked great doing it because she's Gisele, duh. In their place? #TrainLikeAnAngel. And, in fact, I think I prefer this. Because the models are being honest about how exactly they got their runway-ready abs.
Okay, a huge portion of that is also "genetics," but it's kind of hard to be duplicitous about actual science. Also, Adriana Lima is still eating pizza because she's Adriana, duh. (In the past she's copped to a pretty intense water-loading regimen before shows. I'll take the pie, thanks.)
My point is, 10 years ago, you'd read an interview with a starlet who said her sample-size body was the product of hikes with her dog and portion sizes. And then you'd go on hikes with your dog and watch your portion sizes, and maybe you'd see a little change in your body, but not enough, and you'd cut even more portions and load on even more workouts in frustration. That frustration with yourself and your body — which is just trying to live its life — could lead to some pretty disordered habits.
Replace all of that with seeing a 6 foot tall glamazon do 100 burpees in hyper-speed. Huh, you think. So that's what it takes to look like that. Zero lies detected.
Ostensibly, the #TrainLikeAnAngel hashtag supports Victoria Sport, the activewear line that the company sells. But whether you scroll through the official feed or the user-generated hashtag (which has over 60,000 posts to its name) you'll see a lot of super-buff bodies getting even buffer. Some hire personal trainers, while others train at Gotham Gym, the trendy boxing joint that Gigi Hadid favors. Others work out in home gyms. A number of them double (or triple!) up on all sorts of classes. But they all work hard, and sweat, and aren't shy about admitting it.
"I've never worked so hard," Cindy Bruna wrote on a recent Instagram, complete with 💪🏽 emoji. She also thanked the brand "for continuing to remind me of living a healthy lifestyle!"
It's a big shift from the days of the super-skinny models, and the brand is making a concerted effort to push a healthy lifestyle — even if the bodies that tout it are all very thin; there are no plus-sized models walking in the 2016 show. In a perfect world, it would serve as a reminder that every body of every size deserves to be taken care of, and that includes a quality sweat session every now and again. (It also should include pretty underthings — not just for your boo, but for you, too, if you want them. But the store doesn't yet go above an XL in bottoms; hopefully that changes soon.) But the photos are also real-time proof that these bodies do not come easily — not even supermodels have them naturally, though they have a bit of help. Again, see: genetics.
There's been a shift lately in the radical transparency department of ads. Some companies offer disclaimer when images have been Photoshopped or retouched. Others, like American Eagle's Aerie, have made concerted promises to never retouch their models (and it's paying off in major ways). Fans are calling out Instagrams that seem like they've been tampered with, and celebrities are getting real about when and why they decided to get work done. The days of looking at images we're served as some holy grail for one rubric of unattainable beauty are slowly and finally dwindling down. While VS has yet to expand what their model looks like beyond the long, bouncy hair and mile-long legs, at least they're being honest about how hard it is for the Angels to look like, well, Angels, too.
As someone who works out regularly, I find it a welcome change. I hit the gym more days than not, but I don't look anywhere near Victoria's Secret Angel status. One, I'm not a trillion feet tall. Two, my butt has and will always be J.Lo proportions to the rest of my body. That's just how I'm built. I spend a lot more on my monthly gym membership than the average person, but it's an investment that makes the most sense to me (I take a lot of classes, and those would add up quickly in a boutique environment). I work just as hard as many of the models, our bodies and muscles just give us different results. And that's OK.
Trust me: I've literally worked out with a Sports Illustrated Swimsuit model before. She was fit — like, super fit — but somehow I managed to keep up. And it's somehow easier to stomach the idea that those superhuman goddesses strutting down the runway in high-def didn't just wake up one day and looked like that. No, there are tons of hair extensions and false eyelashes and spray tans and makeup that help them along. There are also trainers, and nutritionists, and a lot of kale. And rather than sit in front of the TV, eating takeout and simultaneously promising that I'll never eat again (which is a lie, and not a healthy mindset, either) I can scroll through a hashtag and make a mental note to try that workout move at the gym the next day.
And beyond just workouts and bodies, this mentality is crucial for one's confidence and sanity: when someone is incredibly successful at something, and makes it look effortless, it probably isn't. There is always extra work, extra money, extra time, extra something going on behind the scenes.
Will I ever have abs like Izabel Goulart? It's not likely; I like cookies far too much. And it's safe to say I'll never be a size two — I can't even remember if I ever was one as a preteen. But hopefully there are girls out there who, like me, will turn on the #VSFS2016 and see a bunch of gorgeous women who train like athletes for a job that many people would consider a sport. (In the modeling world, nabbing a spot on the VS runway is basically like winning Olympic hardware, as the brand is one of the biggest contracts in the world.) And while there's a long way to go in terms of equality on that runway, this is hopefully a small start towards even more honesty about how unforgiving this particular standard of beauty is on everyone, even the most beautiful women in the world.
Ella Ceron is a writer and editor in New York. She works at Teen Vogue and tweets at @ellaceron.
Image via ABC