25 Effortless Beauty Hacks That Help Me Cut Back On Waste & Save Money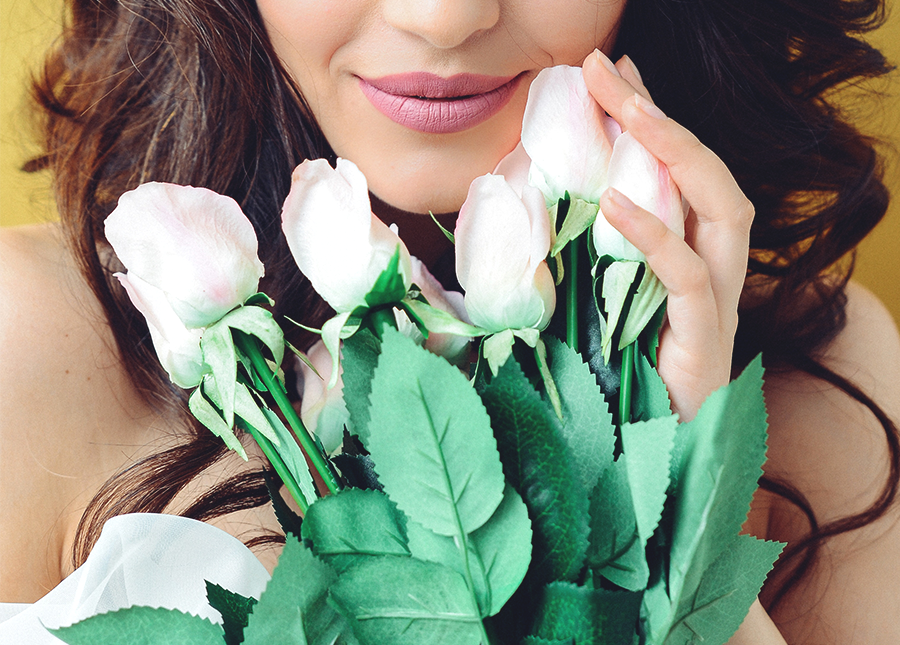 For as long as I can remember, I've had a love for all things beauty. As soon as my mom gave me the go-ahead to wear makeup, I started spending my allowance on Lip Smackers and rainbow eye shadow palettes. My morning routine became me sitting in the bathroom sink testing out new looks. It was fun.
I've grown up since then and am less about the trial and error and more about the tried and true, but I'm still a beauty fanatic at heart. It's not a cheap hobby, though, and as I've gotten older, my tastes have gotten more expensive. Instead of $1 nail polish, it's $60 foundation. Ouch. Beauty products are always going to be a dent in my budget, but I have found several ways to reduce my spending that I want to share.
1. MULTI-USE PRODUCTS
Less is both cheaper and simpler when it comes to makeup. Look for products that can do double or even triple duty. You can use the right shade of lipstick as blush and even eyeshadow. Or eyeshadow as a highlighter. Or chapstick to moisturize cuticles.
2. SAMPLE FIRST
If you're considering a new product, then give it a trial run before committing. Higher-end stores like Sephora will happily give you a free sample of just about any product they carry. You can also get samples with any online orders, and they are perfect for travel.
3. DIY SCRUBS AND FACE MASKS
Brand name masks can get crazy expensive, and you can get similar results from products in your pantry. Avocado, honey, and oatmeal can all work wonders on your skin. Check out these DIY face masks for inspiration.
4. STOCK UP DURING SALES
Sephora usually has two big sales per year, in April and November. Beauty Insiders can get 10% to 20% off their entire order. That's the time to stock up on the products you know you'll use during the year. For me, that means buying the big bottles of my favorite shampoo and conditioner and replenishing my stock of skincare. If you're not a Sephora shopper, track the sales of your store of choice to get the best deals.
5. CUT OPEN TUBES
Even when the pump stops working, there is often a decent amount of product stuck at the bottom of your containers. Get out the scissors and cut open containers to get every last drop.
6. MAKE YOUR OWN TINTED MOISTURIZER
I don't like heavy foundation, but I've also found it challenging to find a tinted moisturizer or BB cream that I really love. Instead, I make my own version by adding a few drops of foundation to my go-to moisturizer. It means a perfect match in a formula that works for my skin. Plus, you can add more or less depending on the coverage you want.
7. AIR DRY YOUR HAIR
Blow-drying is hard on your hair, and it also uses power. Instead, skip the dryer a few days a week to get healthier hair, extend the life of your color and save a few dollars on your electricity bill.
8. STORE NAIL POLISH IN THE FRIDGE
You know how old nail polish gets clumpy and hard to apply? Storing it in the fridge can help maintain the smooth consistency and get you more use out of one bottle.
9. USE LESS PRODUCT
Those shampoo commercials show models dumping half a bottle into their hair, but that's all a lie. You only need a small amount of product to get the job done. And usually the higher-end the product, the less you need to use. Try cutting back and see if you notice a difference.
10. GET YOUR HAIR CUT AT A HAIR SCHOOL
How do hair stylists learn to cut hair? They practice. And they need people to practice on. See if there's a local school that has a hair stylist program near you, and go there for cuts. I've done this before and got a great cut. The process takes a bit longer because the students are supervised, but you can get a quality cut at a significant discount.
11. ONLINE SHOP WITH EBATES
If you're buying products online, then make sure you check out Ebates before clicking buy. Ebates will pay you cash back just for linking through their site to the online retailer you are shopping at. You'll find Sephora, Hudson's Bay, The Body Shop, MAC, Amazon and other beauty sites listed.
12. COCONUT OIL
The many uses for coconut oil have been spread far and wide on the internet, but they're not all lies. It works fantastic as a hair mask. I apply it before bed maybe once a week and wash it out in the morning. I also mix a teaspoon with a pinch of sugar for an effective scrub. And one more…it works as a hydrating make-up remover.
If you want to experiment with makeup or find some dupes for your splurgiest items then let me recommend ELF. Their products are so cheap, good quality and also cruelty-free. Before you make a purchase sign up for their email list. They always have great coupon deals.
Another recommendation I have to share is The Ordinary. I've become a super fan of their products because they are so cheap but still work just as well as more expensive options.
15. RECYCLING PROGRAMS
Certain companies will pay you back in a free product just for returning their used packaging. MAC's "Back to MAC" program will give you a free lipstick when you return six empty packages, and Lush's "5 Pot Program" will score you a free face mask when you bring back five empty pots.
16. CHECK REVIEWS
YouTube has become a go-to resource for beauty product addicts. You can find thousands of makeup and hair tutorials as well as reviews on almost every product you can imagine. It's worth checking out a few reviews to see if that product you're lusting over is worth the price tag.
17. VASELINE
Vaseline can be a cheap savior in your makeup bag. Alberta is dry as heck in the winter, so I keep a tub beside my bed and use it nightly as chapstick, hand cream, and foot cream. You can also mix a dab with a touch of lipstick for a DIY tinted lip gloss.
I stay away from make-up from the dollar store, but I do pick-up other essentials like cotton balls, nail files, and bobby pins. They might not be the best quality, but for stuff like that, it doesn't matter.
19. EXTEND TIME BETWEEN HAIR COLORS
If you're like me and have a few gray hairs peeking through then, you might think frequent salon trips are the only option. Instead, try a root touch-up kit or a root cover-up spray to hide the grays and extend the time between hair colorings.
20. COUPONS
I know, I know, coupons aren't for everyone. But when it comes to beauty and health products, it can be pretty easy to find worthwhile coupon offers. Even better, many are digital or can be printed at home, so you don't need to go old school coupon clipping. If you're in Canada, check out P&G Brandsaver, Save.ca, or Free.ca.
21. BIRTHDAY FREEBIE
One of the best perks of being a Sephora Beauty Insider is the annual birthday gift you'll get. Each year there's a choice of gift, and I've never been disappointed. This year I've got my eye on the Drunk Elephant duo. You don't even need to make a purchase. You can go into a Sephora store and claim your gift all by itself.
22. EXTEND THE LIFE OF MASCARA
I go through mascara way faster than any other product in my make-up bag, so I'm always looking for ways to make it last. When your mascara is getting low, add a drop or two of contact lens solution to loosen up product stuck in the tube. It also helps to warm up the product before use. I stick my mascara in my bra while I'm doing the rest of my makeup and it goes on much more smoothly.
23. FREE SAMPLES
This one isn't beauty-product specific, but there are a few sites where you can sign up to get samples mailed to you periodically. SampleSource and Samplits both work with brands to gain exposure for their products by offering free samples. You'll be asked to take a survey after you've given everything a trial run, but it's pretty painless. Many of the samples are food related but there are often shampoo/conditioner, toothpaste, and even razors included.
24. SPLURGE WHEN IT MATTERS
Certain products are worth splurging on, and others are fine to go the drugstore route with. For me, I'm willing to pay extra for skincare and foundation, but I go cheap out on lipstick and eyeshadow.
25. GIFT WITH PURCHASE
If you are planning to buy something anyway, then you might as well get the best bang for your buck. Keep an eye out for the gift with purchase offers from department stores. The Bay is always a good option for this, especially if you're a fan of Clinique or Estee Lauder products.
*****
That's all I've got for now. Do you have any beauty hacks to save money that you would add to the list? Share them in the comments so we can all be in the loop.
Sarah is a Canadian personal finance blogger over at Smile & Conquer. She has been working in the world of finance for almost a decade and uses that experience to help other millennials get smart about their money.
Image via Unsplash