The Precautions To Take When Your Salon, Dentist, Or Other Local Business Reopens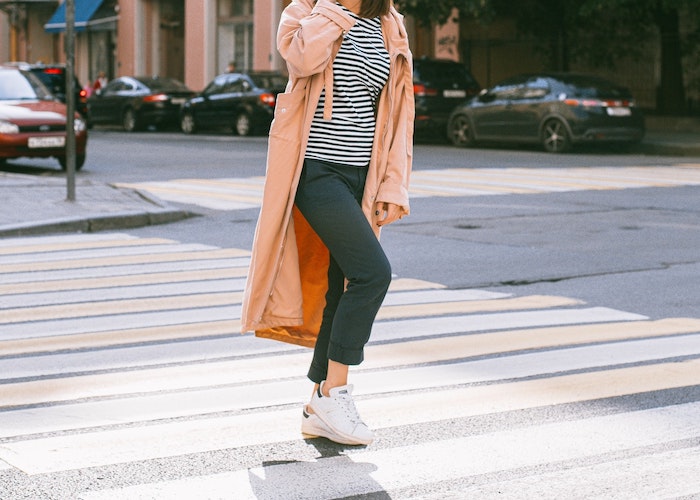 The past two weeks I've been having an internal battle with myself about whether or not it's safe to head to a salon given the state of COVID-19 across the country.
Sure, I'm not feeling great about my roots showing a stark transition from blonde to brunette, and I'd love to get some highlights to make the transition look just a bit more natural, but COVID hasn't gone anywhere — we're still in the middle of a global pandemic. Places are opening back up, but does that mean you should visit them?
You might be in the same boat, debating whether your desire to get a root touchup (or haircut, or dental cleaning, or anything else) is entirely irresponsible given the exposure risk, or if it is indeed the positive act of a citizen supporting a hard-hit local business.  I'm doing what I can by researching my options and the risk and making a calculated decision accordingly, so I figured I'd share what I've learned with you. Here's what you should know before you return to the salon (but keep in mind that state regulations will impact your salon's rules).
1. It won't be business as usual. 
"Your appointment will probably be entirely different."
Outside of the obvious precautions like masks and hand sanitizing stations, your appointment will probably be entirely different. My local salon is only offering visits under two hours, meaning they aren't able to do full-process hair color appointments. Beyond that, you may have to enter through a specific entrance, call ahead to let the salon know you are outside, and wipe down surfaces in the bathroom if you use it. For example, my salon is also not able to serve beverages, offer shared reading materials like magazines, or conduct cash transactions. 
Jeff Alford, president of The CBON Group, Canada's largest supplier of professional infection control products, is a great resource on what to know before returning to the salon. He notes that while salons should be taking precautions to limit exposure, by maintaining 6 ft distance whenever possible, wearing masks, and more, in some cases, this may not be possible. As such, understand that you are at an increased risk. NPR has a great list of the given COVID-19 risk level for popular summer activities. According to their expert, Dr. Karan, getting a haircut is medium to high-risk because of the "close contact and breathing that is extended for several minutes." However, how a salon enforces (or does not enforce) safety protocol can heavily increase that risk.
2. Prepare to be flexible.
"You may need to book an appointment a few weeks in advance"
My local salon is only allowing for two customers in the store at a time. As you can imagine, even with a decreased demand, this means slots are a lot more limited than I'm used to. Be flexible with timing and understand that you may need to book an appointment a few weeks in advance! Some salons are expanding their hours to accommodate appointments, so don't be afraid to snag a 7AM or 8PM slot. And hey, when you've waited months for a fresh cut, what is 11 more days anyway?
3. Temperature checks are super common.
"You may need to confirm you don't have symptoms before entering and verify recent travel."
While I was not surprised when my dentist's office recently took my temperature, I was somewhat surprised to learn that my local salon would be doing so upon arrival. Of course, I completely support the measure–as it is done to keep myself and others safe! As with almost any other outing during this time, you shouldn't be allowed in if you have a fever (or any other symptoms). You may need to confirm you don't have COVID-19 symptoms before entering, verify recent travel, or even forgo blow-drying to avoid spreading the virus into the air. 
Of course, yes, there is more risk going to a salon than not, but that is also true of almost any activity during this time. Assessing your personal health and risk tolerance is key to making the best decision for you during this pandemic. If you're curious how I've been weighing the pros and cons of activities during COVID-19, you can check out my thoughts here.
Ultimately, do not be afraid to ask your salon what COVID-19 precautions are being taken! Whether you feel more at ease or more uncomfortable, it is better to have all information available so you can make a fully informed choice. 
Simplicity Bryan is deeply entrenched in the worlds of self-help, gratitude, personal finance, and organization. She's happiest paddleboarding with her pup and storytelling with a purpose. You can follow her here.
Image via Pexels
Like this story? Follow The Financial Diet on Facebook, Instagram, and Twitter for daily tips and inspiration, and sign up for our email newsletter here.